BRENTWOOD — The criminal case may be over against a driver accused of striking and killing a pedestrian, but the frustration lives on for the victim's family.
"It's been nothing short of a nightmare," said Sean Dobson, the victim's brother, after the driver was sentenced on a misdemeanor charge of driving while intoxicated Monday.
Originally charged with felony negligent homicide, the driver, Dawn Marie Barcellona, 58, of Salisbury, Mass., will pay a $500 fine and lose her license for a year. She won't have to perform community service or have an ignition interlock device installed on her vehicle once she starts driving again, as prosecutors had hoped.
Andrew Dobson, 51, also of Salisbury, was walking on Route 1A near the Salisbury/Seabrook town line when he was struck and killed on Oct. 21, 2018.
The handling of the case has angered Dobson's family, who felt Barcellona's punishment, which didn't include jail time, wasn't nearly enough for the loss of their loved one.
They also expressed frustration when Rockingham County Superior Court Judge Daniel St. Hilaire refused to let them speak at Monday's sentencing.
"If we were allowed to speak, we wanted him to know this has deeply impacted our family," Sean Dobson said outside the courtroom.
Barcellona was indicted on negligent homicide charges earlier this year, but the Rockingham County Attorney's Office replaced those charges with a lesser charge of DWI, which carried no time behind bars.
According to Deputy County Attorney Jennifer Haggar, her office decided that it couldn't move forward on the negligent homicide charges because of evidence that was lacking. One concern was that there was no police reconstruction of the accident scene, which could have potentially provided some evidence needed for prosecution.
St. Hilaire presided over a one-day trial in October, finding Barcellona guilty of the DWI charge.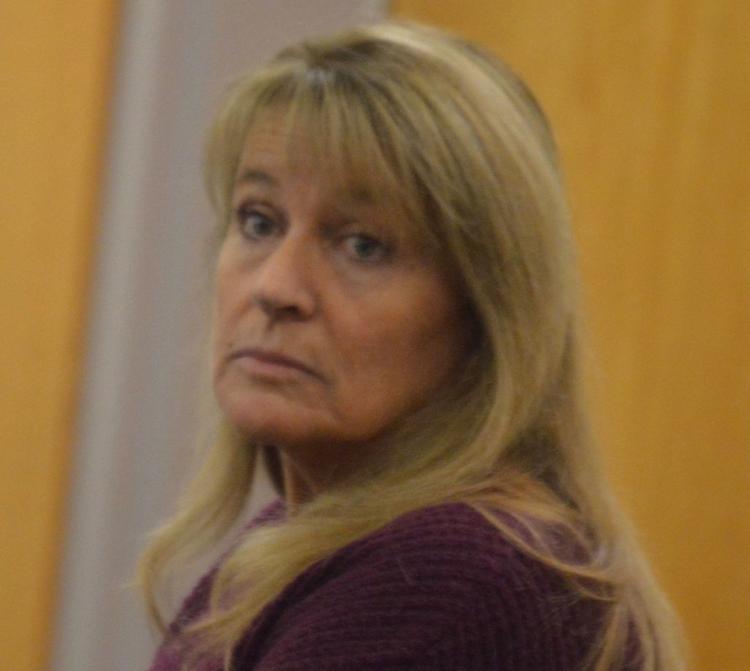 At Monday's sentencing, St. Hilaire ordered her to pay a $1,000 fine, but suspended $500 of it, and revoked her driver's license for a year. Haggar had asked for a two-year loss of license, but because Barcellona hasn't been able to drive since the accident, the judge revoked it for one year, saying it will effectively be a two-year loss, which is a "hefty penalty" for a first-time DWI conviction.
Barcellona may be eligible to participate in an impaired-driver care management program, which could allow her to get her license back in six months.
Haggar also wanted Barcellona to do 40 hours of community service by speaking about the dangers of drinking and driving, but St. Hilaire refused to include the hours in her sentence. He said he wasn't sure she would be a good role model and didn't want to take the chance by having her speak about the topic.
Haggar's request to have an ignition interlock device installed on Barcellona's vehicle was also denied. St. Hilaire said the devices are more often required for people convicted of their second DWI, or with a higher level of intoxication.
At one point during the sentencing, Haggar asked the judge to allow Dobson's family to offer impact statements, but he wouldn't let them speak because the charge Barcellona was ultimately convicted of was not negligent homicide. The conviction related only to her being impaired and the charge made no mention of the death that resulted.
Barcellona told police and some witnesses that Dobson stepped out in front of her while she was driving.
St. Hilaire said there was "no clear indication as to fault because both parties could have been culpable based on the evidence that the state has, and so based on an ambiguity of fault, it's not fair to assume that the defendant is at fault for that death and then receive victim impact statements as if she is at fault for the death. The state had conflicting information as to whether that was true or not."
Barcellona's defense lawyer, Stephen Jeffco, objected to the impact statements. He also said that since the crash, Barcellona has wanted to offer her condolences to the Dobsons, but couldn't because of a no-contact order as part of her bail conditions.
She began to address the family at the sentencing, but stopped when Dobson's mother, Susan Dobson, who left the courtroom after learning that she wouldn't be allowed to speak, refused to return to hear from Barcellona.
"As a family, together, we're standing strong, and believe us, this isn't going to get us down," Sean Dobson said after the hearing. "We're going to go forward. So far I feel, and I know we all feel that everything has gone her way, but there are questions that need to be answered and we're going to make sure that they're all answered."
He said the family feels Barcellona should have gone to jail.
Their attorney, Nicole Reilly, said the family may pursue civil action to get answers and find out "why this investigation wasn't conducted properly."