The day the Paquette family had been dreading came Thursday.
Eric Windhurst, the man who killed Daniel Paquette in 1985, was nearing 15 years in state custody, the minimum sentence for his crime of second-degree murder. On Thursday, Windhurst faced a parole board.
"Couple of cups of coffee and a shower, and try to make the best of it," said Victor Paquette, Daniel Paquette's brother. He put on a starched blue shirt, gathered up a few photos of his brother and drove to a relative's office where he could use a computer, not far from his home outside Daytona Beach, Fla.
Paquette and several family members logged onto a Zoom call with members of the New Hampshire parole board.
The family sat in their squares, muted and full of resentment as Eric Windhurst appeared on their screens.
"Like he's just stepped out of a fashion boutique and headed for choir practice," Paquette thought to himself.
Windhurst, now a broad-shouldered 52, wore a sweater vest and tie, his dark hair combed to one side. He was a 17-year-old soccer player from Hopkinton when he shot and killed Daniel Paquette.
During the hearing, Windhurst spoke deliberately. He said he looked back on his actions with shame and remorse.
In 1985, Windhurst told the parole board, a girl named Melanie Paquette moved to town. She was so good at soccer, she made the boys varsity team. The coach asked Windhurst to look out for her, he told the parole board. He saw her like a little sister and said they never dated.
Windhurst said Melanie told him she had confided in a school counselor that her mother's ex-husband, Daniel Paquette, had molested her years earlier. She worried Paquette would find out she had told someone about the abuse and would come to Hopkinton to kill her family, Windhurst said Melanie told him in 1985. She was crying and scared, Windhurst said.
"It was a really hard thing to listen to at my age," Windhurst said. "All she could say was he was going to kill her, was going to kill her if he found out she was back in New Hampshire and was going to tell on him."
A week later, Windhurst said, they drove to Hooksett. Windhurst brought a long gun. Melanie showed him the way to Paquette's home. "Anything you say, I'll just turn around," Windhurst said he told Melanie, but she did not want to go back.
The two spotted Paquette in his yard, and Windhurst shot him in the chest from a distance.
The older he gets, Windhurst said, the harder it is to live with what he did. Why did he drive to Hooksett that day? Why didn't he drive Melanie to the police chief's house?
Victim's family distrustful
When it was his turn to speak, Victor Paquette held a black-and-white photo of his brother up to his webcam. Daniel Paquette was grinning in a welding helmet.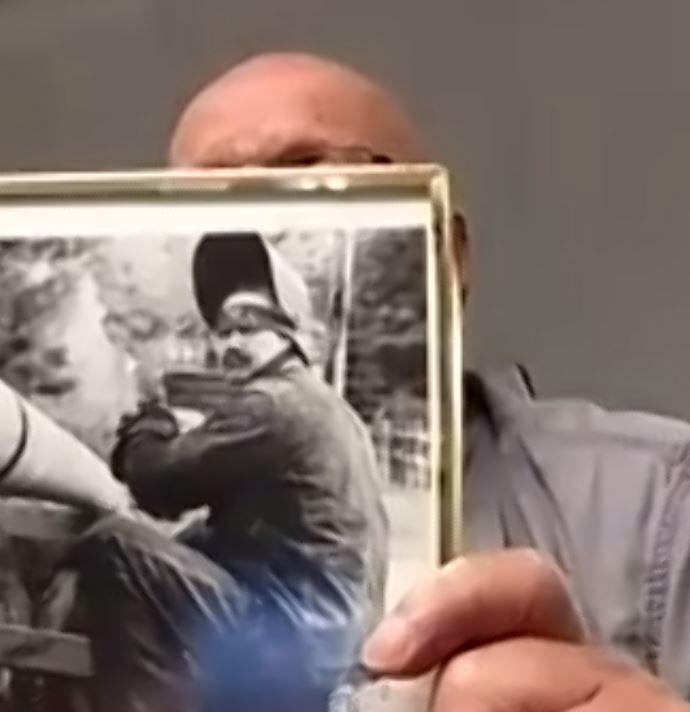 "Does this look familiar?" Victor Paquette asked. Was that who Windhurst saw as he looked down the barrel of his gun?
"Yes, sir," Windhurst said.
Windhurst was questioned in 1985 because of his friendships with Melanie. He told police he was at a field hockey game the day Paquette was killed, and Melanie backed him up, according to a 2005 report in the Union Leader. There were no suspects in the murder.
Windhurst kept quiet for two decades. He had a carpentry business and a cream-colored house in Contoocook. He married in 1996.
"I lived in town for 20 years until they arrested me," Windhurst told the parole board.
Only after investigators re-interviewed Melanie Paquette in 2004 was Windhurst was arrested. She eventually pleaded guilty to felony hindering apprehension and served 15 months in prison.
Windhurst pleaded guilty to second-degree murder.
Lance Larrabee, a Paquette relative, said he believed Windhurst was somehow protected in the 20 years between Daniel Paquette's death and his guilty plea.
"My family and I have been given pretty good reason to distrust the New Hampshire justice system," said Dana Morse, a relative.
Morse brought up the case of his grandmother, Victor and Daniel Paquette's mother Rena Paquette. Her 1964 death, in a burned pigsty, was ruled a suicide at the time. The family has always believed she was murdered, and thought the then-Attorney General did not investigate her death.
When Daniel Paquette was shot two decades later, Victor Paquette said his family had little faith in investigators.
A year after Daniel Paquette's death, when the family had no idea who killed him, Victor Paquette told the parole board one of his grand-nephews asked, "Why did somebody kill Uncle Danny?"
"How do you answer that?" Paquette asked.
He sat back from the camera and blew his nose on a white handkerchief.
"If you think, and this parole board thinks, for a minute that the bill is paid and justice is served? Hell, no."
Windhurst said the word "sorry" did not feel adequate, but it was the only word we have.
"I'm so deeply sorry for what I've done."
Decision, anger unsurprising
The parole board heard about Windhurst's plans after he left state custody, about the classes he took in prison. Windhurst said all that seemed silly in the face of what he had done.
The parole board members deliberated by text message. It took less than two minutes for them to decide to grant Windhurst parole.
"I know you have concerns about the justice system," parole board chair Jennifer Sargent said. "But we at the parole board can only do what our job is."
"The job of the parole board is not to be a re-sentencing body," said parole board member Donna Sytek.
Paquette said he had known Windhurst likely would be released.
"You don't have to be a scientist to see the writing on the wall," Paquette said, but he was still angry.
Mark Sisti, the attorney who has represented Windhurst since his 2005 arrest, said Windhurst has apologized to the Paquette family over and over during court hearings through the years, but he doubted anything could make the Paquettes forgive Windhurst.
"They don't have a duty to accept his apology, and I don't think it'll ever happen," Sisti said.
The legal process is now over. Windhurst will be released Dec. 8. He told the parole board he will care for his mother, now 83, and continue at the maintenance job he obtained on work release.
Paquette said he and his family just had to go on, keeping their photos and remembering the good days, as they have for 35 years.
"Every day's a good day if you lie to yourself," Paquette said.