MANCHESTER — Tanya Hall and Jeremy Winslow were having a "picture perfect" night Saturday.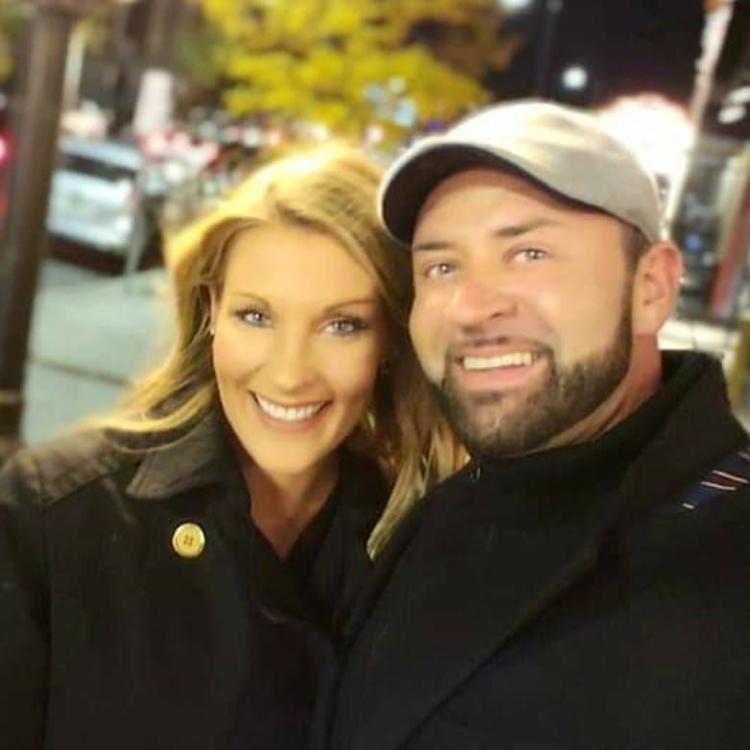 He picked her up at her home in Hudson, right on time at 6 p.m., but she joked that he was late. He noticed that she hadn't put her lipstick on yet and she explained that she had waited so she could kiss him without smearing it, Winslow said.
They laughed through dinner and martinis, then decided to go dancing at Club Manchvegas.
"I thought I was going to spend the rest of my life with her," Winslow said. They were flying to Barbados in four weeks and he planned to propose to her there. "That night I told her — I said 'I'm going to spend my life with you,' and she said 'Please.'"
But the evening ended with Hall, 34, fatally shot in the back as the couple fled from a group of men who Winslow said attacked them outside the bar.
The man police believe pulled the trigger, Justin Moura, 34, of Manchester, was arraigned Tuesday in Hillsborough County Superior Court North on a charge of second-degree murder.
From the lobby of the courthouse, Winslow said the trouble began when he accidentally bumped into another man in the club's bathroom.
Winslow said the man he bumped into was wearing a jacket identifying him as a member of the biker organization BRO and demanded that Winslow say 'Excuse me.'
Winslow left the bathroom and returned to dance with Hall, but he noticed several other men wearing BRO jackets, and as he grabbed his coat to leave the club, one of them again told Winslow to say 'Excuse me.' Winslow said that man was Moura.
Three of the men wearing BRO jackets followed Winslow and Hall outside the club and to their car, Winslow said.
"As soon as the car door shut, someone had punched her side of the window. It didn't break, but someone punched my side as well, who I identified as Justin Moura," he said. He quickly pulled out of the parking lot and onto Old Granite Street. "As I passed these two guys who were standing right there on the corner, I heard my back window break and I thought to myself it was a rock."
Hall told him "They hit me," Winslow said, but he didn't understand what she meant at first. She laid her head on his shoulder and they kept talking as he drove to a nearby police station. But Hall began to go limp, and when Winslow lifted her head up she slumped forward and he saw the bullet hole in her back.
He called 911 but kept driving, eventually stopping when he saw a police officer conducting a traffic stop. The officer came over to attend to Hall and ordered Winslow to stay away from the car, he said.
"Looking back now, that's the last time I'm ever going to see her," Winslow said. "If it could have ended differently, whether she was dead or not I would have grabbed her and held her and squeezed her at least one more time."
Assistant Attorney General Peter Hinckley offered scant details at Tuesday's arraignment. Moura pleaded not guilty but waived his right to appear in court and there was no discussion of the incident or the charge against him. He is being held without bail but a bail hearing has tentatively been scheduled for March 12.
"The information that we have to date so far is that there is no known relationship between the victim and Mr. Moura," Hinckley said, adding "It's the very beginning of the investigation so we are limited in the information that we can share, we don't want to taint subsequent witness interviews."
Moura was convicted of misdemeanor simple assault in 2008 and given a suspended prison sentence, according to court records. He was also charged with felony second-degree assault in 2004, but court records from the outcome of the case were not immediately available yesterday.
In 2010, a woman took out a domestic violence restraining order against Moura claiming he had pushed her, slammed her hand in a door, and verbally abused her throughout their relationship. As a result of the protective order, police took Moura's firearms.
Three years later, Moura attempted to recover his guns but was unsuccessful, according to court records. In his request, he stated that he is a disabled veteran.
There was a heavy police presence in the courthouse Tuesday for Moura's arraignment. More than a dozen officers, some with the gang prevention unit, lined the hallway outside the courtroom.
Groups of people spoke to prosecutors and victim advocates in a public seating area and in private interview rooms nearby. It was unclear whether they were family and friends of Hall or Moura and they declined to be interviewed. Jack Thompson, the owner of Club Manchvegas, did not immediately respond to a request for comment.
Winslow said he has been in a state of shock since Hall's death and hasn't slept in three nights.
She was the best mother he'd met in his life, he said, somehow managing to care for her 18-month-son while excelling at her two corporate jobs. Hall had recently closed a $60 million sale with a major digital learning company, he said.
"She was the most accomplished woman that I had ever met, not just career-wise, but all the way around," Winslow said. "Tanya didn't think there was anything impossible."