MANCHESTER -- State police say a minimum-security prison inmate who failed to return to his transitional housing unit in Concord Tuesday was taken into custody in Manchester Thursday night.
According to police, around 6 p.m. Thursday Scott Gagne, 29, was arrested in a Valley Street residence on one charge of escape, a Class B felony.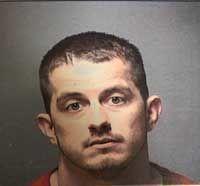 The state Department of Corrections said Gagne, a convicted felon serving a sentence for willful concealment and controlled drug acts prohibited, was scheduled to return to the New Hampshire State Prison's North End Transitional Housing Unit in Concord at 8 p.m. on Tuesday. He was placed on escape status at 9:10 p.m. Tuesday night.
Investigators from the State Police Major Crime Unit and the Department of Corrections Investigations Division tracked Gagne to an apartment in Manchester.
With the assistance of the Manchester police SWAT team, Gagne was located hiding inside of the residence and arrested without further incident.
Gagne was transported back to the state prison for men in Concord and held without bail.
Gagne would have been eligible for parole in December, according to Laura Montenegro of the NH DOC. He faces up to 3-1/2 to 7 years more years in prison if convicted on an escape charge.
Anyone that might have had contact with Gagne within the past two days is asked to contact Det. Tr. Christopher Martineau at 223-8626.