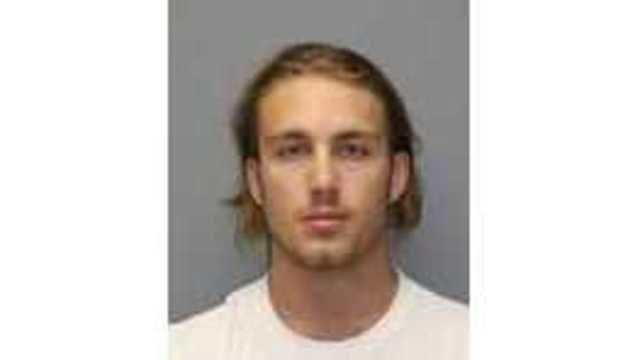 SOUTH WINDSOR, Conn. — A former high school athlete from Brookline was arrested in Connecticut early Sunday by South Windsor police on charges of running a drug factory and weapons possession.
According to police, officers in South Windsor, Conn., investigated reports of a suspicious vehicle and people on Tallwood Drive around 1 a.m. Sunday. Police said during a roadside interview of the driver, identified by police as Caleb Lomme, 21, of Brookline, officers determined he was in possession of marijuana, marijuana 'edibles' and drug paraphernalia.
According to police, Lomme also had a butterfly knife and brass knuckles on his person.
South Windsor police said a search of the vehicle produced 28 pounds (199 bars) of 300 mg THC edible candy bars, a Ziploc bag of marijuana, and 10 sheets of wax paper containing 401 grams of marijuana oil that can be smoked using a vaporizing pipe.
A bulletproof vest adorned with patches for ATF and police, .45 caliber ammunition, and two pellet rifles were also found in the car, according to police.
Lomme was arrested on charges of operating a drug factory, use of drug paraphernalia, possession/sale of more than 1 kilogram of cannabis, two counts of weapons in a motor vehicle, and two counts of carrying a dangerous weapon.
Lomme was held on a $200,000 surety bond for arraignment.
Lomme was arrested back in 2016 in Amherst on a theft charge, according to an Amherst police log. Lomme was a member of the wrestling and football teams while attending Hollis/Brookline High School.