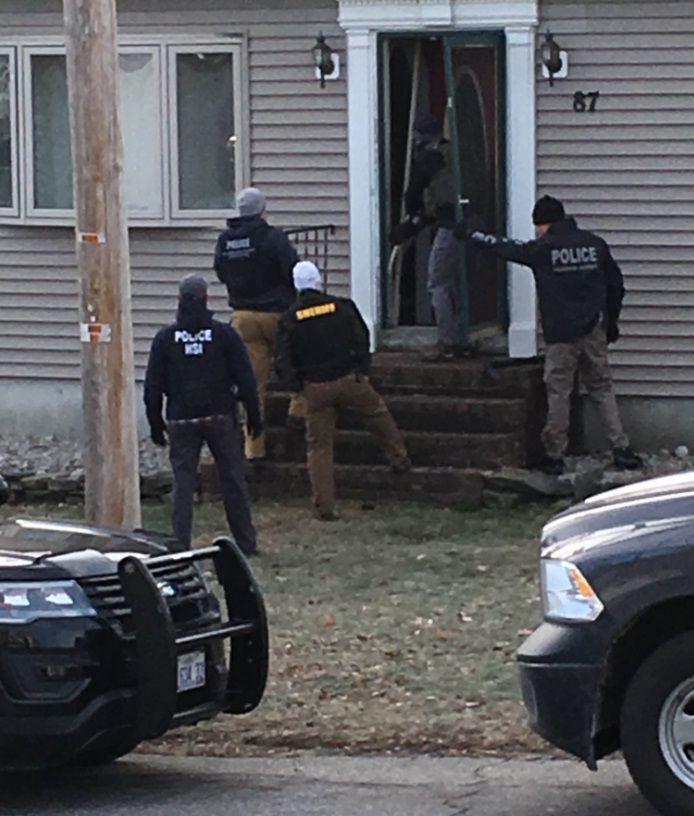 MANCHESTER — Two homes in the city — one in a middle-class neighborhood — were used as houses of prostitution in a sex trafficking ring that involved as many as two dozen Chinese women under the control of a Concord couple, federal prosecutors said Friday.
Neighbors of 87 Harrington Ave. — on a quiet residential street within earshot of Our Lady of the Cedars Church — said they had been complaining for two years about the operation. On Thursday, Manchester police and sheriff deputies used battering rams on the door and took away at least one Asian woman.
"Merry Christmas. For two years we've been waiting. Now our kids can come out and play," said a woman who lived across the street who did not want to be identified.
The other Manchester address disclosed in the federal indictment is 43 West St., which is several blocks west of Granite Street bridge.
On Friday, federal officials in Maine announced the indictment of a Concord couple and charged them with running the sex ring spanning Maine, New Hampshire and Vermont. Other sites of prostitution listed included hotels in Dover, Portsmouth and Kittery, where Portsmouth Naval Shipyard is located.
Multiple locations in the Portland, Maine area were also cited.
Sou Chao Li and Derong Maio, both 37, are each charged with one count of conspiracy to engage in interstate transportation and travel for prostitution; two counts of sex trafficking by fraud and coercion; and five counts of interstate transportation for prostitution. Li also is charged with possessing a victim's passport as part of the sex trafficking scheme.
The husband and wife pleaded not guilty to all charges at court hearings Thursday.
Li had a number of aliases or nicknames including 'Driver,' 'Uncle' and 'Mike 'and Maio went by 'Amy,' 'Ronger,' 'Arong,' 'Anna,' 'Lily' or 'LiLi,' according to the indictment.
The indictment does not say how many women were involved in total, but it uses a set of letters and numbers to identify the woman and the list reaches 25.
Neighbors of the Harrington Avenue home, nearly all of whom did not want to be identified, said they have been enduring traffic all hours of the day and night for years. They said middle-aged white men typically, many in SUVs and pickups, drive to the neighborhood, park on the street, enter the house and leave after 10 or 15 minutes. Some would wait in the car while another man was in the house.
"Sometimes they'd show up at my door," one neighbor said. "I'd say 'you guys looking for STDs? Go next door.'"
The neighbor said he convinced one apparent client to show him the Backpage webpage associated with the house. According to his internet research of the telephone number used in that ad, it was a number associated with prostitution all across the country, the neighbor said.
The neighbor questioned whether some of the females in the house were minors as some looked very young and diminutive. The women would exit the house sometimes, but would quickly disappear if he stepped outside, he said.
The women arrived at the house in an SUV and exited the vehicle with a suitcase, a neighbor said.
"They came and went. There could have been five or six in there at any given time," he said.
Another neighbor said he shoveled the driveway for an ethnic Chinese man who rented the Harrington Avenue home. In exchange, the man said he got free food at the Chinese restaurant the man claimed to own on Queen City Avenue.
Efforts to reach Manchester police for comment Friday were unsuccessful.
Tracy Degges, a Manchester activist who used to live on Cedar Street, said she moved to Maplewood Street two years ago only to find men seeking sex parking on her street and walking up to the house. She said she called police two years ago and even confronted Mayor Joyce Craig about the address.
"We all complained. It was ridiculous," she said.
Investigations involving multiple law enforcement agencies, surveillance and undercover work can take months or years to complete. The indictments allege Li and Maio operated the interstate prostitution enterprise from July 2016 to at least February 2018.
According to investigators, Li and Maio recruited Chinese women to travel to Maine, then coerced them into engaging in prostitution by controlling their movements and isolating them at rented homes and hotels.
The indictments claim Maio used WeChat, an online social media platform enormously popular in China, among other means of communication, to recruit women "to work in the prostitution industry with promises of personally earning hundreds of dollars a day at various locations operated by the defendants."
Once the women had arrived, the indictment alleges the defendants "deprived them of (personal) documents, food, clothing and room keys and other things to ensure they were unable to leave such locations without the consent and assistance of the defendants or their co-conspirators."
The indictment doesn't name the co-conspirators.
Most of the women came to the United States on tourist visas that didn't allow them to work while here, according to the indictment. They spoke little or no English and had no other contacts in Maine or neighboring states. Some worked at jobs other than prostitution when they first arrived "but were unable to earn a wage substantial enough to repay debts associated with their travel to the United States."
Announced by U.S. Attorney Halsey B. Frank of the District of Maine and Assistant Attorney General Eric Dreiband of the Justice Department's Civil Rights Division, the indictments also charge the defendants with employing unnamed people outside of Maine to advertise the women on Backpage.com and to communicate with prostitution customers.
Li faces up to five years in prison on the passport charge alone. Each defendant faces up to five years in prison on the conspiracy charge; 15 years to life on the sex trafficking charges, and up to 10 years on the charges of interstate transportation for prostitution. Fines as high as $250,000 and mandatory restitution also apply.