MANCHESTER — Sen. Jeanne Shaheen, D-NH, sat down with law enforcement agents Monday for an update on the opioid crisis and increasing concerns about the volume of illegal drugs coming to New Hampshire.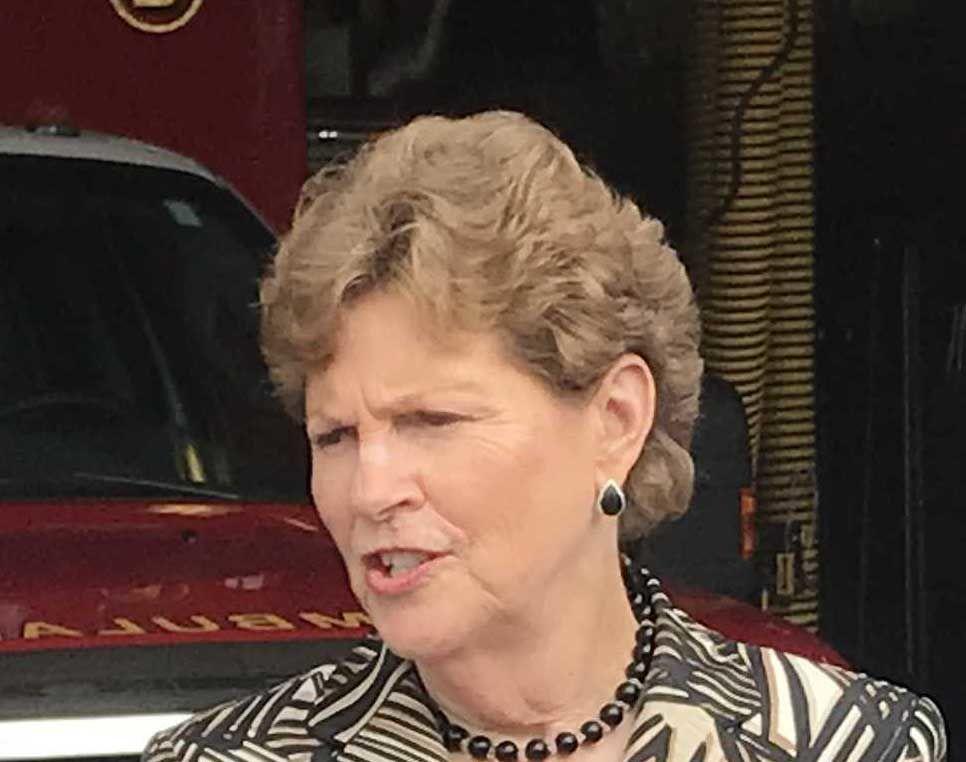 Shaheen asked for feedback and suggestions she could take back with her to Washington, and she left with plenty.
Fentanyl remains a crisis and police are seeing an alarming increase in methamphetamine.
"Every time we seem to make progress, we see some backsliding so I was really interested in hearing from all of you," Shaheen said as she opened the discussion at the Manchester Police Department.
The panel included police chiefs from Concord and Manchester, representatives from the Drug Enforcement Administration, the state's chief medical examiner and Manchester Mayor Joyce Craig.
Jon DeLena, DEA special agent in charge for the region of New Hampshire, Maine and Vermont, assured Shaheen that fentanyl remains very much a crisis.
"The numbers leveled off a little bit but that was indicative clearly of Narcan being readily available — which is a good thing," DeLena said. "I think it might have masked some of the truth behind it and I think some people may have sat back a little bit thinking we had turned the corner. We have not."
Shaheen held the roundtable discussion at the Manchester Police Department before flying back to Washington, D.C., where next week the Senate is scheduled to consider the Fentanyl Sanctions Act, a bipartisan bill she helped introduce in April.
The bill would require sanctions to be imposed on drug manufacturers in China who knowingly provide synthetic opioids to traffickers.
It would also provide additional resources for going after traffickers in other countries including Mexico, where DeLena said cartels are running intricate operations that should not be underestimated.
Efforts to fight and treat opioid addiction may have indirectly led to an increase in demand for crystal meth, DeLena said.
"They know a few things. These cartels are sitting in board rooms just like this and they're having these discussions," he said. "They know there's a large number of people on medical assistance blocking opioid receptors but are still looking to get high. They will provide that service for them by flooding this market with cheap crystal methamphetamine."
Dr. Jennie Duval, chief medical examiner for the state, said the growing use of meth is evident in rising numbers of toxicology results.
"I'm seeing more and more of it. I never saw it even five years ago. I would never see it," she said. "Now it's very frequent in all types of deaths — overdose deaths, accidental deaths, suicides and homicide victims."
DeLena said meth is not only addictive, it can make users extremely violent, which creates new concerns to medics, police and firefighters responding to an unspecified drug call.
Manchester Police Chief Carlo Capano said raids on drug houses are uncovering more meth and cocaine lately. He said the federal assistance that Manchester and other communities have received to fight fentanyl use has been a tremendous resource, but told Shaheen that limits on opioid-specific funding can be an issue.
"It's very important to be able to adjust to how things are changing out there," Capano said. "Sometimes the way these are written where it's strictly opioid based, it's really handcuffing us for how we can go about using that money to best fit the Manchester Police Department. We need to be able to adjust and be very fluid as far as how we can address the issues."
Capano also noted the need for expanded resources to assist officers and medical personnel dealing with the troubling scenes they encounter on calls.
"To have the senator here and potentially have her bring back something to Washington that could potentially fund things here in Manchester like the resiliency training would be huge for an agency like Manchester," Capano said after the discussion.