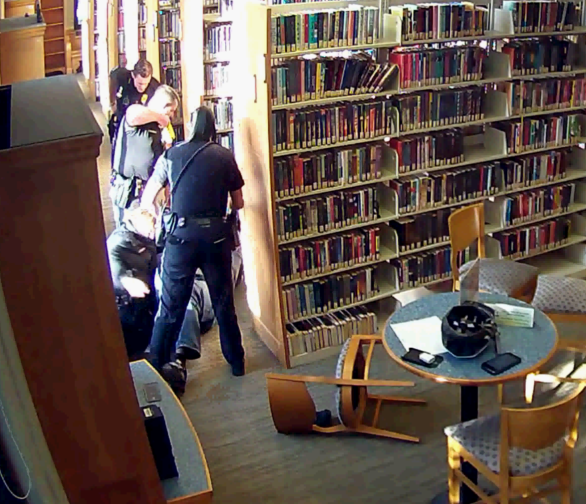 MANCHESTER — The surveillance video at Manchester Public Library on the tasing and arrest of a homeless man appears to corroborate what police said about the incident last September.
A Hillsborough County Superior Court judge on Friday granted the motion of the New Hampshire Union Leader to release the video regarding the arrest of Clifford Etadafimue, a 7-foot-2-inch Nigerian immigrant who has been arrested several times in Nashua and Manchester.
City lawyers had fought the bid to release the video, maintaining it would be an invasion of the man's privacy.
The video, which is six minutes and 42 seconds long, has no audio attached but clearly shows Etadafimue, 21, struggling with several Manchester police officers who were called to remove him from the library.
The homeless man is seen moving his arms and legs furiously to try to get out of the grasp of the officers.
He is not seen using his fists to strike back at the officers, who immediately wrapped their arms around him.
Initially there were three officers who responded — two females and a male officer. The male is seen using his police radio to seek additional assistance; halfway through the video another male officer arrives to assist.
They approach Etadafimue, who is seated at a chair in the library watching a video screen. He's wearing a Boston Celtics T-shirt, blue jeans and has a blue backpack strapped around his shoulders.
The officers initially tried to get Etadafimue to stand up and take his backpack off, but the homeless man was clearly resisting them.
The first arriving male officer puts the man in a choke-hold, which caused Etadafimue to fall out of his chair and onto the library carpeted floor.
After struggling with the man for a time, the same male officer gets out his yellow taser and shoots it at Etadafimue, which somewhat but does not completely subdue him.
The female officers after several minutes of struggle manage to get Etadafimue's legs shackled and handcuffs put on his arms.
When reporting about the arrest in late September, police said Etadafimue continuously ignored police demands that he leave the library.
He was "continuously flailing his arms and legs" and repeatedly kicked at a police officer's knee, police said in a news release at the time.
In an interview, Etadafimue said he could not understand the officer's accent when she told him to leave.
"If you check the camera in the library, you'll see I did not try to attack her," he said. Etadafimue signed a release written on a reporter's notepad granting permission to disclose the video.
He had been arrested four other times at Elliot Hospital in Manchester, complaining he did not want to leave because of the cold weather.
In Nashua it took 10 police officers to move the 350-pound Etadafimue into booking. He was subsequently charged with resisting arrest for refusing to cooperate.
Subsequent reporting by the Union Leader found that he was one of 75 teenagers and young adults, most from Africa, brought to the United States to play basketball. While he played at prep schools, junior colleges and other teams, a career never materialized.
The person who brought him to the United States, former Charlotte, N.C., police officer Evelyn Mack, has pleaded guilty to conspiracy to harbor aliens in federal court.
Etadafimue faces misdemeanor charges in both Manchester and Nashua. His lawyers have said he may be mentally incompetent, and a competency hearing is scheduled for Feb. 12 in Manchester District Court. A competency hearing is scheduled for April 17 in Nashua.