CONCORD - A Loudon man will serve 10 years in federal prison for methamphetamine trafficking, officials said Tuesday.
Randy Barton, 49, of Loudon was sentenced in U.S. District Court in Concord to 120 months in prison for possession of methamphetamine with intent to distribute, U.S. Attorney Scott Murray announced.
According to court documents and statements made in court, on April 11, 2018, a New Hampshire state trooper was patrolling Interstate 93 in Canterbury when the trooper reported seeing a Chevrolet Cobalt commit a traffic violation.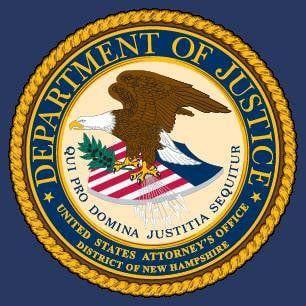 The state trooper stopped the car and approached it. According to police, a woman identified as Katie-Jo Waters of Pembroke was driving the car, with Barton in the front seat.
After speaking with both Waters and Barton and detecting inconsistencies in their stories, the state trooper asked Barton to step out of the vehicle, then conducted a pat-down search. The trooper detected a bulge in Barton's pants pocket, and recovered two plastic baggies containing 15.5 grams of highly pure methamphetamine.
Barton previously pleaded guilty on October 9, 2018.
Katie-Jo Waters was sentenced to 72 months in federal prison on April 2.
"Highly pure methamphetamine is a rising threat to the health and safety of Granite Staters," said Murray. "In this case, an alert State Trooper prevented a quantity of this dangerous drug from reaching its intended destination. This arrest, along with the ten-year prison sentence imposed by the judge, should serve as a warning to others who seek to distribute this dangerous drug in New Hampshire."
"The U.S. Postal Inspection Service and our law enforcement partners will continue to work diligently to keep methamphetamine and other highly addictive drugs out of our communities," said Inspector in Charge Joseph W. Cronin of the U.S. Postal Inspection Service's Boston Division. "One of our goals is to rid the mail of illicit drug trafficking and ensure the safety of our customers and employees."