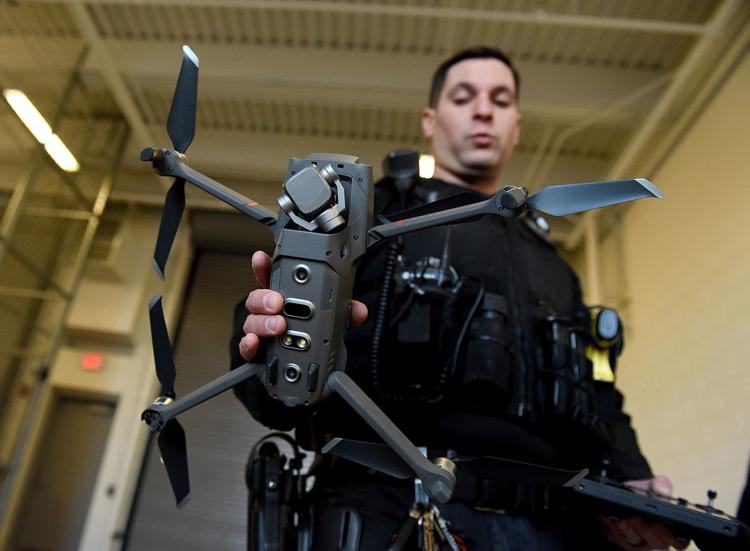 MANCHESTER — After police were called to search for a woman who ran into the woods behind Derryfield Park on Tuesday afternoon, Officer Joseph Tucker deployed one of the department's new tools: a drone.
The thermal-imaging DJI Mavic 2 Enterprise Duel drone, used for the first time, helped officers locate the woman quickly. She had expressed suicidal thoughts and was taken to the hospital, police said.
"We were able to cover that area very quickly with this," Tucker said. "At 200 feet, you have a lot of area that you are looking down on."
The department's Unmanned Aerial Systems (UAS) unit — drone unit for short — officially launched about a month ago. Tucker is the only licensed operator so far, but up to a dozen will be trained and certified.
"I was immediately sold on the idea, but this incident reaffirms my belief that this resource will be a valuable tool for the Manchester Police Department," said Police Chief Carlo Capano in a statement. "We are fortunate to have the technology and the expertise of Officer Tucker which allowed us to successfully locate the woman last night and bring her to safety."
Tucker, who is also a K-9 officer, said a police dog search would have been more lengthy because police were unsure where the woman entered the woods.
The department joins state police and other departments across the state who are using drones. Manchester officials started thinking about the unit at the start of the year and received a federal grant. The department was unable to provide the amount Wednesday night.
"There is no one drone or one aircraft that can cover it all in the technology field," said Tucker. "This one has thermal, but you're limited in flight time, you're limited in distance, you're limited in weather."
Portsmouth police started its drone program in June after receiving a $69,638 federal grant. The department has seven drones and seven officers in its unit, according to Portsmouth Lt. Chris Cummings.
Different drones can be used in different situations.
"The benefits are incredible," Cummings said. "We can cover a vast amount of area in a short period of time."
On Tuesday, Portsmouth officers used three drones to search for a woman reported missing in Exeter. The woman ended up being at home, Cummings said.
Manchester police have five drones right now.
"The whole purpose behind getting this system is it's very portable so an officer can grab it and put it in their cruiser and respond to whatever the incident is," Tucker said of the Mavic 2 Enterprise Duel model.
Some are smaller and, with proper warrants, can be used indoors as part of tactical searches.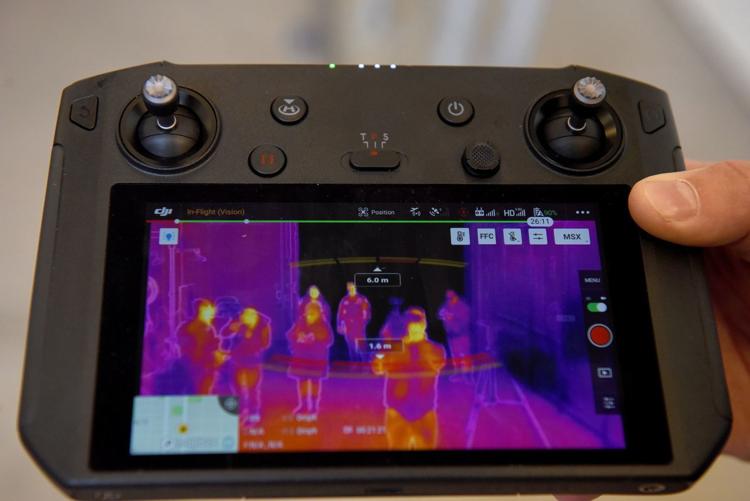 "We already use camera technology when we do our SWAT operations. We are just taking a camera off the ground and making it airborne," he said.
The use of the drone must meet all privacy laws and Federal Aviation Administration regulations. One challenge in Manchester is being in Class C airspace because of proximity to Manchester-Boston Regional Airport. The department needs FAA clearance to launch the drones.
"I got authorization probably within two minutes," Tucker said of Tuesday's search.
Tucker hopes to add a larger drone to the fleet in the future, which can have zoom lenses and fly in inclement weather.
The certification takes about a month and includes a combination of online and in-person training.
"It think it's huge for officer safety, especially going into attics and going into basements or dark areas," he said.