MANCHESTER — The leader of the Squad gang — a group that used a murder, beatings and drive-by shootings into houses to wield control over the Manchester drug trade earlier this decade — was sentenced to 48 years in state prison on Monday.
Brandon Griffin, 33, stood mostly silent when Judge David Anderson issued the sentence in Hillsborough County Superior Court. Two of his immediate family members and several Manchester police detectives were in the courtroom to hear the sentence.
Looking directly at Griffin at times, the judge said the shootings had destabilized Manchester. And he said Squad members, several of whom testified in the trial, adhered to a culture of violence and addiction to further the gang's goals.
"It was an intelligent group of people you built around you to run the organization," Anderson said.
The sentence fell between the 277-year-to-life sentence sought by prosecutors and the 25-to-life sentence urged by defense lawyers.
During a four-week trial, former gang members testified about being recruited into the gang in 2015 and 2016 and falling under Griffin's control.
They were always in his debt, either for the bail he fronted so they could get out of jail or for the drugs they used. He reduced debt if they carried out his orders — sometimes to cut the cheeks of women, other times to beat up and kill rivals, other times to shoot into the trap houses of rival drug dealers.
Eleven shootings took place.
In June, a jury convicted Griffin of 53 charges and cleared him of 19. Nearly all the convictions were for actions that gang members undertook at Griffin's direction. He still faces another trial on a separate charge of soliciting first-degree assault against murder victim Hans Odige.
"I think the violence in this case was unmatched in my career. We were dealing with shootings at this particular time almost nightly. The community was up in arms," said Assistant Police Chief Ryan Grant, who attended the hearing.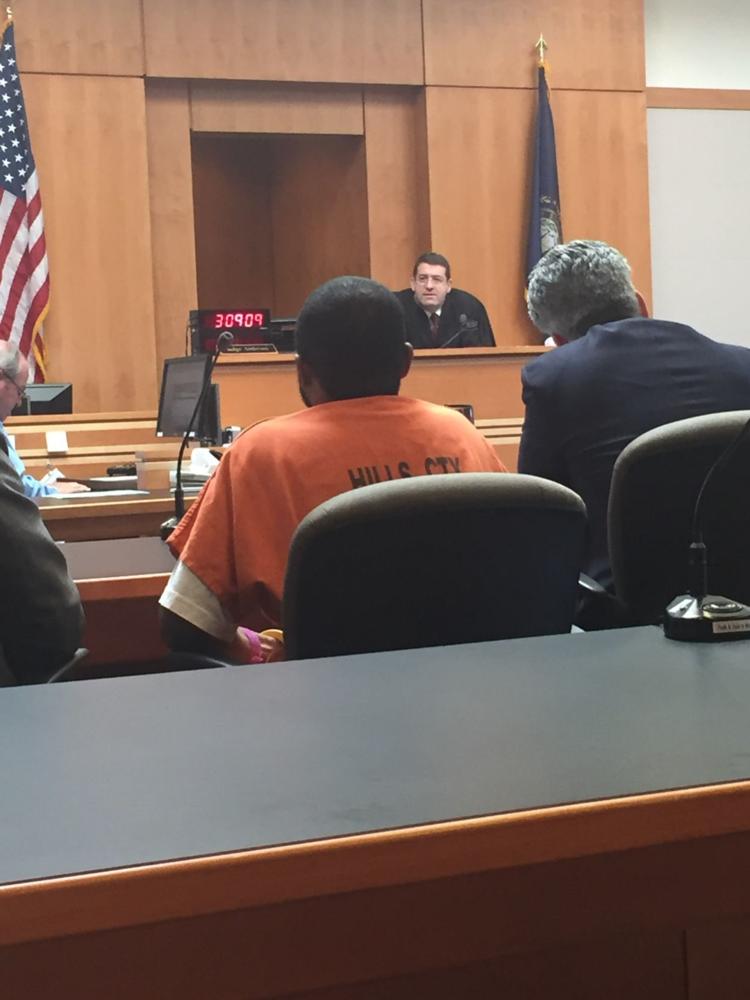 He praised the work of his investigators and the prosecutors.
He said the sentence should send a message.
"If you come in to our city, you commit violent crimes we're going to pull out all the stops, we're going to do everything we can to hold you accountable," Grant said.
Griffin's mother and sister attended the hearing. His sister, Diamond Fowler, asked Anderson not to hold her brother accountable for the actions of others.
"At this point, it is what it is. We love him, we support him," Fowler said after the sentence. "I won't say he's completely innocent. He's a person who makes mistakes like the rest of us.'
During sentencing, the lead prosecutor — Nicole Schultz-Price — also brought up prostitution, claiming that Griffin used women "as a type of currency" to reward gang members. Defense lawyers objected, and Anderson said he would not consider the prosecution allegations, which a previous judge had barred from testimony during trial.
The prosecutor also noted that Griffin's girlfriend, Tori Caron, suffered a razor cut across her face. Caron died of an overdose shortly before a grand jury returned dozens of indictments against Griffin, including indictments accusing Griffin of trying to arrange Caron's murder.
"This city has been plagued for years with increasing numbers of drugs and drug problems. We all know these drugs are coming up from Lawrence and Boston, that this is what this defendant did," Schultz-Price said.
But defense lawyer Brian Lee said the 277-year proposal was illogical. He argued for a 25-year-sentence — the mandatory sentence for the charge of being a drug enterprise leader — noting all the allegations stem from that allegation.
Defense lawyers have said the case will be appealed. And the defense lawyers have asked Anderson to unseal court files regarding their claims of prosecutorial misconduct in the case.