CONCORD — A Massachusetts man will serve nearly four years in federal prison for his role in distributing over 400 grams of the deadly drug fentanyl.
U.S. Atty. Scott Murray said Wednesday that Trevor Ahearn, 28, of Haverhill, Mass., was sentenced in U.S. District Court in Concord to 46 months in prison for participating in a fentanyl distribution ring.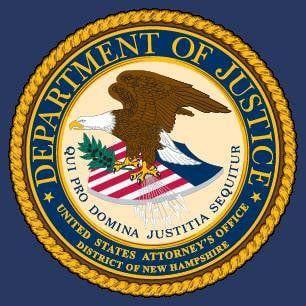 According to court documents and statements made in court, a drug trafficking organization engaged Ahearn to sell fentanyl to customers across New England, including New Hampshire. On each day Ahearn worked, the organization provided him with at least one 200-gram bag of fentanyl and expected him to sell it and return with approximately $6,000.
In addition to Ahearn, 33 additional defendants have been charged with participating in this conspiracy.
Ahearn previously pleaded guilty on October 23, 2018.
"Fentanyl is clearly the most dangerous of the illegal drugs commonly sold in New Hampshire," said Murray. "The transportation of this lethal substance into our state must be stopped. In order to prevent deaths and overdoses, we will remain focused in our effort to arrest, prosecute, and incarcerate the traffickers who are engaged in this deadly trade."
"New Hampshire is in the midst of a devastating opioid crisis, as deaths from fentanyl climb," said DEA Special Agent in Charge Brian D. Boyle. "The DEA will continue to use every resource available to identify those like Mr. Ahern, who are coming from out of state to contribute to this crisis. DEA's top priority is combatting the opioid epidemic by working with our local, county, state and federal law enforcement partners to bring to justice anyone who distributes deadly drugs."