For 47 years, latent fingerprints sat in an investigative file at the New Hampshire State Police.
They had been lifted from the bathroom sink at Sanborn's Garage in Andover on Sept. 1, 1966, the day that customers found station attendant Everett "Red" Delano, a Navy veteran and father of three, nearly lifeless on the floor.He died at a hospital the following day from the three gunshots put into his head.
On Wednesday, authorities announced the case had been resolved, 53 years after Delano was killed.
At the time of his death, fingerprint forensics was a nascent technology. But nearly five decades in the future, they were used to solve a crime that had been forgotten by law enforcement.
In 1966, State Police detectives had sent the fingerprints to the FBI, sending a letter to the attention of legendary FBI director J. Edgar Hoover.
But the FBI, which had recently launched the Automated Fingerprint Identification System, never entered the fingerprints into the system. The investigation stalled by the end of the year.
And it was so forgotten that the murder didn't even make the initial listing of unsolved murders when the state launched its Cold Case Unit in 2009, said Susan Morrell, the homicide prosecutor who oversees cold case investigations in New Hampshire.
Authorities weren't made aware of Delano until 2013, when one of his children contacted state officials to ask why her father was not listed on the Cold Case website, Morrell said.
"That's happened more than once," Morrell said.
Detectives dug out the police file and ran the latent prints through the FBI. This time, the match was easy. They belonged to Thomas Cass, a career criminal living in Orleans, Vt.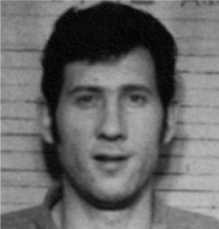 He put a gun to his head killed himself on Feb. 24, 2014, four days after his third conversation with Cold Case Unit detectives. He was 67 at the time.
"This previously unsolved homicide is now solved," reads the concluding sentence of a summation of the case that Attorney General Gordon MacDonald released Wednesday.
"We are happy this day has come where our family has been given a small measure of Justice," reads a portion of an email statement issued by the family. "For almost 53 years, our family has wondered what happened on September 1, 1966."
The statement expressed gratitude to law enforcement and the Cold Case Unit for their work.
"We are also grateful to the many friends and neighbors who supported our mother Blanche and our family, and assisted with the investigation in 1966 and beyond," the statement reads.
According to the summation, Delano was a retired Navy veteran who worked as a night watchman at Colby Sawyer College and part-time at Sanborn's, which was on Route 4.
He was alone at the time of the killing and robber took everything but pennies from the drawer, estimated between $75 and $100.
Water was running in the bathroom sink when Delano's body was discovered. The people who discovered the body were smart enough not to turn off the water, and authorities found the mystery fingerprints on the sink and soap dispenser.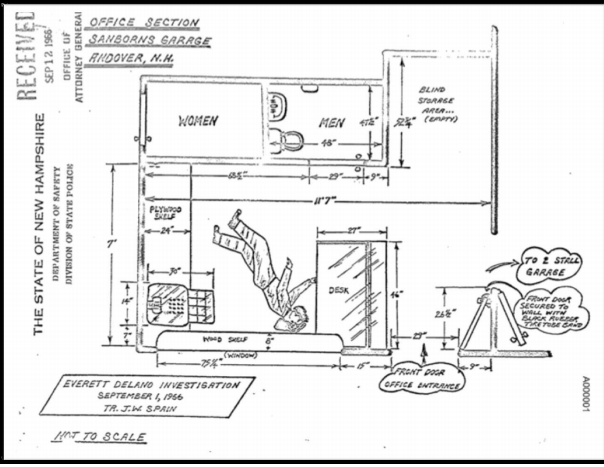 "What's really remarkable is they did such a good job with the crime scene in 1966," Morrell said.
An autopsy determined Delano was in an upright position when shot twice. A third shot, this one at close range, took place when he was on the ground.
The initial police investigation involved tracking down people in the area who owned .22 caliber firearms and testing the weapons for ballistics. Police also searched the nearby Blackwater River for a .22 firearm.
In 1966, Cass had only a couple of arrests on his record — larceny and contributing to the delinquency of a minor.
But by 2013, he had developed a lengthy criminal history. It included possession of a sawed off shotgun, armed robbery, robbery, escape, aggravated assault and probation violation. He had convictions in Vermont, Massachusetts and New Hampshire.
Cold Case Unit detectives visited him at his Vermont home in fall 2013 and asked about the Andover murder. He said he had only been to New Hampshire once, to Hampton, and knew nothing about Andover.
At a second meeting in November 2013, he provided a DNA sample.
Meanwhile, detectives spoke to acquaintances and an ex-wives. They described a violent man who bragged about his criminal past and even talked about getting away with a murder.
In their last interview, authorities told Cass that unspecified forensic evidence linked him to Sanborn's Garage. He said he may have been in Andover but he doesn't remember. He then asked for a lawyer.
Immediately afterward, Vermont State Police searched his home under a search warrant issued by a local judge. His live-in companion, June Spainol, told authorities he never admitted the murder to her.
In its legal analysis of the case, the summary said Cass' fingerprint and suicide amount to admissions of guilt.
"Over the years, he had made it clear to those closest to him that he would never go back to prison. It is a fair inference that he killed himself to avoid going back to prison," the summary reads.
Morrell said the prosecutor's review of the Delano murder started once the suicide took place. The delay involved personnel issues when it came to assigning reviews of case investigations, she said. She noted that no prosecutor had been devoted full-time to the Cold Case Unit for much of those five years.
She said she could not comment on whether other cases are in the pipeline.