CONCORD — An Exeter man will serve four months in federal prison for operating massage parlors that officials say offered sexual services in exchange for money in three New Hampshire communities.
Ken Duc Ma, 60, of Exeter, was sentenced in U.S. District Court in Concord to four months in prison for promoting and managing an establishment for the purpose of prostitution, U.S. Atty. Scott Murray announced Tuesday.
According to court documents and statements made in court, from at least March 1, 2015, through November 7, 2017, Ma owned and managed businesses including Qi Natural Healing Massage, LLC, in Plaistow, Oriental Bodyworks, in Exeter, and Johnny's Massage a/k/a Qi Natural, in Salem.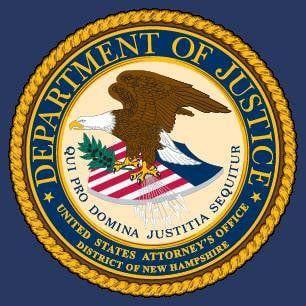 According to federal officials, the three businesses advertised massage services to clients, but also offered sexual services in exchange for money.
Beginning in March of 2015, investigators conducted surveillance of the businesses and observed that they were frequented exclusively by male customers. On various occasions, after observing customers leave the businesses, investigators approached the customers asking about the services they received.
According to federal officials, customers of each of the three businesses reported they had paid cash in exchange for sexual services.
Investigators located advertisements for each of the businesses posted on Backpage.com. in New Hampshire, Maine, and Massachusetts under the subsections "Massage," "Body Rubs," "Adult Entertainment," "Escorts," "Dating," and "Men Seeking Women."
Advertisements included references to sexual activity and had sexually explicit images depicting female workers wearing lingerie and in various states of undress.
All of the Backpage.com advertisements were posted and paid for by Ma, officials said.
On November 7, 2017, investigators executed search warrants at all three businesses and two residences owned by Ma.
One of the residences, located in Haverhill, Mass., was used by Ma to receive packages and store supplies for his businesses. After obtaining a search warrant, officers seized approx. 11 boxes of white sheets used to cover massage tables, along with plastic bags containing 1,092 condoms. They also seized large amounts of cash, most of which was wrapped in newspaper and concealed behind a wall, and what officials termed a "significant amount of cash" hidden in Ma's primary residence.
Ma previously pleaded guilty on January 3. His prison sentence will be followed by three years of supervised release.
As part of his sentence, Ma will forfeit $186,466 and land and buildings located in Plaistow to the government.
"The defendant in this case profited from illegal conduct that exploited women," said Murray. "His prison sentence and substantial forfeiture of property should serve as a deterrent to others who would seek to exploit women for economic gain. I am grateful for the work of the multi-jurisdictional investigative team whose efforts brought this defendant to justice."
"Today's sentencing comes as a result of a well-coordinated federal, state and local law enforcement investigation," said Peter C. Fitzhugh, Special Agent in Charge, U.S. Immigration and Customs Enforcement's Homeland Security Investigations (HSI), Boston. He thanked New Hampshire state police along with the Exeter, Plaistow, Londonderry, and Salem police departments for their support in investigating the case.
"The Diplomatic Security Service is committed to making sure that those who exploit and traffic individuals will face consequences for their criminal actions," said William B. Gannon, Special Agent in Charge of the U.S. Department of State's Diplomatic Security Service (DSS), Boston Field Office. "We will continue to join with our federal, state, and local partners to combat this serious crime."