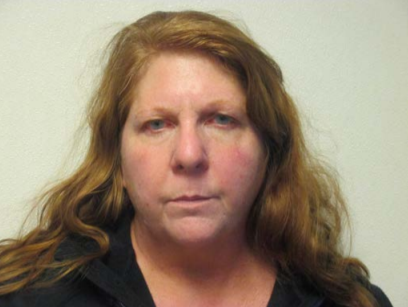 ALLENSTOWN — A Pembroke woman was arrested for driving under the influence after crashing her vehicle through the front windows of the Circle K on Monday night.
At 8:23 p.m., police say, Theresa Caplette, 55, drove her vehicle into a parking space in front of the 24 Allenstown Road convenience store without headlights on. The vehicle then continued moving at "faster than parking speed" until she plowed into the building, according to police.
The force of the collision moved the checkout counter about four feet and shattered the pane glass window inches from the attendant, who was standing behind the register at the moment of impact.
While Caplette and the attendant were not harmed, police say several customers did sustain injuries that were treated on the scene by Tri-Town Ambulance.
After the collision, Caplette put the vehicle in reverse and backed into a gas pump before pulling back into the same parking space, exiting the vehicle and walking into the gas station, police said.
In video security camera footage, unidentified voices are heard addressing Caplette.
"Are you on drugs? You hit my sister," said one individual.
"I'm sorry," replied another voice, presumably Caplette.
"That's all you have to say? Where did you learn to drive?" asked the first voice.
On an Allenstown Police Department post about the incident on social media, a Rachel Denoncourt of Suncook commented that she and her friend were both at the register when the crash happened.
On her own Facebook page, Denoncourt wrote her friend grabbed her and pulled her out of the way right before the crash. Denoncourt said she received stitches as a result of the collision.
Police responding to the scene had Caplette perform a field sobriety test, which they say she failed.
Caplette was taken into custody and submitted to a blood test, which investigators are awaiting the results of.
Caplette was subsequently booked, processed and released on personal recognizance bail, but Allenstown
Police Chief Michael Stark said Caplette was "too drunk" to be safely released, so she spent the night in jail.
The incident is under investigation until such time as they can review the results of Caplette's blood alcohol test.
Caplette is scheduled to appear May 1 at 1 p.m. in 6th Circuit Court — District Division in Hooksett.