DOVER — Officials at the People for the Ethical Treatment of Animals are asking the Strafford County Attorney's Office to "vigorously prosecute" the case against a Middleton man who allegedly abused his dogs last winter.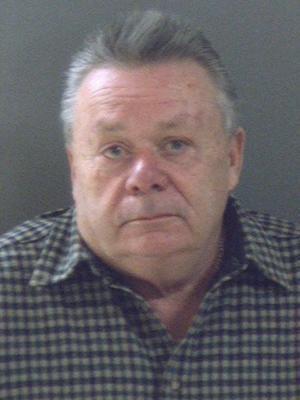 "Hoarders have a compulsion to warehouse animals they can't care for, and they're nearly always repeat offenders — unless authorities step in," PETA Vice President Colleen O'Brien said in a statement on Wednesday.
Albert Colburn, 79, who lives on Route 153, was indicted in May on charges he starved three dogs, leading to the death of Black Velvet and a dog with an unknown name, as well as leading to the malnourishment of a German pointer named Magic Mike.
PETA officials are getting involved with the case because Colburn has a history of problems with keeping his animals healthy. In June of 2010, he was convicted of 11 counts of animal cruelty in Rochester District Court.
Colburn was banned from owning or caring for animals for three years after animal hoarding was discovered at that time. He voluntarily surrendered seven dogs, three horses, two llamas, two peacocks, two potbellied pigs, three piglets and five ducks as part of that investigation.
PETA is calling for any convictions in Colburn's current case to come with jail time, psychological counseling at his expense, and a prohibition on owning animals for as long as possible.
Kristin Rickman, an emergency response division manager for PETA's Cruelty Investigations Department, sent a letter to Strafford County Attorney Thomas Velardi on Wednesday expressing PETA's concerns.
She explained in an interview with the New Hampshire Union Leader Wednesday evening that PETA is supportive of the county attorney's office in the case.
"Mr. Velardi is definitely on the animals' side. He actually told me that in the initial case, he was the assigned prosecutor. At that time, he requested that upon conviction a lifetime ban on animal ownership (be imposed), and he was told that that would be infringing upon the defendant's rights," Rickman said.
If Colburn is convicted a second time on charges related to animal cruelty, Velardi said the judge will be asked to take that into account.
"It's something we will certainly be looking at, the fact that we have gone down this road with him before, and that is going to be part of possibly playing into how we handle the situation like this if the jury finds he did what we believe he did, which was negligently treat these animals that were in his care," Velardi said.
Colburn's defense attorney, Stuart Dedopoulos, said Wednesday that one of the three changes will be dropped, based on a ruling that will suppress certain evidence that Judge Mark Howard ruled was illegally obtained by authorities.
Jury selection is scheduled for Feb. 3.
Dedopoulos said he will allow jurors to make their own decisions on Colburn's innocence. If his client is convicted, Dedopoulos plans to argue that Colburn should be able to keep animals under the reasonable supervision of Middleton's animal control officer.
"He's a nice man; he's just at the end of his life. They're his family," Dedopoulos said. "He's been an animal person his whole life."