LACONIA — Recent legal filings in the cocaine possession case pending against Patriots football player Patrick Chung suggest a plea deal is in the works.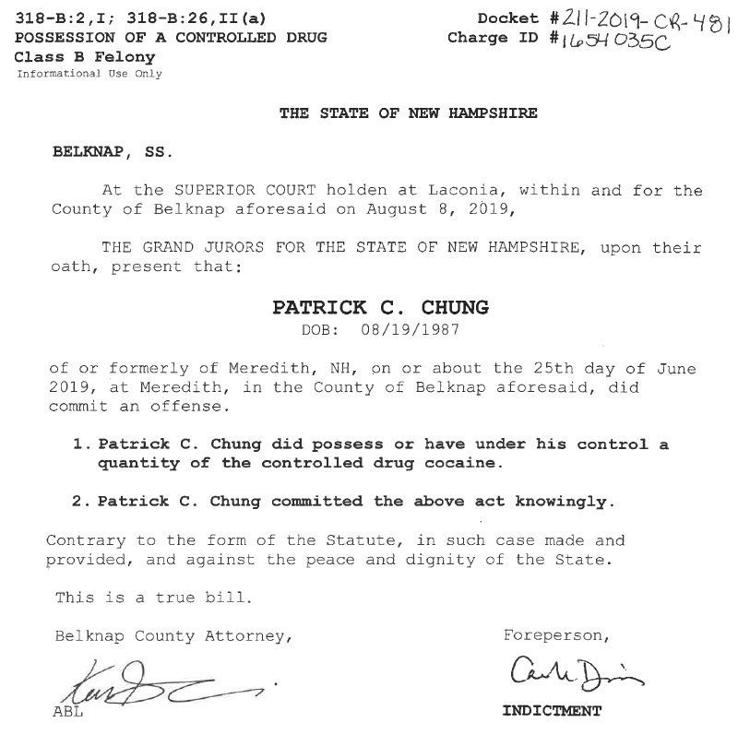 A Superior Court judge approved a continuance request filed by Belknap County Attorney Andrew Livernois on Dec. 27 the same day it was filed.
In support of a two-week postponement, Livernois cited the best interest of judicial economy and being "actively engaged in negotiations regarding a possible resolution of this case," as among the reasons for his request.
Chung, 32, had been scheduled to appear in Belknap County Superior Court on Monday for a dispositional conference, a meeting between the prosecutor, defense attorney and judge. Typically, a plea offer has been made prior to such a hearing and during the meeting the lawyers will inform the judge whether they have negotiated a resolution, that they expect to come to an agreement through further efforts, or a settlement is unlikely and the case should be scheduled for trial.
The Patriots strong safety was indicted by a Belknap County grand jury in August on a lone Class B felony count of knowingly possessing or having under his control a quantity of the controlled drug, stemming from an incident at a home Chung owns in Meredith on June 25. He has pleaded not guilty, waived arraignment and has yet to set foot in a New Hampshire courtroom.
Should an agreement not be reached, Livernois wrote in court filings, Chung would not be prejudiced by speedy trial issues as the case has previously been scheduled for jury selection on March 16 in the Laconia court at 9 a.m.
The dispositional conference has been rescheduled until Jan. 14 at 1:30 p.m.
The Jamaican-born Chung, who played college football at Oregon, was drafted by the Patriots in the second round of the 2009 NFL Draft. In March 2018, the team signed him to a two-year $7.80 million contract extension. In April, Chung signed a one-year extension, keeping him with the team through the 2021 season.