MANCHESTER — The man whose girlfriend, Tanya Hall, was shot and killed over the weekend while they were supposedly fleeing a confrontation outside a Manchester bar was arrested Thursday in Nashua, where he appeared for a court hearing on an unrelated case, Manchester police said.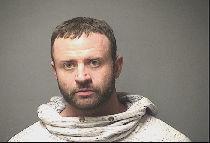 Police said Jeremy Winslow, 34, of 409 Bridge St., Apt. A, was arrested on a warrant and charged with felony cocaine possession, as well as driving after his license was suspended, a misdemeanor. They did not specify when the crime took place. Winslow, who has a lengthy criminal record, is a key witness to Hall's homicide and has said he alerted a nearby police officer when he realized she was shot.
Meanwhile, a "time of sharing" memorial for Hall is slated for this evening at the Peabody Funeral Homes and Crematorium in Londonderry, according to the family obituary. A GoFundMe page set up to raise money for her 18-month-old son received pledges of $13,895 when checked on Thursday evening.
Winslow has spoken freely about what he said happened Saturday night outside Club Manchvegas. He has said he got into a confrontation inside the club, when someone from a biker club known as BRO demanded he say "excuse me" after being accidentally bumped into.
He and Hall left the club, and three men followed them outside and punched the vehicle window, he has said.
Winslow said he only realized that Hall had been shot when she said she had been hit and slumped forward in the vehicle.
Hall was shot in the back by a handgun, authorities have said. Justin Moura, 34, has been charged with second-degree homicide in the case and pleaded not guilty.
Authorities have said Winslow is not a suspect in the homicide. The shooting and his comments have provoked multiple conversations on social media, many critical of Winslow and saying there is probably more to the story.
On Wednesday, Hall's family took out a restraining order against Winslow, complaining he repeatedly called and texted Hall's mother asking to see Hall's 18-month-old son.
On Wednesday, Winslow said he needs time to grieve. "This has twisted so many things and made so many things convoluted, to be honest. I can barely fathom what's going on because social media has twisted stuff," he said.
Winslow was in Nashua District Court Thursday for a compliance hearing stemming from a domestic violence-related case from 2016, police said.
The New Hampshire court system provided a compilation that shows 59 cases involving Winslow, nearly all criminal or motor vehicle charges, going back as far as 2002.
They include robbery, felony drug charges and simple assault. The earlier charges were the more serious and resulted in prison sentences. The more recent, which include driving, stalking and domestic assault, are either open or have resulted in deferred sentences.
Winslow also faced domestic violence petitions filed in 2016 and 2017 from a woman who is not Hall. The state has also taken him to court for child support.
Winslow was not being held at Valley Street jail as of Thursday afternoon. He is scheduled to be arraigned 1:30 p.m. today (March 8) at Hillsborough County Superior Court in Manchester.