LONDONDERRY — Police in Londonderry are charging a Manchester woman with lying to law enforcement last Thursday after a ruse she and her boyfriend concocted to elude police backfired, police said.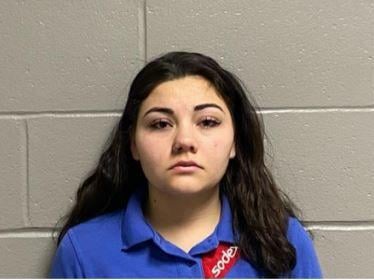 Police charged Kayla Rodriguez, 20, of Manchester with making a false report to law enforcement and providing false 911 information. Her boyfriend, Thai Bandon, 19, of Manchester, is expected to face charges of disobeying an officer and driving after revocation of license.
Police say Bandon was illegally driving Rodriguez's Subaru Impreza hatchback in the area of Hardy Road in Londonderry when he pulled into a stranger's driveway, left the vehicle, which was missing its front license plate, and hid behind a bush.
Puzzled neighbors watched this unfold and called police to report what they saw around 4:40 p.m., saying the driver had fled into the woods, according to Londonderry Police Capt. Patrick Cheetham.
About 5:05 p.m., Rodriguez called police to report that her Subaru had been stolen, the same car that was abandoned on Hardy Road, police said. Police quickly connected the two cases and deployed a K9 unit to track down the driver.
"But what we didn't know at the time was that it ended up being Kayla's boyfriend," Cheetham said.
Police searched the woods from 5:35 p.m. to about 6:10 p.m. They called off the search shortly after they realized the car had in fact not been stolen at all, and that the suspect was identified as Rodriguez's boyfriend, Bandon.
After police continued to question Rodriguez, they found inconsistencies in her story and she eventually confessed to falsely reporting the theft, Cheetham said.
Bandon was interviewed by police a few days later.
"He did fully cooperate and apologize," Cheetham said.