Law enforcement officials continue to criticize New Hampshire's new bail law, after police in several communities arrested repeat offenders on a wide range of charges.
In recent cases, local police officials released statements voicing their displeasure with the bail reform law, which requires a judge to take into account an inmate's financial situation when setting bail.
Last year, Gov. Chris Sununu signed a bipartisan bail reform law designed to end the practice of jailing poor people before trial just because they could not afford their bail. Sununu signed subsequent revisions into law and has said he would be willing to consider more.
Last Thursday, Manchester police were monitoring Veterans Park for illegal drug activity when detectives reported seeing three people involved in suspected drug activity.
They included William Gamble, 51, who police report was arrested last month for sale of a controlled drug. Police asked to search his bag and he gave permission. Inside they reported finding a clear bag containing a crystallized substance, believed to be crystal methamphetamine.

Gamble was arrested and charged with possession of a controlled drug.
"This is a direct result of the bail reform law which allowed for Gamble to be released on personal recognizance (PR) bail less than four weeks ago," said Manchester Police Chief Carlo Capano in a statement last week. "PR bail allowed him back on the streets and back to his old ways. Not only was he found to have drugs on him today, but this time it was methamphetamine; much more dangerous than spice. This is just another example of how bail reform is negatively impacting our city."
Two women with Gamble in the park were also arrested. Corrina Marcoux, 51, and Edith Daughen, 28, were both found with tourniquets on their upper arms, consistent with someone preparing to inject narcotics; police said heroin/fentanyl was found with them. Both were charged with possession of a controlled drug and released on personal recognizance bail.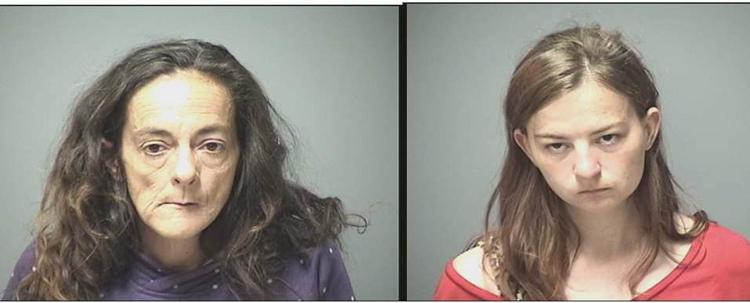 Last Friday, Gamble was released on personal recognizance bail.
"We are very frustrated with the system," said Capano in a statement. "Gamble's actions are without a doubt a concern for the Manchester Police Department. We have had over 111 contacts with him over the last decade; we certainly consider him to be a danger to our community. The system is not working, we continue to see people breaking the law and released with little to no accountability."
Proponents of the bail reform law claim elimination of cash bail has prevented poor suspects from remaining incarcerated for long periods of time before trial.
"Current bail law has a special new ability that didn't exist in the old bail system: anyone who is determined to be dangerous to themselves or others can be detained while awaiting trial, regardless of the charges against them," said Jeanne Hruska, political director at the American Civil Liberties Union (ACLU) of New Hampshire.
"The law intentionally requires a prosecutor to present evidence of dangerousness and has a judge make the decision, not the police, Hruska said in a statement. "Being detained while awaiting trial means significant collateral consequences can happen to a person's life, such as losing housing, child custody, or employment. The decision to detain someone must be based on more than bias or speculation."
Last week, a Rockingham County deputy sheriff was placed on medical leave after helping take a man into custody in Derry, Chief Deputy Al Brackett said.
Jason Hunkins, 32, was wanted on nine active warrants issued by New Hampshire State Police, Brackett said.
Police say one Rockingham County deputy fell down the stairs of a 5 East Broadway apartment building when Hunkins escalated an altercation as deputies tried to arrest him.
Hunkins was bailed out of jail on the charges related to the warrants while he was being treated in the hospital. He left without being discharged, Brackett said in a statement.
"Very candidly, we're not happy with the new bail reform and this is a good example of what ends up happening," Brackett said, who added he believes recent events illustrate that Hunkins is "dangerous" and should be held without bail.
"These individuals who are dangerous should be held, and because of bail reform, they're not. The judges are letting them go," Brackett said.
Last Thursday, Rochester police arrested Jonathan Candilieri, 36, of Rochester on a charge of bail jumping. Rochester police say Candilieri was arrested on May 22 for criminal trespass, then bailed on personal recognizance with an arraignment date of July 8.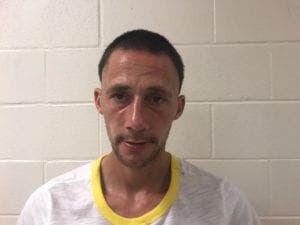 Candilieri failed to appear for his arraignment on July 8 and a bench warrant was issued, police said, Candilieri was arrested for the bench warrant on July 12, again released on personal recognizance bail with an Aug. 26 arraignment date in Rochester District Court, and again failed to appear for his arraignment.
According to police, Candilieri was also arrested on June 26 for burglary and released on PR bail, before failing to appear for arraignment July 11. When Candilieri had arrests in 2018 for willful concealment and in 2017 for possession of drugs, he failed to appear at his original arraignment date for both of those arrests, Rochester police said.
"Candilieri is just one of many recent arrests where repeat offenders like this continue to be released on personal recognizance bail, fail to appear to court and continue to be arrested on court-issued warrants for those failures to appear, only to again be released on personal recognizance bail," Rochester Police Capt. Todd Pinkham said in a statement. "Many of these recent offenders are also committing other crimes in the process."
Hruska said homelessness or substance abuse disorders do not necessarily make people dangerous.
"People who are experiencing homelessness or substance abuse disorders need services, not a jail cell," Hruska said. "Incarceration will not solve these systemic challenges. There are countless people who are able to continue their job, pay rent, and care for their children because of these new bail laws. Before bail reform, they would sit in jail, all while presumed innocent, for no reason other than the fact that they couldn't afford bail."