MANCHESTER — The popularity of recovery programs in Manchester may play a factor in a troubling increase in overdose deaths in the city, according to an official on the front lines of the drug crisis.
This week, American Medical Response released its monthly update of overdose calls in the state's two largest cities. While the number of total overdoses went down in both cities over the past 52 weeks, the number of fatal opioid overdoses increased in Manchester by 15 percent.
That's in contrast to Nashua, where overdoses are trending downward. And nationally, the New York Times reported that the number of fatal drug overdoses dropped about 5 percent last year, the first time the country has seen a drop since 1990.
The man who compiles the monthly statistics — AMR Regional Director Chris Stawasz — said he has no scientific explanation for what's happening. But he has a hypothesis.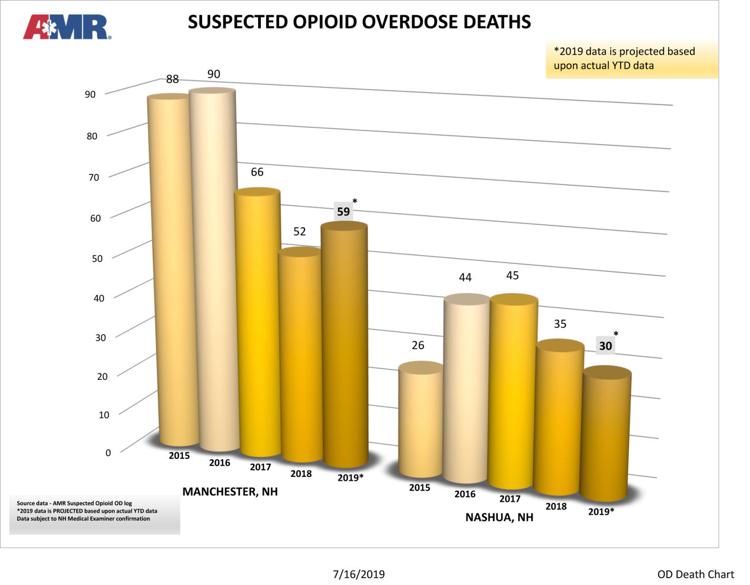 "There are more people than ever in recovery now, and the absolutely most vulnerable time for somebody who is addicted to opioids is when they're in recovery," Stawasz said.
He said drug users build up tolerance for opioids such as heroin and fentanyl, but lose that tolerance once they begin treatment and stop using. If they relapse and ingest the same quantity of drugs, they are putting themselves at risk for an overdose.
That situation is especially dangerous for prisoners and jail inmates, who will often overdose after being released from incarceration, Stawasz said.
People relapsing are also vulnerable because they try to hide their use.
"You have that moment where you break down, you go off on your own in private. There's no one there to notice," he said.
AMR projects that both Manchester and Nashua will see their number of total overdoses fall off by 13 to 15 percent this year.
Fire Chief Dan Goonan said the drugs on the street in Manchester are strong, which could be responsible for the increase in fatal overdoses. But he cautioned against relying on overdose statistics, noting the availability of the overdose antidote Narcan.
"There may be more overdoses we don't know of because of Narcan," Goonan said.
Meanwhile, he said drug users seem more likely now to abuse whatever drug they come in contact with.
"It's not just opioids. It's a lot of people using meth, using anything in front of them," he said. "Believe me, it's getting more complicated."
In fact, the latest data released by the state Medical Examiner's office show that of the 143 opioid-related fatal overdoses tested so far this year, 88 victims had fentanyl and other drugs in their system.
Goonan thinks overdose deaths would be reduced with more treatment capacity.
On some days, a person will show up at Safe Station and move quickly into treatment. Other times, all the 16 respite beds at Farnum Center, where people wait for placement, are filled.
"If there's no place to stay for a short period of time, they're going to leave," he said.
Safe Station started in 2016 with the idea of using Manchester fire stations as no-questions-asked portals for drug users seeking help.
The statistics show more than 50 percent of people who used Safe Station in Manchester are from outside the Manchester area.
"The wait used to be for weeks, and we cut it down to days. That's why they're coming here," Goonan said.
Stawasz said the state should do a better job of promoting its Granite Doorways program, which seeks to provide treatment entry points for users statewide.
"We keep hearing from the state they're going to be advertising their program so people are aware. They still think Safe Station is their only option," Stawasz said.
Stawasz is projecting 59 fatal overdoses in the Queen City by year's end, up from 52 last year. That is down from a high of 90 Manchester overdose deaths in 2016.
He anticipates 30 overdose deaths by year's end in Nashua, compared to 35 last year.