Despite knowing their horrible fate, George Bonfiglio can't shake the hope that one day soon his friends James and Michelle Butler will show up at his Main Street business to say hi — just like they used to do.
But he knows that's not going to happen; their bodies were found buried last month on North Padre Island, Texas, victims of homicide.
Bonfiglio and his wife, Sheila, own and operate the Rumney Village Store, which is next door to where the Butlers used to live.
George Bonfiglio remembers the pair's good humor, referring to "Jimmy," 48, and Michelle, 46, as a comedy team. "I keep looking out the window waiting for their truck," he said.
The Butlers' 2018 Chevrolet 2500 and rented RV camper were seen crossing into Mexico on Oct. 19. Last week, Texas authorities and Mexican police arrested a man and woman who they say were found to be in possession of the Butlers' vehicles.
On Friday, Adam Curtis Williams, 33, and Amanda Noverr, 32, both of Utah, appeared before Judge Jack W. Pulcher in Kleberg County's 105th District Court in Kingsville, Texas, where they faced charges of felony theft of the Butlers' truck and camper. They have not been charged with murder in the Butlers' deaths. Pulcher set a $1 million bond for Williams and Noverr.
Friday evening — between making pizzas and serving customers — George Bonfiglio checked his smartphone for updates about what had happened to the Butlers. Sheila Bonfiglio recalled that she and her husband became fast friends with the Butlers after George and Sheila purchased the Rumney Village Store.
Soon after they learned that the Rumney Village Store, which first opened in 1865, was for sale, they bought the place.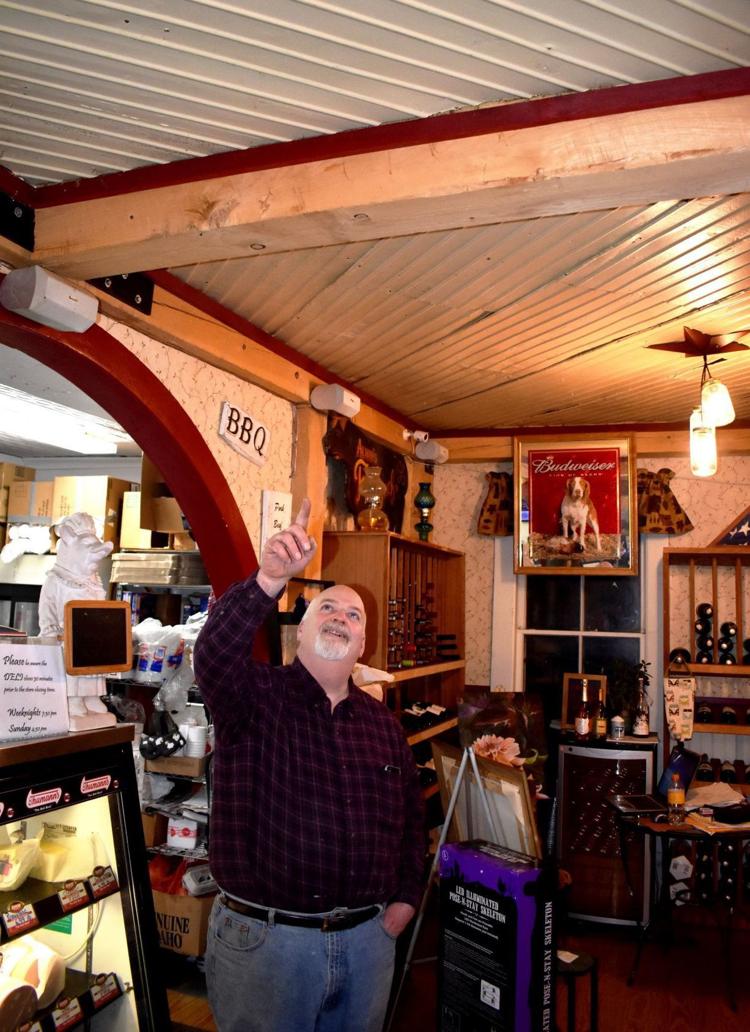 On the first weekend that the Bonfiglios began reconstruction of the store, "Jimmy and Michelle were here" to help, said Sheila.
A former air-traffic controller in the Navy, James Butler was also an accomplished carpenter, said George, and James was instrumental in helping install a new floor in the store and moving a wall that helped preserve an arch over the store's deli.
James was also one of Sheila's managers when she worked at the Walmart in nearby Plymouth.
"He was a good guy and they were good people," said Sheila. "They were both here when we opened our doors," she said.
Michelle, she added, worked as a cashier at the store for several months before she and James announced that they were going to do some extended traveling.
The Butlers hit the road in 2018 and came back several times, most recently this September for the marriage of Michelle's son, Bradley Roth.
"They talked about doing gate patrol at an oil rig in Texas," said Sheila.
"I really didn't get a chance to say goodbye," Sheila said, noting that the Butlers were very well known in the community.
James is a Rumney native whose two sisters still live in the area, while Michelle is a native of Groton.
Sheila said the Butlers had no children together but that they had a blended family made up of his two and her three children from previous relationships.
Most recently, Michelle worked as a driver for a local livery service.
Sheila said the homicide of the Butlers is "worse than horrible; it's unbelievable."
She learned that something was wrong when she was checking her Facebook feed one day and saw a post come up with the Butlers' picture. They were always scrupulous about updating their family and friends via social media, and had done so every day or every other day while they were traveling. Those posts, she said, showed the Butlers "having the time of their lives."
But one post she saw in mid-October was disturbing because it said the Butlers were missing.
"It just escalated from there," she said, with her emotions going from disbelief to shock to anger.
She couldn't believe "that someone could do it to them" and that James could be overtaken because of his military background and his being a scrappy person.
James, she said, was "always smiling, always laughing, always the jokester" — that is, except when he was working at Walmart and then he was "always the guy without a hair out of place. Always shirt and tie."
The Butlers were known in town for their love of the holidays and decorating their homes.
Halloween wasn't the same this year without the Butlers, Sheila said, adding that the community misses them now and missed them when they first began their travels.