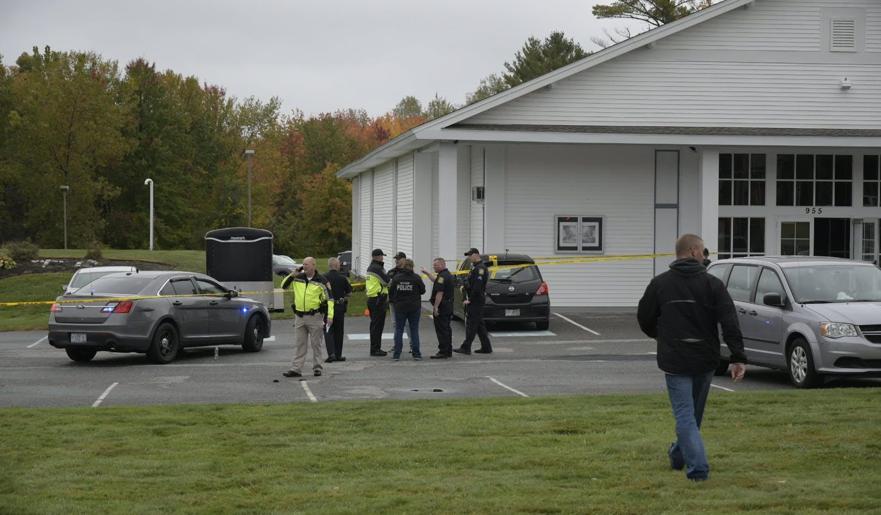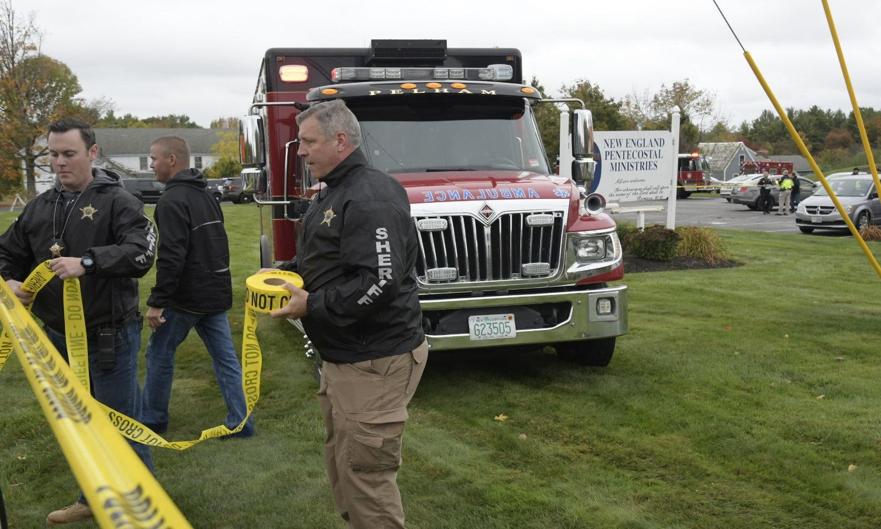 PELHAM — A church pastor and the bride were shot and wounded during a wedding at New England Pentecostal Ministries church Saturday morning, according to authorities.
And the shooting appears to be related to the Oct. 1 murder of one of the same church's ministers.
The Attorney General's office announced Saturday evening that Dale Holloway, 37, has been arrested for first-degree assault, after allegedly shooting Bishop Stanley Choate, 75, in the upper chest. Choate, the pastor of the Pelham church, is in serious condition at Tufts Medical Center in Boston, according to a news release.
The bride, Claire McMullen, 60, also suffered a gunshot wound to the arm in the incident, according to the AG's office. She was taken to Southern New Hampshire Medical Center in Nashua, where she is listed in good condition.
Police received a call reporting an active shooter at 10:12 a.m. at the 955 Bridge St. church. Officers arrived about three minutes later, said Pelham Police Chief Joseph Roark.
Churchgoer Janail Archer said she and her mother had been trying to get in touch with her father, Othniel Archer, 59, of Nashua, for most of the morning. He is a deacon at the church and was there at the time of the shooting.
Archer said her father told her he was in a balcony used for videotaping services when he saw a man wearing a hoodie walk toward the pulpit and shoot Bishop Choate and a woman. Police said the shooter used a handgun.
Archer said her father told his family he leapt from the balcony to tackle the shooter. He called for help and three others joined him in pinning the shooter to the floor.
When police arrived, Roark said, they found wedding guests holding down the gunman. Police would not discuss the relationship between the gunman and the victims. But, Roark said, "This does not seem to be a random event at this point."
Archer said her father recognized the shooter as the stepson of Luis Garcia, a 60-year-old ordained minister from Manchester, who was found shot to death inside a Londonderry home on Oct. 1. "My dad was very close with the (Garcia) family," she said.
Dale Holloway was listed as a stepson in Luis Garcia's obituary.
A 24-year-old Londonderry man, Brandon Castiglione, has been charged with second-degree murder in Garcia's death. Garcia's family has said the minister knew Castiglione's family through the church and that he had been trying to help the younger man.
According to Archer, Castiglione's father, Mark Castiglione, was the groom in Saturday's wedding.
The release from the Attorney General's office said Mark Castiglione was "struck in the head with an object" during Saturday's attack. He was treated at Southern New Hampshire Medical Center and released.
Holloway is in custody, scheduled for arraignment Tuesday in Hillsborough County Superior Court in Nashua. He was also arrested on alternative counts of purposely and knowingly causing bodily injury by means of a deadly weapon, for shooting Bishop Choate in the chest, according to the Attorney General's office.
Funeral services for Garcia were to be held at noon Saturday at the church — right after the wedding. But as mourners arrived, police turned them away, saying the funeral would not be held. Police surrounded the church with yellow crime scene tape, and were interviewing witnesses early Saturday afternoon.
New England Pentecostal Ministries posted a message Saturday evening on its website, confirming that "the Bishop and another person were indeed shot, but neither of them were fatal."
"We solicit your prayers at this time for the family," it said. "The family would plead with everyone to refrain from any acts of violence. That is not what the Bishop would want. And remember God is still in control."
All services in Pelham are canceled through Oct. 20, the message stated, but the pastor of CCF Ministries in Lowell, Mass., "has opened his church up to any members of NEP that would like to attend services during that time." And a prayer vigil was being held at the Lowell church Saturday evening.
Several people who were intending to celebrate the life of Luis Garcia lingered near the church Saturday morning. Many of them shared remembrances of Garcia, saying he was a kind and generous man.
Pastor Willie Bacote of Healing Springs Ministries in New London was coming to attend Garcia's funeral; he ended up praying with distraught friends and family. He said he has known Garcia since 2006.
"Luis was a man with so much joy. He just had so much joy to offer everyone," Bacote said. "I'm kind of at a loss for words."
Norman MacIver of Weymouth, Mass., came with his wife, Donna, and son, Kyle. MacIver said he has known Garcia for 20 years. They used to work together as drivers for North Coast Seafoods, he said. "We were trying to make plans to get together real soon," MacIver said.
He said he is worried about Garcia's wife, Patti.
Bacote said a group of friends and family were going to Patti's home in Manchester to be with her in this difficult time.
"Who would have thought something like this would happen?" MacIver said.
Forty-year church member Edon Hartford of Lowell, Mass., said Garcia was a minister at the church for about the last five years. "He was a beautiful man, too, a lovely man," Hartford said.
Pelham police said the criminal investigation has been turned over to the New Hampshire Attorney General's office and New Hampshire State Police Major Crime Unit investigators.
Shortly before the shooting, New England Pentecostal Ministries had posted a message of consolation as it prepared for Garcia's funeral, with a quote from Matthew 5:4: "Blessed are they that mourn: for they shall be comforted."
As the shooting incident unfolded, supporters posted their own messages of faith and support. The pastors of LIFE Church in Manchester wrote: "Our hearts are with our brothers and sisters impacted by the shooting in Pelham. Praying for peace, comfort and strength."
Staff writers Josie Albertson-Grove and Shawne K. Wickham contributed to this report.