W ith the number of homicides and fatal drug overdoses rising nationwide, states are struggling — and competing — to fill critical positions to investigate those deaths.
New Hampshire's chief medical examiner, Dr. Jennie Duval, says her office is feeling the strain.
Duval and Dr. Mitchell Weinberg, the state's deputy chief M.E., split a caseload of about 1,800 deaths that must be investigated each year. Only about a third involve autopsies, but each requires a post-mortem examination and a review of lab results, investigative reports and medical records to make a determination about the cause and manner of death.
Increasing caseloads can lead to delays in finalizing death certificates. And that affects the living in both painful and practical ways, Duval said.
"Right now there are many New Hampshire families who have to wait quite a while until they get final death certificates and final results," she said.
The ongoing opioid crisis has exacerbated an existing workforce shortage in her profession, Duval said.
In New Hampshire, RSA 611-B:11 spells out the kinds of "medicolegal" cases a medical examine…
"The caseload was gradually increasing every year and then it suddenly spiked and sharply rose because of the opioid epidemic around 2012-2013," she said. "At that point it was very clear that we were inadequately staffed to be able to handle all those opioid overdose deaths."
The state hires pathologists, many of whom work in medical examiner offices in other states, to assist as per diem contractors. "They're working in other offices and basically moonlighting," Duval said.
Duval has been with the Office of Chief Medical Examiner for nearly 20 years. She became chief when Dr. Thomas Andrew retired in 2017. Weinberg joined the office about 18 months ago.
The two split the on-call coverage and caseload, including about 600 autopsies a year — well above the recommended annual maximum of 250 autopsies for a forensic pathologist.
A national shortage of forensic pathologists has created a "fiercely competitive " job market, Duval said. The former associate medical examiner left for greener pastures last year, leaving a vacancy.
"We've been trying to fill it, thus far unsuccessfully," Duval said.
The state's job posting on the National Association of Medical Examiners website (theNAME.org) lists the salary range for that position at $200,000 to $240,000 and touts New Hampshire's lack of an income tax, low crime rate, four seasons and "exceptional quality of life."
Shortage, delays
It's not just a New Hampshire problem, according to Dr. James Gill, president of the NAME.
"This is across the country," said Gill, who is the chief medical examiner in Connecticut.
Nationwide, there are between 500 and 600 board-certified full-time forensic pathologists, he said. This year, just 39 individuals passed their national boards, a prerequisite to begin practicing.
"The demand is increasing; the supply is just not there," Gill said.
"It's a very small field, but it's a vital field, for public health, for the criminal justice system, and for families," he said.
Delays in reports and death certificates can be hard on families, Gill said.
"Funeral arrangements may be delayed; insurance benefits may be delayed," he said. "Because they don't have those reports."
Every state in New England has at least one opening for a forensic pathologist, Gill said.
It's not an easy path to become a forensic pathologist, he said. After four years of college and four years of medical school, an individual has to spend three or four years in residency followed by a fellowship in an accredited forensic pathology program. Then they have to pass two national board exams.
Some proposed solutions to the current workforce shortage include increasing salaries, adding coursework about the field to medical school curricula and offering loan forgiveness programs to attract candidates, Gill said.
"We have people graduating from medical schools with hundreds of thousands of dollars of debt," he said.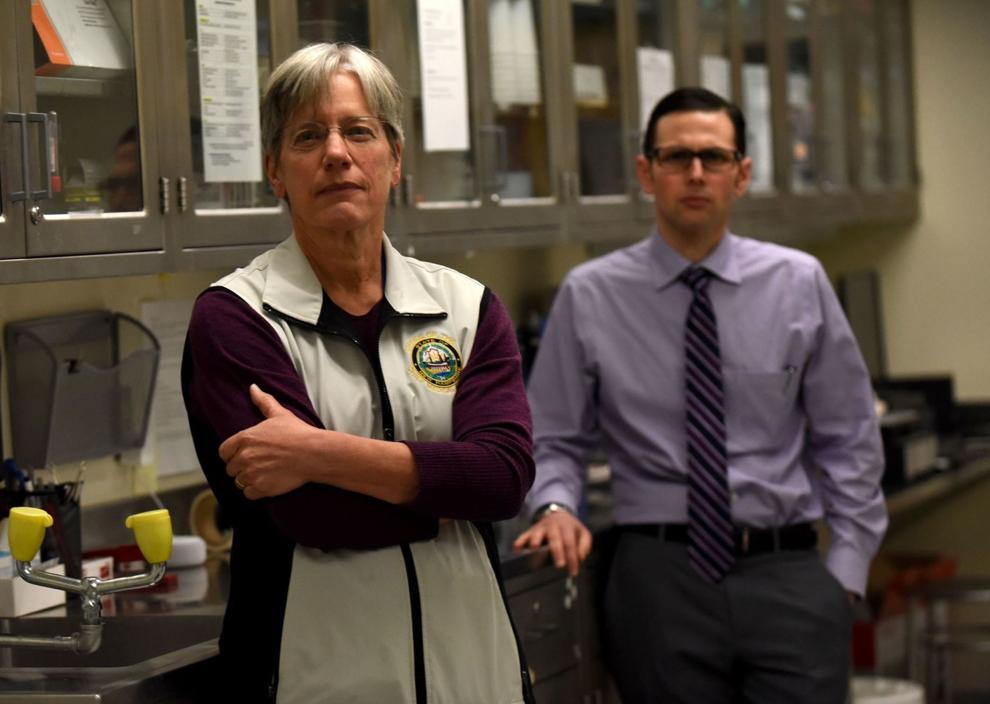 Help for the living
When Chief M.E. Duval enrolled in medical school at McGill University in Montreal, she expected to go into primary care, following in her father's footsteps. She explored a surgical residency "but quickly decided it was not for me," she said.
She "stumbled into" forensic pathology, she said, and found her calling.
It's not an obvious choice for students who want to be doctors, Duval said. "When most people go to medical school … they're very altruistic and they want to go save the world," she said. "They don't see pathology as that field of medicine where you save the world."
But compassion is integral to the work she and her colleagues do.
In New Hampshire, it has long been the practice of the chief medical examiner's office for a forensic pathologist to speak with the family of the deceased after an autopsy is done.
"That's not standard in many offices," Duval said.
It was awkward and difficult at first, she said. "But I quickly decided it was the right thing to do, and I hope it continues after I'm gone."
"If I'm a family member who's lost somebody and they were having an autopsy, I would want to speak with a pathologist, not another staff member," she said.
"I'm not trying to be a grief counselor. That's beyond my level of training and expertise," Duval said. "I'm just trying to provide information and answer questions."
That part of the job is difficult but important, agreed Weinberg, the deputy chief.
"I've heard families say they feel it gives them a sense of closure in some cases," he said. "I'm not a psychiatrist or a psychologist, but you learn to do this with respect and kindness."
After death, limbo
These days, Duval typically works 10- to 12-hour days. The work involves a lot more than autopsies, she said.
The M.E.'s office relies on about 20 assistant deputy medical examiners who respond to the scene of what are called "medico-legal deaths." These investigators are available 24/7, 365 days a year, in all 10 counties.
Those investigators' reports, along with lab test results, medical records and autopsy findings, have to be reviewed before an M.E. can determine the cause and manner of death in a case, Duval said.
Then, she said, "You need time to call families and discuss things. You need time to write reports and review medical records and prepare for depositions or trials."
"It all takes time," she said.
It currently takes six to eight weeks to get toxicology results back, Duval said. That is directly related to the opioid epidemic, "because so many of those cases need the toxicology results before we can finalize reports," she said.
"The one thing I regret is that sometimes it takes so long to get the results back to families," she said.
If the workforce shortage eases, that will get better, Duval said.
The long-term fix is to attract more medical students to pathology and then forensic pathology as a sub-specialty, she said.
But pathology jobs in hospitals command higher salaries, she said, "which is a big deal if you're coming out of medical school with a lot of debt."
When Duval graduated from medical school, she said, she didn't have that mountain of debt. "Salary wasn't my top priority," she said. "My priority was what do I want to spend my life doing."
"But I don't think medical students coming out today have that luxury," she said. "They sometimes have to go where the salary's going to be higher so they can pay down that debt."
Two missions
Forensic pathologists have two missions: criminal justice and public health, Duval said. They share that impulse to make the world better that drives many to medical school.
"Obviously, we can't help the patient, but we are helping their families, we are helping society," she said. "Sometimes we can provide information about inherited conditions that can directly affect a family member.
"It's just not the traditional clinical medicine way of helping patients."
The national association's Gill said, "We do our work to try to help the living.
"It's not just about investigating a death. It's about how can that death help the living, maybe preventing another similar death, or helping the family get through it," he said.
Popular TV shows give a skewed view of forensic pathology, these medical examiners said.
"The homicides are a very, very small percentage of the deaths that we investigate," Gill said.
Caseloads also include deaths from COVID-19, infectious diseases, suicide, sudden infant death and drug overdoses, he said.
Forensic pathology is not for everyone, Duval said.
"It's like funeral directors. It takes a certain type of person who can do that job," she said.
"Every death we investigate is tragic for somebody. It's part of the job."
Stress points
Deputy Chief M.E. Weinberg said each medical examiner has to find a way to deal with the stress of the work.
"It is very real," he said. "We see horrible things."
When he's doing a post-mortem examination, his full focus is on the task at hand, he said.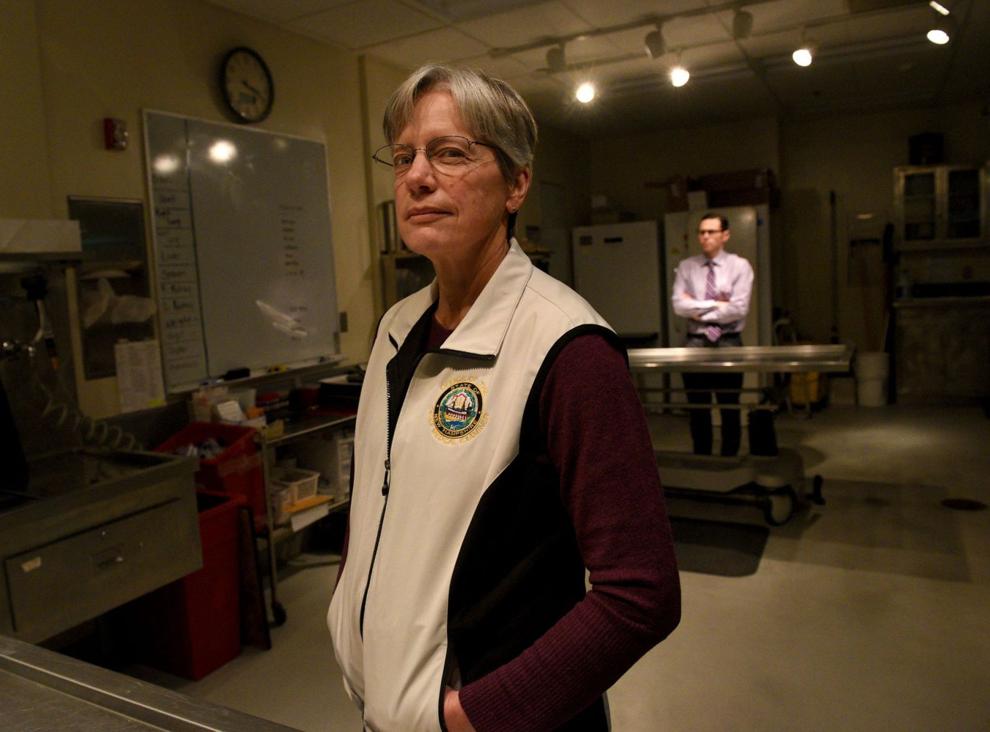 "I'm doing my job, even in some of the cases that by any objective standards are just absolutely horrific, such as pediatric homicides," he said.
But afterward, he said, "It is sometimes emotionally difficult wrapping my head around what I have just seen, and what I've done.
"I can tell you, I pretty much always go home on those days and give my kids a really big hug," he said. "Sometimes I sit there and cry."
It's the same for first responders who witness the terrible things humans can do to each other, he said.
"But you either learn a healthy mechanism, whether it's hugging your kids, or crying, or exercising, or writing, or meditation, or yoga, or whatever it may be, or you just can't do this," he said.
What do they want the public to know about their work?
It's not as glamorous as it's depicted on TV, they said.
"It can be very routine," Duval said. "It's not exciting. It is often sad."
"But it's also very interesting, most of the time. And I think it's very important," she said.
Gill, of the national medical examiners' group, said he has gotten calls from family members asking questions months, even years, after someone has died.
"Finally, they were able to look at the autopsy report," he said. "We play an important role in trying to answer those questions and explain what happened, and that can be comforting to some people."
It also makes the work profoundly rewarding, Weinberg said. "I personally find it very gratifying when I'm able to give a family an answer," he said.