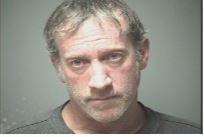 MANCHESTER — A Nashua man was allegedly smoking crack cocaine and receiving "sexual acts" at a red light Tuesday afternoon when two city police detectives walked up to his car.
Michael Douville, 51, was stopped at the intersection of Union and Valley streets, about two blocks from police headquarters, when the detectives approached.
They instructed Douville to pull over once the light turned green, but instead he accelerated west on Valley Street, they allege, and drove through the Advanced Auto Parts parking lot at high speed, police said.
Officer Robert Harrington stopped Douville a short time later near Warsaw and Pine streets.
The female passenger bolted and couldn't immediately be found, according to police. Harrington arrested Douville on charges of lewdness, disobeying a police officer, reckless conduct, and possession of crack cocaine. He was scheduled to appear Wednesday in Hillsborough County Superior Court North.