GILMANTON — More than a dozen weapons, 6,000 rounds of ammunition and body armor were found inside a lakeside camp where a man was found dead Sunday night after he shot at children and police, authorities said.
"It was a scary day. It's nothing short of a miracle that no kids or cops were shot," Police Chief Matt Currier said.
Police have identified the shooter as Brenton Johnson, 34, who had been renting the camp at 139 Lakeshore Drive for about six months. Currier said Johnson fired repeatedly on police officers with a .308 caliber, AK-47-style semi-automatic rifle.
Following an autopsy on Monday, the state Medical Examiner's Office ruled Johnson's cause of death was a self-inflicted gunshot wound.
"My understanding is that he had been in a downward spiral for the past couple of years. We were not familiar with him until very recently," Currier said of Johnson, noting a deputy with the Belknap County Sheriff's Office had previously left an eviction notice on Johnson's door.
Currier said he was on duty Sunday with another Gilmanton officer when they received a call that a resident at the camp had shot at a group of kids. One had walked onto the waterfront property's deck to ask about being hired to mow the lawn.
Currier and fellow officers arrived shortly before 3 p.m. to find the street in the densely settled neighborhood clogged with people.
"It was kind of chaotic and while we were getting more information, he fired two more times," said Currier, who activated the Belknap County Regional Special Operations Group.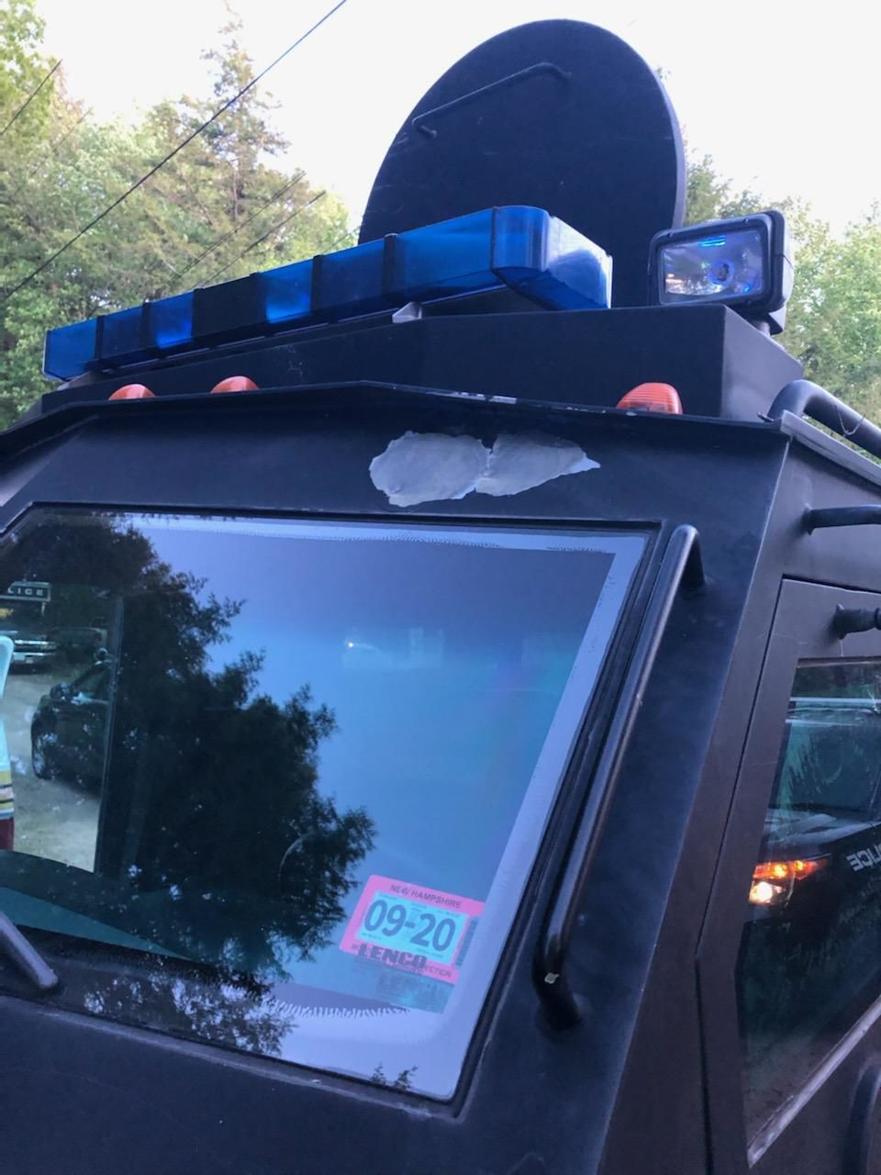 When the group's BearCat arrived, Currier said Johnson immediately began firing on the vehicle. Two rounds dimpled the driver's-side door, and two more struck just above the windshield on the driver's side creasing the metal and chipping off the paint. A fourth bullet pierced a light bar atop the vehicle.
Currier believes Johnson was trying to shoot the BearCat's driver.
"Somebody was watching out for everybody down there — for the kids, the neighbors and law enforcement. We were definitely not alone," Currier said.
The incident ended around 10 p.m. when a remote-controlled robot equipped with a video camera belonging to the State Police Bomb Squad was sent into the building and Johnson was found dead.
Belknap County Sheriff Mike Moyer said police never fired on Johnson, but instead tried to talk him out before resorting to deploying caustic gas in hopes he would surrender.
Johnson's long-haired German shepherd dog fled during the incident and Granite State Dog Recovery was able to capture it on Monday when it returned home, according to Currier.
The dog was taken to Capital Area Veterinary Emergency and Specialty in Concord for a check-up and to remove shattered glass from its coat.
The dog will be turned over to Johnson's relatives.
Currier said he was grateful for the assistance from law enforcement agencies stretching from Manchester to Waterville Valley. Strafford County SWAT, Central NH SWAT, State Police Air Unit, Gilmanton Fire Department and dozens of other police agencies from throughout the state assisted in the seven-hour standoff, he said.