CONCORD — Tim Pifer was 27 years old when he was tasked with collecting fingerprints from the Derry condominium where Gregg Smart was murdered in 1990. The scene of the murder site was Pifer's first crime scene, working as a forensic scientist for New Hampshire's forensic laboratory.
It was a jarring shift from the pristine labs where Pifer had been analyzing drug samples as a chemist for a year. But he said he leaned on his background as a scientist to break the grisly scene down into a series of puzzles to solve as he systematically coated the scene in black powder to search for fingerprints.
"It's about the science, and trying to get answers to help solve the case," Pifer said.
He said that mindset helped him through decades of difficult work, as has his sense of pride in the lab's role in making New Hampshire one of the safest states in the country.
"The role we play in the criminal justice system gives a little bit of helping to preserve that safest-state-in-the-nation status," he said.
This week, Pifer will retire after 30 years in the state forensic laboratory, the facility that analyzes crime scene evidence from across the state. He has been the lab's director for 23 years.
Pifer said he is trying to find a way to leave the most difficult cases behind when he retires.
The hardest cases were those involving children. He did his best to focus on the tasks of processing the evidence, he said, but those cases stayed with him.
Where some people might drive around New Hampshire and think about landmarks or favorite restaurants, Pifer said he remembers the landscape as a series of crime scenes.
He plans to do a lot of hiking after he retires: Pifer said he needs a "hard reset."
"After 30 years of death and destruction, it's time to chart a new path," he said.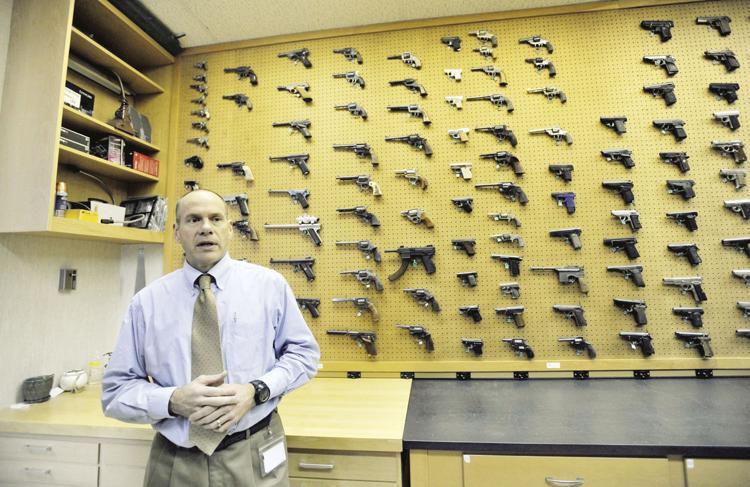 Pifer, who earned his bachelor's and master's degree in chemistry at the University of New Hampshire, first spent a few years in the private sector. But he applied for a job at the state crime lab because he wanted to learn about forensics, and help solve crimes. He started off as a drug chemist, and learned to analyze fingerprints, tire tracks and other kinds of evidence.
As science has grown to play a more important role in criminal prosecutions, the crime lab has grown, Pifer said. When he started, there were 14 scientists working in the lab — there are now 51 testing a myriad of complex new drugs, and working with new kinds of evidence like DNA.
DNA changed a lot about how evidence is gathered at a crime scene, he said. Collecting evidence now includes swabbing many surfaces, pulling up sections of carpet and collecting half-eaten food and cigarette filters to look for DNA. But Pifer said the humble database has had a similarly profound effect on crime-solving across state lines.
Thanks to a national DNA database, a DNA sample collected in New Hampshire helped solve a decade-old murder.
In 1994, Pifer recalled, a woman named Bonnie Craig was raped and murdered in Alaska. The case went cold until a man named Kenneth Dion was convicted of armed robbery in New Hampshire, and had to submit a DNA sample. Pifer said anyone convicted of a felony in New Hampshire has to give a DNA sample, and those DNA profiles are uploaded to a national database.
Dion's DNA collected in New Hampshire matched DNA collected from Craig's body in Alaska.
Pifer said he has tried to keep up with the latest technology in forensics, and with assistant director Melissa Staples has won millions in federal grants for the lab.
Staples will take over as the lab's director after Pifer's retirement.
"Tim has been always very supportive, and I always feel like he's had my back," Staples said. "He's prepared me well."