Sandown Historical Society's ex-treasurer has repaid the thousands he stole from the nonprofit in a theft some members believe made the group's president so anxious he suffered a fatal heart attack.
Anthony LoConte, 29, of Sandown, pleaded guilty to one count of felony theft by unauthorized taking last week and issued a written apology as part of a plea deal that required him to return the $10,255 he swindled and resulted in a 12-month suspended jail sentence.
He was also ordered to perform 100 hours of community service.
While the money was returned and LoConte has been held accountable, historical society members are still mourning the loss of their president, Robert Brouder.
Jonathan Wells, the group's current president, said he and others believe the 59-year-old Brouder was under such stress after learning about the theft that he suffered a heart attack.
He died on Sept. 10, 2019.
"We're never going to get Bob Brouder back," Wells said Tuesday.
Jim Weber, the historical society's vice president, said Tuesday that it was "soul crushing" to have to pursue a criminal charge against someone who was trusted by the organization, which was founded in 1977 to preserve the town's history and turn the historic train depot, which is owned by the town, into a museum.
"We're glad to see that the system worked," he said.
During LoConte's plea and sentencing hearing last Friday in Rockingham County Superior Court, a victim-impact statement written by Weber was read by a prosecutor.
In his letter, Weber wrote about how LoConte's actions affected the hard-working volunteers who are trying to preserve history. He also addressed Brouder's sudden death.
"Your actions put so much stress on him it caused him to have a massive heart attack and he is now gone from the people who need him most … his family. So once again, we are going to have to rebuild and soldier on because someone we trusted violated everything that was so important to all of us," Weber wrote in his statement.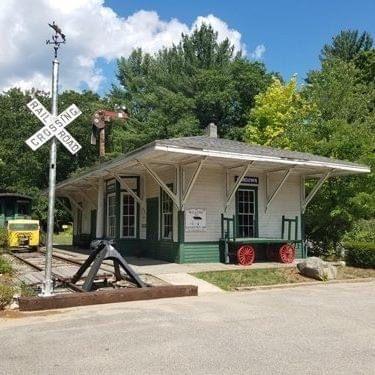 LoConte, who has been active in town and has served on other committees, was accused of stealing the money between November 2017 and August 2019.
In his apology letter to the historical society, LoConte wrote: "I was wrong and I sincerely apologize for violating your trust in me, especially in my position as treasurer. Everyone trusted me in that position and I did the worst thing possible: violated that trust by stealing the money. I am sorry for what I did and hope that you can forgive me someday for my actions and its effect on SHS."
The guilty plea ends a painful chapter for the historical society, which has worked tirelessly to raise the money needed for its various projects, including painting the exterior of the museum and restoring a flanger — a rail car with blades once used to clear snow and ice from the tracks.
Weber said historical society members were glad to get the stolen money returned. They were also pleased by the recent award of a $3,000 grant from the Massachusetts Bay Railroad Enthusiasts, which will be used for exterior painting of the depot.
"We'll be able to follow through with the goals that we set," Weber said.