CONCORD - State investigators now know the identities of a woman and two of three young girls whose bodies were found stuffed in barrels and dumped near Bear Brook State Park in Allenstown.
Associate Attorney General Jeffery A. Strelzin took the lead at Thursday's afternoon press conference at the Division of Motor Vehicles auditorium in Concord.
He identified the woman in the barrel as Marlyse Elizabeth Honeychurch, who was born in 1954 in Connecticut. Two of the girls found were Honeychurch's daughters, Marie Elizabeth Vaughn, born in 1971 in Artesia, Calif., and Sara Lynn McWater, born in 1977, in Hawaiian Gardens, Calif.
Honeychurch was twice divorced before meeting Terry Rasmussen, also known as Robert T. Evans, at her mom's home on Thanksgiving Day 1978. On that day, said Strelzin, Honeychurch got into an argument with her mother and left with Rasmussen taking her two daughters with her.
They were never seen again, said Strelzin.
A third girl found in the barrels was 2 to 4 years old, and DNA tests confirmed Evans as the biological father. What's unknown is who the mother was and where she might be now.
Thursday, Strelzin said Honeychurch may be the Elizabeth Evans mentioned in Manchester arrest reports at the time.
Denise Deneault, missing from Manchester since June 1980, was also mentioned during the briefing, but Strelzin said there is nothing linking her to Rasmussen.
Thursday's press conference ends a decades-old mystery that began with the discovery of the first barrel in November 1985. A second barrel was found nearby in May 2000. Both held two bodies each.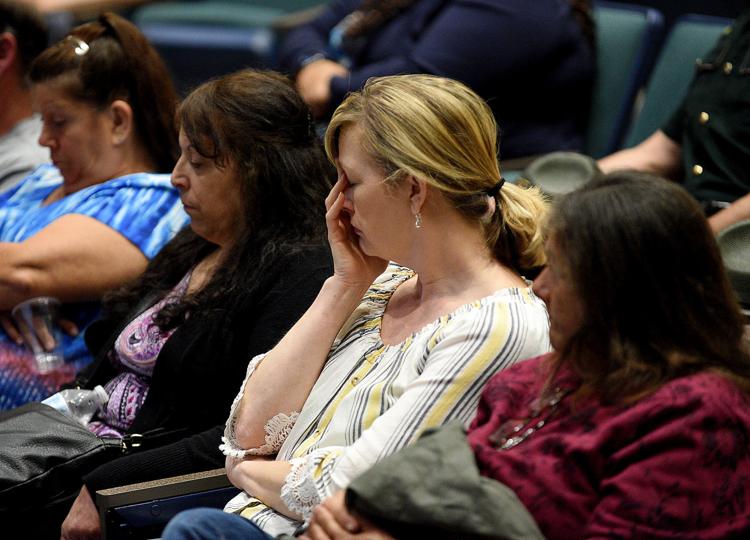 In the same auditorium 2 1/2 years ago, homicide prosecutors and members of the state police Cold Case Unit said they could identify the likely killer of the four people — a drifter who lived in Manchester in the late 1970s and early 1980s who went by the name of Robert T. Evans, but whom investigators believe was Terry Peder Rasmussen.
An outstanding mystery in the case is the disappearance of Denise Beaudin, a Goffstown woman who was 23 years old when she left New Hampshire with Evans in 1981 along with Beaudin's 6-month-old daughter.
In 1985, Evans turned up in a California RV park with a 5-year-old girl who turned out to be Beaudin's daughter. He abandoned the girl, and that woman's search for relatives through an online DNA registry is what eventually connected her mother to Evans and Evans to the Bear Brook murders. Authorities have said they believed Evans killed Beaudin.
Police say Evans was Terry Peder Rasmussen, who grew up in Phoenix and was in the Navy for six years. He was married in 1968 and had four children before his wife left him in 1975. After that, he started drifting and held many aliases.
Rasmussen is now dead. In 2002, he pleaded guilty to killing Eunsoon Jun, a woman he had unofficially married in California. He died eight years later in prison.