MERRIMACK — A woman was charged with stalking after being found in the same vehicle as a person she had been ordered to stay away from under a court protection order, police said Monday.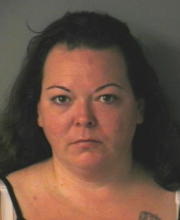 Brandy Cathcart, 33, who has no fixed address, was arrested Sunday after a traffic stop, police said in a release.
Police learned that Catchcart was the defendant in a criminal bail order and the protected person in the order was also in the vehicle, according to the release.
Cathcart was released on personal-recognizance bail and is scheduled to appear in 9th Circuit Court in Merrimack on Oct. 31.