Packets believed to contain heroin residue were found in the West Springfield, Mass., residence of the driver charged with negligent homicide for the death of seven motorcyclists in Randolph, according to Massachusetts State Police.
State police discovered wax packets with the residue when the Fugitive Apprehension Unit went to the home of Volodymyr Zhukovskyy, 23, of 90 Newbridge St., West Springfield, authorities said. Zhukovskyy has been charged with seven counts of negligent homicide for the seven deaths.
Zhukovskyy was arraigned Monday afternoon in Springfield District Court, where he waived extradition and was expected to be returned quickly to New Hampshire. His court appointed attorney asked that he not be interrogated until he receives legal representation in New Hampshire.
Zhukovskyy wore a designer Tommy Jeans T-shirt at the arraignment. His signed forms while in handcuffs and only answered questions posed by the judge. At least a half-dozen court bailiffs escorted him after the five-minute hearing.
Massachusetts State Police announced the discovery of the potential heroin packets in a statement announcing Zhukovskyy's arrest. If the residue tests positive for heroin,  will be charged in Massachusetts with narcotics possession, Mass State Police said.
Local, state and federal authorities are still investigating the crash on U.S. Route 2 near Lowe's Garage, which was reported about 6:30 p.m. Friday.
According to New Hampshire State Police, a 2016 Dodge 2500 pickup truck driven by Zhukovskyy was pulling a trailer and traveling west on Route 2 when it collided with several motorcycles heading east.
Four of the victims are from New Hampshire, two from Massachusetts, and one from Rhode Island.
All seven died as a result of blunt trauma, Young said at a news conference in Concord on Sunday afternoon.
The victims were identified as:
Michael Ferazzi, 62, of Contoocook
Albert Mazza, 59, of Lee
Daniel Pereira, 58, of Riverside, R.I.
Joanne and Edward Corr, both 58, of Lakeville, Mass.
Desma Oakes, 42, of Concord
Aaron Perry, 45, of Farmington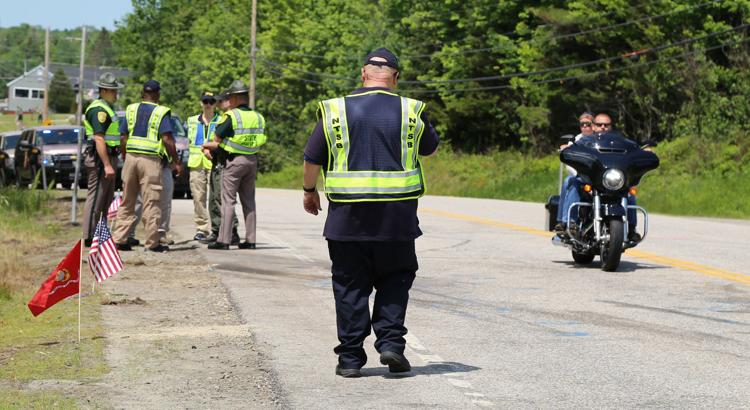 Young said all five men killed in the crash were members of the Jarheads Motorcycle Club, a club for Marines and Fleet Marine Force Navy Corpsmen. Oakes and Joanne Corr were "supporters" of the club, Young said.
According to Young, Joanne Corr was riding as a passenger on Edward Corr's motorcycle at the time of the crash, while Desma Oakes was a passenger on Aaron Perry's motorcycle.
Joshua Morin, 45, of Dalton, Mass., remains in stable condition at Maine Medical Center. Steven Lewis, 58, of Brimfield, Mass., was treated and released from an area hospital, Young said.
Zhukovskyy is an employee of Westfield Transport, a company in Springfield, Mass., was alone in the truck at the time of the crash, officials said. The National Transportation Safety Board and state and local police are investigating.