HAMPTON — A trucker who drove an oversized load into New Hampshire with police escort was arrested after New Hampshire State Police troopers Wednesday realized he was driving with an axle that had lost its wheel assembly.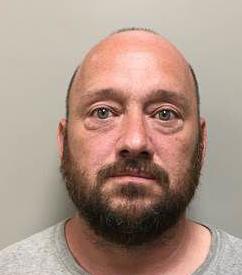 State Police allege Jan Joseph Krout, 42, of Penns Creek, Pa., had filled out an oversized-permit checklist that indicated no safety issues existed that prevented him from moving the load — an oversized modular home — through the Granite State.
Krout, however, had lost a wheel assembly earlier that morning in Massachusetts, police said. State Police said Krout believed he only needed four trailer axles to move the load. But the vehicle's oversized-load permit requires all five axles.
The escort and subsequent investigation was performed by State Police Troop G, which polices commercial motor vehicles and drivers in the state.
Surveillance of trucker behavior has been heightened in New Hampshire following the deaths of the "Fallen 7" motorcyclists in an accident involving Massachusetts trucker Volodymyr Zhukovskyy, who should have had his license revoked, according to past media reports.
A photograph provided by State Police shows a hollow axle hanging from the trailer with an entire wheel assembly missing.
Krout was arrested and charged with unsworn falsification and tampering with public records.
He was booked at the Hampton Police Department and ordered to appear in Hampton circuit court on Aug. 22.
Meanwhile, police placed his rig out of service for a falsified log book. His trailer also was placed out of service separately until the axle assembly was replaced.
On Wednesday morning, State Police started escorting two oversized vehicles at the request of July Alpine Modular Transport LLC, according to a statement.
A tire on one went flat and when State Police had both trucks pull over near the Hampton tolls to replace the tire, they noticed the missing wheel assembly of Krout's truck.