BRIDGEWATER, N.J. — President Donald Trump used his Twitter account Saturday to spread a conspiracy theory about the death of Jeffrey Epstein, the wealthy and politically connected financier who had been facing multiple charges of sex trafficking involving underage girls.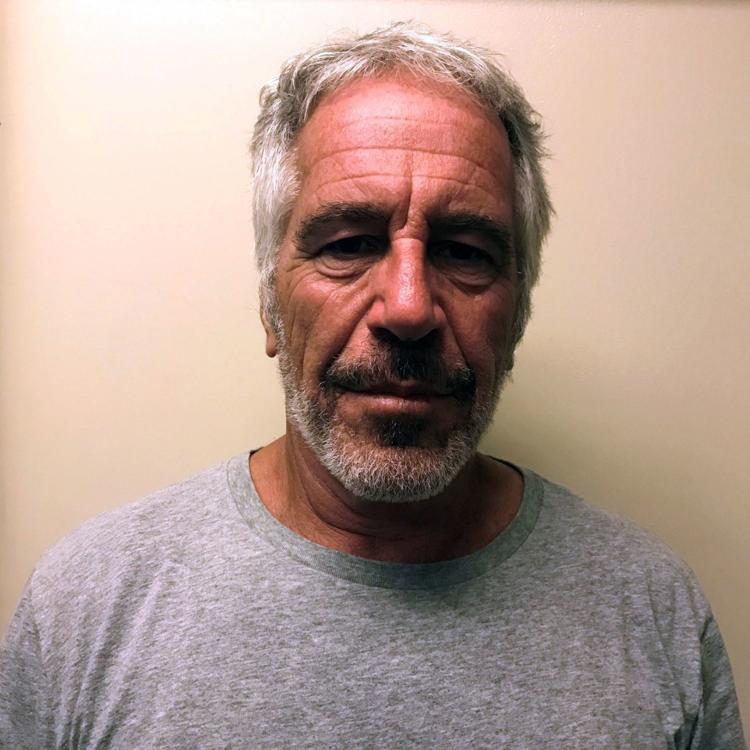 Trump's own Justice Department announced that Epstein, who was being held in a federal corrections facility, died by "apparent suicide" over the weekend.
But Trump appeared to disregard his administration's statement, instead retweeting a message from conservative actor and comedian Terrence K. Williams, who suggested that Epstein's death might be tied to former President Bill Clinton. Williams also questioned how Epstein could have died by suicide if he had been on suicide watch.
The claim is unsubstantiated, and federal officials say Epstein was not on suicide watch at the time of his death. He had been placed on suicide watch last month but then taken off within a week, according to a person familiar with the matter.
A Clinton spokesman responded on Twitter: "Ridiculous, and of course not true — and Donald Trump knows it. Has he triggered the 25th Amendment yet?" The 25th Amendment spells out a process for the President's Cabinet to remove him from office.
A Justice Department spokesman declined to comment on the President's retweet.
Asked about Trump's retweet, White House counselor Kellyanne Conway said on "Fox News Sunday" that the President "just wants everything to be investigated." She also criticized those who she said are "trying to connect the President to this monster from years ago where they are seen dancing in the video," a reference to a recently resurfaced NBC News video of Trump and Epstein partying together at Trump's Mar-a-Lago estate in 1992.
Others, Conway said, "were actively, I suppose, flying around with this monster on his island. … Perhaps there's a public interest in knowing more about that."
Some Democrats rebuked Trump for retweeting the conspiracy theory.
Sen. Cory Booker, D-N.J., who is running for President, said Trump is "using the same tactics and languages of the Russians, if you look at the intelligence reports about how they're coming at our democracy." Booker called Trump's actions "dangerous" and said he has "been using the Clintons as a means for a lot of his false accusations."
"This is a nation now where we have just seen horrific acts, whether it is someone walking into a pizza shop, based upon these kind of conspiracy theories, to take violent action," the Democrat said, referring to the "Pizzagate" conspiracy theory cited by a gunman who walked into the District of Columbia restaurant Comet Ping Pong in 2016 and fired an assault rifle. "We see people's lives being threatened because this President whips up hatred."
On Saturday, Sen. Marco Rubio, R-Fla., warned against embracing conspiracy theories about Epstein.
Although scrutiny of Epstein's apparent suicide is "warranted," Rubio said on Twitter, "the immediate rush to spread conspiracy theories about someone on the 'other side' of partisan divide having him killed illustrates why our society is so vulnerable to foreign disinformation & influence efforts."
The President — who is on vacation at his golf club in Bedminster, N.J. — is no stranger to using his considerable public platform to promote conspiracy theories, particularly those that target his political opponents.
For years, Trump promoted the myth that former President Barack Obama was born in Kenya rather than in the United States. During the 2016 presidential campaign, Trump spread a conspiracy theory that the father of Sen. Ted Cruz, R-Texas, Rafael Cruz, was somehow connected to the assassination of President John Kennedy.
He has claimed without evidence that Obama wiretapped Trump Tower in New York, and he once entertained an unsubstantiated theory that former Supreme Court Justice Antonin Scalia, who died in his sleep in February 2016, may have been killed. Trump's latest retweet will surely help fuel the conspiracy theories that have quickly spread online since the news of Epstein's death broke Saturday.
Epstein, 66, was found unresponsive in his cell at the federal Metropolitan Correctional Center in Manhattan about 6:30 a.m. Saturday, according to officials. Several agencies, including the FBI, the New York City medical examiner and the Justice Department's inspector general, have begun inquiries into how Epstein could have died while in federal custody.