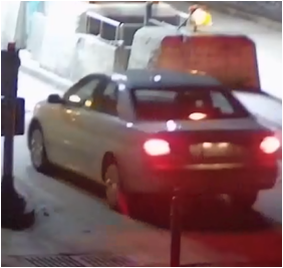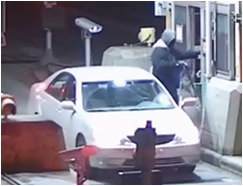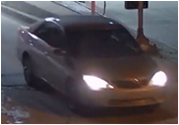 HOOKSETT — State police are on the lookout for an unidentified man who robbed a toll plaza at knifepoint on Monday.
Shortly before 1:13 a.m., police say the man pulled up to the Hooksett toll plaza off Exit 11 on I-93 toward Hackett Hill Road driving a silver passenger car.
The toll attendant informed police that the driver exited the vehicle wearing a blue ski-style mask and wielding a knife, and demanded that the attendant place inside a bag all of the money in the booth.
Police say the robber fled the scene after receiving only a single coin bag containing an undisclosed amount of money.
As the robber sped away from the tollbooth, security camera footage appears to show the attendant shouting while attempting to slam his cash drawer on the robber's vehicle.
The attendant was not harmed, police said.
The robber is described as white with blue eyes, between 5 feet 10 inches and 6 feet tall.
In addition to the ski mask, police say the robber was wearing a black coat and jeans.
State police are working with the NH Bureau of Turnpikes to investigate the case.
Anyone who has any information regarding the incident is asked to contact Trooper Matthew Field of the New Hampshire State Police Troop D at 223-3792.