A Massachusetts man arrested after leading police on a chase with his five children in the vehicle live-streamed some of the incident on Facebook before allegedly ramming a cruiser and crashing into a tree in North Hampton.
"We don't want to die," one of his daughters screamed at one point as she pleaded with him to stop during Thursday's frightening ordeal.
Alpalus Slyman, 29, of Dorchester, faces three counts of felony reckless conduct, conduct after an accident, and disobeying an officer.
The arrest followed a pursuit that began when police in Haverhill, Mass., notified New Hampshire authorities to be on the lookout for a blue Honda Odyssey minivan.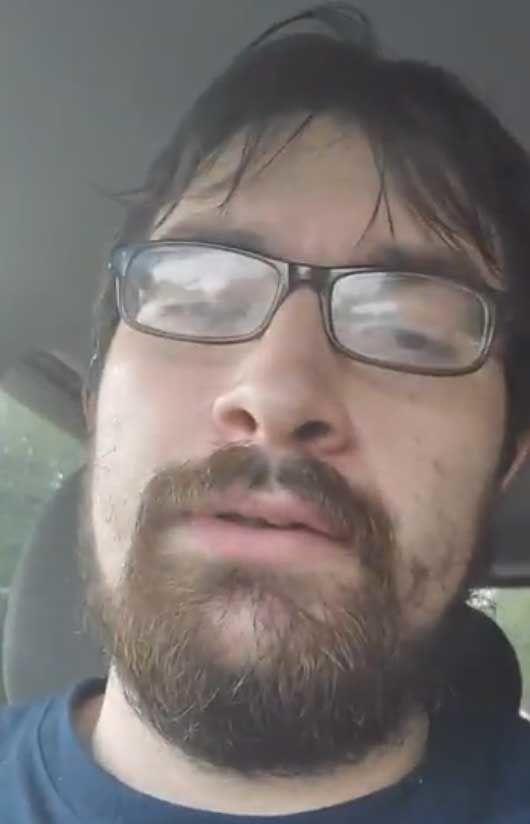 Police had received a report that a woman was thrown from the vehicle in Massachusetts, which prompted the chase, but Rockingham County Sheriff's Chief Deputy Al Brackett said they later learned that the woman was Slyman's wife and that it appeared she jumped out while it was moving because she was concerned about the way he was acting.
Brackett said the 13-year-old child also posted about the incident on social media.
Screams could be heard several times during Slyman's livestream as he refused to pull over while listening to WROR, a classic hits radio station.
"Don't you understand? The cops aren't your friend," he tells the children before claiming that he's trying to protect them.
At one point he turned the camera toward his speedometer, which showed him traveling at 110 mph.
He also asked for help from the president: "Donald Trump, I need a miracle," he said.
Slyman later told the children, "All they're going to do is drug me and then say I'm crazy."
In earlier videos before his wife got out and the chase began, she could be heard begging him to stop.
"Slow down, honey, before you kill us!" she says after telling him that he's "not right."
Slyman is being held without bail at the Rockingham County jail after he was found to be a danger to himself and his family. Brackett said a mental health evaluation was requested.
"We feel very fortunate it ended in the manner that it did. It was a very chaotic and potentially dangerous situation that ended up with a good conclusion," he said.
New Hampshire authorities began watching for Slyman after Haverhill police contacted Plaistow police shortly after 11:30 a.m.
A Rockingham County sheriff's deputy spotted the minivan on Route 125 northbound in the area of Route 107 around noon and attempted to stop the vehicle, but he continued.
Police soon learned that the incident was being live-streamed from inside the minivan, prompting Rockingham County dispatchers to connect to the feed and advise deputies and officers that there were passengers in distress and in need of help.
Deputies and officers from several agencies continued to pursue Slyman as he got onto Route 101 and headed eastbound. Stop sticks were deployed while he was traveling in Stratham, causing one of his tires to deflate.
Police said he got off Route 101 at Exit 12, struck another vehicle, and drove on into North Hampton, where his minivan was boxed in by sheriff's vehicles. At that point, Slyman rammed a cruiser and struck a tree at approximately 12:17 p.m. in the area of 10 Exeter Road in North Hampton.
Slyman was arrested without further incident.
Brackett said the children were not injured and were later reunited with their mother.
Police from Brentwood, East Kingston, Epping, Exeter, Kingston, Stratham, and North Hampton assisted, along with New Hampshire State Police and North Hampton fire and rescue personnel.