WEARE — The man who shot a local police officer who was responding to a domestic disturbance was found dead inside his home Thursday morning, authorities said.
Attorney General Gordon MacDonald identified the suspect as 43-year-old Jeffrey Clough-Garvin, whose body was discovered by the New Hampshire State Police SWAT team after entering the residence shortly after 8:30 a.m.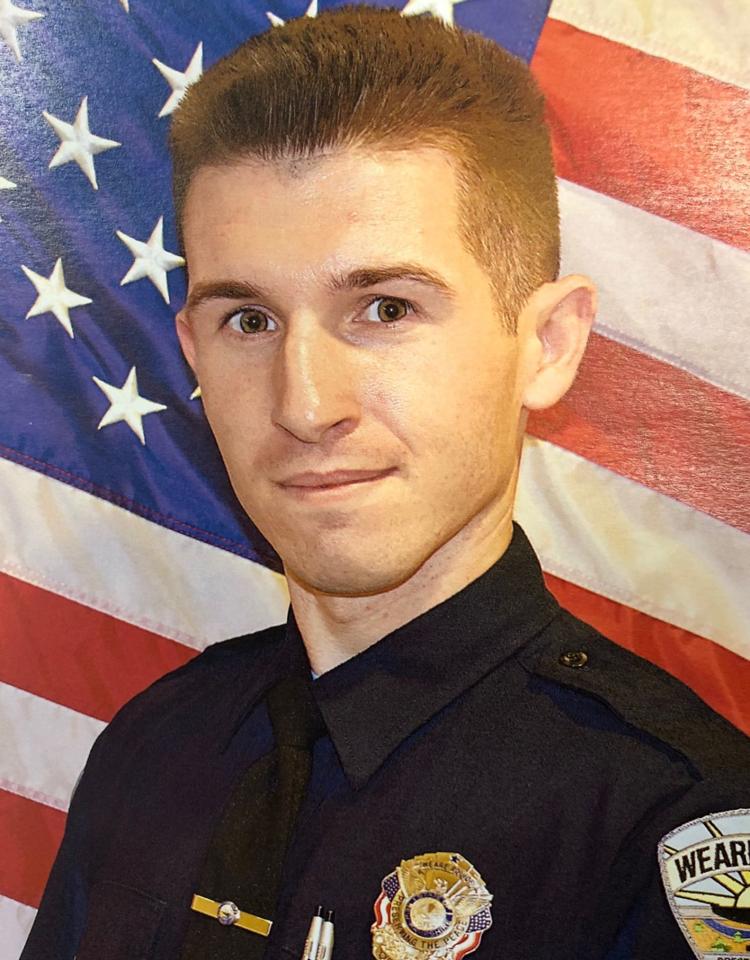 According to authorities, Weare police officer William Paul Lewis was shot in the arm when he responded to the residence at 236 Buckley Road at approximately 1:42 a.m. to investigate a report of a domestic violence incident.
A few minutes later, the 27-year-old Lewis, whose injury was not considered life-threatening, was fired on after he entered the residence and encountered Clough-Garvin.
Weare Police Chief Christopher Moore said Lewis suffered multiple gunshot wounds to his arm.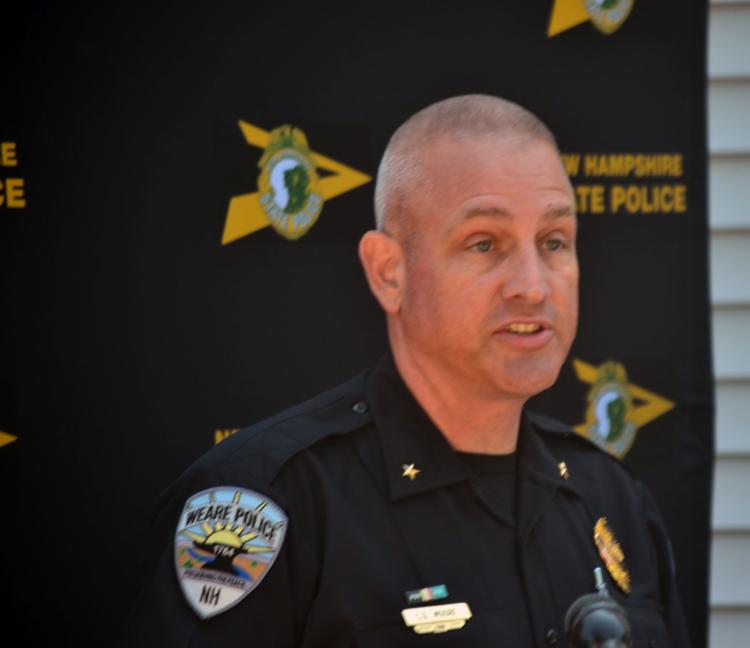 A second officer also responded, but was not injured.
"The officers withdrew from the residence while Mr. Clough-Garvin remained inside the residence. He was alone," MacDonald said.
At least one of the Weare police officers exchanged gunfire, MacDonald said, adding that a woman inside the house was removed by police before the shooting erupted.
According to emergency radio communications, police responded to a domestic incident involving a man and a woman. The man was believed to be armed.
After arriving at the home, an officer could be heard yelling, "Shots fired! Shots fired! Officer down!"
Lewis was reported to be conscious and breathing as other officers immediately began providing aid, including the use of a tourniquet.
State police troopers and SWAT team members responded as Clough-Garvin remained barricaded inside.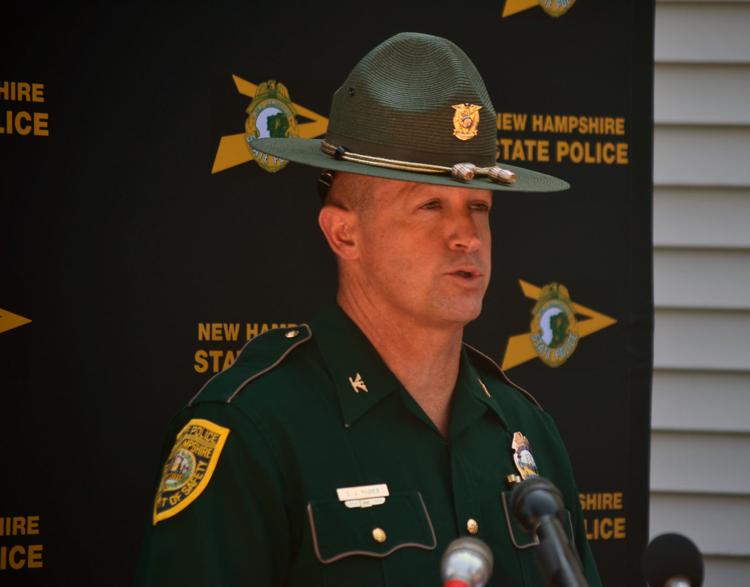 State Police Col. Christopher Wagner said efforts were made to contact Clough-Garvin during the incident, but they were unsuccessful.
"This has been a very seamless effort with the Weare department, as well as the state police, and there were many, many other agencies from surrounding communities and law enforcement, fire and EMS, that really were brought to bear this morning to really end this situation as safely as possible," Wagner said.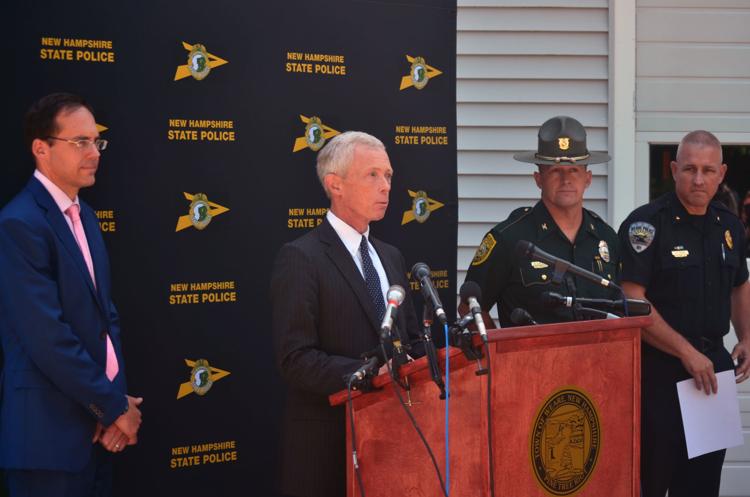 Moore said Lewis was transported to Concord Hospital and was expected to undergo surgery Thursday afternoon.
Lewis joined the department in July 2018.
"He's in very good spirits. His mother is with him at the hospital," Moore said.
Moore said he has concern for his officer who was shot, but also for the suspect.
"The last thing we want is for someone to get injured in any type of incident," Moore said. "We don't know his mental state. We just have to respond accordingly to the best of our ability and take the appropriate action."
Authorities have not said how they believe Clough-Garvin died. An autopsy is expected to be performed Friday by the state Medical Examiner's office.
The name of the second officer involved, who was not injured, has not been released. Moore said that officer is now on leave at his request.
The officers were wearing body cameras and images of the incident were captured.
The investigation is being led by the Attorney General's office with assistance from the State Police Major Crime Unit.
Wagner offered condolences to Clough-Garvin's family and wished Lewis a speedy recovery.
"His display of courage, quite honestly, is commendable and his actions here today," he said.
Meanwhile, the shooting kept many neighbors and campers at a nearby campground on edge Thursday. Bernard Couturier of Merrimack has a seasonal camp at All Seasons Campground.
"We heard gunshots last night. We didn't know if it was coming from there or not, but we did hear gunshots," he said.
Couturier said the man who lives at the residence was at the campground swimming pool Wednesday afternoon.
"We don't know him personally, but we talked to him. He seemed like a decent guy," he said.
Charles Gordon also has a camp and said he woke about 2 a.m. to the sound of a helicopter overhead. He said he heard gunshots that sounded like firecrackers.
"It's a little scary," he said.
Gordon said he would often see the man who lives at the home target-shooting outside.
"They seemed like nice people. A very nice family," he said.
Originally from the Seattle area, the 43-year-old Clough-Garvin lived with his wife and children on Buckley Road in Weare, just outside the entrance to All Seasons. Although he was not a member of the association, he was a stay-at-home dad and regularly spent time with his children at the association's pool.
On Wednesday, Clough-Garvin's children were with relatives, a rarity, according to acquaintances at All Seasons.
"He's come up to the pool quite a few times and he talked to all of us and he always seemed nice," said All Seasons resident Dolores Canfield. "He was great with his kids. He just said it was nice to have a conversation with an adult, because he was with kids all day."
Correspondent Andrew Sylvia contributed to this report.