BRENTWOOD — A Seabrook woman was sentenced to 45 years to life in prison Wednesday after pleading guilty to murder and other charges after she deliberately aimed her truck at her neighbors and ran them over, leaving a man dead, his wife seriously injured, and injuring their dog, which later had to be euthanized.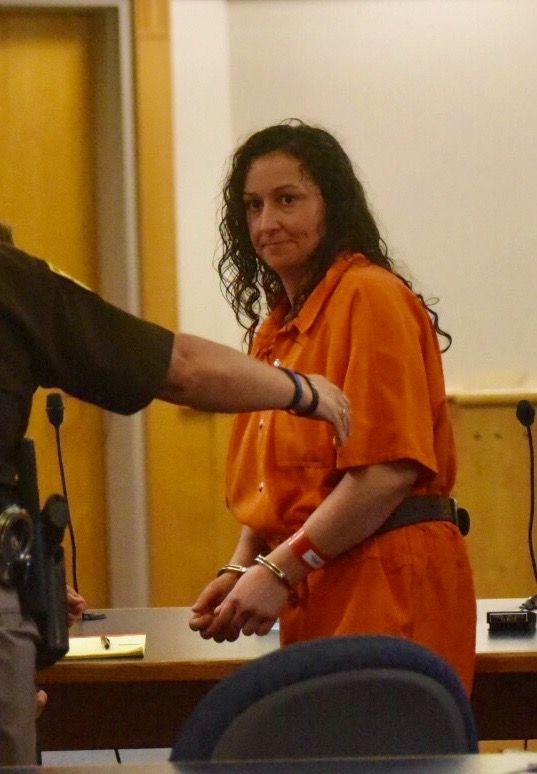 Catrina Costello offered no apologies to the nearly 40 family members and friends of Stephen and Erin VanDalinda who packed the courtroom in Rockingham County Superior Court for the emotional plea and sentencing hearing.
While she pleaded guilty to second-degree murder, attempted murder, and animal cruelty charges, the 39-year-old woman chose not to give a statement before she was sentenced.
Stephen VanDalinda, 64, was killed on Aug. 29, 2018, while he was out for an evening walk with his wife, Erin VanDalinda, and German shepherd, Lucy.
He was a longtime nurse at Exeter Hospital and served 29 years in the Massachusetts Army National Guard and Massachusetts Air Guard.
The VanDalindas had feared for their safety in the months before they were mowed down and were in the process of moving to get away from Costello. The couple had complained about how Costello led a campaign of harassment against them that included taunting, threats and yelling obscenities.
"After leaving home for our usual walk around the block with our dog, Lucy, without any contact or provocation from our family, Catrina Costello made the decision to get into her pickup truck and go driving around to essentially go hunting for my husband and I. Witness statements have documented that Catrina Costello drove past us, went around the corner and then quickly turned her truck around.
"She consciously accelerated her truck, using her vehicle as a lethal weapon and deliberately driving off the road to crash into all three of us without ever braking or stopping. The resulting impact catapulted us over 20 feet to 30 feet in the air," Erin VanDalinda, 62, wrote in a statement read in court.
At the time of the crash on Pine Street, Erin VanDalinda had an active protective order against Costello to keep her away. Stephen VanDalinda was on his cellphone with police reporting that Costello was breaking the order when she took aim with her truck and his phone went dead.
Costello left the scene and went home after the crash. Witnesses told police that when they followed her to her house, they found her drinking a beer on the front steps and acting like nothing had happened.
Senior Assistant Attorney General Geoffrey Ward said that after police showed up, Costello — who appeared to have been drinking — turned around and said words to the effect of, "Why don't you arrest me now?"
Ward said that after she was placed in the back of a police cruiser, she was recorded speaking through an open window to another person outside the cruiser.
Ward said she was heard saying, "It's been building up" and then made a statement about how the couple had "pushed my buttons."
At one point she took a drag off someone's cigarette.
When Judge Andrew Schulman asked in court if she knew she was killing another person, she answered, "I was aware, yes."
When questioned about whether she intended to kill Erin VanDalinda, she responded, "Yes, that was the intention."
Under state law, Costello will have the option to seek a reduction to her sentence in 30 years. That didn't sit well with some family and friends, including Ryan VanDalinda, who argued that his father's killer shouldn't get out early.
"I ask this court to keep this coward, who couldn't find any means of escaping whatever pressures existed in their life, other than attacking two (unsuspecting) 60-year-old people from behind, from being able to hurt another family like ours," he said.
VanDalinda said Costello should get a life sentence.
"Apparently a 45-year-long prison sentence is what you get for attempting to kill two people, succeeding at killing one person as well as a dog in front of multiple witnesses in broad daylight in the state of New Hampshire in 2019," he said.
Judge Schulman said Costello did a "wicked act," but he also described her as a woman who had a troubled past. He said that while she was beaten as a child and had a history of domestic violence, that still didn't give her a "free pass."
He said the murder case was about a "woman who snapped and did wicked things and destroyed a life."