The nation's reckoning over race has reached thousands of U.S. schools, and so, too, has a conservative backlash.
Schools across the country are working to address systemic racism and inject an anti-racist mind-set into campus life. But where advocates see racial progress, opponents see an effort to shame White teachers and sometimes students for being part of an oppressive system.
In particular, conservatives have seized on the idea that schools are promoting critical race theory, a decades-old academic framework that examines how policies and the law perpetuate systemic racism. It holds in part that racism is woven into the fabric of the nation's history and life - a product of the system and not just individual bad actors.
Critics say this approach injects race into what should be, in their view, a colorblind system. Proponents counter that U.S. schools have never been colorblind and insist they aren't pushing critical race theory anyway. The equity work is critical, they say, to address systemic barriers holding back students of color and to create schools that are truly inclusive.
The issues are widespread. Data consistently show that students of color are more likely to be disciplined than their White peers, and receive harsher punishments for the same infractions. Black and Hispanic students are less likely to be placed in advanced or enriched classes, starting in elementary school. Many experts say school curriculums have failed to adequately reflect the perspectives of Indigenous and marginalized communities. And students and parents themselves often report that school culture does not feel welcoming.
The fight over what to do about that is unfolding in public and private schools, in state legislatures and on school boards, in private Facebook groups and statewide curriculum committees.
At a private school in Manhattan, a teacher publicly complained about efforts to encourage White students to consider their privilege and affinity groups based on race. In Moore County, N.C., school board members are rebelling over state curriculum standards, which mandate history lessons incorporate the experiences and perspectives of marginalized communities.
And in Loudoun County, Va., the school system's pursuit of equity initiatives such as anti-bias training for teachers has led conservative media and lawmakers to accuse the district of forcing students to learn about race too early and to view everything and everyone through a racial lens, sometimes basing conclusions on snatches of information, such as a short video clip of a lesson.
There's also been criticism of the Biden administration for proposing that a federal grant program for teaching U.S. history prioritize programs that "reflect the diversity, identities, histories, contributions, and experiences of all students" and "create inclusive, supportive, and identity-safe learning environments." On Friday, Senate Minority Leader Mitch McConnell, R-Ky., and 38 other Senate Republicans sent a letter to Education Secretary Miguel Cardona complaining that the changes reflect "a politicized and divisive agenda."
It's no surprise that all this makes people uncomfortable, said Gloria Ladson-Billings, president of the National Academy of Education, an academic research group.
"The moment you make racism more than an isolated incident, when you begin to talk about it as systemic, as baked into the way we live our lives . . . people don't like that," she said. "It runs counter to a narrative that we want to tell ourselves about who we are. We have a narrative of progress, that we're getting better."
Educators rarely use the term critical race theory, though some of their work builds on these ideas, especially that racism is systemic.
That means, for instance, a school district that punishes Black students more often than White students or advances White students to advanced classes more often than students of color would look for systemic explanations and solutions - perhaps teachers are less likely to encourage Black students to take high-level courses - and not just attribute the gaps to individual actions or choices of students or teachers.
"Schools are now finally looking at the data when it comes to the success of their students, and for some, they haven't been doing a very good job," said Eddie Moore Jr., a diversity consultant based in Green Bay, Wis., who works with schools.
Many school districts, and the country as a whole, see large gaps between test score results based on race. In 2019, 44% of White eighth-graders were deemed proficient in math on a national test called the National Assessment of Educational Progress. That compares with 14% of Black and 20% of Hispanic eighth-graders.
Research shows certain disparities begin when children are young. A report last year from the Education Trust, an education research and advocacy group, found that Black students represent 16% of all elementary school students but 9% of students in gifted and talented programs. An Obama administration report in 2016 found that Black children represent 19% of all preschoolers but nearly half of preschool children receiving one or more out-of-school suspension.
Many school systems were already working to incorporate diversity and racial equity themes into their policies and curriculum, but the effort spread after the police murder of George Floyd last May and the worldwide protests that followed. The pandemic, too, exposed and exacerbated inequities that have long coursed through the system, spurring action.
The work underway in schools takes a wide variety of forms. Officials are adding the perspectives and experiences of people of color to curriculum, challenging teachers to examine their biases, and reviewing policies on discipline, advanced coursework and other matters with an eye to identifying and closing racial disparities. Districts are conducting "equity audits" to review their data on race. They are hiring diversity and inclusion consultants and full-time coordinators to ensure an ongoing focus on race, and they are incorporating racial equity into their district strategic planning.
The loudest critic had been Donald Trump, who as president charged that schools were spreading "hateful lies" to children by teaching about slavery and racism, saying those topics insulted the country and its founders. He was particularly fierce about the New York Times's 1619 Project, a collection of articles and essays arguing that the nation's true founding year is 1619, the year enslaved Africans were brought to the shores of what would become the United States.
Trump created a commission, since disbanded, to promote a rosier, more "patriotic" view of U.S. history.
Now conservative pundits, lawmakers and others are arguing that schools are teaching students to see race where they never would on their own and promoting reverse discrimination in an effort to unravel disparate racial outcomes.
In Florida, Gov. Ron DeSantis, R, called for $17 million to fund curriculums that exclude "unsanctioned narratives like critical race theory." In North Carolina, Lt. Gov. Mark Robinson, R, established a task force to eradicate "indoctrination in the classroom" after the state adopted new social-studies standards that focus on marginalized groups. The opposition filtered down to Moore County, where school board member Robert Levy is trying to hold up the new curriculum over concerns that critical race theory will infiltrate the district's work. A Republican gubernatorial candidate in Virginia posted an education plan, and two of the seven points were devoted to combating critical race theory.
In Idaho, a fight over this issue was so intense that it held up passage of a routine budget bill for two weeks while critics argued that the students were being taught critical race theory in school.
To prove their claims, supporters in Idaho pointed to a school handout asking teachers to incorporate "cultural diversity" into their classrooms and an assignment that asked children to create "Wanted: Dead or Alive" posters featuring explorers Christopher Columbus and Vasco da Gama.
"Those assignments are really the application of critical race theory," said Idaho state Rep. Ron Nate, R,, who led opposition to a teacher funding bill in the Idaho House over this issue. He said under this application, explorers must be viewed as "oppressors, colonists" rather than "people who were risking their lives going across the oceans with their dream to find new lands."
He and others refused to approve the state budget for teacher salaries until the legislature fast-tracked a bill that prohibits the teaching of critical race theory in Idaho classrooms. A few dozen students, angry about the move, protested at the state capitol, filling the gallery to watch the vote.
"I really feel they are trying to silence a lot of history that puts the United States in a bad light," said Selina Sanchez, a college student who attended the protest. "I feel we need to learn all sides of history."
Nationally, a new group called Parents Defending Education is collecting objections from parents and has filed three formal complaints with the federal Education Department's Office for Civil Rights. Among their concerns: a North Carolina district that created an "affinity space" where Black staff can support each other, and a Minnesota school district that asked staff to consider how they might have harbored racist beliefs.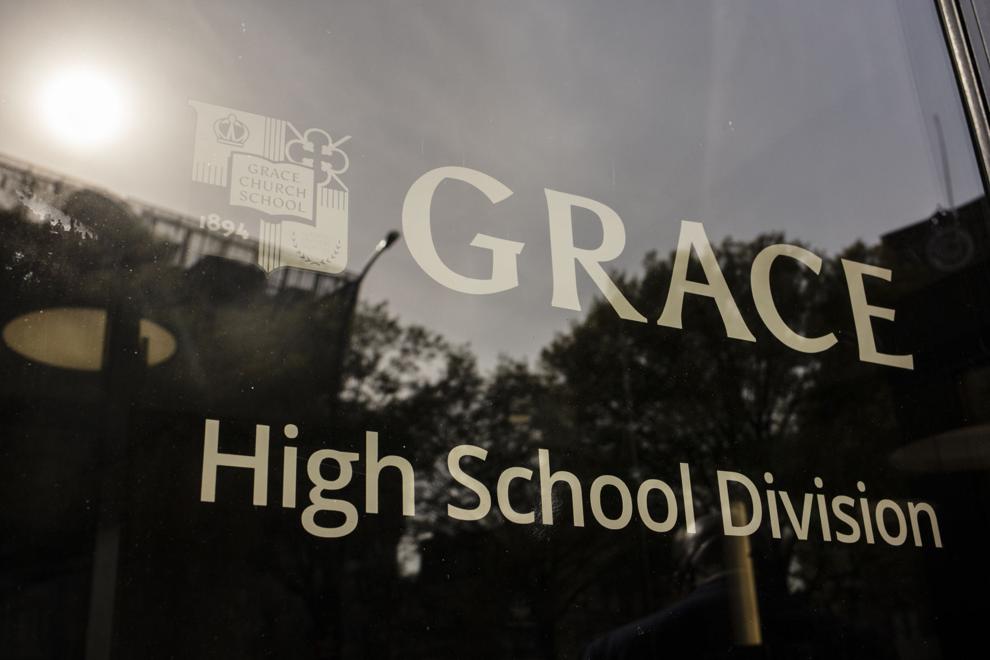 In Manhattan, the private Grace Church School had always seen itself as racially progressive. Then, in the aftermath of Floyd's death, it heard from alumni posting on Instagram, saying they felt marginalized as students there. "It was a wake-up call that we were not doing as excellent job as we thought we were," said George Davison, the longtime head of school.
The school had already revised its curriculum. Then it hosted a series of workshops on race and created affinity groups where students of different races could discuss their experiences together as a group.
At least one teacher, Paul Rossi, objected, both internally and, when he was not satisfied with the response, in public, including in an essay in the New York Post. He said the school requires teachers to treat students differently based on race and rejects dissenting voices.
"My school, like so many others, induces students via shame and sophistry to identify primarily with their race before their individual identities are fully formed," he wrote. "The morally compromised status of 'oppressor' is assigned to one group of students based on their immutable characteristics. In the meantime, dependency, resentment and moral superiority are cultivated in students considered 'oppressed.' "
Davison replied that no one should feel guilty about the circumstances of their birth. But he said students must face the systemic racism that surrounds them.
"Lots of people have, for a generation or two, said, 'Well, I'm not a racist, so I have done all I need to do," he said. "We have arrived at a point in our culture where we say you can't be race-neutral anymore. Either you are against racism and therefore anti-racist or supporting racism."
Perhaps nowhere has the debate over critical race theory grown so heated as in Loudoun County, a northern Virginia district of 81,000 students that is home to some of the most affluent ZIP codes in the country. It is also rapidly diversifying: White students made up 63% of enrollment in 2008-2009 but account for about 44% of the student body now.
The school system undertook equity work starting about two years ago, after a pair of high-profile reports concluded widespread racism was imperiling Black and Hispanic students' progress through the system. One of the reports came after a 2019 complaint from the county chapter of the NAACP over access to advanced programs.
Loudoun's data from 2011-2012 showed Black students made up 7% of enrollment but 20% of suspensions, while Hispanic students made up 15% of enrollment but 25% of suspensions. The authors of the school system's 2019 report on racism, which drew on interviews with several hundred students, teachers and staff, pointed to a widespread feeling among the student body that Loudoun's discipline system is stacked against children of color.
That same review also found that just 57% of Black students and 45% of Hispanic students typically earn an "Advanced" - rather than a "Standard" - high school diploma, as compared with 80% of White students.
In response, Loudoun spent nearly half a million dollars to retain consulting firm the Equity Collaborative, which helped the district develop a 22-page "Plan to Combat Systemic Racism." It called for teacher trainings to develop "racial literacy" and "racial consciousness," called for forbidding students from wearing Confederate flag gear and proposed alternative forms of discipline to replace suspensions, which were being disproportionately handed to students of color.
The backlash began sometime last summer, spurred at first by the money spent on the consultants, according to interviews with Loudoun administrators and parents on both sides of the debate. Opposition built, fueled by intense coverage by conservative news outlets, as parents and conservative pundits concluded the district was teaching critical race theory. Now a political action committee aims to recall most of Loudoun's school board over the critical race theory issue.
"It is teaching kids to see other kids through a strictly identity group lens as opposed to seeing each other as individuals with their own stories to tell that are not dependent on their skin color or their ethnicity or really anything," said Ian Prior, a White Loudoun parent and former Trump administration official who has become one of the most prominent critics of the school system.
A popular video, less than two minutes, showed a teacher asking a student to interpret a photo of two women, one of whom appears White and one of whom appears Black. The photo is placed next to a question asking, "What is race?"
"It's just two people chilling," the student says.
"Just two people," the teacher repeats. "There's nothing more to this picture?"
The student persists in giving the same answer and the teacher grows increasingly frustrated. The clip ends when the student asks whether he is supposed to talk about the women's races.
"At the end of the day, wouldn't that just be feeding into the problem of looking at race instead of just acknowledging them as two normal people?" the student asks.
The teacher replies, "You can't look at the people and not acknowledge that there are racial differences."
Loudoun spokesman Wayde Byard confirmed the video was authentic, from a college-level English class that teaches students to "explore literature through applying a variety of literary theories." The teacher was explaining how critical race theory works, Byard said, as one of several theories studied including structuralism, deconstructionism and feminism.
Interim Superintendent Scott Ziegler added that equity work and critical race theory use similar terms. "But it's certainly not taught as an academic pursuit," he said.
But for many in Loudoun, the video - posted to YouTube, with more than 200,000 views - serves as proof that the school system is teaching students to look at everything through the lens of race.
At least one teacher spoke out to denounce their new professional trainings as racist attempts at indoctrination. Monica Gill, a White Loudoun social-sciences teacher, wrote in the Federalist that the "implicit bias" trainings "accuse our community of systemic racism that needed to be disrupted." She mentioned a video she had to watch, "The Unequal Opportunity Race," that showed two White runners speeding smoothly along while Black runners stumbled and fell.
"This directly implied white America has no concern for the obstacles faced by our black brothers and sisters," she wrote. "Our equity training is guilty of the very thing it warns against" - racism.
Parents have divided into dueling Facebook groups. One supporter of Loudoun's equity work recently suggested, on Facebook, infiltrating the opposing parent group and sharing members' personal information online. There is no evidence it actually happened, but it spurred a sheriff's investigation as well as death threats aimed at the pro-equity group.
An administrator of the anti-racist Facebook group, who is White, said someone threatened to burn down members' houses and contacted their employers to complain about them. After an opponent posted her address on Twitter, she said she began planning to move across the country.
"I don't feel that my family is ever going to be safe here," she said, speaking on the condition of anonymity because she fears for her children if she is identified by name.
One Black mother, also speaking on the condition of anonymity for the same reason, said she has seen ongoing racism in the two decades since she moved to Loudoun County. She said the county chapter of the NAACP, of which she is a member, had complained about racist harassment for years before the school finally undertook its review in 2019.
She said that for several years, someone has dropped Ku Klux Klan fliers tucked into bags of birdseed outside Black, Hispanic, Asian and LGBTQ homes on holidays including Martin Luther King Jr.'s birthday. Once in school, a White child told her son, "You can't play with us because you're dark," causing him to start sobbing.
In her son's case, the principal acted correctly, the Black mother said. But there are "instances from a lot of other Black and Brown parents where that did not happen," she said, and pointed to the well-documented fact that Loudoun's students of color face disproportionately high discipline rates. That's why she thinks Loudoun's equity work is vital.
"I knew there was going to be some backlash because - let's keep it real - there are some people who don't believe racism exists," she said. "But I could have never imagined that the backlash would be like this."