CONCORD — Legislation to prevent students born male from competing on female sports teams drew passionate testimony Tuesday, with supporters defending it as a way to ensure fairness and opponents decrying it as a violation of state anti-discrimination law.
Victoria Galla of Chesterfield told the House Education Committee she moved from Massachusetts and New York City to get away from the gender-identity politics she believes are destroying the lives of confused young people.
"I am a commonsense mom and a woman and I don't have to put quote marks around it," Galla said, raising her voice. "When I hear people put quote marks around it, that is insulting to me as a woman. If you are endorsing transgender kids, you are endorsing child abuse."
Yet, Lane Joslin, a 15-year-old transgender teen who was born a boy, recalled in her testimony how she would turn every dish towel into a dress or an item that gave her the appearance of long hair.
"I love soccer and have played since I was five or six years old," Joslin said. "This is how I identify and I always have."
The bill would prevent transgender girls from competing in primary, secondary or college sport teams for women. The bill would still let transgender males try out for any boys team. Someone denied the right to play could appeal only if a doctor signed a statement that their sex is based on the student's reproductive anatomy, a naturally occurring level of testosterone and an analysis of chromosomes.
State Rep. Mark Pearson, R-Hampstead, said his bill (HB 1251) is about embracing science. Biological boys who play on female teams have an unfair advantage, he said.
"My bill is solely focused on one thing: saving women's sports. My bill is designed to protect hard-striving female athletes from losing a place on a podium, setting records and getting athletic scholarships because they are forced to compete against biological males," Pearson said. "This is not a theoretical issue."
CeCe Telfer, born male and now competing as a transgender woman, first competed on the men's track and field team at Franklin Pierce University in Rindge in 2016 and 2017 and never ranked better than 200th nationally in hurdling events.
Under accepted NCAA rules and after one year of testosterone suppression treatment, Telfer in 2019 qualified for the women's Division II outdoor track and field national championships and won the 400-meter hurdles.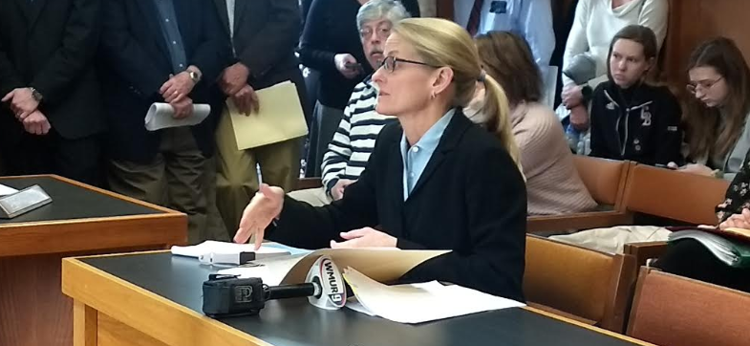 Meredith Gordon Remigino, from West Hartford, Conn., has been a girls' cross country and track and field coach for decades.
She said some youths born as boys become transgender girls and go on to excel in female sports.
"It is often relatively mediocre athletes as males who are coming over and just wiping out the girls," Remigino said.
Allowing these students to compete with girls is unfair, she argued.
"We know firsthand fairness and equality requires sports to be categorized and differentiated based on sex, not based on gender identity," Remigino said.
Jennifer Frizzell, policy director for the New Hampshire Women's Foundation, said New Hampshire took an important step last year in outlawing discrimination against all students based on their gender identity.
"Values of inclusion and diversity and developing concepts of teamwork and understanding are the overriding goals," Frizzell said. "I feel there are some myths that might be created that people change their gender identity just to change sports teams."
Assistant Attorney General Sean Locke, who heads the AG's civil rights unit, said that the bill, if adopted, could violate an anti-bias law passed a year ago.
"We see there is potential for conflict in this piece of legislation. One law says a student should not be discriminated based on their gender identity, yet with this bill they may be excluded from certain activities based on their gender identity," Locke said.
New Hampshire Interscholastic Athletic Association regulations leave it up to each school board to decide on eligibility for transgender students. They are required to apply at least two months before the sport season begins.
Criteria would include a birth certificate different than the gender identity, a medical provider verifying the student has a "consistent gender identification and expression" and any medical documentation, such as for hormone therapy or sex-assignment surgery.
State Rep. Lisa Bunker, D-Exeter, is one of two transgender women elected to the NH House in 2018, the first in state history.
"This is a restriction disguised as a test," Bunker said. "The trans kids already are misunderstood and vulnerable, and I think this bill constitutes a door being slammed in their faces."
Sarah Huckman, 19, of West Ossipee just finished playing sports all four years as a transgender girl, sometimes on four teams in a single year.
"If I did not have sports, I do not think I would be alive today," Huckman wrote in a letter to the House panel. "To deny any student participation in any school-sponsored activity is wrong. To deny a vulnerable youth population the opportunity to participate would be criminal."
Ruth Winslow, a member of the Manchester Memorial High School swim team, testified she would be at a disadvantage competing against transgender girls.
"I think it is very unfair for a biological male to compete with a biological female. Why should a biological female work harder than they already are and risk injury to compete against a male athlete who does not have to work?" Winslow said.
Barbara McLeod, a Portsmouth business owner, remembers strapping her young son, now transgender daughter, Lane Joslin, into a car seat as the child declared, "I'm a girl, I'm a girl."
"It took a lot of courage for her to come here today. These kids are already up against it," McLeod said. "I get the concern about individuals who have gone through male puberty and then get into sports. I think there are ways to ensure there is fairness. Let's leave this to the organizations that have spent years studying this complex issue."