MANCHESTER — Michael Beaulac has been appointed as the new principal at Green Acres Elementary School in the city's South End.
The school board voted Monday night to appoint Beaulac to succeed Richard Norton, who is retiring at the end of December.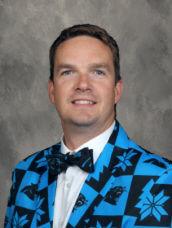 "I am honored and thrilled to be the 4th principal of Green Acres Elementary School," said Beaulac in a statement. "Green Acres is a wonderful place deep in tradition. I'm eager to get out into the Green Acres community. I know together we can continue to make Green Acres grow and thrive."
Beaulac graduated from Berlin High School and has a master's in education from New England College in educational leadership. He earned his undergraduate degree in elementary education from Keene State College.
"Mr. Beaulac is known for his bright bow ties and bright personality, but more importantly for his focus on student success, and high expectations for himself and those around him," said Superintendent of Schools John Goldhardt in a statement. "We're honored to have such a leader in Manchester."
Beaulac has served as an assistant principal at Parker-Varney Elementary School since 2014 and a year as an interim principal. He has also served as assistant varsity and junior varsity boys basketball coach at Manchester High School West.