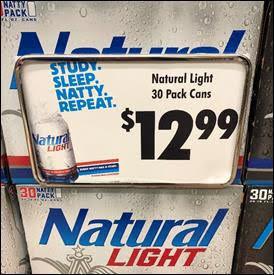 DOVER — Local students involved in the Dover Youth to Youth program say a beer company's advertising campaign is "idiotic" and makes them uncomfortable.
During a recent "sticker shock campaign" at the Market Basket in Somersworth, Stone Slattery, 15, noticed a sign near 30-can cases of Natural Light that read "Study. Sleep. Natty. Repeat." As part of a sticker shock campaign, participating students post stickers in the beer section of local stores telling people to refrain from providing minors access to alcohol.
The Natural Light slogan instantly made Slattery uncomfortable, he says, because it was midterm week at Dover High School.
"I didn't know if there was any connection, but I was pretty surprised in general," he said. "I have friends who might work there and see it."
Dover Youth to Youth objects to the ad because most of those studying are either in high school or college, so largely under the legal drinking age of 21. The group has sent a letter to Anheuser-Busch, the maker of Natural Light, saying the slogan is "idiotic to say the least."
"If a student, of age or not, was to follow the cycle of 'Study. Sleep. Natty. Repeat,' then they would proceed to study after consuming a 'Natty,' which would be a ridiculous idea and a difficult task," the letter said.
The students demand Anheuser-Busch immediately discontinue the advertising campaign and never again create similar messages about drinking and studying.
"We have absolutely no problem with those 21 and older consuming your products, or any other alcoholic beverages, in moderation. However, we will not stand idly by and watch the youth of our community be taken advantage of," the letter said.
Slattery signed a copy of the letter Monday. He hopes Anheuser-Busch is more mindful in the future for the sake of both high school and college students, who Slattery said have a lot at stake because their grades will affect future employment opportunities.
Jenna Knoll, a director of marketing communications at Anheuser-Busch, said Wednesday afternoon that the compnay has invested more than $1 billion in community-based programs to prevent underage drinking and alcohol-impaired driving.
"We are proud of our ongoing tradition of promoting alcohol responsibility and investing in new ways to drive awareness around these critical issues. We strive to ensure that our consumers are enjoying our products in a safe way. Natural Light takes responsible consumption very seriously and this piece of signage is in no way meant to promote underage drinking," Knoll said in a statement.
William Demers, a 17-year-old senior at Dover High School and a member of Dover Youth to Youth, responded to Anheuser-Busch's statement that their slogan in no way promotes underage drinking.
"Me, personally, I would ask them to consider who they are targeting and I would ask they spend a little more time thinking about that than thinking about what they're saying to reporters," he said.
Dover Youth to Youth program Coordinator Dana Mitchell says the "Study. Sleep. Natty. Repeat." advertisement has since been removed at the Somersworth Market Basket.
"If it was still there, we probably would have said something to the store's management as well," Mitchell said.
Anheuser-Busch employs more than 200 people in Merrimack alone, where it brews a wide range of its beers.