Nearly all charter schools in and near Manchester and Nashua have student bodies that are much wealthier and whiter than students in city schools, according to data compiled by the New Hampshire Union Leader and Sunday News.
The data, collected from state reports, contradict claims of charter school advocates who paint the schools as an alternative for disadvantaged students in struggling inner-city schools.
In fact, the Manchester charter school with one of the highest percentages of low-income students — Making Community Connections — has announced it will close its location in the city in June.
At most of the eight other charters in Manchester and Nashua, the populations of low-income and Black and Latino students hover around half those of Manchester and Nashua city schools.
The low numbers mean that students who could benefit the most from the smaller class sizes and individualized attention provided by charter schools aren't getting them, said Sarah Jane Knoy, executive director of Granite State Organizing Project. The organization works to address educational inequities in disadvantaged communities.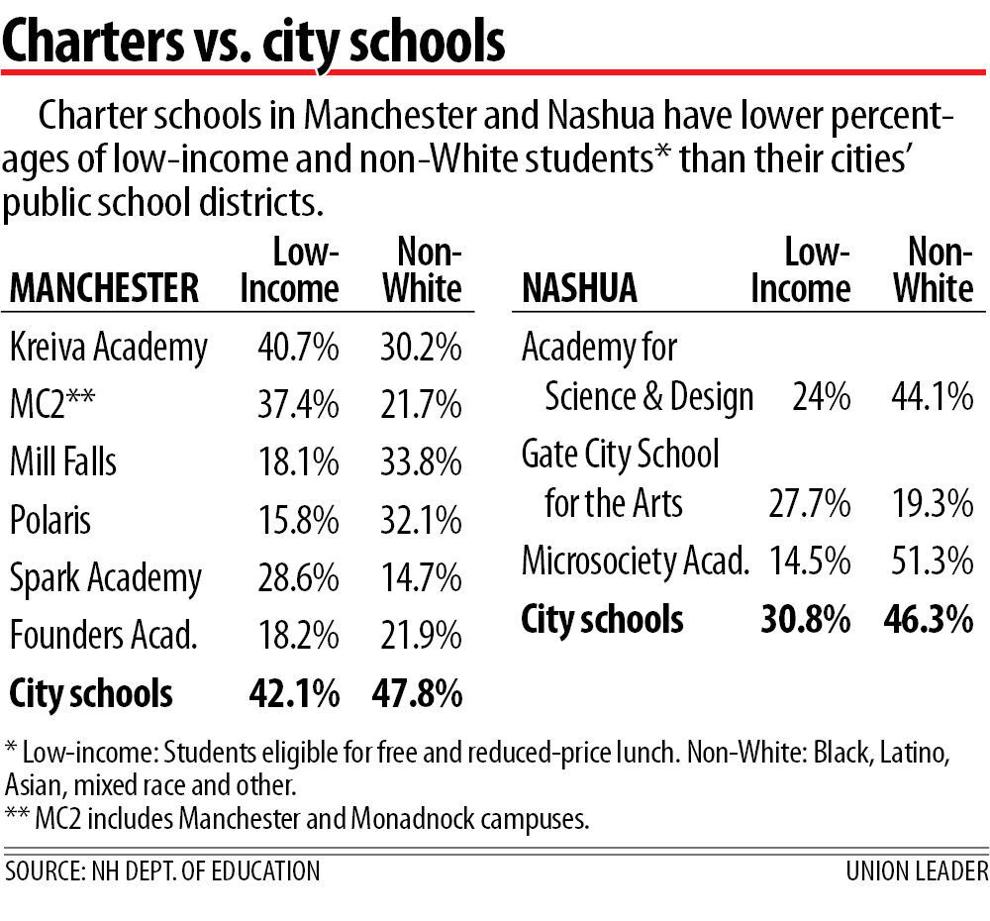 "All children benefit from models of instruction that are student-centered rather than cookie cutter," Knoy said. If charter schools lack diversity, minority students and students with learning challenges will get concentrated into city schools, she said.
"If they're not serving the full diversity or our population, that is obviously contributing to structural inequities," she said.
There are barriers that keep low-income students from attending some charter schools. Not all have school bus service or school lunches. And there's pressure on parents to raise money for the school, Knoy said. Charter schools are funded in part by the state but do not receive money from cities or towns, as district schools do. Per state law, charter schools are to privately raise money to supplement what the state provides.
In public statements advocating for more charter schools in New Hampshire, Education Commissioner Frank Edelblut has said he believes charter schools help at-risk students.
His office said he was too busy to be interviewed for this article. But in a statement he said: "New Hampshire public charter schools are open enrolment public schools available to all students in New Hampshire no matter where they live and not restricted by a student's zip code."
Often struggling for cash, charter schools are now vying for a portion of $46 million in five-year federal grants to expand charters in New Hampshire.
In their pitch for the funding, state education officials promised to push for charter schools that serve at-risk children.
They would do so, they said, by locating new charters in or near the state's largest and poorest cities.
Of the schools the department has said may be eligible for a piece of the $46 million charter school grant, few serve a significant population of at-risk children.
Only one of the five schools the department has said may be eligible for a $1.5 million startup grant — Kreiva Academy in Manchester — serves a significant population of poor students.
Of 20 schools that may be eligible for $600,000 grants to expand or replicate themselves, only five are in or near Manchester or Nashua — Kreiva, Spark Academy, the Founders Academy, Mill Falls Charter School and Microsociety Academy.
Low numbers at top school
The Academy for Science and Design in Nashua, one of the state's best-performing charter schools based on high test scores and high graduation rates, has served few poor students over the last decade.
Since 2010, no more than 4% of the students have come from families poor enough to qualify for free and reduced-price lunches. In Nashua's city schools, about a third of students qualify for free and reduced-price lunch.
Jen Cava, the academy's director, said the school offers buses to students in Nashua and tries to connect with after-school programs that serve students from lower-income families, like Girls, Inc. and the Boys and Girls Club..
Cava said non-White students and those from low-income families do well at Science and Design. She pointed to Maria Azcona Baez, a senior who will be the first in her family to go to college. Azcona Baez decided to attend Cal Tech after considering offers from Yale and MIT.
Azcona Baez said she didn't think she would have been accepted at the same colleges without the opportunities that Science and Design offered, like advanced science and engineering classes and science-related after-school activities.
The school's smaller size helped too, she said, with a teacher who helped her navigate around financial barriers that might have stood in her way, like activity fees.
But the school's outreach over the past decade has not translated to many low-income students accessing the opportunity Azcona Baez found.
Since Gate City Charter School for the Arts opened in 2014, about 80% of the students each year have been White. The proportion of poor children and children with special needs who attend the school is far lower than the average in Nashua public schools, even though more than half its students come from Nashua.
"We are committed to educating a diverse population," said Jen Blanchette, director of curriculum and instruction at Gate City Arts, which is located in Merrimack.
'Quirky, wonderful, diverse
'
Gate City Arts' current student population is 80% White, compared to 54% White in Nashua public schools schools.
The school is diverse in other ways, Blanchette said, drawing students with lots of different interests.
"We are a quirky, wonderful, diverse bunch," Blanchette said of the arts school students. "I don't see them as their race or ethnic background. I just see them as their unique individual selves."
Blanchette said the school makes no special effort to recruit particular kinds of students to the school; students and families seek out Gate City Arts.
The curriculum, Blanchette said, does seek to celebrate artists from different cultures. She said she believes any student who wants to study the arts would feel at home there.
Officials with Founders Academy — one of the oldest charter schools in Manchester and, at 369 students, the largest — declined to be interviewed for this article.
The Polaris charter school, located at the former St. Patrick School on Manchester's West Side, lists 23% Black and Hispanic students, compared to 43% in the city. Its number of low-income families is 16%, compared to the 42% citywide.
School director Jennifer Murdock-Smith said Polaris has a diverse student body, but she said the school shouldn't be compared to only Manchester because about 10% of its students come from other towns.
She also said that the low-income number is based on the number of students eligible to receive federally subsidized lunches. Because Polaris doesn't offer lunch, parents have to volunteer information about their financial status, and several do not, Murdoch-Smith said.
Some of the charter schools in Nashua and Manchester are coming closer to the promise of serving children on the margins.
At Kreiva Academy in Manchester, 41% of students qualify for free or reduced-price lunch — almost the same as the rate in Manchester public schools.
Tal Bayer, Kreiva's head of school, said the school doesn't make a concerted effort to reach out to poor families or non-White families. Rather, most families hear about the school through word of mouth, he said.
In part, children leave their local schools because they feel out of place, and race can play a role, Bayer said. In one recent case, a student of color transferred into Kreiva because he was tired of being the only non-White student in his old school.
"We work really hard to make those students feel comfortable," Bayer said.
Charters that have steadily enrolled more Black and Latino students over the past four years include Making Community Connections, Mill Falls Charter School, Polaris Charter School and the Founders Academy.
But state data show no charter school yet comes close to the diversity of Manchester and Nashua city schools.
Knoy said she knows of only one charter school that tried to recruit in underserved communities. When it first opened, Making Community Connections visited the Elmwood Gardens public housing complex in south Manchester to try to sign up students.
She said parents found the concept confusing. Catholic schools, which are not charter schools, are the only other schools that she knows of that recruit in underserved communities.
Murdock-Smith said the pandemic hampered outreach efforts by Polaris this year.
"We're in our ninth year. We're still a fledgling school and have so much more to do," she said.
Special education lags
The most recent data on enrollment of special education students are for the 2018-19 school year. In Manchester, three charters exceed the city's 20% enrollment; two others fall below it.
In Nashua, all three charters fall below the city schools' 18% enrollment in special education.
When a student enrolls in a charter school, the student's home school district is responsible for picking up the cost. Either the district funds a special education teacher for the school, or one of its teachers visits the school to provide specialized instruction.
Lisa Beaudoin, executive director for ABLE New Hampshire, which advocates for the rights of those impacted by disabilities, said she's not against charter schools in principle, believing they can more easily adapt to help disabled children.
But she said those who open a charter school to provide a specialized curriculum — for example, science and technology — may not be thinking about accommodating students with special needs.
"If they aren't careful, they contribute to a society where people with disabilities are on the margins," Beaudoin said.