BOW — Delaney Spain-Kelly was diagnosed at 18 months with an inoperable brain tumor in her hypothalamus.
Despite multiple rounds of chemotherapy aimed at controlling the tumor's growth, the malignancy began to press against Delaney's optic cavity, leading to severe vision loss.
She has light perception in her right eye and a quarter of her field of vision in her left.
Delaney is 9 years old. Doctors have predicted she will lose her sight completely by the time she reaches adulthood.
"We were bombarded with a lot of possibilities that could happen and one of them was losing her sight," said Delaney's mom, Kelly Spain-Kelly, of Bow. "And at the time, truthfully, that was as devastating as finding out she had a brain tumor."
When the time came for Delaney to go to public school, Spain-Kelly reached out to Future In Sight, a Concord-based nonprofit that specializes in education and rehab services for Granite Staters of all ages suffering from blindness or visual impairment.
Although Spain-Kelly had originally called to inquire about services for Delaney, the conversation eventually turned to the nationwide shortage of educators who specialize in working with the visually impaired.
This set Spain-Kelly, an elementary school teacher by trade, on a whole new direction in her life.
"I said, 'I have an education background. What do I need to do to help?'" Spain-Kelly said.
"It was kind of one of those kismet moments where you figure something out," said Spain-Kelly. "I literally got off the phone and was like, 'This is it. This is what I want to do.'"
She went on to enroll in a UMass Boston master's program in vision studies, and since 2017 she has worked as an orientation and mobility specialist for Future in Sight, where she works with school-age children.
"It's to make sure that they have experiences that they may miss because they don't have that incidental learning that we do just by seeing things," said Spain-Kelly. "It's providing that whole spectrum of life experiences so when they graduate they feel confident enough to go on to college, to get a job, to live independently in communities."
On June 1, Spain-Kelly, Delaney and nearly 500 others are expected to come together for Future in Sight's 16th annual Walk for Sight, a 3K walk in downtown Concord that allows participants to traverse the course using blindfolds or other simulator glasses in order to better understand the experiences of the state's visually impaired.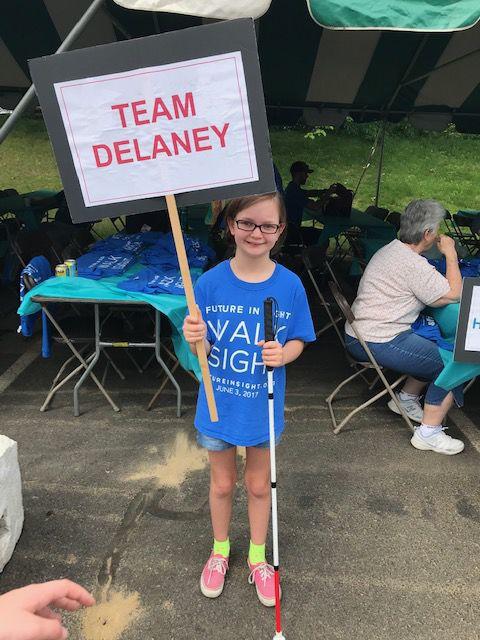 "I think that helps build empathy around the loss of sight and understanding the needs of the population we serve," said Future in Sight President and CEO David Morgan. The organization expects the walk to raise $100,000 to support the $1.7 million cost of delivering its programs.
Morgan said his organization strives for a holistic approach to rehabilitation that focuses on helping roughly 4,000 Granite Staters who struggle with the basic tasks of daily life due to vision impairment, and it does so regardless of a participant's ability to pay.
"Losing sight is not that different from losing a loved one in your life; it's a crisis in your life and it takes emotional adjustment," Morgan said.
Morgan said his organization estimates there are as many as 30,000 people in the state suffering from visual impairment and forecasts a large increase in the next 10 to 15 years as Baby Boomers age and begin to experience vision difficulty.
The rising level of need only compounds the continued shortage of specialists, Morgan said.
There is a need for qualified educators to supplement school districts without the resources to offer rigorous education plans for visually impaired students, he said.
"I think the significant shortfall is not only just because of retirement, not only just because we've started identifying those under-identified needs, but more and more it's a disconnect between the needs of the child and what makes it into a student's individualized education plan," he said.
To address the shortage, Future in Sight is devoting resources to generate $4,000 in grant funds for UMass students like Spain-Kelly who want to get their master's in vision studies.
Additionally, the organization has received a contract from the Department of Education to draft new guidelines for the education of teachers who will serve the visually impaired.
"We're a small state, but we really believe that not only is New Hampshire first in the nation in a lot of other areas, but we believe in the next three to five years, we can be first in the nation in how we innovate the way our children learn who are visually impaired," Morgan said.