The phones at Alpha-Bits Learning Center have been ringing with calls from working parents desperate for day care since the Manchester school district announced it will keep children in second grade and above out of buildings to start the school year and bring in younger children two days each week, said its president.
Alpha-Bits in Manchester and a handful of other child care centers around New Hampshire are setting up programs to supervise school-aged children during the day while they do remote schooling and their families work. But there's limited space in these programs, and not all families can afford the extra expense.
Usually, Alpha-Bits cares for children between six weeks and 5 years old, with before- and after-school care for children up to third grade.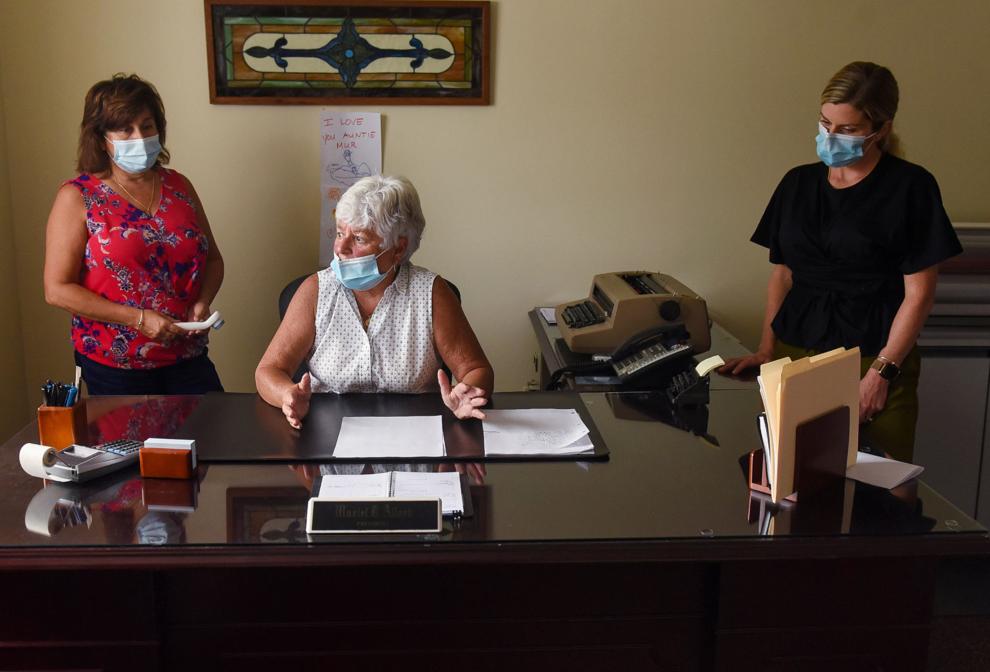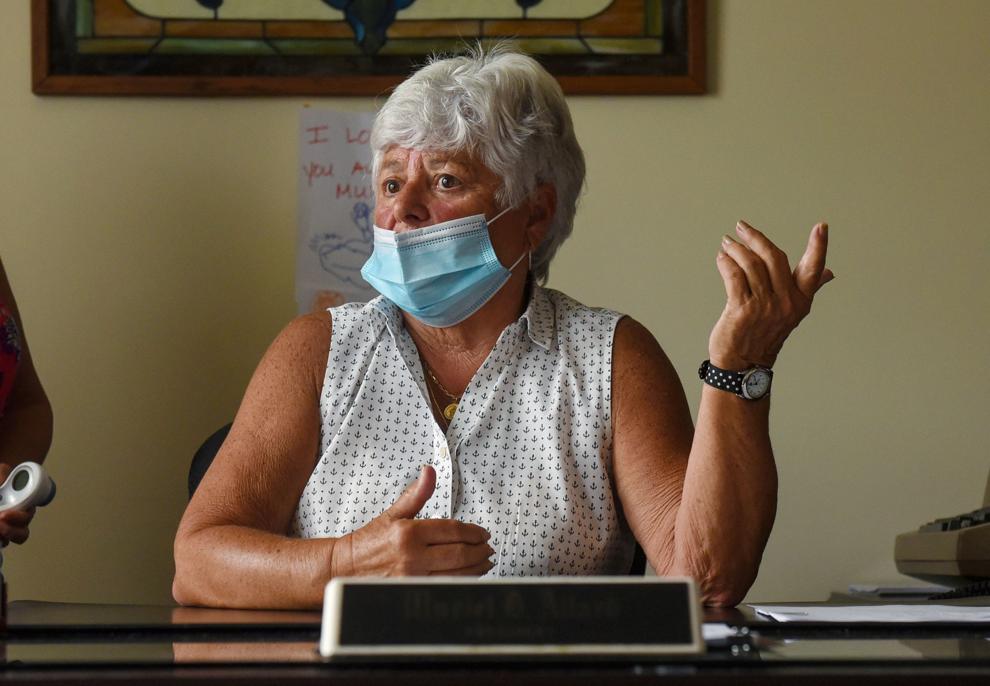 The day care received a waiver from the state to care for school-age children during the day, said Muriel Allard, president of Alpha-Bits.
Allard said the plan is for children to come with their own laptops or tablets. During the school day, they will work on their remote learning together, with breaks for lunch and recess.
Instead of family members supervising children at home, a certified teacher and an assistant will oversee groups of up to 24 children in classrooms.
"We're ready to go until the end of June," Allard said.
For parents like Melissa Cedeno, the day care's supervised remote-learning program was a relief.
"I was going to cry, just thinking about it," Cedeno said, when she learned her first-grader Dominic could go to Alpha-Bits on the days he's not at the Jewett Street School. She brought him in to sign up Thursday.
Cedeno had been furloughed from her job as a medical assistant in the spring, so she was home with Dominic earlier this year. But she is back to work now.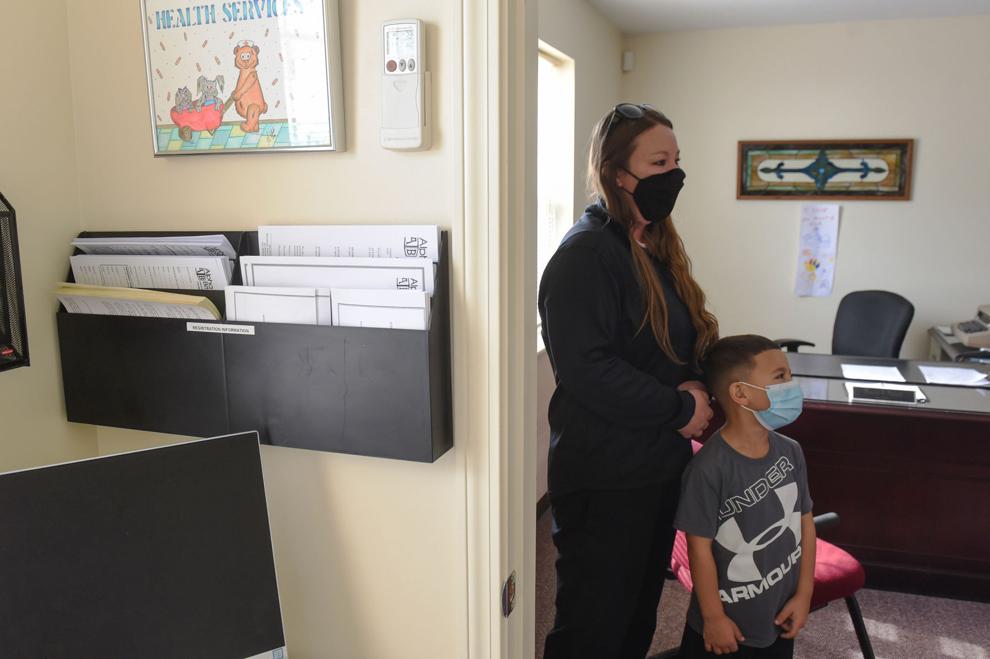 "I honestly didn't know what we were going to do," Cedeno said. "If it wasn't for this, I would have had to change careers."
Julie Auger, another parent, said she was able to balance working from home with caring for her son James, 6. But James is an only child, she said.
"So you worry about social interaction," Auger said.
She decided James will start first grade at Weston Elementary twice a week and spend the rest of the week at Alpha-Bits, instead of staying with her while she works from home.
Allard said Alpha-Bits has gotten funds from the state and received a loan from the Paycheck Protection Program, all of which went to salaries. She's doing everything she can to keep Alpha-Bits affordable, pricing the program for school-age children at $200 per week.
'Figure it out'
Many families had not budgeted for extra day-care costs this year, said Christina D'Allesandro, New Hampshire director of Moms Rising, a group that advocates for affordable child care and paid leave. Other parents have recently lost jobs, D'Allesandro said.
Good day care isn't cheap, sometimes costing more than $60 per day, she said.
"That's $65 a day, $325 a week you didn't expect to spend. These are sometimes equivalent to mortgage payments," D'Allesandro said. "What about the kids whose parents work at grocery stores?"
She said she knows of working parents who felt forced to leave children as young as 9 home alone, so they could go to work.
Child care subsidies are available for low-income families, but D'Allesandro noted plenty of families make too much to qualify but still can't afford child care.
It's on parents to figure out where to put school-age children during the day, D'Allesandro said. Some are forming "pods" with other families to supervise remote learning in shifts, or even hiring private tutors. Others are scrambling for one of the limited spots in a child care center like Alpha-Bits.
"Too often, I think it's become 'figure it out.' We can't just 'figure it out,'" D'Allesandro said.
'Ready to explode'
Alyssah Mailloux of Hudson said it has been tough to figure out the best options for her sons, 4 and 8, especially after she lost her job this spring.
Hudson schools offered a choice between sending children to school full time and full-time remote learning. Mailloux chose remote learning because it offered the most stability for her family. She said a day care program that would supervise remote learning had sounded appealing as she looks for work.
"I was considering that. Then I looked at the price," Mailloux said. She's trying to find a work-from-home job, even something temporary, so she can be home with her children.
Remote learning this spring was hard enough, said MacKenzie Nicholson of Nottingham. Nottingham School, where her son is going into second grade, offered the option of sending him two days a week or remote learning full time. It felt like more chaos to figure out bus schedules and make sure he had a mask two days a week, so she's keeping him home full-time, along with her 3-year-old daughter.
Nicholson pulled her daughter out of day care in the early spring, worried about the virus. The day care wanted her to pay half her daughter's tuition to save her spot, but that slipped out of reach when Nicholson lost her job at a nonprofit in June. Her daughter lost her seat at the only licensed day care in town.
"If I were to start a job Sept. 1, I don't know if I would have a spot to bring her," Nicholson said.
She's getting unemployment insurance, but not the extra $600 per week payments, which ended in July. Nicholson has her own student loans to contend with, on top of bills and groceries. Child care isn't affordable right now, so even if she found a job, Nicholson isn't sure how she could go to work.
"The whole thing is so complicated. It's so many moving pieces, my brain is ready to explode."