CANAAN — Support is coming in from across the globe for Bonnie Kimball, the Mascoma Valley Regional School District lunch lady fired after feeding a student who couldn't pay for his food.
"It's all so overwhelming, and there are so many wonderful people reaching out," Kimball said on social media.
Kimball's story about getting fired went viral, spurring media attention, worldwide calls for support and even some high-profile job offers. Saturday morning saw her appear on "Good Morning America," bringing her story to millions more people.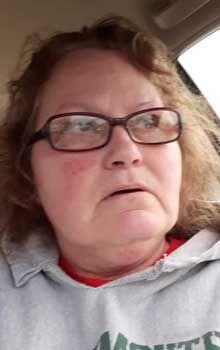 Chef José Andrés, behind the global food company ThinkFoodGroup, took to Twitter after hearing about Kimball's plight and called her a hero.
"If she needs a job, we have openings at @thinkfoodgroup," Andrés wrote on Twitter. "If you know her, let her know."
Andrés isn't the only business owner impressed with Kimball's actions. Gary Simon, owner of the restaurant chain British Beer Company, offered to hire Kimball at any of his locations.
"She's someone we'd be proud to have on our staff," Simon said.
Her former employer, Cafe Services, appears to have bowed to pressure from the Mascoma school district and publicly offered to rehire Kimball, with back pay since her March 29 termination. Mascoma Superintendent Amanda Isabelle released a statement Friday night that indicated she'd spoken to Cafe Services and told them to rehire Kimball, or face losing the school's $560,000 contract.
"I believe we have all learned something through this process," Isabelle said.
However, neither Cafe Services nor Isabelle talked to Kimball about the job. Kimball is rejecting the notion of returning, saying the offer is simply an attempt to stop the negative press for both the company and the school district.
"They all just want me to get the press off their backs," Kimball said.
So far, the public has responded to Kimball's story by contributing close to $7,000 as of Saturday to a GoFundMe campaign to help her with her bills. That money will help since she lost her longtime job in March.
Kimball was fired the day after she allowed a student, who could not pay, to take $8 worth of a la carte items during lunch at the Mascoma Valley Regional High School. She said she'd been instructed by a manager to let students take items even if they could not pay; she said the manager was concerned about the upcoming bid process for a new one-year food vendor contract.
"They told us not to make any 'scenes,' " Kimball said.
The district manager who saw her give the student the food on March 28 initially said, "OK," Kimball said. The student had his bill paid the next morning, and that afternoon Kimball was fired, she said.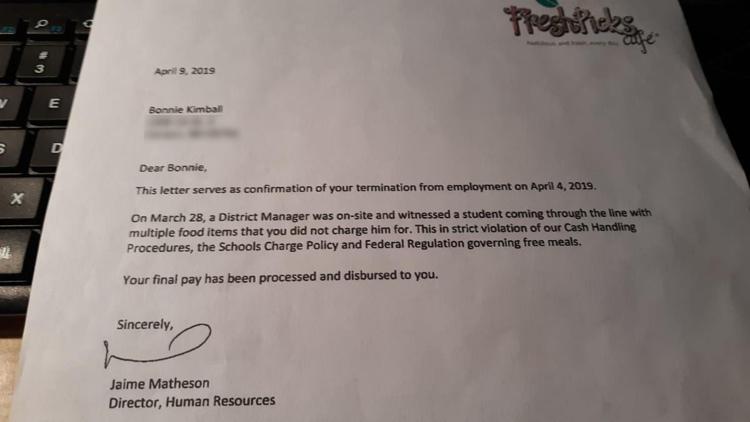 Cafe Services representatives have denied they would fire an employee for giving out free food, though the termination letter Kimball was given states she was being fired for letting the student take food without paying.
Isabelle said the school district's policy is to not refuse food to hungry children who cannot pay, but also not to allow them to take certain items.
"The district's policy regarding free lunches is that students will always be provided with meals, milk, fruits and vegetables," Isabelle said. "There are, however, items such as ice cream bars, sports drinks and chips that are not provided for free."
Fresh Picks Cafe, the school division of Cafe Services, also sent out a statement Friday night agreeing to rehire Kimball. Fresh Picks Cafe President Brian Stone said the issue that spurred her firing comes down to following the correct policy.
"In consultation with the school district about the current policies for handing transactions with students, we are going to offer to rehire our recently terminated employee and provide her back pay, and we will work with the school district to revise policies and procedures regarding transactions. We will then work with our manager on those policies," Stone said in the statement.
It's not clear when the media storm will die down for the company or the district.
"They did this to themselves," Kimball said.