Manchester School Salaries
This searchable database of 2018 Manchester school salaries includes gross pay and notes number of days paid out at retirement for sick days and vacation days. Substitute teachers are not included in this data. GO TO MUNICIPAL WAGES
---
| Last Name | First Name | Location Description | Job Class Description | Total | Sick days paid out at retirement | Vacation days paid out at retirement |
| --- | --- | --- | --- | --- | --- | --- |
| BRUIN | KEVIN | HILLSIDE MIDDLE SCHOOL | 21ST CENTURY PROGRAM COORDINATOR | $27,373.54 | | |
| CONCANNON | DANIEL | NORTHWEST ELEMENTARY SCHOOL | 21ST CENTURY PROGRAM COORDINATOR | $26,080.60 | | |
| FARRELL | TRINA | MCDONOUGH ELEMENTARY SCHOOL | 21ST CENTURY PROGRAM COORDINATOR | $25,483.51 | | |
| GARLAND | JACOB | MCLAUGHLIN MIDDLE SCHOOL | 21ST CENTURY PROGRAM COORDINATOR | $26,636.09 | | |
| GONZALEZ | NORMA | BEECH ST. ELEMENTARY SCHOOL | 21ST CENTURY PROGRAM COORDINATOR | $41,816.15 | | |
| HETZEL | ANN-MARIE | SOUTHSIDE MIDDLE SCHOOL | 21ST CENTURY PROGRAM COORDINATOR | $29,746.21 | | |
| NIAZI | SARAH | PARKER VARNEY ELEMENTARY SCHOOL | 21ST CENTURY PROGRAM COORDINATOR | $26,416.65 | | |
| PENN | ELIZABETH | HALLSVILLE ELEMENTARY SCHOOL | 21ST CENTURY PROGRAM COORDINATOR | $24,437.74 | | |
| PROULX | ALEXANDREA | MIDDLE SCHOOL AT PARKSIDE | 21ST CENTURY PROGRAM COORDINATOR | $26,835.60 | | |
| RICHARD | SAMANTHA | DISTRICT WIDE | 21ST CENTURY PROGRAM COORDINATOR | $31,296.72 | | |
| SHIMER | KRISTEN | BAKERSVILLE ELEMENTARY SCHOOL | 21ST CENTURY PROGRAM COORDINATOR | $27,624.24 | | |
| SUAREZ | JAMIE LEE | WILSON ST ELEMENTARY SCHOOL | 21ST CENTURY PROGRAM COORDINATOR | $35,848.30 | | |
| IRELAND | JESSICA | GOSSLER PARK ELEMENTARY SCHOOL | 21ST CENTURY PROGRAM COORDINATOR/SUPERVISOR | $40,506.67 | | |
| LANGLOIS | DONNA | ADMINISTRATION BUILDING | ACCOUNT TECH - STUDENT SERVICES | $49,202.81 | | |
| BROWN | JOEDE | ADMINISTRATION BUILDING | ACCOUNTING TECH - FINANCE | $23,152.53 | | |
| BURNS | JANICE | ADMINISTRATION BUILDING | ACCOUNTING TECH - FINANCE | $37,966.99 | 78 | 18.7 |
| ELLIS | LORRIE | ADMINISTRATION BUILDING | ACCOUNTING TECH - FINANCE | $34,393.19 | | |
| RIPPETT KIRKHART | DELRAE | ADMINISTRATION BUILDING | ACCOUNTING TECH - FINANCE | $28,824.83 | | |
| SEBEK | SYLVIA | ADMINISTRATION BUILDING | ACCOUNTING TECH - FINANCE | $45,207.30 | | |
| FOOTE | LISA | ADMINISTRATION BUILDING | ACCOUNTING TECH - PAYROLL | $47,835.52 | | |
| MONSEN | JOANN | ADMINISTRATION BUILDING | ACCOUNTING TECH - PAYROLL | $47,812.24 | | |
| LOFTUS | SHEILA | ADMINISTRATION BUILDING | ACCOUNTING TECH - SFNS | $56,615.82 | | |
| MCFARLAND | REBECCA | ADMINISTRATION BUILDING | ACCOUNTING TECH - SFNS | $41,751.19 | | |
| KILMAN | ERNEST | ADMINISTRATION BUILDING | ACCOUNTS PAYABLE SUPERVISOR | $61,895.99 | | |
| GARDNER | BARBARA | DISTRICT WIDE | ACTING MANAGER OF ADULT COMMUNITY LEARNING | $33,536.36 | | |
| TAYLOR | PATRICIA | ADMINISTRATION BUILDING | ADM. ASSISTANT TO ASSISTANT SUPERINTENDENT'S | $59,734.26 | | |
| HANNA | TAMMY | ADMINISTRATION BUILDING | ADM. ASSISTANT TO BUSINESS ADMINISTRATOR | $49,436.67 | | |
| MANCUSO | THERESE | ADMINISTRATION BUILDING | ADM. ASSISTANT TO SUPERINTENDENT | $80,693.57 | | |
| STANDISH | LYNETTE | ADMINISTRATION BUILDING | ADMIN ASSISTANT FEDERAL PROJECTS | $45,670.42 | | |
| SULLIVAN-MCCANN | CHRISTINE | ADMINISTRATION BUILDING | ADMIN ASSISTANT FEDERAL PROJECTS | $54,368.48 | | |
| NELSON | CHRISTINE | ADMINISTRATION BUILDING | ADMIN ASSISTANT STUDENT SERVICES | $47,336.96 | | |
| OSBORNE | LAURA | ADMINISTRATION BUILDING | ADMIN RECEPTIONIST | $36,010.57 | | |
| BOUCHARD | JENNIFER | ADULT ED | ADULT EDUCATION | $15,238.60 | | |
| BRECKNOCK | LYNNE | ADULT ED | ADULT EDUCATION | $9,993.75 | | |
| ADAMS | JONATHAN | MST - CTE | APRENTICE PROGRAM | $7,059.81 | | |
| ALLEN | NANCY | MST - CTE | APRENTICE PROGRAM | $12,829.55 | | |
| ANTHONY | CODY | MST - CTE | APRENTICE PROGRAM | $6,628.64 | | |
| BOUTIN | LOUISE | MST - CTE | APRENTICE PROGRAM | $5,817.97 | | |
| BOUTIN | TONY | MST - CTE | APRENTICE PROGRAM | $6,936.81 | | |
| HILL | AARON | MST - CTE | APRENTICE PROGRAM | $6,674.79 | | |
| HOBERG | CURTISS | MST - CTE | APRENTICE PROGRAM | $8,180.20 | | |
| JEAN | ERNEST | MST - CTE | APRENTICE PROGRAM | $7,514.22 | | |
| MARTINEZ | MIGUEL | MST - CTE | APRENTICE PROGRAM | $6,716.55 | | |
| MCGILVARY | JAY | MST - CTE | APRENTICE PROGRAM | $7,302.42 | | |
| MICHAUD | ALEX | MST - CTE | APRENTICE PROGRAM | $6,473.73 | | |
| MUSIL | ROBERT | MST - CTE | APRENTICE PROGRAM | $6,635.04 | | |
| PANDOLFI | GUERINO | MST - CTE | APRENTICE PROGRAM | $3,227.25 | | |
| PRINDIVILLE | MARK | MST - CTE | APRENTICE PROGRAM | $6,928.13 | | |
| SONIA | DAVID | MST - CTE | APRENTICE PROGRAM | $6,384.36 | | |
| TRISCIANI | KIM | MST - CTE | APRENTICE PROGRAM | $7,051.88 | | |
| WAREHAM | MARTIN | MST - CTE | APRENTICE PROGRAM | $6,847.24 | | |
| PARIS | LISA | ADMINISTRATION BUILDING | ASSISTANT BUSINESS ADMINISTRATOR | $86,654.36 | | |
| AGATE | PAMELA | JEWETT ELEMENTARY SCHOOL | ASSISTANT PRINCIPAL | $84,601.66 | | |
| BARRY | JONATHAN | MEMORIAL HIGH SCHOOL | ASSISTANT PRINCIPAL | $79,925.18 | | |
| BASKERVILLE | SHAWN | HIGHLAND GOFFE'S FALLS ELEMENT | ASSISTANT PRINCIPAL | $88,295.15 | | |
| BEAULAC | MICHAEL | PARKER VARNEY ELEMENTARY SCHOOL | ASSISTANT PRINCIPAL | $92,604.20 | | |
| BOURQUE | MARY-JO | MEMORIAL HIGH SCHOOL | ASSISTANT PRINCIPAL | $105,761.07 | | |
| CATALDO II | LEWIS | SOUTHSIDE MIDDLE SCHOOL | ASSISTANT PRINCIPAL | $83,540.12 | | |
| CHRETIEN | RICHARD | WESTON ELEMENTARY SCHOOL | ASSISTANT PRINCIPAL | $88,596.98 | | |
| CLAYTON | JANE | CENTRAL HIGH SCHOOL | ASSISTANT PRINCIPAL | $100,380.57 | | |
| CLOUTIER | LAURIE-ANN | NORTHWEST ELEMENTARY SCHOOL | ASSISTANT PRINCIPAL | $11,249.52 | | |
| COLLINS | WILLIAM | CENTRAL HIGH SCHOOL | ASSISTANT PRINCIPAL | $100,886.94 | | |
| ESPINOLA | KELLY | GREEN ACRES ELEMENTARY SCHOOL | ASSISTANT PRINCIPAL | $87,960.44 | | |
| FIELDS | COLLEEN | MIDDLE SCHOOL AT PARKSIDE | ASSISTANT PRINCIPAL | $87,395.10 | | |
| FRENCH | BRANDON | WEBSTER ELEMENTARY SCHOOL | ASSISTANT PRINCIPAL | $87,989.35 | | |
| HEBERT | JEFFREY | MIDDLE SCHOOL AT PARKSIDE | ASSISTANT PRINCIPAL | $91,942.24 | | |
| HOBERMAN | MAEGAN | SOUTHSIDE MIDDLE SCHOOL | ASSISTANT PRINCIPAL | $19,434.72 | | |
| HOBERMAN | MAEGAN | SOUTHSIDE MIDDLE SCHOOL | TEACHER | $60,896.96 | | |
| LORD | LAURA | WEST HIGH SCHOOL | ASSISTANT PRINCIPAL | $103,632.42 | | |
| LOUGHLIN | SARA | HILLSIDE MIDDLE SCHOOL | ASSISTANT PRINCIPAL | $91,683.20 | | |
| NEWMAN | KELLY | BEECH ST. ELEMENTARY SCHOOL | ASSISTANT PRINCIPAL | $67,462.88 | | |
| NEWMAN | KELLY | BEECH ST. ELEMENTARY SCHOOL | TEACHER | $9,046.04 | | |
| O'NEIL | CYNTHIA | DISTRICT WIDE | ASSISTANT PRINCIPAL | $33,430.65 | 60 | |
| O'ROURKE | MICHEL | WILSON ST ELEMENTARY SCHOOL | ASSISTANT PRINCIPAL | $19,686.66 | | |
| OTERO | RACHELLE | SMYTH RD ELEMENTARY SCHOOL | ASSISTANT PRINCIPAL | $86,374.40 | | |
| OTIS | TIMOTHY | MST HIGH SCHOOL & CTE | ASSISTANT PRINCIPAL | $105,001.77 | | |
| PERICH | PETER | DISTRICT WIDE | ASSISTANT PRINCIPAL | $57,123.48 | 90 | |
| PUGLISI | KEITH | MEMORIAL HIGH SCHOOL | ASSISTANT PRINCIPAL | $104,797.03 | | |
| ROTHE | NANCY | HILLSIDE MIDDLE SCHOOL | ASSISTANT PRINCIPAL | $25,653.52 | | |
| ROUKEY | DEBORA | CENTRAL HIGH SCHOOL | ASSISTANT PRINCIPAL | $104,442.51 | | |
| SOUCY | STEVEN | BAKERSVILLE ELEMENTARY SCHOOL | ASSISTANT PRINCIPAL | $89,392.43 | | |
| STAMOULIS | CONSTANTIA | MCDONOUGH ELEMENTARY SCHOOL | ASSISTANT PRINCIPAL | $84,703.02 | | |
| SZUKSTA | SCOTT | MCLAUGHLIN MIDDLE SCHOOL | ASSISTANT PRINCIPAL | $83,540.12 | | |
| TAPPIN | MANDI | GOSSLER PARK ELEMENTARY SCHOOL | ASSISTANT PRINCIPAL | $85,006.97 | | |
| VITAGLIANO | RHONDA | HIGHLAND GOFFE'S FALLS ELEMENT | ASSISTANT PRINCIPAL | $92,422.51 | 90 | |
| WATSON | BRYAN | BAKERSVILLE ELEMENTARY SCHOOL | ASSISTANT PRINCIPAL | $42,766.96 | | |
| WILLIAMS | KELLY | MCLAUGHLIN MIDDLE SCHOOL | ASSISTANT PRINCIPAL | $93,889.72 | | |
| WITHEE | KRISTEN | WEBSTER ELEMENTARY SCHOOL | ASSISTANT PRINCIPAL | $41,860.65 | | |
| WOOD | MARY ANN | WEST HIGH SCHOOL | ASSISTANT PRINCIPAL | $104,999.55 | | |
| ALLAIRE | ELLEN | HALLSVILLE ELEMENTARY SCHOOL | ASSISTANT PRINCIPAL -HALF TIME | $43,685.98 | | |
| GILLIS | JENNIFER | ADMINISTRATION BUILDING | ASSISTANT SUPERINTENDENT FOR CURRICULUM & INSTRUCTION | $68,923.07 | | |
| GILLIS | JENNIFER | SOUTHSIDE MIDDLE SCHOOL | PRINCIPAL | $47,127.88 | | |
| ALLEN | AMY | ADMINISTRATION BUILDING | ASSISTANT SUPERINTENDENT FOR ELEMENTARY & INNOVATION | $115,015.50 | | |
| AHMIC | MAID | CENTRAL HIGH SCHOOL | ATHLETIC WORKER | $2,231.00 | | |
| ANGERAMI | MICHAEL | MEMORIAL HIGH SCHOOL | ATHLETIC WORKER | $3,367.00 | | |
| AUSTIN | DANIELLE | CENTRAL HIGH SCHOOL | ATHLETIC WORKER | $5,202.00 | | |
| BAKER | JULIA | HILLSIDE MIDDLE SCHOOL | ATHLETIC WORKER | $3,608.00 | | |
| BARBEE | KIMBERLY | CENTRAL HIGH SCHOOL | ATHLETIC WORKER | $2,741.00 | | |
| BOLESH | BRANDON | HILLSIDE MIDDLE SCHOOL | ATHLETIC WORKER | $500.00 | | |
| BOZOIAN | THOMAS | WEST HIGH SCHOOL | ATHLETIC WORKER | $6,800.00 | | |
| BRYSON | DANNY | WEST HIGH SCHOOL | ATHLETIC WORKER | $4,621.00 | | |
| CAMPBELL | KALEIGH | HILLSIDE MIDDLE SCHOOL | ATHLETIC WORKER | $8,728.00 | | |
| CENATIEMPO | RAFFAELE | CENTRAL HIGH SCHOOL | ATHLETIC WORKER | $2,417.00 | | |
| CHRABOLOWSKI | JAMES | HILLSIDE MIDDLE SCHOOL | ATHLETIC WORKER | $2,417.00 | | |
| COTREAU JR | GREGORY | WEST HIGH SCHOOL | ATHLETIC WORKER | $4,621.00 | | |
| COUTURE | ROBERT | MEMORIAL HIGH SCHOOL | ATHLETIC WORKER | $2,741.00 | | |
| CUMMING | JASON | DISTRICT WIDE | ATHLETIC WORKER | $3,721.00 | | |
| DESIR | STANLEY | SOUTHSIDE MIDDLE SCHOOL | ATHLETIC WORKER | $500.00 | | |
| DUFFY | ERIN | CENTRAL HIGH SCHOOL | ATHLETIC WORKER | $2,989.00 | | |
| DUFFY | WILLIAM | MEMORIAL HIGH SCHOOL | ATHLETIC WORKER | $3,367.00 | | |
| FAGGIANO | JOHN | WEST HIGH SCHOOL | ATHLETIC WORKER | $2,369.00 | | |
| FILARDO | ALVARO | WEST HIGH SCHOOL | ATHLETIC WORKER | $5,800.00 | | |
| FISCHER | ERIC | CENTRAL HIGH SCHOOL | ATHLETIC WORKER | $4,387.00 | | |
| FITZMAURICE | CHARLES | MEMORIAL HIGH SCHOOL | ATHLETIC WORKER | $4,804.00 | | |
| FLEMING | JAMES | MEMORIAL HIGH SCHOOL | ATHLETIC WORKER | $2,427.00 | | |
| FRANCIS | MISTY | DISTRICT WIDE | ATHLETIC WORKER | $4,738.00 | | |
| GAGNE | DANIEL | CENTRAL HIGH SCHOOL | ATHLETIC WORKER | $4,387.00 | | |
| GAGNE | GARY | WEST HIGH SCHOOL | ATHLETIC WORKER | $1,000.00 | | |
| GLENNON | KATIE | WEST HIGH SCHOOL | ATHLETIC WORKER | $3,521.00 | | |
| GLENNON | SHARON | WEST HIGH SCHOOL | ATHLETIC WORKER | $5,202.00 | | |
| GOEDECKE | PETER | DISTRICT WIDE | ATHLETIC WORKER | $2,427.00 | | |
| GUERTIN | PETER | WEST HIGH SCHOOL | ATHLETIC WORKER | $3,367.00 | | |
| HASIC | DAMIR | WEST HIGH SCHOOL | ATHLETIC WORKER | $2,741.00 | | |
| HAYNES | GERALD | WEST HIGH SCHOOL | ATHLETIC WORKER | $4,621.00 | | |
| HESS | LEE | WEST HIGH SCHOOL | ATHLETIC WORKER | $7,200.00 | | |
| HESSE | NATALIA | DISTRICT WIDE | ATHLETIC WORKER | $2,961.00 | | |
| HOULE | TIANA | CENTRAL HIGH SCHOOL | ATHLETIC WORKER | $4,841.00 | | |
| HUDSON | TABITHA | DISTRICT WIDE | ATHLETIC WORKER | $1,783.00 | | |
| HUSSEY | COLLEEN | DISTRICT WIDE | ATHLETIC WORKER | $7,497.00 | | |
| JAMESON | DEREK | HILLSIDE MIDDLE SCHOOL | ATHLETIC WORKER | $500.00 | | |
| JANSEN | PATRICIA | MCLAUGHLIN MIDDLE SCHOOL | ATHLETIC WORKER | $1,804.00 | | |
| KEDDIE | MATTHEW | DISTRICT WIDE | ATHLETIC WORKER | $2,417.00 | | |
| KEKUMBA | BENOIT | CENTRAL HIGH SCHOOL | ATHLETIC WORKER | $1,815.00 | | |
| KELLEY | FRANCIS | CENTRAL HIGH SCHOOL | ATHLETIC WORKER | $3,600.00 | | |
| LABERGE | CHRIS | DISTRICT WIDE | ATHLETIC WORKER | $3,600.00 | | |
| LALLY | PETER | CENTRAL HIGH SCHOOL | ATHLETIC WORKER | $5,310.00 | | |
| LANGLOIS | DAVID | DISTRICT WIDE | ATHLETIC WORKER | $3,721.00 | | |
| LANGSTEN | MACKENZIE | CENTRAL HIGH SCHOOL | ATHLETIC WORKER | $1,943.00 | | |
| LARKINS | WILLIAM | CENTRAL HIGH SCHOOL | ATHLETIC WORKER | $3,181.00 | | |
| LECLERC | KAREN | HILLSIDE MIDDLE SCHOOL | ATHLETIC WORKER | $3,608.30 | | |
| LETT | SUDI NJEMA | CENTRAL HIGH SCHOOL | ATHLETIC WORKER | $4,655.00 | | |
| LEVESQUE | RENEE | WEST HIGH SCHOOL | ATHLETIC WORKER | $2,741.00 | | |
| LOUGHLIN | STEVEN | CENTRAL HIGH SCHOOL | ATHLETIC WORKER | $2,741.00 | | |
| LUGO | JOHNATHAN | CENTRAL HIGH SCHOOL | ATHLETIC WORKER | $2,200.00 | | |
| LYNCH | DEREK | DISTRICT WIDE | ATHLETIC WORKER | $3,537.00 | | |
| MANDEVILLE | STEPHEN | WEST HIGH SCHOOL | ATHLETIC WORKER | $2,427.00 | | |
| MARTINEAU | BERNARD | WEST HIGH SCHOOL | ATHLETIC WORKER | $2,741.00 | | |
| MASEWIC | KEVIN | MCLAUGHLIN MIDDLE SCHOOL | ATHLETIC WORKER | $2,417.00 | | |
| MATHIEU | STEPHEN | CENTRAL HIGH SCHOOL | ATHLETIC WORKER | $2,369.00 | | |
| MCCOUBRY | SEAN | SOUTHSIDE MIDDLE SCHOOL | ATHLETIC WORKER | $500.00 | | |
| MCINNIS | JAMES | CENTRAL HIGH SCHOOL | ATHLETIC WORKER | $1,943.00 | | |
| MERRITT | JENNA | MEMORIAL HIGH SCHOOL | ATHLETIC WORKER | $2,239.00 | | |
| MITCHELL | CAITLYN | CENTRAL HIGH SCHOOL | ATHLETIC WORKER | $2,239.00 | | |
| NAULT | MEAGAN | MCLAUGHLIN MIDDLE SCHOOL | ATHLETIC WORKER | $1,804.00 | | |
| NAULT | SHARON | MEMORIAL HIGH SCHOOL | ATHLETIC WORKER | $5,186.00 | | |
| O'HALLORAN | STEPHEN | WEST HIGH SCHOOL | ATHLETIC WORKER | $3,600.00 | | |
| PARKER | BRIAN | CENTRAL HIGH SCHOOL | ATHLETIC WORKER | $2,989.00 | | |
| PASQUAL | JOSEPH | CENTRAL HIGH SCHOOL | ATHLETIC WORKER | $3,367.00 | | |
| PEPIN | MARK | CENTRAL HIGH SCHOOL | ATHLETIC WORKER | $7,200.00 | | |
| PODSADOWSKI | CHERYL | DISTRICT WIDE | ATHLETIC WORKER | $500.00 | | |
| PROVENCHER | ANDREW | WEST HIGH SCHOOL | ATHLETIC WORKER | $3,367.00 | | |
| PUTNEY | MARK | MEMORIAL HIGH SCHOOL | ATHLETIC WORKER | $4,387.00 | | |
| RZASA | CAROL | DISTRICT WIDE | ATHLETIC WORKER | $1,592.00 | | |
| SAIA | DANIEL | MEMORIAL HIGH SCHOOL | ATHLETIC WORKER | $3,721.00 | | |
| SEDITA | EMILY | CENTRAL HIGH SCHOOL | ATHLETIC WORKER | $3,600.00 | | |
| SPIEWAK | GARY | WEST HIGH SCHOOL | ATHLETIC WORKER | $2,231.00 | | |
| STURGIS | ROBERT | MEMORIAL HIGH SCHOOL | ATHLETIC WORKER | $6,300.00 | | |
| TELGE | PETER | MCLAUGHLIN MIDDLE SCHOOL | ATHLETIC WORKER | $500.00 | | |
| VANDERBEKEN | STEPHEN | DISTRICT WIDE | ATHLETIC WORKER | $4,854.00 | | |
| WATSON | DARNERIUS | DISTRICT WIDE | ATHLETIC WORKER | $3,367.00 | | |
| WILSON | CORRI | HILLSIDE MIDDLE SCHOOL | ATHLETIC WORKER | $1,804.00 | | |
| BALL | JILMA | BAKERSVILLE ELEMENTARY SCHOOL | BILINGUAL PARENT LIAISON | $14,649.04 | | |
| CARMELO RUIZ | MARIEL | BEECH ST. ELEMENTARY SCHOOL | BILINGUAL PARENT LIAISON | $17,655.08 | | |
| CHIBOUB | LALLA AMINA | DISTRICT WIDE | BILINGUAL PARENT LIAISON | $30,684.04 | | |
| ROJAS RAMON | MARIA | BAKERSVILLE ELEMENTARY SCHOOL | BILINGUAL PARENT LIAISON | $12,821.25 | | |
| SUBEDI | TIKA | DISTRICT WIDE | BILINGUAL PARENT LIAISON | $29,142.14 | | |
| WILSON | JENNYLSA | WILSON ST ELEMENTARY SCHOOL | BILINGUAL PARENT LIAISON | $29,036.45 | | |
| DEFRANCIS | KAREN | ADMINISTRATION BUILDING | BUSINESS ADMINISTRATOR | $111,447.05 | | |
| CARBONE | THERESA | JEWETT ELEMENTARY SCHOOL | C.I. PART-TIME | $16,308.43 | | |
| CONWAY | DIANE | GOSSLER PARK ELEMENTARY SCHOOL | C.I. PART-TIME | $10,120.40 | | |
| EASTWOOD | KAYLIE | PARKER VARNEY ELEMENTARY SCHOOL | C.I. PART-TIME | $10,762.51 | | |
| LAROSE | MARIA | HALLSVILLE ELEMENTARY SCHOOL | C.I. PART-TIME | $8,717.00 | | |
| LEPAGE | KRISTEN | GOSSLER PARK ELEMENTARY SCHOOL | C.I. PART-TIME | $6,494.52 | | |
| MEUNIER | RYAN | WEST HIGH SCHOOL | C.I. PART-TIME | $17,618.99 | | |
| PAPAJOHN | JAQUELINE | PARKER VARNEY ELEMENTARY SCHOOL | C.I. PART-TIME | $8,511.08 | | |
| ROTH | ALEXA | GOSSLER PARK ELEMENTARY SCHOOL | C.I. PART-TIME | $10,772.16 | | |
| SIMONEAU | MICHELLE | PARKER VARNEY ELEMENTARY SCHOOL | C.I. PART-TIME | $9,981.03 | | |
| URQUHART | CATHERINE | GOSSLER PARK ELEMENTARY SCHOOL | C.I. PART-TIME | $7,093.76 | | |
| VIGNEAU | CHRISTINE | BEECH ST. ELEMENTARY SCHOOL | C.I. PART-TIME | $14,872.15 | | |
| WESOLOWSKI | BARBARA | HALLSVILLE ELEMENTARY SCHOOL | C.I. PART-TIME | $5,488.40 | | |
| BOUCHARD | CAREN | CENTRAL HIGH SCHOOL | CI'S REGULAR PART-TIME | $13,298.75 | | |
| CARRAHER | KATIE | GOSSLER PARK ELEMENTARY SCHOOL | CI'S REGULAR PART-TIME | $18,093.51 | | |
| CARRIER | CAROLYN | BAKERSVILLE ELEMENTARY SCHOOL | CI'S REGULAR PART-TIME | $20,547.72 | | |
| MALONEY | ROBIN | MCDONOUGH ELEMENTARY SCHOOL | CI'S REGULAR PART-TIME | $22,621.37 | | |
| MARCELLINO | JULIE | BEECH ST. ELEMENTARY SCHOOL | CI'S REGULAR PART-TIME | $25,432.33 | | |
| PERKINS | ROBIN | BEECH ST. ELEMENTARY SCHOOL | CI'S REGULAR PART-TIME | $1,499.50 | | |
| QUINN-SCHMIDT | VIRGINIA | MEMORIAL HIGH SCHOOL | CI'S REGULAR PART-TIME | $19,162.13 | | |
| VON SUCK | CAROL ANN | BEECH ST. ELEMENTARY SCHOOL | CI'S REGULAR PART-TIME | $15,914.83 | | |
| VENATOR | STACY | ADMINISTRATION BUILDING | COORDINATOR BENEFITS | $54,024.88 | | |
| JACOBS | SARAH | ADMINISTRATION BUILDING | COORDINATOR COMMUNICATIONS | $8,318.63 | | |
| FISHWICK | JOYCE | ADMINISTRATION BUILDING | COORDINATOR HUMAN RESOURCE | $55,484.88 | | |
| GAGNE | BARBARA | ADMINISTRATION BUILDING | COORDINATOR MEDICAID | $54,458.82 | | |
| CRUIKSHANK | JOHN | ADMINISTRATION BUILDING | COORDINATOR ATTENDANCE | $58,693.18 | | |
| NERENBURG | MARISSA | BEECH ST. ELEMENTARY SCHOOL | COORDINATOR PRESCHOOL | $62,346.16 | | |
| KUJAWA | KELLY | ADMINISTRATION BUILDING | COORDINATOR STUDENT SERVICES ELEMENTARY | $20,076.93 | | |
| ACKROYD | JULIE-ANNE | DISTRICT WIDE | COORDINATOR STUDENT SERVICES SECONDARY | $28,500.03 | | |
| HARRISES | JENNIFER | ADMINISTRATION BUILDING | COORDINATOR STUDENT SERVICES SECONDARY | $55,631.22 | | |
| HARRISES | JENNIFER | MIDDLE SCHOOL AT PARKSIDE | TEACHER | $7,471.08 | | |
| BELANGER | LEAH | ADMINISTRATION BUILDING | COORDINATOR TRANSPORATION | $24,922.01 | | |
| O'BRIEN-HEBERT | KELLY | ADMINISTRATION BUILDING | COORDINATOR TRANSPORATION | $22,500.01 | | |
| O'BRIEN-HEBERT | KELLY | WEST HIGH SCHOOL | SCHOOL SUPPORT SCHOOLYEAR | $15,329.52 | | |
| BIROSCAK | RIC | ADMINISTRATION BUILDING | COURT LIAISON - STUDENT SERVICES | $18,173.07 | | |
| CROOK | DONNA | ADMINISTRATION BUILDING | DATA ANALYST | $52,493.67 | | |
| BRAZ | KAREN | GREEN ACRES ELEMENTARY SCHOOL | DHH & VISUAL INTERPRETERS | $37,800.46 | | |
| CURTY | KRISTEN | MCLAUGHLIN MIDDLE SCHOOL | DHH & VISUAL INTERPRETERS | $33,041.85 | | |
| DEANGELIS | LAURA | GREEN ACRES ELEMENTARY SCHOOL | DHH & VISUAL INTERPRETERS | $11,513.25 | | |
| DIBBLE | CHERYL | GREEN ACRES ELEMENTARY SCHOOL | DHH & VISUAL INTERPRETERS | $38,469.53 | | |
| GEISSER | HEATHER | MEMORIAL HIGH SCHOOL | DHH & VISUAL INTERPRETERS | $37,243.55 | | |
| MCNULTY | JILL | JEWETT ELEMENTARY SCHOOL | DHH & VISUAL INTERPRETERS | $23,523.57 | | |
| MCQUAID | WHITNEY | GREEN ACRES ELEMENTARY SCHOOL | DHH & VISUAL INTERPRETERS | $15,563.46 | | |
| MOORE | JENNIFER | GREEN ACRES ELEMENTARY SCHOOL | DHH & VISUAL INTERPRETERS | $33,629.64 | | |
| MUGICA | ANNA | WESTON ELEMENTARY SCHOOL | DHH & VISUAL INTERPRETERS | $25,500.72 | | |
| NOLAN | REBECCA | MCLAUGHLIN MIDDLE SCHOOL | DHH & VISUAL INTERPRETERS | $20,642.61 | | |
| HASENFUSS | JOHN | DISTRICT WIDE | DIRECTOR 21ST CENTURY PROGRAM | $59,954.44 | | |
| MENSWAR | DON | ADMINISTRATION BUILDING | DIRECTOR ATHLETICS | $12,415.20 | 30 | |
| PARISEAU | CHRISTINE | ADMINISTRATION BUILDING | DIRECTOR ATHLETICS | $37,605.80 | | |
| PERRON | WENDY | ADMINISTRATION BUILDING | DIRECTOR ENGLISH LEARNER | $73,444.80 | | |
| HOGAN | PAMELA | ADMINISTRATION BUILDING | DIRECTOR HUMAN RESOURCE | $89,147.66 | | |
| CROSS | STEPHEN | ADMINISTRATION BUILDING | DIRECTOR IT | $13,266.52 | | |
| CONNORS | JAMES | ADMINISTRATION BUILDING | DIRECTOR SFNS | $75,377.12 | | |
| STEADY | MARY | ADMINISTRATION BUILDING | DIRECTOR STUDENT SERVICES | $87,582.30 | | |
| MAHAN | VIRGINIA | ADMINISTRATION BUILDING | DISTRICT GRANT WRITER | $66,404.02 | | |
| STEPHEN | VIRGINIA | MST HIGH SCHOOL | EDUCATIONAL OPPORTUNITIES COOR | $47,942.77 | | |
| DEVINCENT | SHARON | ADMINISTRATION BUILDING | EX. DIRECTOR OF INNOVATION ZONE | $47,500.05 | | |
| NICHOLS | SHERRI | ADMINISTRATION BUILDING | EX. DIRECTOR OF INNOVATION ZONE | $92,210.71 | | |
| CONRAD | LINDSAY | GREEN ACRES ELEMENTARY SCHOOL | EXTENDED SCHOOL YEAR | $1,981.25 | | |
| GAGNON | SHERRY | BEECH ST. ELEMENTARY SCHOOL | EXTENDED SCHOOL YEAR | $509.05 | | |
| GREENE | ROBYN | MCLAUGHLIN MIDDLE SCHOOL | EXTENDED SCHOOL YEAR | $2,025.00 | | |
| BEAUCHEMIN | ALAN | DISTRICT WIDE | EXTRA CURRICULAR | $1,415.49 | | |
| CASALE | LARRY | HALLSVILLE ELEMENTARY SCHOOL | EXTRA CURRICULAR | $707.76 | | |
| DELANEY | EDWARD | WEBSTER ELEMENTARY SCHOOL | EXTRA CURRICULAR | $1,415.49 | | |
| GAGNE | DONNA | JEWETT ELEMENTARY SCHOOL | EXTRA CURRICULAR | $1,415.49 | | |
| GRAHAM | DESHAUN | MCDONOUGH ELEMENTARY SCHOOL | EXTRA CURRICULAR | $1,415.49 | | |
| HAYDEN | PHILLIP | MCDONOUGH ELEMENTARY SCHOOL | EXTRA CURRICULAR | $2,611.73 | | |
| HOUGHTON-BARBER | LISA | WEBSTER ELEMENTARY SCHOOL | EXTRA CURRICULAR | $1,415.49 | | |
| KELSO | DAVID | CENTRAL HIGH SCHOOL | EXTRA CURRICULAR | $3,476.68 | | |
| ONIGMAN | ISAAC | WEST HIGH SCHOOL | EXTRA CURRICULAR | $2,607.51 | | |
| PELLETIER | DANIEL | CENTRAL HIGH SCHOOL | EXTRA CURRICULAR | $881.58 | | |
| RHAN | JON | WEST HIGH SCHOOL | EXTRA CURRICULAR | $1,676.25 | | |
| SEABURY | DIANE | HILLSIDE MIDDLE SCHOOL | EXTRA CURRICULAR | $1,738.34 | | |
| TESSIER | MICHAEL | HALLSVILLE ELEMENTARY SCHOOL | EXTRA CURRICULAR | $707.76 | | |
| GUILDFORD | GUY | MEMORIAL HIGH SCHOOL | GROUNDS KEEPERS | $32,868.09 | | |
| MARRION | NEAL | DISTRICT WIDE | GROUNDS KEEPERS | $28,342.60 | | |
| HUDSON | KIRSTEN | ADMINISTRATION BUILDING | HR REPRESENTATIVE | $41,203.79 | | |
| DEMERS | BRIAN | ADMINISTRATION BUILDING | IT ADMINISTRATOR | $63,520.36 | | |
| GRANT | CHRISTOPHER | ADMINISTRATION BUILDING | IT HARDWARE SERVICE TECHNICIAN | $95,678.65 | | |
| GREENSPAN | PAULA | ADMINISTRATION BUILDING | IT MICRO COMPUTING/NETWORK MANAGER | $102,425.81 | | |
| POWELL | TIMOTHY | ADMINISTRATION BUILDING | IT NETWORK SERVICES COORDINATOR | $95,320.11 | | |
| MANNON | JOAN | ADMINISTRATION BUILDING | IT SUPPORT SPECIALISTS | $76,343.52 | | |
| SHARON | DIEGO | DISTRICT WIDE | MANAGER BRIDGE & ALTERNATIVE EDUCATION | $4,253.84 | | |
| WIRTH | BARBARA | MST - CTE | MANAGER CTE | $16,923.04 | | |
| FOWLER | SOPHIA | ADMINISTRATION BUILDING | OUT OF DISTRICT PLACEMENT MONITOR | $19,384.65 | | |
| ACHARYA | DIPENDRA | WEBSTER ELEMENTARY SCHOOL | PARA - ENGLISH LEARNER | $13,411.57 | | |
| AL QARAGHULI | NIDHAL | BEECH ST. ELEMENTARY SCHOOL | PARA - ENGLISH LEARNER | $8,698.45 | | |
| BALLE | LEONORA | HILLSIDE MIDDLE SCHOOL | PARA - ENGLISH LEARNER | $31,910.97 | | |
| BILLS | DEBORAH | MEMORIAL HIGH SCHOOL | PARA - ENGLISH LEARNER | $17,705.93 | | |
| CONNORS | MARY BETH | BEECH ST. ELEMENTARY SCHOOL | PARA - ENGLISH LEARNER | $18,900.62 | | |
| DWYER | BRENDA | BEECH ST. ELEMENTARY SCHOOL | PARA - ENGLISH LEARNER | $13,802.84 | | |
| FORTIER | RAYMOND | WEST HIGH SCHOOL | PARA - ENGLISH LEARNER | $5,296.50 | | |
| GAGNON | CONSTANCE | WEBSTER ELEMENTARY SCHOOL | PARA - ENGLISH LEARNER | $17,036.88 | | |
| GLOTOV | YULIA | HILLSIDE MIDDLE SCHOOL | PARA - ENGLISH LEARNER | $13,926.44 | | |
| KELEHER | KATHERINE | WEBSTER ELEMENTARY SCHOOL | PARA - ENGLISH LEARNER | $11,356.80 | | |
| LEVESQUE | SUSAN | BEECH ST. ELEMENTARY SCHOOL | PARA - ENGLISH LEARNER | $19,071.16 | | |
| MCMILLAN | ANDREA | HILLSIDE MIDDLE SCHOOL | PARA - ENGLISH LEARNER | $4,859.49 | | |
| MESSENGER | KIMBERLEY | HILLSIDE MIDDLE SCHOOL | PARA - ENGLISH LEARNER | $16,304.15 | | |
| MILLER | DEBORAH | CENTRAL HIGH SCHOOL | PARA - ENGLISH LEARNER | $22,813.89 | | |
| SMITH | SHEILA | WILSON ST ELEMENTARY SCHOOL | PARA - ENGLISH LEARNER | $18,128.22 | | |
| VERRAN-RICE | JULIE | MCLAUGHLIN MIDDLE SCHOOL | PARA - ENGLISH LEARNER | $3,107.28 | | |
| WALSH | LISA | WEBSTER ELEMENTARY SCHOOL | PARA - ENGLISH LEARNER | $16,396.69 | | |
| WILKINS | DEBRA | MCLAUGHLIN MIDDLE SCHOOL | PARA - ENGLISH LEARNER | $20,985.36 | | |
| FOUDRIAT | ROBERT | MST - CTE | PARAPROFESSIONALS OTHER | $12,686.63 | | |
| ST PIERRE | LAURIE | MST - CTE | PARAPROFESSIONALS OTHER | $19,853.52 | | |
| ACEVEDO | RONYA | MCDONOUGH ELEMENTARY SCHOOL | PARAPROFESSIONALS SPED | $3,772.30 | | |
| AINSWORTH | JAYNE | BEECH ST. ELEMENTARY SCHOOL | PARAPROFESSIONALS SPED | $3,079.44 | | |
| ALLEN | BRANDY | MCLAUGHLIN MIDDLE SCHOOL | PARAPROFESSIONALS SPED | $13,343.46 | | |
| ALLEN | CHRISTINE | WEBSTER ELEMENTARY SCHOOL | PARAPROFESSIONALS SPED | $1,453.60 | | |
| ALLEN | MELANIE | HIGHLAND GOFFE'S FALLS ELEMENT | PARAPROFESSIONALS SPED | $10,212.66 | | |
| ALSAMEAI | RAIHANAH | HALLSVILLE ELEMENTARY SCHOOL | PARAPROFESSIONALS SPED | $21,458.61 | | |
| AMIRAULT | LINDA | SOUTHSIDE MIDDLE SCHOOL | PARAPROFESSIONALS SPED | $25,654.06 | | |
| AMORIM | MELISSA | MCDONOUGH ELEMENTARY SCHOOL | PARAPROFESSIONALS SPED | $13,511.06 | | |
| ANDERKA-FARKAS | KINGA | PARKER VARNEY ELEMENTARY SCHOOL | PARAPROFESSIONALS SPED | $2,482.05 | | |
| ANDREO | MARTHA | WEST HIGH SCHOOL | PARAPROFESSIONALS SPED | $3,496.56 | | |
| ANTONICO | DIANE | SMYTH RD ELEMENTARY SCHOOL | PARAPROFESSIONALS SPED | $12,938.41 | | |
| ARCHARD | JILL | HALLSVILLE ELEMENTARY SCHOOL | PARAPROFESSIONALS SPED | $11,905.12 | | |
| ARNESEN | BEATA | SOUTHSIDE MIDDLE SCHOOL | PARAPROFESSIONALS SPED | $1,447.72 | | |
| ARZILLI | ERICA | GOSSLER PARK ELEMENTARY SCHOOL | PARAPROFESSIONALS SPED | $4,667.73 | | |
| AU YEUNG | MAN-YEE | MEMORIAL HIGH SCHOOL | PARAPROFESSIONALS SPED | $18,704.52 | | |
| BABINEAUX | ALYSSA | WEST HIGH SCHOOL | PARAPROFESSIONALS SPED | $1,738.86 | | |
| BAILLARGEON | DIANE | MEMORIAL HIGH SCHOOL | PARAPROFESSIONALS SPED | $20,022.00 | | |
| BARBOWSKI | CALISTA | HIGHLAND GOFFE'S FALLS ELEMENT | PARAPROFESSIONALS SPED | $5,084.65 | | |
| BARTLETT | KAREN | SMYTH RD ELEMENTARY SCHOOL | PARAPROFESSIONALS SPED | $16,765.59 | | |
| BASBAS | SARA | PARKER VARNEY ELEMENTARY SCHOOL | PARAPROFESSIONALS SPED | $7,402.09 | | |
| BASNETT | KRISTIN | WESTON ELEMENTARY SCHOOL | PARAPROFESSIONALS SPED | $4,790.39 | | |
| BECKER | ASHLI | HIGHLAND GOFFE'S FALLS ELEMENT | PARAPROFESSIONALS SPED | $7,300.85 | | |
| BENDER | TANYA | GOSSLER PARK ELEMENTARY SCHOOL | PARAPROFESSIONALS SPED | $12,738.25 | | |
| BENNETT | COLETTE | HIGHLAND GOFFE'S FALLS ELEMENT | PARAPROFESSIONALS SPED | $20,717.02 | | |
| BENNETT | REBECCA | WEST HIGH SCHOOL | PARAPROFESSIONALS SPED | $18,782.40 | | |
| BIENVENUE | LISA | PARKER VARNEY ELEMENTARY SCHOOL | PARAPROFESSIONALS SPED | $20,188.63 | | |
| BILODEAU | MEGAN | GREEN ACRES ELEMENTARY SCHOOL | PARAPROFESSIONALS SPED | $17,424.36 | | |
| BILODEAU-ROUSSEAU | AMY | GOSSLER PARK ELEMENTARY SCHOOL | PARAPROFESSIONALS SPED | $16,942.41 | | |
| BLANCHETTE | KATHLEEN | MEMORIAL HIGH SCHOOL | PARAPROFESSIONALS SPED | $19,430.32 | | |
| BLANKENSHIP | DORIS | SMYTH RD ELEMENTARY SCHOOL | PARAPROFESSIONALS SPED | $21,577.30 | | |
| BLASIK | CAROL | MIDDLE SCHOOL AT PARKSIDE | PARAPROFESSIONALS SPED | $20,027.61 | | |
| BOWLES | JOAN | SMYTH RD ELEMENTARY SCHOOL | PARAPROFESSIONALS SPED | $17,005.96 | | |
| BOYD | BARBARA | MIDDLE SCHOOL AT PARKSIDE | PARAPROFESSIONALS SPED | $22,840.90 | | |
| BRAUN | TYLER | WESTON ELEMENTARY SCHOOL | PARAPROFESSIONALS SPED | $7,684.17 | | |
| BREAULT | HILARY | HIGHLAND GOFFE'S FALLS ELEMENT | PARAPROFESSIONALS SPED | $9,533.80 | | |
| BROWN | DEBORAH | MST - CTE | PARAPROFESSIONALS SPED | $16,698.72 | | |
| BROWN | KRISTEN | MCLAUGHLIN MIDDLE SCHOOL | PARAPROFESSIONALS SPED | $18,245.49 | | |
| BROWN | MARY KATE | GOSSLER PARK ELEMENTARY SCHOOL | PARAPROFESSIONALS SPED | $15,448.32 | | |
| BRUNELLE | BARBARA | SMYTH RD ELEMENTARY SCHOOL | PARAPROFESSIONALS SPED | $16,371.27 | | |
| BUCKHOLZ JR | ARTHUR | MEMORIAL HIGH SCHOOL | PARAPROFESSIONALS SPED | $17,407.99 | | |
| BUDRYK | ROBIN | WEBSTER ELEMENTARY SCHOOL | PARAPROFESSIONALS SPED | $10,652.51 | | |
| BURKE | DEBORAH | WESTON ELEMENTARY SCHOOL | PARAPROFESSIONALS SPED | $20,188.63 | | |
| BUTEAU | ANTHONY | HILLSIDE MIDDLE SCHOOL | PARAPROFESSIONALS SPED | $19,624.31 | | |
| CAMPBELL | RACHEL | HIGHLAND GOFFE'S FALLS ELEMENT | PARAPROFESSIONALS SPED | $7,032.59 | | |
| CARDINAL | KAYLEIGH | WESTON ELEMENTARY SCHOOL | PARAPROFESSIONALS SPED | $11,771.95 | | |
| CARLSON | CAROLE | HIGHLAND GOFFE'S FALLS ELEMENT | PARAPROFESSIONALS SPED | $9,798.33 | | |
| CARTER | CHRISTINE | PARKER VARNEY ELEMENTARY SCHOOL | PARAPROFESSIONALS SPED | $20,226.06 | | |
| CASINGHINO | MARY | MIDDLE SCHOOL AT PARKSIDE | PARAPROFESSIONALS SPED | $16,818.41 | | |
| CELONE | MAYELA | BAKERSVILLE ELEMENTARY SCHOOL | PARAPROFESSIONALS SPED | $20,169.90 | | |
| CENATIEMPO | MARY | HILLSIDE MIDDLE SCHOOL | PARAPROFESSIONALS SPED | $21,885.71 | | |
| CENATIEMPO | NICHOLAS | MCLAUGHLIN MIDDLE SCHOOL | PARAPROFESSIONALS SPED | $1,352.40 | | |
| CHAKMAKAS | ERICA | PARKER VARNEY ELEMENTARY SCHOOL | PARAPROFESSIONALS SPED | $14,612.38 | | |
| CHAMPAGNE | ALLISON | CENTRAL HIGH SCHOOL | PARAPROFESSIONALS SPED | $12,637.64 | | |
| CHAPDELAINE | RENEE | MCDONOUGH ELEMENTARY SCHOOL | PARAPROFESSIONALS SPED | $14,339.63 | | |
| CHAPMAN | MARY | SMYTH RD ELEMENTARY SCHOOL | PARAPROFESSIONALS SPED | $20,188.62 | | |
| CHARLAND | SAMANTHA | NORTHWEST ELEMENTARY SCHOOL | PARAPROFESSIONALS SPED | $13,114.89 | | |
| CHARRON | ANDREA | MCDONOUGH ELEMENTARY SCHOOL | PARAPROFESSIONALS SPED | $18,482.94 | | |
| CHASE | JANICE | MCLAUGHLIN MIDDLE SCHOOL | PARAPROFESSIONALS SPED | $15,574.71 | | |
| CHASE | TAMARA | MCLAUGHLIN MIDDLE SCHOOL | PARAPROFESSIONALS SPED | $20,669.53 | | |
| CHRISTENSEN | GAIL | WESTON ELEMENTARY SCHOOL | PARAPROFESSIONALS SPED | $18,938.42 | | |
| CLAYTON | NANCY | NORTHWEST ELEMENTARY SCHOOL | PARAPROFESSIONALS SPED | $4,040.34 | | |
| CLEVELAND | BETTE | MIDDLE SCHOOL AT PARKSIDE | PARAPROFESSIONALS SPED | $15,591.08 | | |
| COBURN | TAMARA | GOSSLER PARK ELEMENTARY SCHOOL | PARAPROFESSIONALS SPED | $20,408.75 | | |
| COLLINS | AMY | MCLAUGHLIN MIDDLE SCHOOL | PARAPROFESSIONALS SPED | $18,657.19 | | |
| COLUMB | TANYA | WESTON ELEMENTARY SCHOOL | PARAPROFESSIONALS SPED | $12,969.66 | | |
| CONNARE | JOANNE | CENTRAL HIGH SCHOOL | PARAPROFESSIONALS SPED | $7,569.62 | | |
| CONNOR | PAMELA | SOUTHSIDE MIDDLE SCHOOL | PARAPROFESSIONALS SPED | $22,810.66 | | |
| CONWAY | EILEEN | NORTHWEST ELEMENTARY SCHOOL | PARAPROFESSIONALS SPED | $9,473.49 | | |
| COX | MICHELLE | WESTON ELEMENTARY SCHOOL | PARAPROFESSIONALS SPED | $15,093.17 | | |
| CROCKETT | MEGHAN | BEECH ST. ELEMENTARY SCHOOL | PARAPROFESSIONALS SPED | $12,992.39 | | |
| CRONIN | PATRICIA | JEWETT ELEMENTARY SCHOOL | PARAPROFESSIONALS SPED | $7,145.83 | | |
| CURRAN | LISA | WEST HIGH SCHOOL | PARAPROFESSIONALS SPED | $6,729.30 | | |
| CURRAN | ROBERT | MIDDLE SCHOOL AT PARKSIDE | PARAPROFESSIONALS SPED | $7,866.64 | | |
| DEARBORN | KRYSTAL | MIDDLE SCHOOL AT PARKSIDE | PARAPROFESSIONALS SPED | $5,915.89 | | |
| DEARY | LINDA | JEWETT ELEMENTARY SCHOOL | PARAPROFESSIONALS SPED | $12,657.29 | | |
| DECOTEAU | PATRICIA | WEST HIGH SCHOOL | PARAPROFESSIONALS SPED | $18,922.48 | | |
| DELANI III | JAMES | HILLSIDE MIDDLE SCHOOL | PARAPROFESSIONALS SPED | $20,923.72 | | |
| DELAY | MARILYN | PARKER VARNEY ELEMENTARY SCHOOL | PARAPROFESSIONALS SPED | $19,624.11 | | |
| DELBAUGH | KELLY | WEST HIGH SCHOOL | PARAPROFESSIONALS SPED | $12,779.85 | | |
| DEMERS | CAROLE | WEST HIGH SCHOOL | PARAPROFESSIONALS SPED | $20,059.44 | | |
| DESAUTELS | STEPHANIE | WESTON ELEMENTARY SCHOOL | PARAPROFESSIONALS SPED | $5,014.02 | | |
| DEVEREUX | PATRICIA | HIGHLAND GOFFE'S FALLS ELEMENT | PARAPROFESSIONALS SPED | $9,918.86 | | |
| DIFRANCO | JEANNE | MCDONOUGH ELEMENTARY SCHOOL | PARAPROFESSIONALS SPED | $19,605.78 | | |
| DIGAN | MANDY | NORTHWEST ELEMENTARY SCHOOL | PARAPROFESSIONALS SPED | $4,813.94 | | |
| DIRANI | INAS | SMYTH RD ELEMENTARY SCHOOL | PARAPROFESSIONALS SPED | $1,942.05 | | |
| DOCKX | JANET | MCDONOUGH ELEMENTARY SCHOOL | PARAPROFESSIONALS SPED | $20,809.80 | | |
| DOHERTY | CHRISTOPHER | HIGHLAND GOFFE'S FALLS ELEMENT | PARAPROFESSIONALS SPED | $1,442.98 | | |
| DONOHUE | KEVIN | MCLAUGHLIN MIDDLE SCHOOL | PARAPROFESSIONALS SPED | $21,119.72 | | |
| DOOLY | DANIELLE | MEMORIAL HIGH SCHOOL | PARAPROFESSIONALS SPED | $20,715.18 | | |
| DOUIDI | GENIA | WESTON ELEMENTARY SCHOOL | PARAPROFESSIONALS SPED | $19,963.98 | | |
| DOYLE | BRANDON | MST HIGH SCHOOL | PARAPROFESSIONALS SPED | $7,610.28 | | |
| DOYON-DELISLE | DENISE | GOSSLER PARK ELEMENTARY SCHOOL | PARAPROFESSIONALS SPED | $14,984.94 | | |
| DREWN | DIANE | GREEN ACRES ELEMENTARY SCHOOL | PARAPROFESSIONALS SPED | $12,266.80 | | |
| D'SOUZA | SUMEETA | SMYTH RD ELEMENTARY SCHOOL | PARAPROFESSIONALS SPED | $12,269.44 | | |
| DUBOIS | GAIL | DISTRICT WIDE | PARAPROFESSIONALS SPED | $22,146.49 | 64 | |
| DUBOIS | HOLLY | HIGHLAND GOFFE'S FALLS ELEMENT | PARAPROFESSIONALS SPED | $11,949.86 | | |
| DUCASSE | KRISTEN | WEBSTER ELEMENTARY SCHOOL | PARAPROFESSIONALS SPED | $8,070.73 | | |
| DUCLOS | ERICA | MIDDLE SCHOOL AT PARKSIDE | PARAPROFESSIONALS SPED | $14,834.90 | | |
| DUGRE | KAREN | WILSON ST ELEMENTARY SCHOOL | PARAPROFESSIONALS SPED | $25,391.12 | | |
| DUNN | JAMES | WEST HIGH SCHOOL | PARAPROFESSIONALS SPED | $15,536.94 | | |
| DUSSAULT | JODI | MEMORIAL HIGH SCHOOL | PARAPROFESSIONALS SPED | $20,030.90 | | |
| DWYER | CAROLYN | BAKERSVILLE ELEMENTARY SCHOOL | PARAPROFESSIONALS SPED | $20,160.08 | | |
| ECKHARDT | CAMILLA | HILLSIDE MIDDLE SCHOOL | PARAPROFESSIONALS SPED | $16,339.15 | | |
| ELGART | HEIDI | HIGHLAND GOFFE'S FALLS ELEMENT | PARAPROFESSIONALS SPED | $12,535.18 | | |
| ELLSEY | CATHLEEN | JEWETT ELEMENTARY SCHOOL | PARAPROFESSIONALS SPED | $12,064.13 | | |
| ELWOOD | JULIE | NORTHWEST ELEMENTARY SCHOOL | PARAPROFESSIONALS SPED | $10,294.91 | | |
| EMANUEL | EUPHEMIA | HILLSIDE MIDDLE SCHOOL | PARAPROFESSIONALS SPED | $14,870.87 | | |
| FINETHY | JENNIFER | HIGHLAND GOFFE'S FALLS ELEMENT | PARAPROFESSIONALS SPED | $4,802.17 | | |
| FIORANTE | CAITLIN | GOSSLER PARK ELEMENTARY SCHOOL | PARAPROFESSIONALS SPED | $2,895.42 | | |
| FISCHER | BARBARA | GOSSLER PARK ELEMENTARY SCHOOL | PARAPROFESSIONALS SPED | $20,169.59 | | |
| FITZWATER | CATHERINE | HALLSVILLE ELEMENTARY SCHOOL | PARAPROFESSIONALS SPED | $20,196.95 | | |
| FLANNERY | HEATHER | PARKER VARNEY ELEMENTARY SCHOOL | PARAPROFESSIONALS SPED | $7,890.65 | | |
| FOLOPOULOS | MARTHA | HILLSIDE MIDDLE SCHOOL | PARAPROFESSIONALS SPED | $5,000.00 | | |
| FOROUTAN | DEBORAH | CENTRAL HIGH SCHOOL | PARAPROFESSIONALS SPED | $13,604.05 | | |
| FOX | BARBARA | BAKERSVILLE ELEMENTARY SCHOOL | PARAPROFESSIONALS SPED | $21,422.28 | | |
| FRATUS | WANDA LEE | JEWETT ELEMENTARY SCHOOL | PARAPROFESSIONALS SPED | $36,801.40 | | |
| FUGERE | JOSEPH | SOUTHSIDE MIDDLE SCHOOL | PARAPROFESSIONALS SPED | $700.00 | | |
| FULLER | MARGARET | GREEN ACRES ELEMENTARY SCHOOL | PARAPROFESSIONALS SPED | $12,146.04 | | |
| FUNK | DEBRA | WEBSTER ELEMENTARY SCHOOL | PARAPROFESSIONALS SPED | $13,462.27 | | |
| GAGNON | DEBORAH | MST HIGH SCHOOL | PARAPROFESSIONALS SPED | $16,661.20 | | |
| GASIS | MARIANA | BEECH ST. ELEMENTARY SCHOOL | PARAPROFESSIONALS SPED | $20,217.02 | | |
| GAY | ELIZABETH | PARKER VARNEY ELEMENTARY SCHOOL | PARAPROFESSIONALS SPED | $17,953.67 | | |
| GIANITSIS | LINDA | MEMORIAL HIGH SCHOOL | PARAPROFESSIONALS SPED | $19,480.32 | | |
| GIGUERE | KAREN | MST HIGH SCHOOL | PARAPROFESSIONALS SPED | $5,037.56 | | |
| GLENN | DONNA | WEBSTER ELEMENTARY SCHOOL | PARAPROFESSIONALS SPED | $21,134.31 | | |
| GLICKMAN | JORDAN | MEMORIAL HIGH SCHOOL | PARAPROFESSIONALS SPED | $7,295.76 | | |
| GODINEZ | LINDA | PARKER VARNEY ELEMENTARY SCHOOL | PARAPROFESSIONALS SPED | $24,069.36 | | |
| GONZALEZ | LISA | HALLSVILLE ELEMENTARY SCHOOL | PARAPROFESSIONALS SPED | $15,324.07 | | |
| GONZALEZ RAMOS | JESSICA | HIGHLAND GOFFE'S FALLS ELEMENT | PARAPROFESSIONALS SPED | $3,501.58 | | |
| GOODEN | SARAH | SOUTHSIDE MIDDLE SCHOOL | PARAPROFESSIONALS SPED | $9,041.62 | | |
| GRAICHEN | JULIE | SMYTH RD ELEMENTARY SCHOOL | PARAPROFESSIONALS SPED | $5,225.88 | | |
| GRANT | KENDRA | BAKERSVILLE ELEMENTARY SCHOOL | PARAPROFESSIONALS SPED | $4,943.40 | | |
| GUILLEMETTE | ALEXANDRA | NORTHWEST ELEMENTARY SCHOOL | PARAPROFESSIONALS SPED | $7,065.45 | | |
| HALL | MARK | PARKER VARNEY ELEMENTARY SCHOOL | PARAPROFESSIONALS SPED | $11,926.49 | | |
| HANEL | LISA | NORTHWEST ELEMENTARY SCHOOL | PARAPROFESSIONALS SPED | $17,157.23 | | |
| HANSEN | MEGAN | WEBSTER ELEMENTARY SCHOOL | PARAPROFESSIONALS SPED | $10,457.83 | | |
| HARRINGTON | MATTHEW | MEMORIAL HIGH SCHOOL | PARAPROFESSIONALS SPED | $12,726.18 | | |
| HARRINGTON | WILLIAM | SMYTH RD ELEMENTARY SCHOOL | PARAPROFESSIONALS SPED | $12,924.72 | | |
| HARVEY | KELSEY | WESTON ELEMENTARY SCHOOL | PARAPROFESSIONALS SPED | $11,214.06 | | |
| HAYDEN | JESSICA | SMYTH RD ELEMENTARY SCHOOL | PARAPROFESSIONALS SPED | $1,815.52 | | |
| HENNESSEY | MARY | HALLSVILLE ELEMENTARY SCHOOL | PARAPROFESSIONALS SPED | $12,841.11 | | |
| HODGE | MEAGHAN | PARKER VARNEY ELEMENTARY SCHOOL | PARAPROFESSIONALS SPED | $1,655.00 | | |
| HOGGARD | KARLA | JEWETT ELEMENTARY SCHOOL | PARAPROFESSIONALS SPED | $3,001.35 | | |
| HOLMES | JILL | SMYTH RD ELEMENTARY SCHOOL | PARAPROFESSIONALS SPED | $8,887.89 | | |
| HOSSFELD | TINA | SMYTH RD ELEMENTARY SCHOOL | PARAPROFESSIONALS SPED | $12,649.98 | | |
| HOWLAND | FAY | MCLAUGHLIN MIDDLE SCHOOL | PARAPROFESSIONALS SPED | $20,161.44 | 75.5 | |
| HUBERTY | MELANIE | BEECH ST. ELEMENTARY SCHOOL | PARAPROFESSIONALS SPED | $20,847.02 | | |
| HUYNH | HUNG | SMYTH RD ELEMENTARY SCHOOL | PARAPROFESSIONALS SPED | $22,707.16 | | |
| ISABELLE | TARA | MCDONOUGH ELEMENTARY SCHOOL | PARAPROFESSIONALS SPED | $18,318.43 | | |
| ISKRA | KATIE | SMYTH RD ELEMENTARY SCHOOL | PARAPROFESSIONALS SPED | $12,841.12 | | |
| IVERSON | MICHELLE | HIGHLAND GOFFE'S FALLS ELEMENT | PARAPROFESSIONALS SPED | $6,750.10 | | |
| JANIS | ARISAI | SMYTH RD ELEMENTARY SCHOOL | PARAPROFESSIONALS SPED | $7,484.09 | | |
| JOHNSON | SANDRA | GREEN ACRES ELEMENTARY SCHOOL | PARAPROFESSIONALS SPED | $14,314.50 | | |
| JONES | SHANNON | GOSSLER PARK ELEMENTARY SCHOOL | PARAPROFESSIONALS SPED | $13,644.86 | | |
| JOY | ABIGAIL | WEST HIGH SCHOOL | PARAPROFESSIONALS SPED | $10,940.87 | | |
| JOY | ZACHARY | WEST HIGH SCHOOL | PARAPROFESSIONALS SPED | $8,300.54 | | |
| JOYCE | LINDA | WESTON ELEMENTARY SCHOOL | PARAPROFESSIONALS SPED | $21,577.18 | | |
| JUZA | LEEANN | PARKER VARNEY ELEMENTARY SCHOOL | PARAPROFESSIONALS SPED | $12,788.08 | | |
| KENT | MICHELLE | MEMORIAL HIGH SCHOOL | PARAPROFESSIONALS SPED | $13,282.70 | | |
| KFOURY | LORI | NORTHWEST ELEMENTARY SCHOOL | PARAPROFESSIONALS SPED | $8,267.32 | | |
| KHALIEL | BADRIA | BEECH ST. ELEMENTARY SCHOOL | PARAPROFESSIONALS SPED | $17,369.07 | | |
| KIDD | MARIE | DISTRICT WIDE | PARAPROFESSIONALS SPED | $22,677.76 | 80 | |
| KILMER | LAURA | GOSSLER PARK ELEMENTARY SCHOOL | PARAPROFESSIONALS SPED | $8,044.77 | | |
| KING | SARA | MIDDLE SCHOOL AT PARKSIDE | PARAPROFESSIONALS SPED | $6,989.52 | | |
| KIRKPATRICK | SHAUNNA | MCLAUGHLIN MIDDLE SCHOOL | PARAPROFESSIONALS SPED | $7,888.95 | | |
| KITCHELL | KATHY | WILSON ST ELEMENTARY SCHOOL | PARAPROFESSIONALS SPED | $9,207.38 | | |
| KULIG | BARBARA | HILLSIDE MIDDLE SCHOOL | PARAPROFESSIONALS SPED | $21,725.05 | | |
| LABRECQUE | TIMOTHY | MCLAUGHLIN MIDDLE SCHOOL | PARAPROFESSIONALS SPED | $7,054.60 | | |
| LACHANCE | NANCY | SMYTH RD ELEMENTARY SCHOOL | PARAPROFESSIONALS SPED | $15,380.58 | | |
| LACHANCE | VICTORIA | SOUTHSIDE MIDDLE SCHOOL | PARAPROFESSIONALS SPED | $2,448.17 | | |
| LADIEU | STEPHANIE | WEBSTER ELEMENTARY SCHOOL | PARAPROFESSIONALS SPED | $12,661.95 | | |
| LAGASSE-FLECCHIA | MICHELLE | MIDDLE SCHOOL AT PARKSIDE | PARAPROFESSIONALS SPED | $19,509.99 | | |
| LAHR | MARIA | SMYTH RD ELEMENTARY SCHOOL | PARAPROFESSIONALS SPED | $5,220.00 | | |
| LALIBERTE | CATHERINE | CENTRAL HIGH SCHOOL | PARAPROFESSIONALS SPED | $16,947.73 | | |
| LAMY | RACHEL | JEWETT ELEMENTARY SCHOOL | PARAPROFESSIONALS SPED | $13,423.96 | | |
| LANGTON | KENZIE | NORTHWEST ELEMENTARY SCHOOL | PARAPROFESSIONALS SPED | $5,907.36 | | |
| LASALLE | LYNN | JEWETT ELEMENTARY SCHOOL | PARAPROFESSIONALS SPED | $12,997.19 | | |
| LEAVITT | NANCY | MCLAUGHLIN MIDDLE SCHOOL | PARAPROFESSIONALS SPED | $5,529.92 | | |
| LEGENDRE | SHAYLA | MCLAUGHLIN MIDDLE SCHOOL | PARAPROFESSIONALS SPED | $1,725.32 | | |
| LEITER | SUSAN | HIGHLAND GOFFE'S FALLS ELEMENT | PARAPROFESSIONALS SPED | $16,626.28 | | |
| LENZ-DOLMAN | DONNA | MCDONOUGH ELEMENTARY SCHOOL | PARAPROFESSIONALS SPED | $12,841.12 | | |
| LHEUREUX | KAREN | MCDONOUGH ELEMENTARY SCHOOL | PARAPROFESSIONALS SPED | $20,244.65 | | |
| LIBBY | RONALD | MEMORIAL HIGH SCHOOL | PARAPROFESSIONALS SPED | $12,817.74 | | |
| LINDSEY | LAURIE | MST HIGH SCHOOL | PARAPROFESSIONALS SPED | $7,489.44 | | |
| LOGUE | LAURIE | BAKERSVILLE ELEMENTARY SCHOOL | PARAPROFESSIONALS SPED | $9,051.75 | | |
| LONGDEN | CHRISTINE | MCDONOUGH ELEMENTARY SCHOOL | PARAPROFESSIONALS SPED | $10,436.60 | | |
| LONGO | EILEEN | CENTRAL HIGH SCHOOL | PARAPROFESSIONALS SPED | $20,898.39 | | |
| LUTAS | NADIRE | HILLSIDE MIDDLE SCHOOL | PARAPROFESSIONALS SPED | $22,344.99 | | |
| MAALOUF | MOLLY | WILSON ST ELEMENTARY SCHOOL | PARAPROFESSIONALS SPED | $11,303.09 | | |
| MADDEN | GAVIN | HIGHLAND GOFFE'S FALLS ELEMENT | PARAPROFESSIONALS SPED | $12,877.05 | | |
| MAGUIRE | SUSANNE | SMYTH RD ELEMENTARY SCHOOL | PARAPROFESSIONALS SPED | $13,151.59 | | |
| MAKARAWICZ | LAUREN | MEMORIAL HIGH SCHOOL | PARAPROFESSIONALS SPED | $12,511.54 | | |
| MALDONADO | LOURDES | GREEN ACRES ELEMENTARY SCHOOL | PARAPROFESSIONALS SPED | $19,969.38 | | |
| MANCUSO | PAULA | BAKERSVILLE ELEMENTARY SCHOOL | PARAPROFESSIONALS SPED | $14,664.94 | | |
| MANN | TERRY | HILLSIDE MIDDLE SCHOOL | PARAPROFESSIONALS SPED | $17,060.09 | | |
| MANTZOUFAS | SOULTANA | CENTRAL HIGH SCHOOL | PARAPROFESSIONALS SPED | $7,737.82 | | |
| MARCY | RITA | SOUTHSIDE MIDDLE SCHOOL | PARAPROFESSIONALS SPED | $14,942.24 | | |
| MARESCIA | FRANK | SOUTHSIDE MIDDLE SCHOOL | PARAPROFESSIONALS SPED | $15,504.66 | | |
| MARTIN | SAMANTHA | HIGHLAND GOFFE'S FALLS ELEMENT | PARAPROFESSIONALS SPED | $13,497.33 | | |
| MARTINEZ CISNEROS | FERNANDO | PARKER VARNEY ELEMENTARY SCHOOL | PARAPROFESSIONALS SPED | $12,576.09 | | |
| MASCI | ELIZABETH | WILSON ST ELEMENTARY SCHOOL | PARAPROFESSIONALS SPED | $13,140.81 | | |
| MASSON | DONNA | WESTON ELEMENTARY SCHOOL | PARAPROFESSIONALS SPED | $12,850.67 | | |
| MATTOR | KAREN | HILLSIDE MIDDLE SCHOOL | PARAPROFESSIONALS SPED | $10,958.69 | | |
| MCALLISTER | ROSEMARY | SOUTHSIDE MIDDLE SCHOOL | PARAPROFESSIONALS SPED | $16,248.28 | | |
| MCCARTY | DARLENE | HILLSIDE MIDDLE SCHOOL | PARAPROFESSIONALS SPED | $28,911.07 | | |
| MCCULLOUGH | JENNIFER | WEBSTER ELEMENTARY SCHOOL | PARAPROFESSIONALS SPED | $7,120.88 | | |
| MCFARLAND | LYNNE | BEECH ST. ELEMENTARY SCHOOL | PARAPROFESSIONALS SPED | $5,214.12 | | |
| MCHUGH | KATHLEEN | SMYTH RD ELEMENTARY SCHOOL | PARAPROFESSIONALS SPED | $20,604.16 | | |
| MCMAHON | BRENDA | JEWETT ELEMENTARY SCHOOL | PARAPROFESSIONALS SPED | $20,413.88 | | |
| MILES | ALYSHA | PARKER VARNEY ELEMENTARY SCHOOL | PARAPROFESSIONALS SPED | $214.38 | | |
| MILLER | BARBARA | MIDDLE SCHOOL AT PARKSIDE | PARAPROFESSIONALS SPED | $21,585.57 | | |
| MOHER-ROY | MELISSA | MEMORIAL HIGH SCHOOL | PARAPROFESSIONALS SPED | $20,059.44 | | |
| MOORE | RORY | GOSSLER PARK ELEMENTARY SCHOOL | PARAPROFESSIONALS SPED | $5,061.10 | | |
| MOQUIN | CYNTHIA | WESTON ELEMENTARY SCHOOL | PARAPROFESSIONALS SPED | $12,351.66 | | |
| MORGAN | ELICIA | SOUTHSIDE MIDDLE SCHOOL | PARAPROFESSIONALS SPED | $3,734.80 | | |
| MORIARTY | TARA | SOUTHSIDE MIDDLE SCHOOL | PARAPROFESSIONALS SPED | $22,482.49 | | |
| MORITZ | ELISABETH | WEST HIGH SCHOOL | PARAPROFESSIONALS SPED | $13,607.47 | | |
| MORRILL | KYLE | SOUTHSIDE MIDDLE SCHOOL | PARAPROFESSIONALS SPED | $8,072.20 | | |
| MORRIN | REBECCA | WEST HIGH SCHOOL | PARAPROFESSIONALS SPED | $886.20 | | |
| MULCAHY | KATHLEEN | WESTON ELEMENTARY SCHOOL | PARAPROFESSIONALS SPED | $4,813.94 | | |
| MURPHY | JAMES | WEST HIGH SCHOOL | PARAPROFESSIONALS SPED | $7,431.61 | | |
| MURPHY-LUBA | CHRISTEN | PARKER VARNEY ELEMENTARY SCHOOL | PARAPROFESSIONALS SPED | $14,956.24 | | |
| NAULT | KATHY | WESTON ELEMENTARY SCHOOL | PARAPROFESSIONALS SPED | $17,695.32 | | |
| NEGRON RODRIQUEZ | SANDRA | MCDONOUGH ELEMENTARY SCHOOL | PARAPROFESSIONALS SPED | $14,264.15 | | |
| NEVEU | KATHLEEN | JEWETT ELEMENTARY SCHOOL | PARAPROFESSIONALS SPED | $20,188.62 | | |
| NEWTON | SUSAN | WEBSTER ELEMENTARY SCHOOL | PARAPROFESSIONALS SPED | $20,993.75 | | |
| NUGENT | SHANNON | MIDDLE SCHOOL AT PARKSIDE | PARAPROFESSIONALS SPED | $8,686.08 | | |
| O'BRIEN | CATHLEEN | JEWETT ELEMENTARY SCHOOL | PARAPROFESSIONALS SPED | $17,696.50 | | |
| O'ROURKE | JILLIAN | HIGHLAND GOFFE'S FALLS ELEMENT | PARAPROFESSIONALS SPED | $5,167.04 | | |
| O'SHAUGHNESSY | MARY | WEBSTER ELEMENTARY SCHOOL | PARAPROFESSIONALS SPED | $21,415.11 | | |
| OUELLETTE | PAUL | JEWETT ELEMENTARY SCHOOL | PARAPROFESSIONALS SPED | $8,549.24 | | |
| PARENTEAU | LYNNE | WESTON ELEMENTARY SCHOOL | PARAPROFESSIONALS SPED | $19,339.94 | | |
| PARKER | DEVANTE | MEMORIAL HIGH SCHOOL | PARAPROFESSIONALS SPED | $7,169.88 | | |
| PASQUAL | LAURIE | SMYTH RD ELEMENTARY SCHOOL | PARAPROFESSIONALS SPED | $20,179.26 | | |
| PERRON | ALEXIS | SMYTH RD ELEMENTARY SCHOOL | PARAPROFESSIONALS SPED | $12,212.78 | | |
| PHOTOS | KATHERINE | DISTRICT WIDE | PARAPROFESSIONALS SPED | $17,186.74 | 80 | |
| PICARD | INAURIS | HIGHLAND GOFFE'S FALLS ELEMENT | PARAPROFESSIONALS SPED | $7,576.11 | | |
| PLATT | KENNEDY | HILLSIDE MIDDLE SCHOOL | PARAPROFESSIONALS SPED | $3,719.36 | | |
| PLATTE | MADISON | MCLAUGHLIN MIDDLE SCHOOL | PARAPROFESSIONALS SPED | $5,296.50 | | |
| PLUMMER | BRIANA | JEWETT ELEMENTARY SCHOOL | PARAPROFESSIONALS SPED | $9,124.15 | | |
| PLUMMER | CAROLYN | WESTON ELEMENTARY SCHOOL | PARAPROFESSIONALS SPED | $13,849.29 | | |
| POITRAS | TRICIA | HIGHLAND GOFFE'S FALLS ELEMENT | PARAPROFESSIONALS SPED | $8,423.98 | | |
| POULIN | SUSAN | WEST HIGH SCHOOL | PARAPROFESSIONALS SPED | $20,520.24 | | |
| PROVENCHER | RYAN | WEST HIGH SCHOOL | PARAPROFESSIONALS SPED | $18,427.00 | | |
| PRYOR | DONALD | WEST HIGH SCHOOL | PARAPROFESSIONALS SPED | $16,179.47 | | |
| PUTNEY | CHRISTINE | GREEN ACRES ELEMENTARY SCHOOL | PARAPROFESSIONALS SPED | $15,781.20 | | |
| RAMSDELL | MARIE | GREEN ACRES ELEMENTARY SCHOOL | PARAPROFESSIONALS SPED | $20,360.36 | | |
| RAY | ERIN | HIGHLAND GOFFE'S FALLS ELEMENT | PARAPROFESSIONALS SPED | $17,132.75 | | |
| RAYMOND | CASSANDRA | MCLAUGHLIN MIDDLE SCHOOL | PARAPROFESSIONALS SPED | $17,442.29 | | |
| READE | SHERRY | SMYTH RD ELEMENTARY SCHOOL | PARAPROFESSIONALS SPED | $18,525.80 | | |
| REED | LYNN | WEST HIGH SCHOOL | PARAPROFESSIONALS SPED | $20,611.36 | | |
| REILLY | ERIN | MEMORIAL HIGH SCHOOL | PARAPROFESSIONALS SPED | $16,476.60 | | |
| RITTERSBACK | DENELLE | PARKER VARNEY ELEMENTARY SCHOOL | PARAPROFESSIONALS SPED | $3,433.12 | | |
| RODERICK | AMANDA | SOUTHSIDE MIDDLE SCHOOL | PARAPROFESSIONALS SPED | $211.86 | | |
| ROGERS | KASSANDRA | CENTRAL HIGH SCHOOL | PARAPROFESSIONALS SPED | $12,075.43 | | |
| RORABACK | KIM | NORTHWEST ELEMENTARY SCHOOL | PARAPROFESSIONALS SPED | $16,339.87 | | |
| ROSEN | JED | HILLSIDE MIDDLE SCHOOL | PARAPROFESSIONALS SPED | $21,228.13 | | |
| ROUSSEAU | COLETTE | MCLAUGHLIN MIDDLE SCHOOL | PARAPROFESSIONALS SPED | $22,137.36 | | |
| ROZAMUS | BRIANA | MEMORIAL HIGH SCHOOL | PARAPROFESSIONALS SPED | $12,694.37 | | |
| ROZAMUS | ROBERTA | MEMORIAL HIGH SCHOOL | PARAPROFESSIONALS SPED | $17,312.80 | | |
| RUSSELL | COURTNEY | NORTHWEST ELEMENTARY SCHOOL | PARAPROFESSIONALS SPED | $12,822.97 | | |
| RUSSELL | MICHAEL | MEMORIAL HIGH SCHOOL | PARAPROFESSIONALS SPED | $14,679.84 | | |
| SAID | NAGLA | JEWETT ELEMENTARY SCHOOL | PARAPROFESSIONALS SPED | $11,611.26 | | |
| SALEH | ALIAA | JEWETT ELEMENTARY SCHOOL | PARAPROFESSIONALS SPED | $12,717.36 | | |
| SANBORN | ELLEN | MIDDLE SCHOOL AT PARKSIDE | PARAPROFESSIONALS SPED | $15,961.81 | | |
| SAVOY | KATHERINE | GOSSLER PARK ELEMENTARY SCHOOL | PARAPROFESSIONALS SPED | $18,640.40 | | |
| SCHACK | ALEXANDRA | JEWETT ELEMENTARY SCHOOL | PARAPROFESSIONALS SPED | $6,796.89 | | |
| SCHELL | HANNAH | SOUTHSIDE MIDDLE SCHOOL | PARAPROFESSIONALS SPED | $8,100.39 | | |
| SCHWALBE | JOSLYN | HIGHLAND GOFFE'S FALLS ELEMENT | PARAPROFESSIONALS SPED | $2,512.90 | | |
| SEAVEY | TERRY | BAKERSVILLE ELEMENTARY SCHOOL | PARAPROFESSIONALS SPED | $21,499.02 | | |
| SEDITA | KATIE | WEBSTER ELEMENTARY SCHOOL | PARAPROFESSIONALS SPED | $17,862.30 | | |
| SEIGER | BRITTANY | JEWETT ELEMENTARY SCHOOL | PARAPROFESSIONALS SPED | $12,173.30 | | |
| SHARMA | PRITI | SOUTHSIDE MIDDLE SCHOOL | PARAPROFESSIONALS SPED | $13,979.35 | | |
| SHEA | MICHELE | JEWETT ELEMENTARY SCHOOL | PARAPROFESSIONALS SPED | $21,236.94 | | |
| SHEEHAN | PATRICIA | MCDONOUGH ELEMENTARY SCHOOL | PARAPROFESSIONALS SPED | $20,188.62 | | |
| SILAKOS | SANDRA | WEBSTER ELEMENTARY SCHOOL | PARAPROFESSIONALS SPED | $20,217.02 | | |
| SIMARD | KATHY | JEWETT ELEMENTARY SCHOOL | PARAPROFESSIONALS SPED | $20,018.28 | | |
| SMALL | SHIRLEY | WEST HIGH SCHOOL | PARAPROFESSIONALS SPED | $16,834.02 | | |
| SMITH | ANNE | SOUTHSIDE MIDDLE SCHOOL | PARAPROFESSIONALS SPED | $21,474.65 | | |
| SMITH | HANNAH | MCLAUGHLIN MIDDLE SCHOOL | PARAPROFESSIONALS SPED | $7,148.64 | | |
| SOMERS | CHRISTINA | NORTHWEST ELEMENTARY SCHOOL | PARAPROFESSIONALS SPED | $12,914.46 | | |
| SOULE | SUSAN | HALLSVILLE ELEMENTARY SCHOOL | PARAPROFESSIONALS SPED | $19,720.44 | | |
| SPANGLER | GEORGIA | MCDONOUGH ELEMENTARY SCHOOL | PARAPROFESSIONALS SPED | $12,912.23 | | |
| SPILLANE | SUZANNE | MIDDLE SCHOOL AT PARKSIDE | PARAPROFESSIONALS SPED | $19,099.09 | | |
| SPRAGUE | KAREN | BAKERSVILLE ELEMENTARY SCHOOL | PARAPROFESSIONALS SPED | $24,719.96 | | |
| ST CYR | NICOLE | WEST HIGH SCHOOL | PARAPROFESSIONALS SPED | $17,078.64 | | |
| STAMOULIS | ZOE | CENTRAL HIGH SCHOOL | PARAPROFESSIONALS SPED | $11,675.75 | | |
| STEFANIK | JANICE | HIGHLAND GOFFE'S FALLS ELEMENT | PARAPROFESSIONALS SPED | $20,167.17 | | |
| STREITBURGER | MARICECILLE | JEWETT ELEMENTARY SCHOOL | PARAPROFESSIONALS SPED | $15,417.93 | | |
| STULTZ | SARAH | HIGHLAND GOFFE'S FALLS ELEMENT | PARAPROFESSIONALS SPED | $4,795.20 | | |
| SULLIVAN | ANDREA | MCLAUGHLIN MIDDLE SCHOOL | PARAPROFESSIONALS SPED | $3,885.69 | | |
| SWEENEY | MERYSSA | SOUTHSIDE MIDDLE SCHOOL | PARAPROFESSIONALS SPED | $9,627.86 | | |
| SYLVIA | REBECCA | SMYTH RD ELEMENTARY SCHOOL | PARAPROFESSIONALS SPED | $6,979.61 | | |
| TAHOUN | MAGDA | WESTON ELEMENTARY SCHOOL | PARAPROFESSIONALS SPED | $18,655.84 | | |
| TELGE | MARK | CENTRAL HIGH SCHOOL | PARAPROFESSIONALS SPED | $23,155.93 | | |
| TENDLER | EMILY | GOSSLER PARK ELEMENTARY SCHOOL | PARAPROFESSIONALS SPED | $17,424.36 | | |
| THEODOSOPOULOS | ZOE | PARKER VARNEY ELEMENTARY SCHOOL | PARAPROFESSIONALS SPED | $7,285.64 | | |
| TILSON | KEVIN | MCDONOUGH ELEMENTARY SCHOOL | PARAPROFESSIONALS SPED | $7,949.20 | | |
| TOMAO | MARISA | GREEN ACRES ELEMENTARY SCHOOL | PARAPROFESSIONALS SPED | $15,498.80 | | |
| TORGERSEN | MICHAEL | WEBSTER ELEMENTARY SCHOOL | PARAPROFESSIONALS SPED | $3,480.54 | | |
| TORIGIAN | TIMOTHY | MST HIGH SCHOOL | PARAPROFESSIONALS SPED | $9,614.46 | | |
| TRAN | MANDY | PARKER VARNEY ELEMENTARY SCHOOL | PARAPROFESSIONALS SPED | $735.00 | | |
| TREMBLAY | ERIN | PARKER VARNEY ELEMENTARY SCHOOL | PARAPROFESSIONALS SPED | $19,274.05 | | |
| TRIVILINO | PEGGY | MCDONOUGH ELEMENTARY SCHOOL | PARAPROFESSIONALS SPED | $13,456.11 | | |
| TSIATSIOS | ERIN | SMYTH RD ELEMENTARY SCHOOL | PARAPROFESSIONALS SPED | $3,460.38 | | |
| TURNER | BRIANNA | HIGHLAND GOFFE'S FALLS ELEMENT | PARAPROFESSIONALS SPED | $5,167.04 | | |
| UNTIET | KATHLEEN | PARKER VARNEY ELEMENTARY SCHOOL | PARAPROFESSIONALS SPED | $28,542.47 | | |
| VANAMBURG | AMARA | JEWETT ELEMENTARY SCHOOL | PARAPROFESSIONALS SPED | $13,439.20 | | |
| VANDEVENTER | LORAYNE | WEBSTER ELEMENTARY SCHOOL | PARAPROFESSIONALS SPED | $18,712.59 | | |
| VITIELLO-VILLANTE | CATHRYN | CENTRAL HIGH SCHOOL | PARAPROFESSIONALS SPED | $12,672.81 | | |
| WELCH | EMILY | PARKER VARNEY ELEMENTARY SCHOOL | PARAPROFESSIONALS SPED | $7,240.87 | | |
| WILLIAMS | LINDA | WESTON ELEMENTARY SCHOOL | PARAPROFESSIONALS SPED | $21,012.01 | | |
| WILLIAMSON | SUSAN | HALLSVILLE ELEMENTARY SCHOOL | PARAPROFESSIONALS SPED | $12,843.94 | | |
| WILSON | JOSHUA | WEST HIGH SCHOOL | PARAPROFESSIONALS SPED | $8,107.84 | | |
| WONG | CONITA | MEMORIAL HIGH SCHOOL | PARAPROFESSIONALS SPED | $18,369.00 | | |
| WOODRUFF-BERUBE | CATHY | HIGHLAND GOFFE'S FALLS ELEMENT | PARAPROFESSIONALS SPED | $7,139.82 | | |
| WOODS | DAVID | SOUTHSIDE MIDDLE SCHOOL | PARAPROFESSIONALS SPED | $16,981.69 | | |
| WYKE | LINDA | MCLAUGHLIN MIDDLE SCHOOL | PARAPROFESSIONALS SPED | $14,836.39 | | |
| XIRINACHS | DOREEN | WEBSTER ELEMENTARY SCHOOL | PARAPROFESSIONALS SPED | $7,384.22 | | |
| YUSUF | ADAM | WEST HIGH SCHOOL | PARAPROFESSIONALS SPED | $17,637.73 | | |
| ZUPOKFSKA | LEO | GREEN ACRES ELEMENTARY SCHOOL | PARAPROFESSIONALS SPED | $12,925.81 | | |
| PINSONNEAULT | JOCELYNE | MCLAUGHLIN MIDDLE SCHOOL | PARENT INVOLVEMENT COORDINATOR | $48,289.51 | | |
| BARRY | ANNA | BAKERSVILLE ELEMENTARY SCHOOL | PART-TIME HOURLY SUPPORT | $1,930.00 | | |
| BOURASSA | ANGELIKI | CENTRAL HIGH SCHOOL | PART-TIME HOURLY SUPPORT | $29,348.25 | | |
| CAMACHO | MARIA | BEECH ST. ELEMENTARY SCHOOL | PART-TIME HOURLY SUPPORT | $2,522.50 | | |
| CLEGG | NATHAN | HALLSVILLE ELEMENTARY SCHOOL | PART-TIME HOURLY SUPPORT | $556.89 | | |
| DELEAULT | MATTHEW | MST - CTE | PART-TIME HOURLY SUPPORT | $700.00 | | |
| DESRUISSEAUX | STEVEN | MST - CTE | PART-TIME HOURLY SUPPORT | $1,500.00 | | |
| DIBENEDETTO | ALEXA | MCDONOUGH ELEMENTARY SCHOOL | PART-TIME HOURLY SUPPORT | $5,299.16 | | |
| FERMAINT | LAURA | WILSON ST ELEMENTARY SCHOOL | PART-TIME HOURLY SUPPORT | $4,918.96 | | |
| GILOT-OQUENDO | SHAURI | BAKERSVILLE ELEMENTARY SCHOOL | PART-TIME HOURLY SUPPORT | $7,913.30 | | |
| GOUPIL | STEVEN | MST - CTE | PART-TIME HOURLY SUPPORT | $1,775.00 | | |
| HANNEMANN | JUDITH | BEECH ST. ELEMENTARY SCHOOL | PART-TIME HOURLY SUPPORT | $1,465.68 | | |
| HENNESSEY | MOLLY | NORTHWEST ELEMENTARY SCHOOL | PART-TIME HOURLY SUPPORT | $1,635.00 | | |
| HOLDREDGE | KEVIN | MST - CTE | PART-TIME HOURLY SUPPORT | $500.00 | | |
| IVERSON | ADAM | MST - CTE | PART-TIME HOURLY SUPPORT | $1,100.00 | | |
| JANARO | CHLOIE | BAKERSVILLE ELEMENTARY SCHOOL | PART-TIME HOURLY SUPPORT | $1,906.67 | | |
| JOHNSON | ANTHONY | HALLSVILLE ELEMENTARY SCHOOL | PART-TIME HOURLY SUPPORT | $1,907.55 | | |
| KNIERIEM | CLAUDETTE | WEST HIGH SCHOOL | PART-TIME HOURLY SUPPORT | $18,699.25 | | |
| LARRY | KENNETH | MST - CTE | PART-TIME HOURLY SUPPORT | $2,400.00 | | |
| LEBOW | BENITA | BEECH ST. ELEMENTARY SCHOOL | PART-TIME HOURLY SUPPORT | $405.00 | | |
| LEVESQUE | ALEXANDRE | BEECH ST. ELEMENTARY SCHOOL | PART-TIME HOURLY SUPPORT | $8,759.61 | | |
| LEWIN | SAMUEL | BEECH ST. ELEMENTARY SCHOOL | PART-TIME HOURLY SUPPORT | $8,664.00 | | |
| LOVEJOY | HELEN | BEECH ST. ELEMENTARY SCHOOL | PART-TIME HOURLY SUPPORT | $4,663.22 | | |
| MARTINEAU | HENRY | MST - CTE | PART-TIME HOURLY SUPPORT | $1,600.00 | | |
| MEDIATRICE | NIJIMBERE | BEECH ST. ELEMENTARY SCHOOL | PART-TIME HOURLY SUPPORT | $607.50 | | |
| MURRAY | KRISTIN | WILSON ST ELEMENTARY SCHOOL | PART-TIME HOURLY SUPPORT | $5,738.72 | | |
| NELSON | KENNETH | MST - CTE | PART-TIME HOURLY SUPPORT | $5,475.00 | | |
| NOWELL | BRYAN | MST - CTE | PART-TIME HOURLY SUPPORT | $1,000.00 | | |
| PROVENCHER | RICHARD | MEMORIAL HIGH SCHOOL | PART-TIME HOURLY SUPPORT | $70.00 | | |
| QUICK | DAVID | MST - CTE | PART-TIME HOURLY SUPPORT | $400.00 | | |
| QUIMBY | SAGE | MST - CTE | PART-TIME HOURLY SUPPORT | $100.00 | | |
| ROY | LEO | MST - CTE | PART-TIME HOURLY SUPPORT | $10,875.00 | | |
| SHEIKH | KIRAN | BEECH ST. ELEMENTARY SCHOOL | PART-TIME HOURLY SUPPORT | $1,080.00 | | |
| SIMPSON | KYLEE | GOSSLER PARK ELEMENTARY SCHOOL | PART-TIME HOURLY SUPPORT | $1,012.86 | | |
| SMITH | CHANTELLE | HALLSVILLE ELEMENTARY SCHOOL | PART-TIME HOURLY SUPPORT | $1,642.50 | | |
| SMITH | JULIET | DISTRICT WIDE | PART-TIME HOURLY SUPPORT | $3,312.15 | | |
| SODERBERG | KRIS | MST - CTE | PART-TIME HOURLY SUPPORT | $4,462.50 | | |
| SUBEDI | PRIYANKA | BAKERSVILLE ELEMENTARY SCHOOL | PART-TIME HOURLY SUPPORT | $2,747.30 | | |
| THOMPSON | HAILEY | WILSON ST ELEMENTARY SCHOOL | PART-TIME HOURLY SUPPORT | $1,572.49 | | |
| TREDO | JASON | MST - CTE | PART-TIME HOURLY SUPPORT | $2,050.00 | | |
| TROY | KERRIN | GOSSLER PARK ELEMENTARY SCHOOL | PART-TIME HOURLY SUPPORT | $250.47 | | |
| WALKER | KATRINA | MST - CTE | PART-TIME HOURLY SUPPORT | $1,325.00 | | |
| WHITNEY | CHESLEA | MCLAUGHLIN MIDDLE SCHOOL | PART-TIME HOURLY SUPPORT | $2,505.00 | | |
| YIANAKOPOLOS | ALEXIS | PARKER VARNEY ELEMENTARY SCHOOL | PART-TIME HOURLY SUPPORT | $1,998.91 | | |
| BARIL | BRENDA | ADMINISTRATION BUILDING | PAYROLL SUPERVISOR | $79,004.29 | | |
| ADAMAKOS | ARTHUR | MEMORIAL HIGH SCHOOL | PRINCIPAL | $115,002.91 | | |
| BELANGER | BRYAN | PARKER VARNEY ELEMENTARY SCHOOL | PRINCIPAL | $35,586.90 | | |
| BRIGGS | JENNIFER | SMYTH RD ELEMENTARY SCHOOL | PRINCIPAL | $103,858.51 | | |
| DIBENEDETTO | KENNETH | MCDONOUGH ELEMENTARY SCHOOL | PRINCIPAL | $104,795.60 | | |
| DICHARD | RICHARD | WEST HIGH SCHOOL | PRINCIPAL | $113,247.86 | | |
| GOLDEN | POLLY | WILSON ST ELEMENTARY SCHOOL | PRINCIPAL | $103,228.19 | | |
| HANNIGAN MACHADO | KAREN | MST HIGH SCHOOL & CTE | PRINCIPAL | $114,763.05 | | |
| JOSEF | KATHERINE | BAKERSVILLE ELEMENTARY SCHOOL | PRINCIPAL | $104,005.81 | | |
| KRANTZ | WILLIAM | MCLAUGHLIN MIDDLE SCHOOL | PRINCIPAL | $109,519.59 | | |
| LAROCHELLE | SHELLY | NORTHWEST ELEMENTARY SCHOOL | PRINCIPAL | $104,379.16 | | |
| LUBELCZYK | PETER | JEWETT ELEMENTARY SCHOOL | PRINCIPAL | $99,657.95 | | |
| LYNCH | SARAH | WEBSTER ELEMENTARY SCHOOL | PRINCIPAL | $86,755.98 | | |
| MACDONALD | CHRISTOPHER | HALLSVILLE ELEMENTARY SCHOOL | PRINCIPAL | $94,655.90 | | |
| MACDONALD | LIZABETH | WESTON ELEMENTARY SCHOOL | PRINCIPAL | $104,379.16 | | |
| MARTIN | CHRISTINE | BEECH ST. ELEMENTARY SCHOOL | PRINCIPAL | $110,004.07 | | |
| MATTHEWS | SUSAN | HIGHLAND GOFFE'S FALLS ELEMENT | PRINCIPAL | $103,901.74 | | |
| MCCAFFERTY | BRENDAN | HILLSIDE MIDDLE SCHOOL | PRINCIPAL | $104,451.63 | | |
| NORTON | RICHARD | GREEN ACRES ELEMENTARY SCHOOL | PRINCIPAL | $105,932.09 | | |
| RANSDELL | FORREST | MIDDLE SCHOOL AT PARKSIDE | PRINCIPAL | $104,451.63 | | |
| SKOGSHOLM | BONNIE | HALLSVILLE ELEMENTARY SCHOOL | PRINCIPAL | $48,753.34 | | |
| UPHAM | LORI | GOSSLER PARK ELEMENTARY SCHOOL | PRINCIPAL | $103,494.05 | | |
| VACCAREZZA | JOHN | CENTRAL HIGH SCHOOL | PRINCIPAL | $112,301.27 | | |
| MILLIGAN | JESSICA | SOUTHSIDE MIDDLE SCHOOL | PRINCIPAL - ACTING | $99,635.67 | | |
| AVERY BOISVERT | ROBERTA | DISTRICT WIDE | PSYCHOLOGIST | $75,617.88 | | |
| CARUSO | VALERIE | SOUTHSIDE MIDDLE SCHOOL | PSYCHOLOGIST | $77,412.64 | | |
| COYLE | LORI | WEBSTER ELEMENTARY SCHOOL | PSYCHOLOGIST | $69,285.06 | | |
| DICKSON | JEAN | DISTRICT WIDE | PSYCHOLOGIST | $89,878.40 | | |
| GAMBLE | CHERYL | DISTRICT WIDE | PSYCHOLOGIST | $89,877.74 | | |
| HATFIELD | SHERI | ADMINISTRATION BUILDING | PSYCHOLOGIST | $76,735.10 | | |
| JEFFERS-ROPER | HOLLI | MIDDLE SCHOOL AT PARKSIDE | PSYCHOLOGIST | $51,189.00 | | |
| KELLY | LAURENCE | DISTRICT WIDE | PSYCHOLOGIST | $86,061.82 | | |
| LING | NICOLE | MEMORIAL HIGH SCHOOL | PSYCHOLOGIST | $48,662.62 | | |
| MICHAELS | PETER | PARKER VARNEY ELEMENTARY SCHOOL | PSYCHOLOGIST | $45,544.48 | | |
| MORAN | DONNA | DISTRICT WIDE | PSYCHOLOGIST | $78,482.88 | | |
| VITAGLIANO | JAMES | DISTRICT WIDE | PSYCHOLOGIST | $84,789.94 | | |
| ROY | TAMMY | DISTRICT WIDE | PT & SPEECH ASSISTANTS | $23,036.92 | | |
| AMBROGI | SARAH | DISTRICT WIDE | SCHOOL BOARD | $2,000.00 | | |
| AVARD | JOHN | DISTRICT WIDE | SCHOOL BOARD | $2,000.00 | | |
| BEAUDRY | ARTHUR | DISTRICT WIDE | SCHOOL BOARD | $2,000.00 | | |
| BERGERON | DANIEL | DISTRICT WIDE | SCHOOL BOARD | $2,000.00 | | |
| DESROCHERS | KATHRYN | DISTRICT WIDE | SCHOOL BOARD | $2,000.00 | | |
| FREEMAN | LISA | DISTRICT WIDE | SCHOOL BOARD | $2,000.00 | | |
| GEORGES | MARY | DISTRICT WIDE | SCHOOL BOARD | $2,000.00 | | |
| GIRARD | RICHARD | DISTRICT WIDE | SCHOOL BOARD | $2,000.00 | | |
| LEHOUX | JAMES | DISTRICT WIDE | SCHOOL BOARD | $2,000.00 | | |
| SCANNELL | DAVID | DISTRICT WIDE | SCHOOL BOARD | $2,000.00 | | |
| TERRIO | ROSS | DISTRICT WIDE | SCHOOL BOARD | $2,000.00 | | |
| TESSIER | NANCY | DISTRICT WIDE | SCHOOL BOARD | $1,298.19 | | |
| THOMAS | KELLY | DISTRICT WIDE | SCHOOL BOARD | $2,000.00 | | |
| WANT | LESLIE | DISTRICT WIDE | SCHOOL BOARD | $2,000.00 | | |
| CAREY | ANGELA | ADMINISTRATION BUILDING | SCHOOL BOARD SUPPORT | $41,577.03 | | |
| WELLINGTON | MAURA | ADMINISTRATION BUILDING | SCHOOL BOARD SUPPORT | $5,548.87 | | |
| HAWKINSON | FREDA | ADMINISTRATION BUILDING | SCHOOL BOARD TREASURER | $14,999.92 | | |
| PHANEUF | DIANE | MST - CTE | SCHOOL SUPPORT FULL YEAR | $47,835.52 | | |
| ROUKEY | MARY | WEST HIGH SCHOOL | SCHOOL SUPPORT FULL YEAR | $52,892.70 | | |
| SPIRO | BEVERLY | CENTRAL HIGH SCHOOL | SCHOOL SUPPORT FULL YEAR | $54,398.32 | | |
| STERN | ROCHELLE | MEMORIAL HIGH SCHOOL | SCHOOL SUPPORT FULL YEAR | $52,921.70 | | |
| ADAMAKOS | THERESA | WEST HIGH SCHOOL | SCHOOL SUPPORT SCHOOLYEAR | $26,782.78 | | |
| ALLEN | ANN | HIGHLAND GOFFE'S FALLS ELEMENT | SCHOOL SUPPORT SCHOOLYEAR | $45,659.79 | | |
| ALLEY | ANDREA | MEMORIAL HIGH SCHOOL | SCHOOL SUPPORT SCHOOLYEAR | $32,385.39 | | |
| AMLAW | BONNIE | MCDONOUGH ELEMENTARY SCHOOL | SCHOOL SUPPORT SCHOOLYEAR | $35,237.78 | | |
| ARNIERI | MARYBETH | WEST HIGH SCHOOL | SCHOOL SUPPORT SCHOOLYEAR | $22,913.76 | | |
| AUBIN | SHEILA | NORTHWEST ELEMENTARY SCHOOL | SCHOOL SUPPORT SCHOOLYEAR | $41,295.36 | | |
| BAILLARGEON | MARYANN | MCLAUGHLIN MIDDLE SCHOOL | SCHOOL SUPPORT SCHOOLYEAR | $20,757.60 | 7.86 | |
| BEAUDRY | GERALYNNE | BAKERSVILLE ELEMENTARY SCHOOL | SCHOOL SUPPORT SCHOOLYEAR | $38,835.20 | | |
| BEAULIEU | KAREN | CENTRAL HIGH SCHOOL | SCHOOL SUPPORT SCHOOLYEAR | $29,829.17 | | |
| BOUCHER | DONNA | JEWETT ELEMENTARY SCHOOL | SCHOOL SUPPORT SCHOOLYEAR | $42,569.79 | | |
| BRENNAN | LOUISE | HALLSVILLE ELEMENTARY SCHOOL | SCHOOL SUPPORT SCHOOLYEAR | $37,970.36 | | |
| BYRNE-PHILBROOK | MOIRA | SMYTH RD ELEMENTARY SCHOOL | SCHOOL SUPPORT SCHOOLYEAR | $21,735.20 | | |
| CAMIRE | HELEN | GOSSLER PARK ELEMENTARY SCHOOL | SCHOOL SUPPORT SCHOOLYEAR | $46,068.66 | 90 | 2 |
| CHIAMPA | JENNIFER | GOSSLER PARK ELEMENTARY SCHOOL | SCHOOL SUPPORT SCHOOLYEAR | $11,460.15 | | |
| COLBROTH | TRACY | MST - CTE | SCHOOL SUPPORT SCHOOLYEAR | $40,867.86 | | |
| DANICO | SUSAN | MEMORIAL HIGH SCHOOL | SCHOOL SUPPORT SCHOOLYEAR | $31,958.54 | | |
| DAVIDSON | BRENDA | CENTRAL HIGH SCHOOL | SCHOOL SUPPORT SCHOOLYEAR | $38,100.48 | | |
| DAVIES | SUSAN | MEMORIAL HIGH SCHOOL | SCHOOL SUPPORT SCHOOLYEAR | $39,985.22 | | |
| EVANS | JUDITH | MST - CTE | SCHOOL SUPPORT SCHOOLYEAR | $26,085.97 | | |
| GAGNON | CATHERINE | CENTRAL HIGH SCHOOL | SCHOOL SUPPORT SCHOOLYEAR | $41,584.88 | | |
| GENDRON | VALERIE | MCLAUGHLIN MIDDLE SCHOOL | SCHOOL SUPPORT SCHOOLYEAR | $26,506.12 | | |
| HEYMANS | LYNNE | MEMORIAL HIGH SCHOOL | SCHOOL SUPPORT SCHOOLYEAR | $41,636.57 | | |
| INTORCIO | CATHY | MEMORIAL HIGH SCHOOL | SCHOOL SUPPORT SCHOOLYEAR | $36,391.62 | | |
| JOYCE | LISA | GREEN ACRES ELEMENTARY SCHOOL | SCHOOL SUPPORT SCHOOLYEAR | $46,592.40 | | |
| LABBE | SARAH | CENTRAL HIGH SCHOOL | SCHOOL SUPPORT SCHOOLYEAR | $35,939.05 | | |
| LAGASSE | WENDY | SMYTH RD ELEMENTARY SCHOOL | SCHOOL SUPPORT SCHOOLYEAR | $30,785.82 | 87.6 | 1 |
| LEVESQUE | CATHERINE | SOUTHSIDE MIDDLE SCHOOL | SCHOOL SUPPORT SCHOOLYEAR | $23,249.41 | | |
| LINSCOMB | LINDA | WEST HIGH SCHOOL | SCHOOL SUPPORT SCHOOLYEAR | $42,252.76 | | |
| LOVELL | VALERIE | CENTRAL HIGH SCHOOL | SCHOOL SUPPORT SCHOOLYEAR | $33,776.43 | | |
| MACDONALD | SHEILA | HILLSIDE MIDDLE SCHOOL | SCHOOL SUPPORT SCHOOLYEAR | $30,569.71 | | |
| ORY | BRIANNA | MCLAUGHLIN MIDDLE SCHOOL | SCHOOL SUPPORT SCHOOLYEAR | $8,053.97 | | |
| PATSOS | ANITA | GREEN ACRES ELEMENTARY SCHOOL | SCHOOL SUPPORT SCHOOLYEAR | $28,071.76 | 90 | |
| ROGERS | KAREN | BEECH ST. ELEMENTARY SCHOOL | SCHOOL SUPPORT SCHOOLYEAR | $45,876.83 | | |
| SAVARY | DEBORAH | WILSON ST ELEMENTARY SCHOOL | SCHOOL SUPPORT SCHOOLYEAR | $37,573.79 | | |
| SHEA | CHRISTINA | WEBSTER ELEMENTARY SCHOOL | SCHOOL SUPPORT SCHOOLYEAR | $40,940.76 | | |
| SINOTTE | SUSAN | MCLAUGHLIN MIDDLE SCHOOL | SCHOOL SUPPORT SCHOOLYEAR | $42,076.90 | | |
| ST PIERRE | LORRAINE | WESTON ELEMENTARY SCHOOL | SCHOOL SUPPORT SCHOOLYEAR | $41,629.76 | | |
| STONE | MAUREEN | PARKER VARNEY ELEMENTARY SCHOOL | SCHOOL SUPPORT SCHOOLYEAR | $43,637.12 | | |
| SULLIVAN | JUDITH | SOUTHSIDE MIDDLE SCHOOL | SCHOOL SUPPORT SCHOOLYEAR | $44,238.63 | | |
| VALENTI | ERIN | MIDDLE SCHOOL AT PARKSIDE | SCHOOL SUPPORT SCHOOLYEAR | $25,494.84 | | |
| VERVILLE | TAMMY | MIDDLE SCHOOL AT PARKSIDE | SCHOOL SUPPORT SCHOOLYEAR | $37,612.08 | | |
| WEIGLER | STACEYANN | BEECH ST. ELEMENTARY SCHOOL | SCHOOL SUPPORT SCHOOLYEAR | $26,227.37 | | |
| ZAPORA | LINDA | HILLSIDE MIDDLE SCHOOL | SCHOOL SUPPORT SCHOOLYEAR | $32,360.62 | | |
| REINHOLD | ROBIN | ADMINISTRATION BUILDING | SENIOR ACCOUNTANT - FINANCE | $56,880.98 | | |
| BUJWID | DAWN | WEST HIGH SCHOOL | SFNS COOK | $35,596.99 | | |
| CUTRER | JASON | SOUTHSIDE MIDDLE SCHOOL | SFNS COOK | $7,567.92 | | |
| FAHEY | BRENDA | CENTRAL HIGH SCHOOL | SFNS COOK | $20,464.90 | | |
| GORDON | KELLY | SOUTHSIDE MIDDLE SCHOOL | SFNS COOK | $6,303.67 | | |
| GOSSELIN | DIANNA | HILLSIDE MIDDLE SCHOOL | SFNS COOK | $32,505.77 | | |
| HATHAWAY-WATTS | MARGARET | MCLAUGHLIN MIDDLE SCHOOL | SFNS COOK | $24,676.17 | | |
| HULL | VICTORIA | BEECH ST. ELEMENTARY SCHOOL | SFNS COOK | $15,913.36 | | |
| LEMAY | KELLY-ANN | MIDDLE SCHOOL AT PARKSIDE | SFNS COOK | $33,080.14 | | |
| TARR | JUDITH | MST - CTE | SFNS COOK | $16,579.40 | | |
| WORSTER | KATHY | BEECH ST. ELEMENTARY SCHOOL | SFNS COOK | $38,831.67 | | |
| ALOYO | JOSE | DISTRICT WIDE | SFNS DRIVER/MANAGER | $34,055.59 | | |
| HANLEY | PETER | DISTRICT WIDE | SFNS DRIVER/MANAGER | $30,977.34 | | |
| HOWARD | RUTH | BEECH ST. ELEMENTARY SCHOOL | SFNS DRIVER/MANAGER | $37,437.06 | | |
| O'BRIEN | DAVID | DISTRICT WIDE | SFNS DRIVER/MANAGER | $33,281.18 | | |
| BLAIS | ADELE | MEMORIAL HIGH SCHOOL | SFNS MANAGER | $52,627.68 | | |
| BRADLEY | DIANE | CENTRAL HIGH SCHOOL | SFNS MANAGER | $17,284.80 | 80 | |
| BUSH | JACQUELINE | MCLAUGHLIN MIDDLE SCHOOL | SFNS MANAGER | $4,331.39 | | |
| CORMIER | DIANE | HILLSIDE MIDDLE SCHOOL | SFNS MANAGER | $31,620.01 | | |
| GUILMETTE | HELEN | SOUTHSIDE MIDDLE SCHOOL | SFNS MANAGER | $35,530.08 | | |
| LAWRENCE | DENISE | WEST HIGH SCHOOL | SFNS MANAGER | $32,556.70 | | |
| MARINO | JENNIFER | CENTRAL HIGH SCHOOL | SFNS MANAGER | $1,077.17 | | |
| RICARD | SHANNON-MARIE | CENTRAL HIGH SCHOOL | SFNS MANAGER | $27,946.84 | | |
| VOISINE | LISA | MIDDLE SCHOOL AT PARKSIDE | SFNS MANAGER | $24,311.88 | | |
| WHITE | LORI | MCLAUGHLIN MIDDLE SCHOOL | SFNS MANAGER | $28,425.85 | | |
| ALLARD | JOANNE | HILLSIDE MIDDLE SCHOOL | SFNS WORKER | $19,976.56 | | |
| ANAGNOS | JUDITH | MCDONOUGH ELEMENTARY SCHOOL | SFNS WORKER | $22,479.87 | | |
| ASHIMWE | LANDRINE | BEECH ST. ELEMENTARY SCHOOL | SFNS WORKER | $1,275.32 | | |
| BEAUDIN | PATRICIA | NORTHWEST ELEMENTARY SCHOOL | SFNS WORKER | $23,127.13 | | |
| BELL | TINA | HIGHLAND GOFFE'S FALLS ELEMENT | SFNS WORKER | $5,467.79 | | |
| BERNIER | CYNTHIA | HILLSIDE MIDDLE SCHOOL | SFNS WORKER | $7,376.95 | | |
| BILODEAU | PATRICIA | MEMORIAL HIGH SCHOOL | SFNS WORKER | $20,848.47 | | |
| BOBOTAS | MARY | GREEN ACRES ELEMENTARY SCHOOL | SFNS WORKER | $9,409.71 | | |
| BOISVERT | DEBRA | CENTRAL HIGH SCHOOL | SFNS WORKER | $12,152.02 | | |
| BOUCHARD | JANINE | MCDONOUGH ELEMENTARY SCHOOL | SFNS WORKER | $8,629.36 | | |
| BOWMAN | SHALISHA | GREEN ACRES ELEMENTARY SCHOOL | SFNS WORKER | $6,428.37 | | |
| BURDITT | DARLENE | WESTON ELEMENTARY SCHOOL | SFNS WORKER | $14,125.71 | | |
| BUTLER | KATHY | MCLAUGHLIN MIDDLE SCHOOL | SFNS WORKER | $15,713.52 | | |
| CAVANAUGH | LAURIE | MCLAUGHLIN MIDDLE SCHOOL | SFNS WORKER | $17,385.16 | | |
| CHAIREZ | ROSIO | WEBSTER ELEMENTARY SCHOOL | SFNS WORKER | $15,844.31 | | |
| CRAGIN | DIANE | BEECH ST. ELEMENTARY SCHOOL | SFNS WORKER | $26,656.03 | | |
| DAIGLE | KATHLEEN | CENTRAL HIGH SCHOOL | SFNS WORKER | $11,400.42 | | |
| DEFINA | MARKA | SMYTH RD ELEMENTARY SCHOOL | SFNS WORKER | $9,614.89 | | |
| DEVINE | PATRICIA | CENTRAL HIGH SCHOOL | SFNS WORKER | $15,048.54 | | |
| FECTEAU | LINA | CENTRAL HIGH SCHOOL | SFNS WORKER | $16,654.31 | | |
| FOLEY | PATRICIA | NORTHWEST ELEMENTARY SCHOOL | SFNS WORKER | $12,530.61 | | |
| FORTIER | LINDA | MEMORIAL HIGH SCHOOL | SFNS WORKER | $26,976.41 | | |
| FRIAS RODRIGUEZ | OLGA | MEMORIAL HIGH SCHOOL | SFNS WORKER | $9,840.76 | | |
| GALVEZ | GUADALUPE | WILSON ST ELEMENTARY SCHOOL | SFNS WORKER | $14,331.35 | | |
| GAMELIN | HELEN | HILLSIDE MIDDLE SCHOOL | SFNS WORKER | $9,263.64 | | |
| GELINAS | MELISSA | MEMORIAL HIGH SCHOOL | SFNS WORKER | $43,985.00 | | |
| GENTES | CAROL | HIGHLAND GOFFE'S FALLS ELEMENT | SFNS WORKER | $9,982.17 | | |
| GJONI | VALBONA | BEECH ST. ELEMENTARY SCHOOL | SFNS WORKER | $12,315.35 | | |
| GOMES | ALAN | MIDDLE SCHOOL AT PARKSIDE | SFNS WORKER | $4,746.31 | | |
| GOULETTE | MARIE-MARTHE | BAKERSVILLE ELEMENTARY SCHOOL | SFNS WORKER | $16,290.37 | | |
| GRANT | RYAN | BEECH ST. ELEMENTARY SCHOOL | SFNS WORKER | $16,517.31 | | |
| GROULX | LISA | MST - CTE | SFNS WORKER | $29,026.16 | | |
| HARTFORD | DARLENE | JEWETT ELEMENTARY SCHOOL | SFNS WORKER | $11,462.20 | | |
| HICKS | LORRAINE | JEWETT ELEMENTARY SCHOOL | SFNS WORKER | $9,179.47 | | |
| HIMELSTEIN | ALYSON | MIDDLE SCHOOL AT PARKSIDE | SFNS WORKER | $2,877.64 | | |
| HOLMES | THERESE | WEST HIGH SCHOOL | SFNS WORKER | $4,637.97 | | |
| HOLT | ELSA | MEMORIAL HIGH SCHOOL | SFNS WORKER | $11,312.32 | | |
| JOBIN | COLLETTE | CENTRAL HIGH SCHOOL | SFNS WORKER | $14,170.09 | | |
| JOUBERT | ELIZABETH | WILSON ST ELEMENTARY SCHOOL | SFNS WORKER | $17,452.67 | | |
| JOYCE | KAREN | SOUTHSIDE MIDDLE SCHOOL | SFNS WORKER | $20,436.94 | | |
| KEANEY | LAURIE | SOUTHSIDE MIDDLE SCHOOL | SFNS WORKER | $17,049.26 | | |
| KIROUAC | ANTOININA | BEECH ST. ELEMENTARY SCHOOL | SFNS WORKER | $9,633.18 | | |
| KUPISZ | EUGENIA | HALLSVILLE ELEMENTARY SCHOOL | SFNS WORKER | $3,899.48 | | |
| LABERGE | DONNA | WEBSTER ELEMENTARY SCHOOL | SFNS WORKER | $11,924.97 | | |
| LAMOTTE | DANIELLE | MIDDLE SCHOOL AT PARKSIDE | SFNS WORKER | $19,936.89 | | |
| LAWRENCE | ANGELA | GOSSLER PARK ELEMENTARY SCHOOL | SFNS WORKER | $7,582.40 | | |
| LEMAY | ROBERT | HIGHLAND GOFFE'S FALLS ELEMENT | SFNS WORKER | $5,986.70 | | |
| LEVESQUE | CHERYL | MEMORIAL HIGH SCHOOL | SFNS WORKER | $17,572.35 | | |
| LIEU | SONIA | MCLAUGHLIN MIDDLE SCHOOL | SFNS WORKER | $13,058.10 | | |
| LIU | PING | CENTRAL HIGH SCHOOL | SFNS WORKER | $18,211.97 | | |
| LOWE | BARBARA | WEST HIGH SCHOOL | SFNS WORKER | $7,143.22 | | |
| MACDONALD | RUTHANNE | HILLSIDE MIDDLE SCHOOL | SFNS WORKER | $14,006.26 | | |
| MANCUSO | BRYAN | WEST HIGH SCHOOL | SFNS WORKER | $6,704.02 | 11.25 | |
| MANTZOUFAS | AGLAIA | WEBSTER ELEMENTARY SCHOOL | SFNS WORKER | $10,729.58 | | |
| MARCANO PORTES | ERLYN | BEECH ST. ELEMENTARY SCHOOL | SFNS WORKER | $4,580.76 | | |
| MARCHWICZ | SANDRA | WEST HIGH SCHOOL | SFNS WORKER | $7,727.43 | | |
| MARIN MANZANO | JESUS | HILLSIDE MIDDLE SCHOOL | SFNS WORKER | $9,726.26 | | |
| MEAGHER | SUSAN | MEMORIAL HIGH SCHOOL | SFNS WORKER | $19,592.40 | | |
| MORRISSEY | MARY | GREEN ACRES ELEMENTARY SCHOOL | SFNS WORKER | $6,436.98 | | |
| MORSE | TINA | MCDONOUGH ELEMENTARY SCHOOL | SFNS WORKER | $7,765.13 | | |
| MYHAVER | MICHELE | NORTHWEST ELEMENTARY SCHOOL | SFNS WORKER | $17,886.21 | | |
| O'HAGAN | MARIA | WEST HIGH SCHOOL | SFNS WORKER | $22,569.08 | | |
| OLORE | GINA | SOUTHSIDE MIDDLE SCHOOL | SFNS WORKER | $24,363.66 | | |
| PARADISE | LEE ANN | WILSON ST ELEMENTARY SCHOOL | SFNS WORKER | $20,674.25 | | |
| PELLERIN | MARLENE | MIDDLE SCHOOL AT PARKSIDE | SFNS WORKER | $13,088.70 | | |
| PIASECZNY | DAPHNE | MIDDLE SCHOOL AT PARKSIDE | SFNS WORKER | $11,498.85 | | |
| PINARD | ANGELINE | SOUTHSIDE MIDDLE SCHOOL | SFNS WORKER | $5,622.93 | | |
| PINARD | CONSTANCE | BEECH ST. ELEMENTARY SCHOOL | SFNS WORKER | $9,691.76 | | |
| PLATTE | EFFIE | MCDONOUGH ELEMENTARY SCHOOL | SFNS WORKER | $1,005.42 | | |
| PLOURDE | CONSTANCE | MCLAUGHLIN MIDDLE SCHOOL | SFNS WORKER | $22,464.31 | | |
| PRUNIER | LYNDA | WEST HIGH SCHOOL | SFNS WORKER | $1,188.10 | | |
| RECZKOWSKI | PAMELA | MEMORIAL HIGH SCHOOL | SFNS WORKER | $5,593.08 | 50.6 | |
| SARETTE | LISA | MCDONOUGH ELEMENTARY SCHOOL | SFNS WORKER | $9,365.20 | | |
| SARGENT | TAMI | BAKERSVILLE ELEMENTARY SCHOOL | SFNS WORKER | $5,526.30 | | |
| SPAMPINATO | TANYA | MCLAUGHLIN MIDDLE SCHOOL | SFNS WORKER | $10,061.05 | | |
| SPEAR | LUCILLE | CENTRAL HIGH SCHOOL | SFNS WORKER | $15,759.59 | | |
| SPRATT | JULIE | HALLSVILLE ELEMENTARY SCHOOL | SFNS WORKER | $10,339.20 | | |
| STEELE | THERESA | BEECH ST. ELEMENTARY SCHOOL | SFNS WORKER | $10,296.56 | | |
| SYLVIA | JUDY | WEST HIGH SCHOOL | SFNS WORKER | $8,195.34 | | |
| TACKER | MARTHA | WEBSTER ELEMENTARY SCHOOL | SFNS WORKER | $13,445.97 | | |
| TAPIA SANCHEZ | MONSE | HILLSIDE MIDDLE SCHOOL | SFNS WORKER | $6,210.48 | | |
| THIBODEAU | TAMMY | SMYTH RD ELEMENTARY SCHOOL | SFNS WORKER | $13,687.57 | | |
| TORRES ROJAS | GLADYS | BEECH ST. ELEMENTARY SCHOOL | SFNS WORKER | $23,518.86 | | |
| ULBIN | JOANNE | WESTON ELEMENTARY SCHOOL | SFNS WORKER | $7,879.50 | | |
| VACHON | LYNN | SOUTHSIDE MIDDLE SCHOOL | SFNS WORKER | $15,251.38 | | |
| WELCH | STEPHANIE | GOSSLER PARK ELEMENTARY SCHOOL | SFNS WORKER | $18,645.49 | | |
| WILLEY | VERONICA | SOUTHSIDE MIDDLE SCHOOL | SFNS WORKER | $10,674.76 | | |
| ZAENS | MARIA | SOUTHSIDE MIDDLE SCHOOL | SFNS WORKER | $3,910.16 | | |
| ZORAWOWICZ | DEBRA | SOUTHSIDE MIDDLE SCHOOL | SFNS WORKER | $1,073.65 | | |
| ZORAWOWICZ | DINA | CENTRAL HIGH SCHOOL | SFNS WORKER | $23,536.74 | | |
| BERARD | STEPHANIE | DISTRICT WIDE | SUBSTITUTE SFNS | $2,252.90 | | |
| MARTEL | KATHLEEN | DISTRICT WIDE | SUBSTITUTE SFNS | $5,216.21 | | |
| MCCLAUGHRY | CHARLOTTE | DISTRICT WIDE | SUBSTITUTE SFNS | $2,661.40 | | |
| ROBICHAUD | PHYLISS | DISTRICT WIDE | SUBSTITUTE SFNS | $1,342.62 | | |
| ROGLER | LENA | DISTRICT WIDE | SUBSTITUTE SFNS | $1,299.16 | | |
| VAZQUEZ RUIZ | MIGUEL | DISTRICT WIDE | SUBSTITUTE SFNS | $1,459.00 | | |
| VARGAS | BOLGEN | ADMINISTRATION BUILDING | SUPERINTENDENT OF SCHOOLS | $164,999.90 | | |
| ADAMAKOS | PETER | MIDDLE SCHOOL AT PARKSIDE | TEACHER | $79,057.58 | | |
| ADAMI-SCHIRL | EVAGELIA | CENTRAL HIGH SCHOOL | TEACHER | $66,506.76 | | |
| ADAMS | DANIELLE | PARKER VARNEY ELEMENTARY SCHOOL | TEACHER | $39,634.90 | | |
| ADAMS | KATHERINE | WILSON ST ELEMENTARY SCHOOL | TEACHER | $50,826.45 | | |
| AFSHAR | MONA | GREEN ACRES ELEMENTARY SCHOOL | TEACHER | $71,893.12 | | |
| AGUIRRE | THERESE | HILLSIDE MIDDLE SCHOOL | TEACHER | $67,422.94 | | |
| ALEXANDER | PAULA | MCDONOUGH ELEMENTARY SCHOOL | TEACHER | $75,137.62 | | |
| ALLEN | CHRISTINA | MIDDLE SCHOOL AT PARKSIDE | TEACHER | $66,167.77 | | |
| ALLEN | EDWARD | MIDDLE SCHOOL AT PARKSIDE | TEACHER | $71,949.00 | | |
| ALTON | MICHELLE | BEECH ST. ELEMENTARY SCHOOL | TEACHER | $78,151.62 | | |
| AMARAL | JILLIAN | SOUTHSIDE MIDDLE SCHOOL | TEACHER | $28,357.62 | | |
| ANDERSON | AMY | MIDDLE SCHOOL AT PARKSIDE | TEACHER | $68,596.33 | | |
| ANDERSON | COLLEEN | WILSON ST ELEMENTARY SCHOOL | TEACHER | $69,688.38 | | |
| ANDERSON | MAUREEN | CENTRAL HIGH SCHOOL | TEACHER | $72,167.75 | | |
| ANDERSON | SHANE | SOUTHSIDE MIDDLE SCHOOL | TEACHER | $71,976.94 | | |
| ANIBAL | KATHRYN | JEWETT ELEMENTARY SCHOOL | TEACHER | $74,956.80 | | |
| ANTHONY | RUSSELL | MST - CTE | TEACHER | $67,497.94 | | |
| ANTOSCIA | DIANE | CENTRAL HIGH SCHOOL | TEACHER | $44,241.92 | | |
| ARLEN | LISA | HALLSVILLE ELEMENTARY SCHOOL | TEACHER | $71,555.65 | | |
| ARMSTRONG | JILLIAN | MEMORIAL HIGH SCHOOL | TEACHER | $33,392.98 | | |
| ARNIERI | ALLISON | BAKERSVILLE ELEMENTARY SCHOOL | TEACHER | $43,972.40 | | |
| ASPINWALL | CHRISTINE | WEST HIGH SCHOOL | TEACHER | $72,238.70 | | |
| AUDET | SAMANTHA | PARKER VARNEY ELEMENTARY SCHOOL | TEACHER | $58,907.62 | | |
| AUGER | PATRICIA | HALLSVILLE ELEMENTARY SCHOOL | TEACHER | $78,849.46 | | |
| AUGER | SARAH | HALLSVILLE ELEMENTARY SCHOOL | TEACHER | $65,724.73 | | |
| AUSTIN | MICHELLE | BEECH ST. ELEMENTARY SCHOOL | TEACHER | $45,724.28 | | |
| AUSTIN | SUSAN | WEBSTER ELEMENTARY SCHOOL | TEACHER | $62,362.74 | | |
| BABCOCK | SARAH | PARKER VARNEY ELEMENTARY SCHOOL | TEACHER | $62,635.80 | | |
| BABERADT | STEPHEN | DISTRICT ELEMENTARY LEVEL | TEACHER | $74,872.98 | | |
| BAGTAZ | MICHAEL | MIDDLE SCHOOL AT PARKSIDE | TEACHER | $45,388.79 | | |
| BAILEY | ANN | HIGHLAND GOFFE'S FALLS ELEMENT | TEACHER | $51,736.44 | | |
| BAILEY | DAVID | MEMORIAL HIGH SCHOOL | TEACHER | $57,476.86 | | |
| BAILEY | JENNIFER | BAKERSVILLE ELEMENTARY SCHOOL | TEACHER | $35,539.55 | | |
| BAILEY | SCOTT | MEMORIAL HIGH SCHOOL | TEACHER | $75,483.15 | | |
| BAK | CARA | CENTRAL HIGH SCHOOL | TEACHER | $52,652.24 | | |
| BAKA | LISA | WILSON ST ELEMENTARY SCHOOL | TEACHER | $42,335.44 | | |
| BAKER | SHAUNA | JEWETT ELEMENTARY SCHOOL | TEACHER | $48,425.00 | | |
| BALBONI | ALYSSA | PARKER VARNEY ELEMENTARY SCHOOL | TEACHER | $41,820.15 | | |
| BALCH | ANGELA | WEST HIGH SCHOOL | TEACHER | $71,976.94 | | |
| BANCROFT | JENNA | WEBSTER ELEMENTARY SCHOOL | TEACHER | $11,499.02 | | |
| BANKS | JOHNATHON | MCLAUGHLIN MIDDLE SCHOOL | TEACHER | $60,174.88 | | |
| BANNON | CHELSEA | GOSSLER PARK ELEMENTARY SCHOOL | TEACHER | $42,507.62 | | |
| BANNON | CYNTHIA | JEWETT ELEMENTARY SCHOOL | TEACHER | $73,178.25 | | |
| BANVILLE | LISA | PARKER VARNEY ELEMENTARY SCHOOL | TEACHER | $71,893.12 | | |
| BARBEE | CHRISTOPHER | MEMORIAL HIGH SCHOOL | TEACHER | $64,097.92 | | |
| BARBER | MAUREEN | MIDDLE SCHOOL AT PARKSIDE | TEACHER | $71,224.62 | | |
| BARDEN | KRISTIN | SMYTH RD ELEMENTARY SCHOOL | TEACHER | $64,760.60 | | |
| BARILKAITE | VILIJA | BEECH ST. ELEMENTARY SCHOOL | TEACHER | $72,340.56 | | |
| BARNER | JOANNE | HIGHLAND GOFFE'S FALLS ELEMENT | TEACHER | $24,757.04 | | |
| BARNES | ERIKA | MEMORIAL HIGH SCHOOL | TEACHER | $57,749.98 | | |
| BARON | CHRISTOPHER | MCLAUGHLIN MIDDLE SCHOOL | TEACHER | $46,677.42 | | |
| BATEMAN | BRIAN | WEST HIGH SCHOOL | TEACHER | $46,329.74 | | |
| BATES | LAUREEN | JEWETT ELEMENTARY SCHOOL | TEACHER | $67,422.94 | | |
| BATTEN | BRUCE | HILLSIDE MIDDLE SCHOOL | TEACHER | $67,450.88 | | |
| BEAKEY | KRISTEN | WEBSTER ELEMENTARY SCHOOL | TEACHER | $69,073.87 | | |
| BEAKEY | MELISSA | GREEN ACRES ELEMENTARY SCHOOL | TEACHER | $50,659.96 | | |
| BEATON | JAYNE | DISTRICT WIDE | TEACHER | $52,994.92 | | |
| BEAUDIN | CYNTHIA | MCDONOUGH ELEMENTARY SCHOOL | TEACHER | $70,908.94 | | |
| BEAULIEU | MARISSA | HALLSVILLE ELEMENTARY SCHOOL | TEACHER | $13,924.64 | | |
| BEAULIEU | RENEE | WEST HIGH SCHOOL | TEACHER | $75,700.24 | | |
| BEAUMONT | KURT | MST - CTE | TEACHER | $68,272.70 | | |
| BEAUPARLANT | JANET | WESTON ELEMENTARY SCHOOL | TEACHER | $69,450.88 | | |
| BEAUPRE | NADIA | BAKERSVILLE ELEMENTARY SCHOOL | TEACHER | $11,324.87 | | |
| BECK | MICHELLE | NORTHWEST ELEMENTARY SCHOOL | TEACHER | $87,327.42 | 90 | |
| BEHM | GORDON | CENTRAL HIGH SCHOOL | TEACHER | $61,835.02 | | |
| BEITLER | CHRISTINE | DISTRICT WIDE | TEACHER | $61,835.02 | | |
| BELANGER | LISA | WEBSTER ELEMENTARY SCHOOL | TEACHER | $57,476.86 | | |
| BELL | EUGENIA | SMYTH RD ELEMENTARY SCHOOL | TEACHER | $71,893.12 | | |
| BELL | MELISSA | BEECH ST. ELEMENTARY SCHOOL | TEACHER | $27,838.64 | | |
| BELLAND | KRYSTAL | GOSSLER PARK ELEMENTARY SCHOOL | TEACHER | $14,268.20 | | |
| BELLEMORE | ASHLEY | WEBSTER ELEMENTARY SCHOOL | TEACHER | $46,640.81 | | |
| BENJAMIN | KELLY | SOUTHSIDE MIDDLE SCHOOL | TEACHER | $71,607.68 | | |
| BENTON-NORRIS | LESLIE | DISTRICT MIDDLE SCHOOL LEVEL | TEACHER | $67,150.10 | | |
| BERG | ANGELA | BAKERSVILLE ELEMENTARY SCHOOL | TEACHER | $68,554.94 | | |
| BERGER | REBECCA | WEST HIGH SCHOOL | TEACHER | $45,491.71 | | |
| BERGERON | SIOBHAN | BEECH ST. ELEMENTARY SCHOOL | TEACHER | $63,635.02 | | |
| BERGERON-ROSA | LEAH | SOUTHSIDE MIDDLE SCHOOL | TEACHER | $38,890.45 | | |
| BERNARD | KARA | CENTRAL HIGH SCHOOL | TEACHER | $71,752.30 | | |
| BERNARD | KATELYN | BEECH ST. ELEMENTARY SCHOOL | TEACHER | $41,812.51 | | |
| BERNARDO DICKSON | JENNIFER | MIDDLE SCHOOL AT PARKSIDE | TEACHER | $60,875.80 | | |
| BERNIER | MARTHA | MCLAUGHLIN MIDDLE SCHOOL | TEACHER | $70,486.88 | | |
| BERTEL | KRISTIN | WESTON ELEMENTARY SCHOOL | TEACHER | $80,560.38 | | |
| BERTRAND | ALLEN | MEMORIAL HIGH SCHOOL | TEACHER | $57,476.86 | | |
| BERUBE | MAUREEN | WEBSTER ELEMENTARY SCHOOL | TEACHER | $70,570.70 | | |
| BEZANSON | MELISA | WEST HIGH SCHOOL | TEACHER | $48,868.90 | | |
| BICKFORD | JESSICA | BAKERSVILLE ELEMENTARY SCHOOL | TEACHER | $67,295.38 | | |
| BILODEAU | CYNTHIA | WEST HIGH SCHOOL | TEACHER | $77,505.38 | | |
| BIRMINGHAM | TERRY | DISTRICT WIDE | TEACHER | $113,588.96 | 90 | |
| BISHOP | NICOLE | BAKERSVILLE ELEMENTARY SCHOOL | TEACHER | $51,030.88 | | |
| BLACK | WENDY | DISTRICT ELEMENTARY LEVEL | TEACHER | $69,422.94 | | |
| BLANCHARD | AMANDA | WILSON ST ELEMENTARY SCHOOL | TEACHER | $16,275.36 | | |
| BOARDMAN | CHERYL | NORTHWEST ELEMENTARY SCHOOL | TEACHER | $48,198.80 | | |
| BOGRAD | BROOKE | CENTRAL HIGH SCHOOL | TEACHER | $71,976.94 | | |
| BOISVERT | MARY | HILLSIDE MIDDLE SCHOOL | TEACHER | $67,697.94 | | |
| BOMBARDIER | MICHAEL | MIDDLE SCHOOL AT PARKSIDE | TEACHER | $58,914.73 | | |
| BOND | TAMMY | NORTHWEST ELEMENTARY SCHOOL | TEACHER | $40,438.88 | | |
| BONTE | SHARON | WEST HIGH SCHOOL | TEACHER | $70,775.12 | | |
| BORGE | JOSHUA | CENTRAL HIGH SCHOOL | TEACHER | $72,638.02 | | |
| BOSTIC | ESTHER | WEBSTER ELEMENTARY SCHOOL | TEACHER | $60,484.66 | | |
| BOUCHARD | CHRISTINE | BEECH ST. ELEMENTARY SCHOOL | TEACHER | $87,867.12 | 90 | |
| BOUCHARD | KATHLEEN | NORTHWEST ELEMENTARY SCHOOL | TEACHER | $67,422.94 | | |
| BOUCHARD | MATTHEW | MIDDLE SCHOOL AT PARKSIDE | TEACHER | $40,518.37 | | |
| BOUCHARD | MICHELLE | NORTHWEST ELEMENTARY SCHOOL | TEACHER | $66,472.58 | | |
| BOUCHER | CHRISTINE | WESTON ELEMENTARY SCHOOL | TEACHER | $67,478.82 | | |
| BOUCHER | ELIZABETH | GOSSLER PARK ELEMENTARY SCHOOL | TEACHER | $50,119.53 | | |
| BOULANGER | HANNAH | BEECH ST. ELEMENTARY SCHOOL | TEACHER | $64,099.72 | | |
| BOUTHOT | JOSHUA | MCLAUGHLIN MIDDLE SCHOOL | TEACHER | $72,098.88 | | |
| BOUTILIER | JEANNE | GOSSLER PARK ELEMENTARY SCHOOL | TEACHER | $76,222.98 | | |
| BOUTIN | DAVID | CENTRAL HIGH SCHOOL | TEACHER | $67,450.88 | | |
| BOUTIN | JANET | GREEN ACRES ELEMENTARY SCHOOL | TEACHER | $76,217.90 | | |
| BOWE | JOSEPH | MST HIGH SCHOOL | TEACHER | $59,698.24 | | |
| BOWEN | COLLEEN | GREEN ACRES ELEMENTARY SCHOOL | TEACHER | $68,539.90 | | |
| BRADLEY | JILL | MEMORIAL HIGH SCHOOL | TEACHER | $47,109.11 | | |
| BRANNEN | SCOTT | MCDONOUGH ELEMENTARY SCHOOL | TEACHER | $67,534.70 | | |
| BRANSCOMBE | JEANNE | BEECH ST. ELEMENTARY SCHOOL | TEACHER | $72,143.12 | | |
| BRAYALL | MELISSA | MST - CTE | TEACHER | $62,720.31 | | |
| BREAULT | AUDRA | NORTHWEST ELEMENTARY SCHOOL | TEACHER | $61,988.19 | | |
| BREAULT | DIANE | MEMORIAL HIGH SCHOOL | TEACHER | $70,961.85 | | |
| BREEN | CHRISTINE | SOUTHSIDE MIDDLE SCHOOL | TEACHER | $12,962.87 | | |
| BRESNAHAN | KELLY | HIGHLAND GOFFE'S FALLS ELEMENT | TEACHER | $64,069.98 | | |
| BRESSLER | JAMIE | SMYTH RD ELEMENTARY SCHOOL | TEACHER | $61,918.84 | | |
| BRETON | MARJORIE | HILLSIDE MIDDLE SCHOOL | TEACHER | $67,422.94 | | |
| BREWSTER | CHERYL | MEMORIAL HIGH SCHOOL | TEACHER | $42,334.76 | | |
| BRIDEN | KALEY | MEMORIAL HIGH SCHOOL | TEACHER | $34,510.72 | | |
| BRIDGEMAN | KATHLEEN | WILSON ST ELEMENTARY SCHOOL | TEACHER | $75,430.62 | | |
| BRIDGES | HEATHER | SOUTHSIDE MIDDLE SCHOOL | TEACHER | $64,879.98 | | |
| BRIEN | DAVID | DISTRICT WIDE | TEACHER | $78,632.40 | | |
| BRIGHAM | LOREEN | HILLSIDE MIDDLE SCHOOL | TEACHER | $46,677.42 | | |
| BRIGHT | JANE | MST HIGH SCHOOL | TEACHER | $75,080.98 | | |
| BRISSON | BETH | MCLAUGHLIN MIDDLE SCHOOL | TEACHER | $67,730.28 | | |
| BRISSON | THOMAS | MCDONOUGH ELEMENTARY SCHOOL | TEACHER | $90,775.82 | 90 | |
| BRITT | CHELSEA | HILLSIDE MIDDLE SCHOOL | TEACHER | $43,955.08 | | |
| BROUGH | MELISSA | MST - CTE | TEACHER | $46,525.04 | | |
| BROWN | ALYSSA | MIDDLE SCHOOL AT PARKSIDE | TEACHER | $11,908.84 | | |
| BROWN | ETHAN | BEECH ST. ELEMENTARY SCHOOL | TEACHER | $10,976.16 | | |
| BROWN | GAIL | WEST HIGH SCHOOL | TEACHER | $68,360.41 | | |
| BRUN | ROBIN | WESTON ELEMENTARY SCHOOL | TEACHER | $50,430.08 | | |
| BRUNO | MARIA | CENTRAL HIGH SCHOOL | TEACHER | $57,476.86 | | |
| BRYANT | DONNA | DISTRICT WIDE | TEACHER | $100,656.30 | 90 | |
| BUDWAY | RONALD | MEMORIAL HIGH SCHOOL | TEACHER | $74,313.86 | | |
| BURGESS | KARYN | HILLSIDE MIDDLE SCHOOL | TEACHER | $41,288.90 | | |
| BURGESS | RYAN | CENTRAL HIGH SCHOOL | TEACHER | $64,262.02 | | |
| BURKE | CHRISTY | MCDONOUGH ELEMENTARY SCHOOL | TEACHER | $41,831.88 | | |
| BURKE | MARGARET | CENTRAL HIGH SCHOOL | TEACHER | $71,933.12 | | |
| BURNETT | NANCY | JEWETT ELEMENTARY SCHOOL | TEACHER | $66,332.88 | | |
| BURNS | MELANIE | WILSON ST ELEMENTARY SCHOOL | TEACHER | $46,673.86 | | |
| BURNS | STEVEN | HILLSIDE MIDDLE SCHOOL | TEACHER | $70,932.07 | | |
| BURROWS | JOSEPH | MEMORIAL HIGH SCHOOL | TEACHER | $46,018.38 | | |
| BURSEY | GLENN | MCLAUGHLIN MIDDLE SCHOOL | TEACHER | $67,450.88 | | |
| BURSTEIN | CHAIM | PARKER VARNEY ELEMENTARY SCHOOL | TEACHER | $43,955.08 | | |
| BUXTON | CAROLINE | GOSSLER PARK ELEMENTARY SCHOOL | TEACHER | $11,410.00 | | |
| BUZZELL | GINA | GREEN ACRES ELEMENTARY SCHOOL | TEACHER | $67,422.94 | | |
| CACERES CRUZ | JOSUE | BEECH ST. ELEMENTARY SCHOOL | TEACHER | $29,098.76 | | |
| CADE | LYNN | BEECH ST. ELEMENTARY SCHOOL | TEACHER | $92,673.10 | 90 | |
| CADIEUX | JENNIFER | SOUTHSIDE MIDDLE SCHOOL | TEACHER | $72,116.63 | | |
| CAIKAUSKAS | LINDA | MCDONOUGH ELEMENTARY SCHOOL | TEACHER | $68,084.47 | | |
| CALLAHAN | LIAM | CENTRAL HIGH SCHOOL | TEACHER | $41,971.57 | | |
| CALLANAN | KELLY | PARKER VARNEY ELEMENTARY SCHOOL | TEACHER | $64,979.58 | | |
| CAMIRE | JILLIAN | WILSON ST ELEMENTARY SCHOOL | TEACHER | $46,426.04 | | |
| CAMPBELL | JENNIFER | MIDDLE SCHOOL AT PARKSIDE | TEACHER | $64,861.47 | | |
| CANDELA BISTANY | LAURIE | PARKER VARNEY ELEMENTARY SCHOOL | TEACHER | $47,237.40 | | |
| CANNING | MEGAN | MCDONOUGH ELEMENTARY SCHOOL | TEACHER | $54,009.22 | | |
| CANNON | WILLIAM | CENTRAL HIGH SCHOOL | TEACHER | $79,011.20 | | |
| CAPISTRAN | DEBORAH | HILLSIDE MIDDLE SCHOOL | TEACHER | $53,668.02 | | |
| CARADONNA | DANIELE | MCLAUGHLIN MIDDLE SCHOOL | TEACHER | $74,002.31 | | |
| CARDIN | CALLAN | MST HIGH SCHOOL | TEACHER | $53,020.38 | | |
| CAREY | SAMUEL | MIDDLE SCHOOL AT PARKSIDE | TEACHER | $70,970.68 | | |
| CARIGNAN | JESSICA | BEECH ST. ELEMENTARY SCHOOL | TEACHER | $43,224.60 | | |
| CARIGNAN | MADELIN | HILLSIDE MIDDLE SCHOOL | TEACHER | $57,365.10 | | |
| CARLSON | COLLEEN | SOUTHSIDE MIDDLE SCHOOL | TEACHER | $64,149.57 | | |
| CARLSON | KATHY | DISTRICT WIDE | TEACHER | $69,844.87 | | |
| CARON | AMY | BEECH ST. ELEMENTARY SCHOOL | TEACHER | $53,106.68 | | |
| CARON | MICHELE | GREEN ACRES ELEMENTARY SCHOOL | TEACHER | $70,403.06 | | |
| CARPENTER | JONATHAN | GOSSLER PARK ELEMENTARY SCHOOL | TEACHER | $62,513.34 | | |
| CARROLL | LAURI | BEECH ST. ELEMENTARY SCHOOL | TEACHER | $67,401.39 | | |
| CARUSO | MEREDITH | WILSON ST ELEMENTARY SCHOOL | TEACHER | $29,229.11 | | |
| CASSIDY | BERNADETTE | WEST HIGH SCHOOL | TEACHER | $66,360.82 | | |
| CASSIDY | DANIEL | MST - CTE | TEACHER | $68,645.88 | | |
| CASSIDY | DONNA | JEWETT ELEMENTARY SCHOOL | TEACHER | $72,032.82 | | |
| CASTONGUAY | DEBRA | SOUTHSIDE MIDDLE SCHOOL | TEACHER | $6,830.00 | | |
| CAVENEY | DEBRA | SOUTHSIDE MIDDLE SCHOOL | TEACHER | $61,526.76 | | |
| CAWLEY | MATTHEW | CENTRAL HIGH SCHOOL | TEACHER | $70,803.06 | | |
| CAYER | RAND | HILLSIDE MIDDLE SCHOOL | TEACHER | $67,078.37 | | |
| CHAGNON | HELEN | SOUTHSIDE MIDDLE SCHOOL | TEACHER | $75,692.62 | | |
| CHALBECK | STEPHANIE | WEBSTER ELEMENTARY SCHOOL | TEACHER | $67,422.94 | | |
| CHAMPAGNE | CHANTELLE | BEECH ST. ELEMENTARY SCHOOL | TEACHER | $48,095.92 | | |
| CHAMPEY | STACY | WEBSTER ELEMENTARY SCHOOL | TEACHER | $45,158.46 | | |
| CHAMPLIN | MICHAELA | WILSON ST ELEMENTARY SCHOOL | TEACHER | $52,118.15 | | |
| CHANCE | BARBARA | MIDDLE SCHOOL AT PARKSIDE | TEACHER | $64,941.71 | | |
| CHANDONNET | SUSAN | HIGHLAND GOFFE'S FALLS ELEMENT | TEACHER | $48,536.76 | | |
| CHANDRONNAIT | SUSAN | BEECH ST. ELEMENTARY SCHOOL | TEACHER | $67,688.76 | | |
| CHAPLEN | MICHELE | GREEN ACRES ELEMENTARY SCHOOL | TEACHER | $50,898.10 | | |
| CHAPMAN | SANDRA | CENTRAL HIGH SCHOOL | TEACHER | $67,795.44 | | |
| CHAREST | JANICE | DISTRICT WIDE | TEACHER | $87,272.42 | 90 | |
| CHARLAND | GERARD | BAKERSVILLE ELEMENTARY SCHOOL | TEACHER | $73,867.95 | | |
| CHASE | MELISSA | HIGHLAND GOFFE'S FALLS ELEMENT | TEACHER | $68,018.52 | | |
| CHASE | MOLLIE | MST - CTE | TEACHER | $73,260.46 | | |
| CHASIN | STEVEN | MIDDLE SCHOOL AT PARKSIDE | TEACHER | $44,478.60 | | |
| CHAUVETTE | JOANNE | HIGHLAND GOFFE'S FALLS ELEMENT | TEACHER | $73,893.12 | | |
| CHIANG | LYDIA | CENTRAL HIGH SCHOOL | TEACHER | $13,791.34 | | |
| CHICK | LINDA | WEST HIGH SCHOOL | TEACHER | $50,996.72 | | |
| CHRETIEN | CHARLES | CENTRAL HIGH SCHOOL | TEACHER | $67,050.10 | | |
| CHRISTOPHER | AMY | MEMORIAL HIGH SCHOOL | TEACHER | $74,509.44 | | |
| CLEMENT | ALYSSA | MCDONOUGH ELEMENTARY SCHOOL | TEACHER | $18,450.24 | | |
| CLEMENTS | CHRISTINA | MEMORIAL HIGH SCHOOL | TEACHER | $49,538.22 | | |
| CLOUTIER | KARIN | WESTON ELEMENTARY SCHOOL | TEACHER | $53,591.85 | | |
| COCKERILL | JOANNE | MEMORIAL HIGH SCHOOL | TEACHER | $77,130.25 | | |
| COLANTUONI | CHRISTINA | WEST HIGH SCHOOL | TEACHER | $72,340.13 | | |
| COLBURN | DANIEL | WEST HIGH SCHOOL | TEACHER | $71,647.91 | | |
| COLBY | AMY | SMYTH RD ELEMENTARY SCHOOL | TEACHER | $75,768.78 | | |
| COLBY | JAMES | MEMORIAL HIGH SCHOOL | TEACHER | $76,518.64 | | |
| COLCORD | PETER | MEMORIAL HIGH SCHOOL | TEACHER | $67,422.94 | | |
| COLE | LISA | HIGHLAND GOFFE'S FALLS ELEMENT | TEACHER | $57,532.74 | | |
| COLE | PEGGY | BAKERSVILLE ELEMENTARY SCHOOL | TEACHER | $69,689.90 | | |
| COMEY | ROBERT | MEMORIAL HIGH SCHOOL | TEACHER | $60,376.36 | | |
| CONFORTI | JOAN | MCDONOUGH ELEMENTARY SCHOOL | TEACHER | $67,584.70 | | |
| CONNELL | GLEN | DISTRICT ELEMENTARY LEVEL | TEACHER | $47,031.48 | | |
| CONNOLLY | RAYMOND | MEMORIAL HIGH SCHOOL | TEACHER | $65,435.86 | | |
| CONNOLLY | SARAH | MCDONOUGH ELEMENTARY SCHOOL | TEACHER | $63,716.00 | | |
| COOLE | LINDSEY | GOSSLER PARK ELEMENTARY SCHOOL | TEACHER | $39,484.90 | | |
| COOMBS | RACHEL | SOUTHSIDE MIDDLE SCHOOL | TEACHER | $4,833.36 | | |
| COOPERIDER | NANCY | SOUTHSIDE MIDDLE SCHOOL | TEACHER | $60,982.30 | | |
| COOPER-JENNINGS | STACEY | DISTRICT WIDE | TEACHER | $72,130.62 | | |
| COPENHAVER | KELLY | BEECH ST. ELEMENTARY SCHOOL | TEACHER | $17,999.12 | | |
| COPPENS | JOHN | MEMORIAL HIGH SCHOOL | TEACHER | $14,354.98 | | |
| COREY | JILLIAN | MST HIGH SCHOOL | TEACHER | $67,925.02 | | |
| CORREIA | SUSAN | DISTRICT WIDE | TEACHER | $70,775.12 | | |
| COTA | JON | WEBSTER ELEMENTARY SCHOOL | TEACHER | $75,510.16 | | |
| COULON | COLETTE | WESTON ELEMENTARY SCHOOL | TEACHER | $68,623.72 | | |
| COULON | DAVID | HIGHLAND GOFFE'S FALLS ELEMENT | TEACHER | $69,707.54 | | |
| COURTNEY | JENNIFER | CENTRAL HIGH SCHOOL | TEACHER | $59,916.99 | | |
| COUTURE | JESSICA | MCDONOUGH ELEMENTARY SCHOOL | TEACHER | $64,153.80 | | |
| COUTURE | MAUREEN | MEMORIAL HIGH SCHOOL | TEACHER | $72,563.66 | | |
| COUTURIER | KRISTA | WEST HIGH SCHOOL | TEACHER | $72,200.44 | | |
| COVEY | KATHRYN | MCLAUGHLIN MIDDLE SCHOOL | TEACHER | $67,106.32 | | |
| COX BIRON | DEBRA | HIGHLAND GOFFE'S FALLS ELEMENT | TEACHER | $70,542.76 | | |
| CRANDALL GARTMAN | PENNY | WEST HIGH SCHOOL | TEACHER | $56,695.48 | | |
| CRAWFORD | JILL | HIGHLAND GOFFE'S FALLS ELEMENT | TEACHER | $46,684.17 | | |
| CRIPPS | JONATHAN | WEST HIGH SCHOOL | TEACHER | $67,422.94 | | |
| CRISCONE | ROCCO | SOUTHSIDE MIDDLE SCHOOL | TEACHER | $53,170.86 | | |
| CROASDALE | WENDY | GREEN ACRES ELEMENTARY SCHOOL | TEACHER | $64,069.98 | | |
| CROTEAU | BRITTANY | GOSSLER PARK ELEMENTARY SCHOOL | TEACHER | $43,463.50 | | |
| CROUTHAMEL | ASHLEE | MIDDLE SCHOOL AT PARKSIDE | TEACHER | $59,633.85 | | |
| CROWELL | KEVIN | MIDDLE SCHOOL AT PARKSIDE | TEACHER | $39,649.27 | | |
| CRUMB | GREG | MCLAUGHLIN MIDDLE SCHOOL | TEACHER | $67,422.94 | | |
| CULLITY | MAUREEN | HALLSVILLE ELEMENTARY SCHOOL | TEACHER | $72,172.50 | | |
| CUNAN | SHERI | SOUTHSIDE MIDDLE SCHOOL | TEACHER | $38,910.38 | | |
| CUVELLIER | ANNETTE | MCDONOUGH ELEMENTARY SCHOOL | TEACHER | $75,587.62 | | |
| CYGAN | MATTHEW | MEMORIAL HIGH SCHOOL | TEACHER | $76,176.42 | | |
| CYR | CATHERINE | BEECH ST. ELEMENTARY SCHOOL | TEACHER | $18,338.48 | | |
| CYR | KAREN | SOUTHSIDE MIDDLE SCHOOL | TEACHER | $79,055.01 | | |
| CZYSZ | AARON | WEST HIGH SCHOOL | TEACHER | $74,351.26 | | |
| D'AGOSTINO | CHRISTOPHER | MCLAUGHLIN MIDDLE SCHOOL | TEACHER | $56,303.27 | | |
| DAKOULAS | STEPHANIE | MEMORIAL HIGH SCHOOL | TEACHER | $60,466.13 | | |
| DALY | ANNA | WILSON ST ELEMENTARY SCHOOL | TEACHER | $25,980.11 | | |
| DAMON | BETSY | HALLSVILLE ELEMENTARY SCHOOL | TEACHER | $55,513.65 | | |
| DAMPIER | FORREST | MIDDLE SCHOOL AT PARKSIDE | TEACHER | $67,422.94 | | |
| DARBY | JENNIFER | MIDDLE SCHOOL AT PARKSIDE | TEACHER | $71,520.02 | | |
| DAROSA | AMY | MCDONOUGH ELEMENTARY SCHOOL | TEACHER | $46,301.80 | | |
| DAVIDSON | CHERYL | MCLAUGHLIN MIDDLE SCHOOL | TEACHER | $60,684.40 | | |
| DAVIS | CATHERINE | SMYTH RD ELEMENTARY SCHOOL | TEACHER | $67,506.76 | | |
| DAVIS | KAREN | SMYTH RD ELEMENTARY SCHOOL | TEACHER | $76,677.60 | | |
| DAVISON | NICOLE | MCLAUGHLIN MIDDLE SCHOOL | TEACHER | $51,842.05 | | |
| DAWDY | CAROL ANN | WEBSTER ELEMENTARY SCHOOL | TEACHER | $67,646.46 | | |
| DEARBORN | ROBIN | WEST HIGH SCHOOL | TEACHER | $45,543.34 | | |
| DECHIRICO | KATHERINE | PARKER VARNEY ELEMENTARY SCHOOL | TEACHER | $45,008.30 | | |
| DEERWESTER | MIRANDA | JEWETT ELEMENTARY SCHOOL | TEACHER | $30,430.44 | | |
| DEFRIESSE | COLLIN | PARKER VARNEY ELEMENTARY SCHOOL | TEACHER | $13,598.28 | | |
| DELACEY | ELISSA | PARKER VARNEY ELEMENTARY SCHOOL | TEACHER | $81,772.88 | | |
| DELAY | MARY | PARKER VARNEY ELEMENTARY SCHOOL | TEACHER | $58,587.33 | | |
| DELEAULT | TRACY | NORTHWEST ELEMENTARY SCHOOL | TEACHER | $72,200.46 | | |
| DEMEO | AMORY | BEECH ST. ELEMENTARY SCHOOL | TEACHER | $84,010.38 | | |
| DEMERS | BETHANY | HIGHLAND GOFFE'S FALLS ELEMENT | TEACHER | $66,444.64 | | |
| DENIO | PETER | HILLSIDE MIDDLE SCHOOL | TEACHER | $59,628.00 | | |
| DEPIETRO | STEPHANIE | WILSON ST ELEMENTARY SCHOOL | TEACHER | $66,656.77 | | |
| DESMARAIS | PAUL | DISTRICT ELEMENTARY LEVEL | TEACHER | $65,445.34 | | |
| DEVANNA | REBECCA | HIGHLAND GOFFE'S FALLS ELEMENT | TEACHER | $42,055.38 | | |
| DEVINCENT | JUDY CANDIDA | MIDDLE SCHOOL AT PARKSIDE | TEACHER | $72,230.62 | | |
| DIAMOND | JANIS | WEST HIGH SCHOOL | TEACHER | $46,733.30 | | |
| DICK | BENJAMIN | MEMORIAL HIGH SCHOOL | TEACHER | $64,153.80 | | |
| DICKSON | JOHANNA | WILSON ST ELEMENTARY SCHOOL | TEACHER | $44,379.34 | | |
| DICOMES | JODI | BAKERSVILLE ELEMENTARY SCHOOL | TEACHER | $17,676.86 | | |
| DIFLOURES | PAMELA | PARKER VARNEY ELEMENTARY SCHOOL | TEACHER | $64,202.60 | | |
| DION | ASHLEY | HALLSVILLE ELEMENTARY SCHOOL | TEACHER | $51,292.27 | | |
| DION | BENJAMIN | MEMORIAL HIGH SCHOOL | TEACHER | $42,796.57 | | |
| DION | SAMANTHA | HALLSVILLE ELEMENTARY SCHOOL | TEACHER | $77,082.30 | | |
| DIONNE | DAVID | WEST HIGH SCHOOL | TEACHER | $68,316.84 | | |
| DITTBENNER | KIM | SOUTHSIDE MIDDLE SCHOOL | TEACHER | $66,098.32 | | |
| DIZIO | SHAUNA | NORTHWEST ELEMENTARY SCHOOL | TEACHER | $62,030.60 | | |
| DOBMEIER | MAUREEN | MST - CTE | TEACHER | $69,897.94 | | |
| DOHERTY | COREY | CENTRAL HIGH SCHOOL | TEACHER | $71,023.90 | | |
| DOHERTY | SABRINA | MIDDLE SCHOOL AT PARKSIDE | TEACHER | $46,661.73 | | |
| DOHERTY | SARAH | WEST HIGH SCHOOL | TEACHER | $52,273.74 | | |
| DOLAN | THOMAS | MEMORIAL HIGH SCHOOL | TEACHER | $80,743.28 | | |
| DOLLIVER | KRISTEN | WEST HIGH SCHOOL | TEACHER | $68,006.97 | | |
| DOMIN | REBECCA | WEBSTER ELEMENTARY SCHOOL | TEACHER | $60,344.96 | | |
| DONOVAN | CAROLE | HIGHLAND GOFFE'S FALLS ELEMENT | TEACHER | $34,040.70 | | |
| DONOVAN | KATE | WILSON ST ELEMENTARY SCHOOL | TEACHER | $61,835.02 | | |
| DONOVAN | KYLE | WEBSTER ELEMENTARY SCHOOL | TEACHER | $13,524.64 | | |
| DOOLY | BETH | MEMORIAL HIGH SCHOOL | TEACHER | $71,107.64 | | |
| DORVAL | LISA | NORTHWEST ELEMENTARY SCHOOL | TEACHER | $54,838.72 | | |
| DOUCET | ALICIA | SOUTHSIDE MIDDLE SCHOOL | TEACHER | $47,078.65 | | |
| DOUGHTY III | GEORGE | PARKER VARNEY ELEMENTARY SCHOOL | TEACHER | $46,808.30 | | |
| DOW | TIMOTHY | PARKER VARNEY ELEMENTARY SCHOOL | TEACHER | $40,096.44 | | |
| DOWNES | THOMAS | DISTRICT WIDE | TEACHER | $74,872.98 | | |
| DOYLE | EDWARD | CENTRAL HIGH SCHOOL | TEACHER | $50,160.51 | | |
| DOYLE | MEREDITH | WILSON ST ELEMENTARY SCHOOL | TEACHER | $50,401.52 | | |
| DRECHSEL | GINGER | PARKER VARNEY ELEMENTARY SCHOOL | TEACHER | $55,874.28 | | |
| DREWNIAK | DANIEL | MIDDLE SCHOOL AT PARKSIDE | TEACHER | $74,290.64 | | |
| DRONEY | SHEILA | CENTRAL HIGH SCHOOL | TEACHER | $72,680.62 | | |
| DUANA | CEFERINO | CENTRAL HIGH SCHOOL | TEACHER | $70,403.06 | | |
| DUBE | JUSTINE | BISHOP O'NEILL CENTER | TEACHER | $47,416.81 | | |
| DUBISZ | JULIA | SOUTHSIDE MIDDLE SCHOOL | TEACHER | $72,118.70 | | |
| DUBOIS | ELLEN | WEST HIGH SCHOOL | TEACHER | $70,233.06 | | |
| DUBOIS | SARAH | MIDDLE SCHOOL AT PARKSIDE | TEACHER | $86,909.22 | | |
| DUCHARME | AMANDA | WESTON ELEMENTARY SCHOOL | TEACHER | $40,156.63 | | |
| DUCHARME | LEO | WEST HIGH SCHOOL | TEACHER | $80,946.10 | | |
| DUCLOS | AMY | MCDONOUGH ELEMENTARY SCHOOL | TEACHER | $64,287.62 | | |
| DUELL | RUBY | MCLAUGHLIN MIDDLE SCHOOL | TEACHER | $44,808.61 | | |
| DUFFLEY | HEATHER | WEBSTER ELEMENTARY SCHOOL | TEACHER | $69,217.74 | | |
| DUFRESNE | DANA | HILLSIDE MIDDLE SCHOOL | TEACHER | $46,940.04 | | |
| DUGUAY | SANDRA | MIDDLE SCHOOL AT PARKSIDE | TEACHER | $71,976.94 | | |
| DUMAIS | SARAH | WEST HIGH SCHOOL | TEACHER | $82,586.46 | | |
| DUMAS | KERSTIN | HIGHLAND GOFFE'S FALLS ELEMENT | TEACHER | $48,592.63 | | |
| DUMOND | CANDACE | NORTHWEST ELEMENTARY SCHOOL | TEACHER | $46,273.86 | | |
| DUMONT | MELISSA | PARKER VARNEY ELEMENTARY SCHOOL | TEACHER | $66,939.82 | | |
| DUNN | KATHLEEN | BEECH ST. ELEMENTARY SCHOOL | TEACHER | $46,302.54 | | |
| DUNN | MARISSA | HILLSIDE MIDDLE SCHOOL | TEACHER | $42,793.36 | | |
| DUPERE | WILLIAM | HILLSIDE MIDDLE SCHOOL | TEACHER | $75,617.88 | | |
| DUQUETTE | REBECCA | PARKER VARNEY ELEMENTARY SCHOOL | TEACHER | $46,354.74 | | |
| DUVAL | AMY | DISTRICT ELEMENTARY LEVEL | TEACHER | $67,529.36 | | |
| DUVAL | THERESA | GOSSLER PARK ELEMENTARY SCHOOL | TEACHER | $51,505.88 | | |
| DWYER | PATRICIA | WEST HIGH SCHOOL | TEACHER | $68,295.77 | | |
| EAGEN | KATHERINE | BAKERSVILLE ELEMENTARY SCHOOL | TEACHER | $68,539.90 | | |
| EARLE | SALLY J | MCLAUGHLIN MIDDLE SCHOOL | TEACHER | $63,150.16 | | |
| EARLEY | ANTONIA | MIDDLE SCHOOL AT PARKSIDE | TEACHER | $66,604.94 | | |
| EASTMAN | VANESSA | HIGHLAND GOFFE'S FALLS ELEMENT | TEACHER | $67,873.09 | | |
| EBER-MECHIN | ROBIN | MCLAUGHLIN MIDDLE SCHOOL | TEACHER | $40,815.74 | | |
| EDGAR | STACEY | HILLSIDE MIDDLE SCHOOL | TEACHER | $72,326.40 | | |
| EDWARDS | JENNA | SOUTHSIDE MIDDLE SCHOOL | TEACHER | $49,249.35 | | |
| EGAN | AMANDA | MST HIGH SCHOOL | TEACHER | $73,439.26 | | |
| ELL | JENNIFER | WESTON ELEMENTARY SCHOOL | TEACHER | $71,949.00 | | |
| ELLIOT | DAVID | MCLAUGHLIN MIDDLE SCHOOL | TEACHER | $43,098.27 | | |
| ELLIS | KIM | SMYTH RD ELEMENTARY SCHOOL | TEACHER | $64,069.98 | | |
| ELLIS | PATRICIA | CENTRAL HIGH SCHOOL | TEACHER | $71,516.16 | | |
| ELWOOD | JANE | NORTHWEST ELEMENTARY SCHOOL | TEACHER | $51,781.58 | | |
| EMERSON | MELISSA | BEECH ST. ELEMENTARY SCHOOL | TEACHER | $46,565.04 | | |
| ENGLISH | ADENA | SOUTHSIDE MIDDLE SCHOOL | TEACHER | $71,029.18 | | |
| EOSUE | NICOLE | HILLSIDE MIDDLE SCHOOL | TEACHER | $66,167.92 | | |
| ERCHA | KENDRA | SOUTHSIDE MIDDLE SCHOOL | TEACHER | $60,089.18 | | |
| ERICKSON | DAVID | SOUTHSIDE MIDDLE SCHOOL | TEACHER | $67,450.88 | | |
| ERICKSON-LESSARD | CAROL | MEMORIAL HIGH SCHOOL | TEACHER | $67,618.52 | | |
| ERSICK | TERRI | MCDONOUGH ELEMENTARY SCHOOL | TEACHER | $67,562.64 | | |
| EVANS | LAURIE | WEBSTER ELEMENTARY SCHOOL | TEACHER | $80,370.02 | | |
| EVANS | STACEY | WEBSTER ELEMENTARY SCHOOL | TEACHER | $71,570.92 | | |
| EWING | WILLIAM | CENTRAL HIGH SCHOOL | TEACHER | $71,893.12 | | |
| EZZIDEEN | CALEIGH | SMYTH RD ELEMENTARY SCHOOL | TEACHER | $23,095.02 | | |
| FALABELLA | ERIN | BEECH ST. ELEMENTARY SCHOOL | TEACHER | $18,068.94 | | |
| FALLU | LESLEY | CENTRAL HIGH SCHOOL | TEACHER | $79,338.74 | | |
| FALZARANO | KATE | WILSON ST ELEMENTARY SCHOOL | TEACHER | $38,014.54 | | |
| FANARAS-ZITO | MARCIA | MEMORIAL HIGH SCHOOL | TEACHER | $68,093.46 | | |
| FARGO | MICHELLE | BEECH ST. ELEMENTARY SCHOOL | TEACHER | $51,289.30 | | |
| FARLEY | ANNE | BISHOP O'NEILL CENTER | TEACHER | $57,365.10 | | |
| FARNSWORTH | JESSICA | MCDONOUGH ELEMENTARY SCHOOL | TEACHER | $46,190.04 | | |
| FECTEAU | MADELEINE | BEECH ST. ELEMENTARY SCHOOL | TEACHER | $45,980.86 | | |
| FEELEY | MELISSA | SOUTHSIDE MIDDLE SCHOOL | TEACHER | $54,549.82 | | |
| FEHL | COLLEEN | GREEN ACRES ELEMENTARY SCHOOL | TEACHER | $5,576.62 | | |
| FENCHEL | KRIS | WESTON ELEMENTARY SCHOOL | TEACHER | $46,922.64 | | |
| FENNELL | TROYE | MEMORIAL HIGH SCHOOL | TEACHER | $40,113.24 | | |
| FENNELLY | KRISTIN | MIDDLE SCHOOL AT PARKSIDE | TEACHER | $67,786.15 | | |
| FENTON | SHARON | PARKER VARNEY ELEMENTARY SCHOOL | TEACHER | $69,551.35 | | |
| FERDINANDO | GREG | MIDDLE SCHOOL AT PARKSIDE | TEACHER | $76,676.98 | | |
| FERRO | STEPHANIE | CENTRAL HIGH SCHOOL | TEACHER | $67,390.07 | | |
| FILLIP | JILLIAN | DISTRICT ELEMENTARY LEVEL | TEACHER | $64,069.98 | | |
| FINNIGAN | HANNAH | CENTRAL HIGH SCHOOL | TEACHER | $16,007.68 | | |
| FISHER | BRIANA | NORTHWEST ELEMENTARY SCHOOL | TEACHER | $39,484.90 | | |
| FLEMING | MARY | NORTHWEST ELEMENTARY SCHOOL | TEACHER | $62,127.66 | | |
| FLORIO | DENISE | MIDDLE SCHOOL AT PARKSIDE | TEACHER | $48,419.30 | | |
| FLUREY | NICOLE | WESTON ELEMENTARY SCHOOL | TEACHER | $67,478.82 | | |
| FLYNN | MONIQUE | HIGHLAND GOFFE'S FALLS ELEMENT | TEACHER | $67,382.94 | | |
| FOLEY | DANIELLE | MEMORIAL HIGH SCHOOL | TEACHER | $49,166.36 | | |
| FOLEY | MEGHAN | NORTHWEST ELEMENTARY SCHOOL | TEACHER | $34,093.84 | | |
| FOLEY | ROBIN | JEWETT ELEMENTARY SCHOOL | TEACHER | $71,893.12 | | |
| FOLSOM | STEPHANIE | GREEN ACRES ELEMENTARY SCHOOL | TEACHER | $64,069.98 | | |
| FONTAINE | MICHELE | CENTRAL HIGH SCHOOL | TEACHER | $53,533.62 | | |
| FOOTE | BRIAN | MST - CTE | TEACHER | $52,705.64 | | |
| FORD | RACHEL | WEST HIGH SCHOOL | TEACHER | $49,459.60 | | |
| FOUGERE | EMILY | BAKERSVILLE ELEMENTARY SCHOOL | TEACHER | $46,428.56 | | |
| FOURNIER | ASHLEY | GOSSLER PARK ELEMENTARY SCHOOL | TEACHER | $55,344.41 | | |
| FOX | AUSTIN | PARKER VARNEY ELEMENTARY SCHOOL | TEACHER | $27,447.46 | | |
| FOX | KELLY | CENTRAL HIGH SCHOOL | TEACHER | $70,775.12 | | |
| FRANCO | CHERYL | CENTRAL HIGH SCHOOL | TEACHER | $59,628.00 | | |
| FRANCO | JANINE | MCLAUGHLIN MIDDLE SCHOOL | TEACHER | $87,258.30 | 90 | |
| FRANCOEUR | DIANE | WEST HIGH SCHOOL | TEACHER | $89,230.28 | | |
| FRASCA | RYAN | MST - CTE | TEACHER | $41,364.52 | | |
| FRAZIER | MAUREEN | CENTRAL HIGH SCHOOL | TEACHER | $72,481.06 | | |
| FREEMAN | TIMOTHY | MIDDLE SCHOOL AT PARKSIDE | TEACHER | $59,125.19 | | |
| FREITAS | CARA | BEECH ST. ELEMENTARY SCHOOL | TEACHER | $11,461.52 | | |
| FRIBORG | ANGELA | MEMORIAL HIGH SCHOOL | TEACHER | $74,937.69 | | |
| FRID | CHERIE | MEMORIAL HIGH SCHOOL | TEACHER | $60,480.94 | | |
| FRINK | KATHERINE | DISTRICT WIDE | TEACHER | $96,708.36 | 90 | |
| FRISELLA | DEBORAH | MCLAUGHLIN MIDDLE SCHOOL | TEACHER | $63,029.54 | | |
| FROST | GRETA | CENTRAL HIGH SCHOOL | TEACHER | $44,122.72 | | |
| FULLER | ROBERT | MEMORIAL HIGH SCHOOL | TEACHER | $67,478.82 | | |
| GAGNE | ROBERT | BISHOP O'NEILL CENTER | TEACHER | $62,763.10 | | |
| GAGNE-MARTIN | DOREEN | MIDDLE SCHOOL AT PARKSIDE | TEACHER | $74,589.14 | | |
| GAGNON | CAITLIN | PARKER VARNEY ELEMENTARY SCHOOL | TEACHER | $46,379.74 | | |
| GAGNON | DAWN | MEMORIAL HIGH SCHOOL | TEACHER | $48,529.38 | | |
| GAGNON | JEANNE | HILLSIDE MIDDLE SCHOOL | TEACHER | $70,431.00 | | |
| GAGNON | JENNIFER | NORTHWEST ELEMENTARY SCHOOL | TEACHER | $48,704.40 | | |
| GAGNON | JESSICA | BEECH ST. ELEMENTARY SCHOOL | TEACHER | $42,266.20 | | |
| GAGNON | SHANNON | MCDONOUGH ELEMENTARY SCHOOL | TEACHER | $66,804.94 | | |
| GAGNON | SHAUNA | MIDDLE SCHOOL AT PARKSIDE | TEACHER | $69,032.29 | | |
| GAGNON | VANESSA | WESTON ELEMENTARY SCHOOL | TEACHER | $70,914.82 | | |
| GAGNON SR | GERARD | MCLAUGHLIN MIDDLE SCHOOL | TEACHER | $67,422.94 | | |
| GALEAZ | ROBIN | MCLAUGHLIN MIDDLE SCHOOL | TEACHER | $76,961.20 | | |
| GALLO | REBECCA | BEECH ST. ELEMENTARY SCHOOL | TEACHER | $44,699.98 | | |
| GAMACHE | LYNN | BAKERSVILLE ELEMENTARY SCHOOL | TEACHER | $81,735.38 | | |
| GARCIA | AMANDA | GREEN ACRES ELEMENTARY SCHOOL | TEACHER | $41,720.12 | | |
| GARCIA | JENNIFER | PARKER VARNEY ELEMENTARY SCHOOL | TEACHER | $68,839.90 | | |
| GARDNER | AMANDA | SOUTHSIDE MIDDLE SCHOOL | TEACHER | $44,824.91 | | |
| GARDNER | GINA | PARKER VARNEY ELEMENTARY SCHOOL | TEACHER | $47,704.62 | | |
| GARDNER | JANE | MST HIGH SCHOOL | TEACHER | $72,543.12 | | |
| GARNER | ANDRE | MEMORIAL HIGH SCHOOL | TEACHER | $52,978.74 | | |
| GARSIDE | LAURA | MIDDLE SCHOOL AT PARKSIDE | TEACHER | $67,590.58 | | |
| GATELY | CAITLIN | MEMORIAL HIGH SCHOOL | TEACHER | $32,815.87 | | |
| GATSAS | VICTORIA | MCDONOUGH ELEMENTARY SCHOOL | TEACHER | $77,293.12 | | |
| GATZOULIS | TERI | MEMORIAL HIGH SCHOOL | TEACHER | $78,541.48 | | |
| GAUGHAN | COLLEEN | MIDDLE SCHOOL AT PARKSIDE | TEACHER | $13,743.28 | | |
| GAUMONT | JILL | DISTRICT ELEMENTARY LEVEL | TEACHER | $45,176.26 | | |
| GEARY | AMY | MCLAUGHLIN MIDDLE SCHOOL | TEACHER | $51,513.65 | | |
| GEHRIS | STACEY | GOSSLER PARK ELEMENTARY SCHOOL | TEACHER | $71,949.00 | | |
| GELINAS | HANNAH | PARKER VARNEY ELEMENTARY SCHOOL | TEACHER | $27,335.42 | | |
| GELINAS | REBECCA | SOUTHSIDE MIDDLE SCHOOL | TEACHER | $46,413.55 | | |
| GELINAS | SHARON | MST - CTE | TEACHER | $52,500.48 | | |
| GEMME | ABIGAIL | CENTRAL HIGH SCHOOL | TEACHER | $66,083.18 | | |
| GENDREAU | DANIELLE | CENTRAL HIGH SCHOOL | TEACHER | $29,344.16 | | |
| GENDRON | SAMANTHA | WILSON ST ELEMENTARY SCHOOL | TEACHER | $11,617.40 | | |
| GEROME | SARAH | BISHOP O'NEILL CENTER | TEACHER | $44,098.28 | | |
| GEROW | ADAM | WILSON ST ELEMENTARY SCHOOL | TEACHER | $46,591.10 | | |
| GEROW | AMY | GREEN ACRES ELEMENTARY SCHOOL | TEACHER | $42,182.62 | | |
| GILLIS | KIMBERLY | BEECH ST. ELEMENTARY SCHOOL | TEACHER | $67,422.94 | | |
| GIORGIO | GREGORY | MCLAUGHLIN MIDDLE SCHOOL | TEACHER | $50,536.32 | | |
| GIOTAS | GEOFF | CENTRAL HIGH SCHOOL | TEACHER | $61,890.90 | | |
| GIRARD | JILLIANNE | NORTHWEST ELEMENTARY SCHOOL | TEACHER | $68,203.46 | | |
| GIRARD | KIMBERLY | BEECH ST. ELEMENTARY SCHOOL | TEACHER | $65,644.24 | | |
| GLASS | ELI | WEST HIGH SCHOOL | TEACHER | $59,929.34 | | |
| GLEASON | CHARLENE | BEECH ST. ELEMENTARY SCHOOL | TEACHER | $72,966.71 | | |
| GLEASON | FREDERICK | WEST HIGH SCHOOL | TEACHER | $69,650.88 | | |
| GLEJZER | NICOLE | NORTHWEST ELEMENTARY SCHOOL | TEACHER | $47,916.92 | | |
| GLENNON | JULIA | WEBSTER ELEMENTARY SCHOOL | TEACHER | $68,996.82 | | |
| GLIDDEN | JENNIFER | MIDDLE SCHOOL AT PARKSIDE | TEACHER | $60,214.71 | | |
| GOCKLIN | DAVID | MEMORIAL HIGH SCHOOL | TEACHER | $81,180.19 | | |
| GODBOUT | JUDITH | MCDONOUGH ELEMENTARY SCHOOL | TEACHER | $67,422.94 | | |
| GOLDEN | MICHELE | DISTRICT WIDE | TEACHER | $80,088.06 | | |
| GOLDEN | SUSAN | PARKER VARNEY ELEMENTARY SCHOOL | TEACHER | $67,506.76 | | |
| GOLDSMITH | SAMANTHA | MCDONOUGH ELEMENTARY SCHOOL | TEACHER | $13,224.46 | | |
| GOMEZ | MARTHA | MEMORIAL HIGH SCHOOL | TEACHER | $67,674.40 | | |
| GORHAM | JUSTIN | WEST HIGH SCHOOL | TEACHER | $77,771.33 | | |
| GOTT | MICHAEL | MCLAUGHLIN MIDDLE SCHOOL | TEACHER | $20,429.46 | | |
| GOULET | CALLAHAN | MCLAUGHLIN MIDDLE SCHOOL | TEACHER | $39,332.55 | | |
| GRADY | STEVEN | WEST HIGH SCHOOL | TEACHER | $71,949.00 | | |
| GRANT | JESSICA | MCLAUGHLIN MIDDLE SCHOOL | TEACHER | $75,748.50 | | |
| GRAY | MELISSA | BEECH ST. ELEMENTARY SCHOOL | TEACHER | $76,900.12 | | |
| GREENIDGE | DAVID | MIDDLE SCHOOL AT PARKSIDE | TEACHER | $58,168.74 | | |
| GRENIER | ALYCIA | MCDONOUGH ELEMENTARY SCHOOL | TEACHER | $66,441.70 | | |
| GRENIER | ANN | MCLAUGHLIN MIDDLE SCHOOL | TEACHER | $70,775.12 | | |
| GRENON | CELESTE | WEBSTER ELEMENTARY SCHOOL | TEACHER | $54,881.17 | | |
| GRIBOK | AMANDA | HIGHLAND GOFFE'S FALLS ELEMENT | TEACHER | $41,947.31 | | |
| GROSFELT | KAREN | WESTON ELEMENTARY SCHOOL | TEACHER | $70,403.06 | | |
| GROVER | JAYNA | GOSSLER PARK ELEMENTARY SCHOOL | TEACHER | $22,173.30 | | |
| GUAY | KENDRA | MEMORIAL HIGH SCHOOL | TEACHER | $48,807.60 | | |
| GUERETTE | CAROLYN | PARKER VARNEY ELEMENTARY SCHOOL | TEACHER | $22,401.68 | | |
| GUERIN | NATALIE | WESTON ELEMENTARY SCHOOL | TEACHER | $64,069.98 | | |
| GULA | CAROLYN | GREEN ACRES ELEMENTARY SCHOOL | TEACHER | $68,534.27 | | |
| HAARLANDER | TARA | CENTRAL HIGH SCHOOL | TEACHER | $59,268.63 | | |
| HAECK | JENNIFER | WILSON ST ELEMENTARY SCHOOL | TEACHER | $47,190.49 | | |
| HAERINCK | KERRI | WILSON ST ELEMENTARY SCHOOL | TEACHER | $24,801.78 | | |
| HAHN | RENEE | WESTON ELEMENTARY SCHOOL | TEACHER | $71,968.12 | | |
| HAJI TAHA | VIYAN | SOUTHSIDE MIDDLE SCHOOL | TEACHER | $38,693.39 | | |
| HALFPENNY | GARRET | SOUTHSIDE MIDDLE SCHOOL | TEACHER | $53,094.86 | | |
| HALL | KATHERINE | CENTRAL HIGH SCHOOL | TEACHER | $57,365.10 | | |
| HALVORSEN | PENNY | CENTRAL HIGH SCHOOL | TEACHER | $71,893.12 | | |
| HAMADY | AMADOU | DISTRICT HIGH SCHOOL LEVEL | TEACHER | $54,472.24 | | |
| HAMILTON | KRISTEN | NORTHWEST ELEMENTARY SCHOOL | TEACHER | $68,791.36 | | |
| HAMLIN | TERESA | WEBSTER ELEMENTARY SCHOOL | TEACHER | $71,401.70 | | |
| HAMMOND | MATTHEW | SOUTHSIDE MIDDLE SCHOOL | TEACHER | $76,465.55 | | |
| HANDLEY | HELEN | WEBSTER ELEMENTARY SCHOOL | TEACHER | $70,403.06 | | |
| HANDSCHUMAKER | KIERSTEN | MCDONOUGH ELEMENTARY SCHOOL | TEACHER | $64,446.41 | | |
| HANNAN | SUE ELLEN | HILLSIDE MIDDLE SCHOOL | TEACHER | $71,921.06 | | |
| HANSON | LAURYN | WILSON ST ELEMENTARY SCHOOL | TEACHER | $40,146.70 | | |
| HARKINS | AMY | WESTON ELEMENTARY SCHOOL | TEACHER | $48,907.25 | | |
| HARMON | CINDY | WILSON ST ELEMENTARY SCHOOL | TEACHER | $22,252.96 | | |
| HAROUTUNIAN | LAUREN | GREEN ACRES ELEMENTARY SCHOOL | TEACHER | $43,470.12 | | |
| HARRINGTON | MARGARET | BEECH ST. ELEMENTARY SCHOOL | TEACHER | $12,101.60 | | |
| HARRIS | ERIN | BAKERSVILLE ELEMENTARY SCHOOL | TEACHER | $43,498.06 | | |
| HARRIS | JULIE | MCLAUGHLIN MIDDLE SCHOOL | TEACHER | $66,304.94 | | |
| HARTIGAN-DEMERS | MARY | HILLSIDE MIDDLE SCHOOL | TEACHER | $73,201.56 | | |
| HARTLEY | JENNIFER | GOSSLER PARK ELEMENTARY SCHOOL | TEACHER | $57,532.74 | | |
| HARTWELL | MARY | WEST HIGH SCHOOL | TEACHER | $77,296.09 | | |
| HARVEY | LISA | HALLSVILLE ELEMENTARY SCHOOL | TEACHER | $72,060.76 | | |
| HAVELES-PELLETIER | KRISTINE | DISTRICT WIDE | TEACHER | $83,887.82 | | |
| HAVRON | HEIDI | MST HIGH SCHOOL | TEACHER | $47,890.98 | | |
| HAYDOCK | ELIZABETH | SOUTHSIDE MIDDLE SCHOOL | TEACHER | $13,381.95 | | |
| HAZELTON | MANDY | MCDONOUGH ELEMENTARY SCHOOL | TEACHER | $50,793.78 | | |
| HEBERT | JAMIE | GOSSLER PARK ELEMENTARY SCHOOL | TEACHER | $41,831.88 | | |
| HEDGE | DAVID | MCLAUGHLIN MIDDLE SCHOOL | TEACHER | $69,160.79 | | |
| HEDGE DAHMKE | RACHEL | CENTRAL HIGH SCHOOL | TEACHER | $53,361.36 | | |
| HEDRICK | LINDA | MEMORIAL HIGH SCHOOL | TEACHER | $92,603.97 | 90 | |
| HENDEL | ELIZABETH | HILLSIDE MIDDLE SCHOOL | TEACHER | $48,452.94 | | |
| HENDERSON | KAREN | MEMORIAL HIGH SCHOOL | TEACHER | $46,441.50 | | |
| HENDERSON | WILFRED | CENTRAL HIGH SCHOOL | TEACHER | $72,228.39 | | |
| HENDRIES | CAROL | DISTRICT WIDE | TEACHER | $88,956.24 | 90 | |
| HERRICK | SHAUN | MIDDLE SCHOOL AT PARKSIDE | TEACHER | $75,736.58 | | |
| HESSION | DEBRA | WEST HIGH SCHOOL | TEACHER | $55,271.89 | | |
| HEWITT | ROBBIE | PARKER VARNEY ELEMENTARY SCHOOL | TEACHER | $75,440.56 | 47 | |
| HICKEY | MELISSA | BEECH ST. ELEMENTARY SCHOOL | TEACHER | $46,647.69 | | |
| HODGDON | CHRISTINE | WESTON ELEMENTARY SCHOOL | TEACHER | $73,383.61 | | |
| HODGES | CAREY | HILLSIDE MIDDLE SCHOOL | TEACHER | $77,262.62 | | |
| HODGMAN | CAITLIN | WESTON ELEMENTARY SCHOOL | TEACHER | $11,461.52 | | |
| HOLFELDER | MICHAEL | MST - CTE | TEACHER | $72,750.16 | | |
| HOLLAND | MARTHA | MIDDLE SCHOOL AT PARKSIDE | TEACHER | $71,838.48 | | |
| HOLLERAN | JENNIFER | GREEN ACRES ELEMENTARY SCHOOL | TEACHER | $38,608.26 | | |
| HOLMES | ANN | WEST HIGH SCHOOL | TEACHER | $75,064.74 | | |
| HOLTSBERG | BEVERLY | MST HIGH SCHOOL | TEACHER | $75,003.86 | | |
| HOOD | ELISABETH | MCDONOUGH ELEMENTARY SCHOOL | TEACHER | $74,543.12 | | |
| HOPEY | MARGUERITE | WESTON ELEMENTARY SCHOOL | TEACHER | $55,325.46 | | |
| HOPKINS | TROI | WESTON ELEMENTARY SCHOOL | TEACHER | $71,949.00 | | |
| HOWE | JEFFREY | CENTRAL HIGH SCHOOL | TEACHER | $61,683.63 | | |
| HOWE | KATHERINE | MIDDLE SCHOOL AT PARKSIDE | TEACHER | $79,042.27 | | |
| HUARD | JESSICA | WESTON ELEMENTARY SCHOOL | TEACHER | $65,473.28 | | |
| HUBBELL | LINDSEY | BEECH ST. ELEMENTARY SCHOOL | TEACHER | $39,480.06 | | |
| HUGHES | KIM | MCLAUGHLIN MIDDLE SCHOOL | TEACHER | $70,403.06 | | |
| HUGHES KERAVICH | KELLY | BAKERSVILLE ELEMENTARY SCHOOL | TEACHER | $71,893.12 | | |
| HUNT | JOY | GOSSLER PARK ELEMENTARY SCHOOL | TEACHER | $61,890.90 | | |
| HUNTER | KATHRYN | CENTRAL HIGH SCHOOL | TEACHER | $67,608.72 | | |
| HURLEY | PATRICIA | NORTHWEST ELEMENTARY SCHOOL | TEACHER | $73,445.66 | | |
| HURLEY | THOMAS | BAKERSVILLE ELEMENTARY SCHOOL | TEACHER | $7,344.55 | | |
| IGNJIC | MAJA | CENTRAL HIGH SCHOOL | TEACHER | $45,494.54 | | |
| INFANTE | STEPHANIE | WILSON ST ELEMENTARY SCHOOL | TEACHER | $11,461.52 | | |
| INMAN | HOPE | JEWETT ELEMENTARY SCHOOL | TEACHER | $52,947.46 | | |
| JACKSON | DANIA | DISTRICT WIDE | TEACHER | $96,139.56 | 90 | |
| JACKSON | KRYSTAL | MCDONOUGH ELEMENTARY SCHOOL | TEACHER | $43,263.12 | | |
| JACKSON | MARK | WILSON ST ELEMENTARY SCHOOL | TEACHER | $47,858.75 | | |
| JACQUES | JENNIFER | WEBSTER ELEMENTARY SCHOOL | TEACHER | $45,030.54 | | |
| JACQUES | JESSICA | WILSON ST ELEMENTARY SCHOOL | TEACHER | $53,322.86 | | |
| JALBERT | ERIN | SOUTHSIDE MIDDLE SCHOOL | TEACHER | $64,153.80 | | |
| JANAS | KAREN | WESTON ELEMENTARY SCHOOL | TEACHER | $87,230.36 | 90 | |
| JANERICO | MICHAEL | GOSSLER PARK ELEMENTARY SCHOOL | TEACHER | $39,246.17 | | |
| JARRY | PAMELA | WEST HIGH SCHOOL | TEACHER | $67,422.94 | | |
| JARVIS | JEFFREY | SOUTHSIDE MIDDLE SCHOOL | TEACHER | $64,190.95 | | |
| JASKOLKA | KATHRYN | MEMORIAL HIGH SCHOOL | TEACHER | $78,125.65 | | |
| JENNINGS | CINDY | DISTRICT ELEMENTARY LEVEL | TEACHER | $67,422.94 | | |
| JETTE | LAUREEN | BAKERSVILLE ELEMENTARY SCHOOL | TEACHER | $48,452.94 | | |
| JIMENEZ | SAIDELL | MIDDLE SCHOOL AT PARKSIDE | TEACHER | $11,758.29 | | |
| JOBEL | KELLY | PARKER VARNEY ELEMENTARY SCHOOL | TEACHER | $83,755.60 | | |
| JOHNSON | ANGELA | JEWETT ELEMENTARY SCHOOL | TEACHER | $1,365.00 | | |
| JONES | ERICA | MEMORIAL HIGH SCHOOL | TEACHER | $49,067.60 | | |
| JONES | PHILLIP | MEMORIAL HIGH SCHOOL | TEACHER | $59,449.00 | | |
| JOSEF | ALYCEN | SMYTH RD ELEMENTARY SCHOOL | TEACHER | $72,060.76 | | |
| JOY | PATIENCE | MCLAUGHLIN MIDDLE SCHOOL | TEACHER | $61,862.96 | | |
| JOY | TRACIE | WEST HIGH SCHOOL | TEACHER | $55,943.39 | | |
| JOYAL-MORRISON | RUTH | CENTRAL HIGH SCHOOL | TEACHER | $67,422.94 | | |
| JUNEAU | NANCY | BAKERSVILLE ELEMENTARY SCHOOL | TEACHER | $71,893.12 | | |
| JUTRAS | CARL | SOUTHSIDE MIDDLE SCHOOL | TEACHER | $62,310.00 | | |
| KABLIK | DONNA | CENTRAL HIGH SCHOOL | TEACHER | $71,893.12 | | |
| KALASKY | ANN | GREEN ACRES ELEMENTARY SCHOOL | TEACHER | $71,893.12 | | |
| KAPLAN | BARRY | CENTRAL HIGH SCHOOL | TEACHER | $55,902.98 | | |
| KARAMANOOGIAN | MARGO | MEMORIAL HIGH SCHOOL | TEACHER | $67,422.94 | | |
| KARVELAS | KATHLEEN | HILLSIDE MIDDLE SCHOOL | TEACHER | $70,831.00 | | |
| KARWACKI | KEITH | CENTRAL HIGH SCHOOL | TEACHER | $38,347.89 | | |
| KEANEY | ALLISON | GREEN ACRES ELEMENTARY SCHOOL | TEACHER | $37,048.75 | | |
| KEARNEY | CHERYL | PARKER VARNEY ELEMENTARY SCHOOL | TEACHER | $67,422.94 | | |
| KEDDIE | MICHAEL | NORTHWEST ELEMENTARY SCHOOL | TEACHER | $40,655.12 | | |
| KEDDIE | SUSAN | SOUTHSIDE MIDDLE SCHOOL | TEACHER | $75,462.85 | | |
| KEEFE | DAVID | MCDONOUGH ELEMENTARY SCHOOL | TEACHER | $76,514.12 | | |
| KEEFE | LORI | PARKER VARNEY ELEMENTARY SCHOOL | TEACHER | $59,711.82 | | |
| KELEHER | SUSAN | WEBSTER ELEMENTARY SCHOOL | TEACHER | $32,716.33 | | |
| KELLEY | ANN | BAKERSVILLE ELEMENTARY SCHOOL | TEACHER | $48,585.42 | | |
| KELLY | EHRIN | JEWETT ELEMENTARY SCHOOL | TEACHER | $2,238.94 | | |
| KELLY | KATHLEEN | BAKERSVILLE ELEMENTARY SCHOOL | TEACHER | $67,422.94 | | |
| KENDALL | KATHLEEN | PARKER VARNEY ELEMENTARY SCHOOL | TEACHER | $68,539.90 | | |
| KENNEDY | ELIZABETH | GREEN ACRES ELEMENTARY SCHOOL | TEACHER | $58,110.00 | | |
| KENNEDY | JEANNE | DISTRICT WIDE | TEACHER | $71,893.12 | | |
| KENNEY | BRIAN | GOSSLER PARK ELEMENTARY SCHOOL | TEACHER | $60,087.56 | | |
| KENNEY | KAYLEEN | WESTON ELEMENTARY SCHOOL | TEACHER | $41,573.63 | | |
| KEW | PAULA | SMYTH RD ELEMENTARY SCHOOL | TEACHER | $67,506.76 | | |
| KILAR | MEGAN | MST HIGH SCHOOL | TEACHER | $49,689.19 | | |
| KILRAIN | ERIN | GOSSLER PARK ELEMENTARY SCHOOL | TEACHER | $68,445.23 | | |
| KING | CHRISTOPHER | MIDDLE SCHOOL AT PARKSIDE | TEACHER | $64,525.11 | | |
| KING | KATHRYN | JEWETT ELEMENTARY SCHOOL | TEACHER | $46,273.86 | | |
| KING | LAURA | SOUTHSIDE MIDDLE SCHOOL | TEACHER | $67,124.98 | | |
| KING | MARGARET | MEMORIAL HIGH SCHOOL | TEACHER | $72,860.56 | | |
| KIRWAN | ELIZABETH | WEST HIGH SCHOOL | TEACHER | $46,786.36 | | |
| KISONAK | PAMELA | BEECH ST. ELEMENTARY SCHOOL | TEACHER | $34,040.70 | | |
| KISSELL JR | EDWARD | CENTRAL HIGH SCHOOL | TEACHER | $74,900.92 | | |
| KOEHLER | BETHANY | BEECH ST. ELEMENTARY SCHOOL | TEACHER | $39,799.78 | | |
| KORBET | ELISE | HIGHLAND GOFFE'S FALLS ELEMENT | TEACHER | $64,293.49 | | |
| KOZIATEK | STEPHEN | MST - CTE | TEACHER | $68,242.94 | | |
| KRAUSE | ANDRE | MEMORIAL HIGH SCHOOL | TEACHER | $66,554.94 | | |
| KRIEGER | BRIDGET | SMYTH RD ELEMENTARY SCHOOL | TEACHER | $58,281.98 | | |
| KUBAT | KERRY | NORTHWEST ELEMENTARY SCHOOL | TEACHER | $64,806.65 | | |
| KUHN | CRYSTAL | MIDDLE SCHOOL AT PARKSIDE | TEACHER | $92,659.86 | 90 | |
| KUMAR | KALA | GREEN ACRES ELEMENTARY SCHOOL | TEACHER | $5,951.08 | | |
| KUNIEGEL | ANITA | WEBSTER ELEMENTARY SCHOOL | TEACHER | $72,088.70 | | |
| KURKOSKI | KENNETH | CENTRAL HIGH SCHOOL | TEACHER | $23,037.84 | | |
| KURTZ | CHARLENE | MCDONOUGH ELEMENTARY SCHOOL | TEACHER | $76,738.80 | | |
| LABELLE | LYNN | GREEN ACRES ELEMENTARY SCHOOL | TEACHER | $77,480.52 | | |
| LABRANCHE | KATIE | WEBSTER ELEMENTARY SCHOOL | TEACHER | $71,892.34 | | |
| LABRECQUE | ROBERTA | BEECH ST. ELEMENTARY SCHOOL | TEACHER | $56,414.30 | | |
| LABRIE | MAURA | JEWETT ELEMENTARY SCHOOL | TEACHER | $72,032.82 | | |
| LACAILLADE | DENISE | MCLAUGHLIN MIDDLE SCHOOL | TEACHER | $76,437.61 | | |
| LACASCIA | LYNNE | WESTON ELEMENTARY SCHOOL | TEACHER | $67,422.94 | | |
| LACASSE | STEPHEN | MCLAUGHLIN MIDDLE SCHOOL | TEACHER | $68,809.90 | | |
| LAI-MATZKER | PHUONG | SOUTHSIDE MIDDLE SCHOOL | TEACHER | $50,381.05 | | |
| LAKE | CHRISTIE | HILLSIDE MIDDLE SCHOOL | TEACHER | $48,425.00 | | |
| LALIBERTE | TRACY | HIGHLAND GOFFE'S FALLS ELEMENT | TEACHER | $87,398.00 | 90 | |
| LAMARRE | TRACEY | WESTON ELEMENTARY SCHOOL | TEACHER | $67,506.76 | | |
| LAMB | MORGAN | CENTRAL HIGH SCHOOL | TEACHER | $64,237.61 | | |
| LAMBERT | DAVID | MEMORIAL HIGH SCHOOL | TEACHER | $50,743.78 | | |
| LAMBERT | KATHRYN | GREEN ACRES ELEMENTARY SCHOOL | TEACHER | $71,893.12 | | |
| LAMBERT | MELISSA | HALLSVILLE ELEMENTARY SCHOOL | TEACHER | $67,618.52 | | |
| LAMONT | JUDITH | BEECH ST. ELEMENTARY SCHOOL | TEACHER | $70,022.56 | | |
| LAMSON | LEE | SOUTHSIDE MIDDLE SCHOOL | TEACHER | $71,976.94 | | |
| LAMY | JONATHAN | HIGHLAND GOFFE'S FALLS ELEMENT | TEACHER | $74,872.98 | | |
| LANCHONEY | JENNIFER | JEWETT ELEMENTARY SCHOOL | TEACHER | $51,568.80 | | |
| LANDIES | KIMBERLY | BEECH ST. ELEMENTARY SCHOOL | TEACHER | $75,867.88 | | |
| LANDROCHE | KATHLEEN | SOUTHSIDE MIDDLE SCHOOL | TEACHER | $71,813.15 | | |
| LANDRY | AMY | SOUTHSIDE MIDDLE SCHOOL | TEACHER | $63,110.75 | | |
| LANDRY | STEPHANIE | MCLAUGHLIN MIDDLE SCHOOL | TEACHER | $63,194.57 | | |
| LANE | HAYLEY | MST HIGH SCHOOL | TEACHER | $69,383.36 | | |
| LANGDON | JACKIE | GREEN ACRES ELEMENTARY SCHOOL | TEACHER | $64,069.98 | | |
| LANGEVIN | JASON | MCLAUGHLIN MIDDLE SCHOOL | TEACHER | $12,406.42 | | |
| LANOIE | JILL | HIGHLAND GOFFE'S FALLS ELEMENT | TEACHER | $67,618.52 | | |
| LAPOINTE | MICHAEL | WEST HIGH SCHOOL | TEACHER | $68,595.78 | | |
| LARIVIERE | ROSEANN | CENTRAL HIGH SCHOOL | TEACHER | $48,296.14 | | |
| LARKIN | BRETT | MEMORIAL HIGH SCHOOL | TEACHER | $64,824.32 | | |
| LARKIN-QUINN | MARY | WEBSTER ELEMENTARY SCHOOL | TEACHER | $72,485.90 | | |
| LAROCHE | DIANE | WEBSTER ELEMENTARY SCHOOL | TEACHER | $72,032.82 | | |
| LARSON | AUBREY | WEBSTER ELEMENTARY SCHOOL | TEACHER | $46,195.86 | | |
| LARSON | SHANNON | MST HIGH SCHOOL | TEACHER | $43,634.06 | | |
| LASALLE | LISE | JEWETT ELEMENTARY SCHOOL | TEACHER | $79,230.52 | | |
| LASHWAY | BRENDA | MEMORIAL HIGH SCHOOL | TEACHER | $71,893.12 | | |
| LATIFI | KARISSA | DISTRICT WIDE | TEACHER | $48,177.05 | | |
| LAUGHLIN | ABBY | MCDONOUGH ELEMENTARY SCHOOL | TEACHER | $64,237.62 | | |
| LAVALLEE | NICOLE | DISTRICT ELEMENTARY LEVEL | TEACHER | $39,714.30 | | |
| LAVIGNE | DEVRA | HILLSIDE MIDDLE SCHOOL | TEACHER | $52,894.92 | | |
| LAWLOR | SCOTT | MST - CTE | TEACHER | $78,510.03 | | |
| LAWRENCE | ADAM | WEST HIGH SCHOOL | TEACHER | $62,284.84 | | |
| LAWRENCE | ALEXANDRA | PARKER VARNEY ELEMENTARY SCHOOL | TEACHER | $28,961.35 | | |
| LAWSON | WILLIAM | CENTRAL HIGH SCHOOL | TEACHER | $67,422.94 | | |
| LEBEL | STEVE | PARKER VARNEY ELEMENTARY SCHOOL | TEACHER | $53,208.12 | | |
| LEBLANC | JONATHAN | MEMORIAL HIGH SCHOOL | TEACHER | $75,286.61 | | |
| LEBLANC | PAUL | HILLSIDE MIDDLE SCHOOL | TEACHER | $67,422.94 | | |
| LEBRUN | GINA | SOUTHSIDE MIDDLE SCHOOL | TEACHER | $67,141.85 | | |
| LEBRUN | SHARON | CENTRAL HIGH SCHOOL | TEACHER | $59,739.75 | | |
| LECLERC | CHRISTINE | NORTHWEST ELEMENTARY SCHOOL | TEACHER | $70,626.58 | | |
| LECLERC | DOUGLAS | MCDONOUGH ELEMENTARY SCHOOL | TEACHER | $52,967.58 | | |
| LECLERC-CONLEY | DARLENE | HILLSIDE MIDDLE SCHOOL | TEACHER | $71,893.12 | | |
| LEE | LINDA | WESTON ELEMENTARY SCHOOL | TEACHER | $67,422.94 | | |
| LEE | TIMOTHY | SOUTHSIDE MIDDLE SCHOOL | TEACHER | $38,637.51 | | |
| LEEMAN | KATARINA | SOUTHSIDE MIDDLE SCHOOL | TEACHER | $77,122.71 | | |
| LEGERE | ABBY | HILLSIDE MIDDLE SCHOOL | TEACHER | $30,430.44 | | |
| LEMIEUX | MATT | MCDONOUGH ELEMENTARY SCHOOL | TEACHER | $49,879.21 | | |
| LENNON | ELIZABETH | MEMORIAL HIGH SCHOOL | TEACHER | $32,620.31 | | |
| LEONE | ELIZABETH | WEBSTER ELEMENTARY SCHOOL | TEACHER | $42,228.99 | | |
| L'ESPERANCE | ANDREA | JEWETT ELEMENTARY SCHOOL | TEACHER | $60,300.06 | | |
| LESSIEUR | CREIG | MEMORIAL HIGH SCHOOL | TEACHER | $69,325.18 | | |
| LEVANGIE | RACHEL | BAKERSVILLE ELEMENTARY SCHOOL | TEACHER | $15,988.86 | | |
| LEVASSEUR | PAUL | BAKERSVILLE ELEMENTARY SCHOOL | TEACHER | $48,475.00 | | |
| LEVINE | JOAN | MEMORIAL HIGH SCHOOL | TEACHER | $69,831.25 | | |
| L'HEUREUX | LISA | BAKERSVILLE ELEMENTARY SCHOOL | TEACHER | $71,340.94 | | |
| L'HEUREUX | REBECCA | MIDDLE SCHOOL AT PARKSIDE | TEACHER | $52,951.21 | | |
| LIBBY | REBECCA | SOUTHSIDE MIDDLE SCHOOL | TEACHER | $64,060.99 | | |
| LIBIS | CLAUDIA | WEST HIGH SCHOOL | TEACHER | $72,105.90 | | |
| LIGAS | HEATHER | CENTRAL HIGH SCHOOL | TEACHER | $58,407.73 | | |
| LINCOLN | MICHELLE | MEMORIAL HIGH SCHOOL | TEACHER | $55,185.81 | | |
| LINEHAN | REBECCA | WILSON ST ELEMENTARY SCHOOL | TEACHER | $64,682.48 | | |
| LIPPMANN | ANGELIQUE | MCDONOUGH ELEMENTARY SCHOOL | TEACHER | $53,006.68 | | |
| L'ITALIEN | JAMES | MIDDLE SCHOOL AT PARKSIDE | TEACHER | $34,713.84 | | |
| LITTLEFIELD | RENEE | WEST HIGH SCHOOL | TEACHER | $67,628.82 | | |
| LIVINGSTON | REBECCA | SOUTHSIDE MIDDLE SCHOOL | TEACHER | $51,190.29 | | |
| LIVINGSTONE | ERICA | MCDONOUGH ELEMENTARY SCHOOL | TEACHER | $64,237.62 | | |
| LOMBARDO | KERRI | WEBSTER ELEMENTARY SCHOOL | TEACHER | $13,963.96 | | |
| LONGO | DANIELLE | BAKERSVILLE ELEMENTARY SCHOOL | TEACHER | $71,725.12 | | |
| LOPEZ | ANA | WEBSTER ELEMENTARY SCHOOL | TEACHER | $47,491.02 | | |
| LOTZ | AMANDA | SOUTHSIDE MIDDLE SCHOOL | TEACHER | $46,266.06 | | |
| LOUGEE | CATRINA | SOUTHSIDE MIDDLE SCHOOL | TEACHER | $39,280.11 | | |
| LOVEJOY | AUDRA | GOSSLER PARK ELEMENTARY SCHOOL | TEACHER | $28,682.42 | | |
| LUBELCZYK | KIMBERLY | NORTHWEST ELEMENTARY SCHOOL | TEACHER | $46,469.44 | | |
| LUJIRI | PAMELA | CENTRAL HIGH SCHOOL | TEACHER | $67,450.88 | | |
| LYNCH | THOMAS | MEMORIAL HIGH SCHOOL | TEACHER | $78,807.68 | | |
| LYONS | MATTHEW | MEMORIAL HIGH SCHOOL | TEACHER | $60,290.96 | | |
| LYONS | MAUREEN | DISTRICT WIDE | TEACHER | $60,100.28 | | |
| MACDONALD | CAROL | CENTRAL HIGH SCHOOL | TEACHER | $66,826.49 | | |
| MACDONALD | KELLY | CENTRAL HIGH SCHOOL | TEACHER | $71,949.00 | | |
| MACDONALD | KELLY | HILLSIDE MIDDLE SCHOOL | TEACHER | $65,942.42 | | |
| MACDONALD | SCOTT | CENTRAL HIGH SCHOOL | TEACHER | $74,149.13 | | |
| MACDUFF | CHERYL | BAKERSVILLE ELEMENTARY SCHOOL | TEACHER | $44,829.22 | | |
| MACHNIK | KELLY ANN | CENTRAL HIGH SCHOOL | TEACHER | $64,321.43 | | |
| MACKECHNIE | DAWN | DISTRICT WIDE | TEACHER | $72,687.52 | | |
| MACKEY | KATRINA | WILSON ST ELEMENTARY SCHOOL | TEACHER | $45,681.19 | | |
| MACROPOL | MICHELLE | NORTHWEST ELEMENTARY SCHOOL | TEACHER | $78,055.52 | | |
| MADDEN | MAUREEN | BEECH ST. ELEMENTARY SCHOOL | TEACHER | $69,197.94 | | |
| MAHONEY | MEGAN | WEST HIGH SCHOOL | TEACHER | $46,329.74 | | |
| MAKARA | ELAINE | SOUTHSIDE MIDDLE SCHOOL | TEACHER | $67,478.82 | | |
| MAKRIS WELCH | JESSICA | WILSON ST ELEMENTARY SCHOOL | TEACHER | $43,324.56 | | |
| MALO | LINDA | WESTON ELEMENTARY SCHOOL | TEACHER | $69,097.94 | | |
| MALONEY | STEFFANY | BEECH ST. ELEMENTARY SCHOOL | TEACHER | $67,534.70 | | |
| MALYNN | DEBRA | MCLAUGHLIN MIDDLE SCHOOL | TEACHER | $68,223.82 | | |
| MAMONE-PROCTOR | JENNIFER | MIDDLE SCHOOL AT PARKSIDE | TEACHER | $61,835.02 | | |
| MANCINI | MARIA | SMYTH RD ELEMENTARY SCHOOL | TEACHER | $73,754.98 | | |
| MANCUSO | CHRISTOPHER | SOUTHSIDE MIDDLE SCHOOL | TEACHER | $47,438.56 | | |
| MANDELL | SETH | HIGHLAND GOFFE'S FALLS ELEMENT | TEACHER | $74,872.98 | | |
| MARIS | CYNTHIA | CENTRAL HIGH SCHOOL | TEACHER | $77,610.94 | | |
| MARKS | DEBORAH | MCDONOUGH ELEMENTARY SCHOOL | TEACHER | $67,422.94 | | |
| MARMY-COTTON | REED | MEMORIAL HIGH SCHOOL | TEACHER | $30,259.56 | | |
| MARSHALL | DANIEL | MCLAUGHLIN MIDDLE SCHOOL | TEACHER | $71,893.12 | | |
| MARSHALL | NICOLE | MCLAUGHLIN MIDDLE SCHOOL | TEACHER | $72,756.00 | | |
| MARTELL | KATHLEEN | SMYTH RD ELEMENTARY SCHOOL | TEACHER | $68,183.54 | | |
| MARTIN | IRENE | MEMORIAL HIGH SCHOOL | TEACHER | $75,280.47 | | |
| MARTIN | MACKENZIE | BEECH ST. ELEMENTARY SCHOOL | TEACHER | $46,776.80 | | |
| MARTIN | SARAH | NORTHWEST ELEMENTARY SCHOOL | TEACHER | $71,222.00 | | |
| MARTINEAU | JAMIE | HILLSIDE MIDDLE SCHOOL | TEACHER | $27,092.17 | | |
| MARTINEAU | ROBIN | MCLAUGHLIN MIDDLE SCHOOL | TEACHER | $64,181.74 | | |
| MASSEY | ANNETTE | HIGHLAND GOFFE'S FALLS ELEMENT | TEACHER | $67,246.02 | | |
| MATARAZZO | BRENNA | HILLSIDE MIDDLE SCHOOL | TEACHER | $66,888.53 | | |
| MATES | SARAH | HILLSIDE MIDDLE SCHOOL | TEACHER | $65,560.04 | | |
| MATTHEWS | WENDY | JEWETT ELEMENTARY SCHOOL | TEACHER | $74,872.98 | | |
| MAYO | JANET | DISTRICT WIDE | TEACHER | $88,692.30 | 90 | |
| MAZUMDAR | KRISTEN | GOSSLER PARK ELEMENTARY SCHOOL | TEACHER | $37,461.46 | | |
| MCCAFFERTY | JOHN | DISTRICT ELEMENTARY LEVEL | TEACHER | $48,425.00 | | |
| MCCALL | NANCY | MST HIGH SCHOOL | TEACHER | $69,031.59 | | |
| MCCARTHY | SHAUNA | HILLSIDE MIDDLE SCHOOL | TEACHER | $71,921.06 | | |
| MCCORMACK | CAITLIN | WESTON ELEMENTARY SCHOOL | TEACHER | $48,648.52 | | |
| MCCORMICK | EDWARD | CENTRAL HIGH SCHOOL | TEACHER | $41,261.58 | | |
| MCCULLOUGH | DEBORAH | HILLSIDE MIDDLE SCHOOL | TEACHER | $67,422.94 | | |
| MCDONALD | RYAN | BEECH ST. ELEMENTARY SCHOOL | TEACHER | $12,999.46 | | |
| MCDONNELL | KEVIN | MST - CTE | TEACHER | $67,554.20 | | |
| MCDONOUGH | BRONWYN | MST - CTE | TEACHER | $72,980.21 | | |
| MCDONOUGH | KYLE | MEMORIAL HIGH SCHOOL | TEACHER | $66,332.88 | | |
| MCGEE | CLIFTON | MST - CTE | TEACHER | $68,097.94 | | |
| MCGILVRAY | MOLLY | WILSON ST ELEMENTARY SCHOOL | TEACHER | $11,511.52 | | |
| MCGILVRAY | PATRICIA | WESTON ELEMENTARY SCHOOL | TEACHER | $67,870.44 | | |
| MCGINTY | DEBORAH | HILLSIDE MIDDLE SCHOOL | TEACHER | $22,120.96 | | |
| MCGOVERN | ELIZABETH | NORTHWEST ELEMENTARY SCHOOL | TEACHER | $72,343.12 | | |
| MCGRATH | MARY | HIGHLAND GOFFE'S FALLS ELEMENT | TEACHER | $66,444.64 | | |
| MCGUIGGIN | REGINA | SOUTHSIDE MIDDLE SCHOOL | TEACHER | $72,759.22 | | |
| MCGUIRE | MARLENE | WEBSTER ELEMENTARY SCHOOL | TEACHER | $52,894.92 | | |
| MCGUIRE | SUE-ELLEN | BAKERSVILLE ELEMENTARY SCHOOL | TEACHER | $72,916.32 | | |
| MCHUGH | JAMIE | BAKERSVILLE ELEMENTARY SCHOOL | TEACHER | $57,818.04 | | |
| MCHUGH | MELISSA | NORTHWEST ELEMENTARY SCHOOL | TEACHER | $45,854.32 | | |
| MCHUGH | REBECCA | HILLSIDE MIDDLE SCHOOL | TEACHER | $71,893.12 | | |
| MCINTIRE-WILLIS | LORI | MIDDLE SCHOOL AT PARKSIDE | TEACHER | $78,483.64 | | |
| MCINTOSH | THEODORA | HALLSVILLE ELEMENTARY SCHOOL | TEACHER | $43,980.96 | | |
| MCKEE | MARY | NORTHWEST ELEMENTARY SCHOOL | TEACHER | $74,997.98 | | |
| MCLAREN | LORI | GREEN ACRES ELEMENTARY SCHOOL | TEACHER | $71,943.12 | | |
| MCLAUGHLIN | TAMMY | JEWETT ELEMENTARY SCHOOL | TEACHER | $62,663.74 | | |
| MCMAHON | PATRICIA | SOUTHSIDE MIDDLE SCHOOL | TEACHER | $72,214.62 | | |
| MCMILLAN | BRENDA | MEMORIAL HIGH SCHOOL | TEACHER | $54,977.40 | | |
| MCMULLEN | MICHELE | MIDDLE SCHOOL AT PARKSIDE | TEACHER | $63,631.64 | | |
| MCNALLY | DANIEL | MST - CTE | TEACHER | $67,422.94 | | |
| MCNALLY | KATHLEEN | SMYTH RD ELEMENTARY SCHOOL | TEACHER | $71,893.12 | | |
| MCQUADE | ANNE | MCLAUGHLIN MIDDLE SCHOOL | TEACHER | $75,990.65 | | |
| MEEHAN | CHRISTOPHER | MCDONOUGH ELEMENTARY SCHOOL | TEACHER | $62,561.06 | | |
| MENDES | LISA | DISTRICT ELEMENTARY LEVEL | TEACHER | $44,727.52 | | |
| MENSWAR | COURTNEY | BAKERSVILLE ELEMENTARY SCHOOL | TEACHER | $44,595.52 | | |
| MENSWAR | KARRIE | MEMORIAL HIGH SCHOOL | TEACHER | $62,306.85 | | |
| MENSWAR | TODD | MCLAUGHLIN MIDDLE SCHOOL | TEACHER | $67,450.88 | | |
| METCALF | KRISTEN | WILSON ST ELEMENTARY SCHOOL | TEACHER | $48,579.73 | | |
| MEUSE | SUSAN | DISTRICT WIDE | TEACHER | $87,972.42 | 90 | |
| MEYETTE | LORRAINE | CENTRAL HIGH SCHOOL | TEACHER | $72,724.00 | | |
| MICHAUD | NANCY | HILLSIDE MIDDLE SCHOOL | TEACHER | $67,422.94 | | |
| MICHAUD | TARA | MEMORIAL HIGH SCHOOL | TEACHER | $74,082.97 | | |
| MICHIE | ALAN | MEMORIAL HIGH SCHOOL | TEACHER | $65,478.36 | | |
| MILLER | DEBRA | NORTHWEST ELEMENTARY SCHOOL | TEACHER | $66,304.94 | | |
| MILLER | JANET | WEST HIGH SCHOOL | TEACHER | $71,921.06 | | |
| MILLER | JEFFREY | MST HIGH SCHOOL | TEACHER | $66,183.47 | | |
| MILLER | JENNIFER | BEECH ST. ELEMENTARY SCHOOL | TEACHER | $22,120.96 | | |
| MILLER | JOYCE | HILLSIDE MIDDLE SCHOOL | TEACHER | $66,304.94 | | |
| MILLER | MICHELLE | HILLSIDE MIDDLE SCHOOL | TEACHER | $41,549.08 | | |
| MILLER | RONALD | MST HIGH SCHOOL | TEACHER | $73,014.64 | | |
| MILLETTE | KATHRYN | WEBSTER ELEMENTARY SCHOOL | TEACHER | $33,009.16 | | |
| MILLHOUSE | AUDRA | DISTRICT ELEMENTARY LEVEL | TEACHER | $39,714.30 | | |
| MILLS | KELLY | WILSON ST ELEMENTARY SCHOOL | TEACHER | $73,811.87 | | |
| MINARD | SUSANNA | JEWETT ELEMENTARY SCHOOL | TEACHER | $71,893.12 | | |
| MIRABILE | KATHLEEN | CENTRAL HIGH SCHOOL | TEACHER | $77,403.31 | | |
| MITKONIS | KRYSTAL | SMYTH RD ELEMENTARY SCHOOL | TEACHER | $15,587.68 | | |
| MOLLOY | AARON | HILLSIDE MIDDLE SCHOOL | TEACHER | $50,100.18 | | |
| MOLONEY | SHANNON | MEMORIAL HIGH SCHOOL | TEACHER | $42,670.03 | | |
| MONDOR | MELANIE | WILSON ST ELEMENTARY SCHOOL | TEACHER | $30,328.74 | | |
| MONK-TREADWAY | LYNN | JEWETT ELEMENTARY SCHOOL | TEACHER | $41,915.70 | | |
| MONTILLA | NEWMAN | MCLAUGHLIN MIDDLE SCHOOL | TEACHER | $46,637.08 | | |
| MOORE | SHONA | MCDONOUGH ELEMENTARY SCHOOL | TEACHER | $46,301.80 | | |
| MOORE-SIMMONS | JANICE | WILSON ST ELEMENTARY SCHOOL | TEACHER | $76,747.98 | | |
| MORAN | JUDITH | PARKER VARNEY ELEMENTARY SCHOOL | TEACHER | $67,447.94 | | |
| MOREAU | CATHERINE | CENTRAL HIGH SCHOOL | TEACHER | $55,440.30 | | |
| MOREAU | DEBORAH | GOSSLER PARK ELEMENTARY SCHOOL | TEACHER | $75,280.47 | | |
| MORELLI | LISA | GREEN ACRES ELEMENTARY SCHOOL | TEACHER | $74,872.98 | | |
| MORGAN-COLEMAN | DENISE | MST HIGH SCHOOL | TEACHER | $64,857.48 | | |
| MORIARTY | SYLVIE | HILLSIDE MIDDLE SCHOOL | TEACHER | $67,422.94 | | |
| MORLEY | SHAWNA | GREEN ACRES ELEMENTARY SCHOOL | TEACHER | $74,872.98 | | |
| MORRIS | PATRICIA | GREEN ACRES ELEMENTARY SCHOOL | TEACHER | $67,422.94 | | |
| MORRISON | KATHERINE | MCLAUGHLIN MIDDLE SCHOOL | TEACHER | $79,337.86 | | |
| MORRISSETTE | ANNAMARIA | WESTON ELEMENTARY SCHOOL | TEACHER | $71,893.12 | | |
| MORSE | BRADFORD | WEST HIGH SCHOOL | TEACHER | $77,750.77 | | |
| MORSE | SARAH | HIGHLAND GOFFE'S FALLS ELEMENT | TEACHER | $62,999.01 | | |
| MOSLEY | MAXINE | MCLAUGHLIN MIDDLE SCHOOL | TEACHER | $75,617.88 | | |
| MOUFARGE | CATHY | MIDDLE SCHOOL AT PARKSIDE | TEACHER | $71,984.18 | | |
| MOUTSIOULIS | MARIA | WEST HIGH SCHOOL | TEACHER | $65,810.45 | | |
| MOYLAN | ALICIA | WEST HIGH SCHOOL | TEACHER | $72,233.56 | | |
| MOYNIHAN | MEGAN | WESTON ELEMENTARY SCHOOL | TEACHER | $55,213.70 | | |
| MUEHLING | TRACY | WEST HIGH SCHOOL | TEACHER | $69,139.56 | | |
| MULLEAVEY | TINA | WEST HIGH SCHOOL | TEACHER | $67,674.38 | | |
| MULLEN | JAMES | CENTRAL HIGH SCHOOL | TEACHER | $62,315.16 | | |
| MULLENIX | SCOTT | WEST HIGH SCHOOL | TEACHER | $72,917.40 | | |
| MULLIGAN | JOANN | BAKERSVILLE ELEMENTARY SCHOOL | TEACHER | $75,168.43 | | |
| MUNGERE | CHELSY | HILLSIDE MIDDLE SCHOOL | TEACHER | $66,304.94 | | |
| MUNLEY | KATHLEEN | BEECH ST. ELEMENTARY SCHOOL | TEACHER | $56,408.61 | | |
| MUNOZ | GENEVIEVE | WEST HIGH SCHOOL | TEACHER | $16,509.50 | | |
| MURPHY | MATTHEW | MIDDLE SCHOOL AT PARKSIDE | TEACHER | $61,830.88 | | |
| MURRAY | LINDSAY | WESTON ELEMENTARY SCHOOL | TEACHER | $46,515.96 | | |
| MUSIC | KATHERINE | WEST HIGH SCHOOL | TEACHER | $78,128.04 | | |
| MYLES | DENISE | MEMORIAL HIGH SCHOOL | TEACHER | $65,870.19 | | |
| NACCACH | MONA | GREEN ACRES ELEMENTARY SCHOOL | TEACHER | $53,677.42 | | |
| NACCACH-HOFF | SELMA | CENTRAL HIGH SCHOOL | TEACHER | $74,870.42 | | |
| NADEAU | JENNIFER | GREEN ACRES ELEMENTARY SCHOOL | TEACHER | $11,461.52 | | |
| NAKOS | SUSAN | HILLSIDE MIDDLE SCHOOL | TEACHER | $70,403.06 | | |
| NARDINO | NOELLA | SOUTHSIDE MIDDLE SCHOOL | TEACHER | $56,924.65 | | |
| NEE | DEANNA | SOUTHSIDE MIDDLE SCHOOL | TEACHER | $45,193.50 | | |
| NEIL | ROBERTA | SOUTHSIDE MIDDLE SCHOOL | TEACHER | $67,450.88 | | |
| NELSON | KRISTIN | WILSON ST ELEMENTARY SCHOOL | TEACHER | $52,978.74 | | |
| NELSON | TIFFANY | GREEN ACRES ELEMENTARY SCHOOL | TEACHER | $71,918.12 | | |
| NEPTUNE | JEAN-REMY | MEMORIAL HIGH SCHOOL | TEACHER | $57,448.92 | | |
| NEWCOMER | KAREN | DISTRICT WIDE | TEACHER | $87,202.42 | 90 | |
| NEWELL | CHRISTINE | JEWETT ELEMENTARY SCHOOL | TEACHER | $67,292.56 | | |
| NEWMAN | DIMITRI | CENTRAL HIGH SCHOOL | TEACHER | $46,810.88 | | |
| NEWTON | ADRIAN | HILLSIDE MIDDLE SCHOOL | TEACHER | $69,806.41 | | |
| NICE | RUTH | MEMORIAL HIGH SCHOOL | TEACHER | $65,262.05 | | |
| NICHOLL | ANGELA | MEMORIAL HIGH SCHOOL | TEACHER | $43,683.07 | | |
| NICHOLS | ANNE | SOUTHSIDE MIDDLE SCHOOL | TEACHER | $72,787.16 | | |
| NICKERSON | MARINA | HILLSIDE MIDDLE SCHOOL | TEACHER | $17,211.84 | | |
| NORMANDIN | JEFFREY | MEMORIAL HIGH SCHOOL | TEACHER | $65,699.81 | | |
| NORTON | CARLENE | HILLSIDE MIDDLE SCHOOL | TEACHER | $70,403.06 | | |
| NORTON | CAROLINE | SOUTHSIDE MIDDLE SCHOOL | TEACHER | $67,478.82 | | |
| NOYES | CHRISTOPHER | HILLSIDE MIDDLE SCHOOL | TEACHER | $52,623.08 | | |
| NUGENT | BARBARA | GREEN ACRES ELEMENTARY SCHOOL | TEACHER | $71,943.12 | | |
| OBERDANK | KRISTEN | NORTHWEST ELEMENTARY SCHOOL | TEACHER | $72,157.82 | | |
| OBERTI | JANET | BEECH ST. ELEMENTARY SCHOOL | TEACHER | $61,025.06 | | |
| O'BRIEN | DEVIN | CENTRAL HIGH SCHOOL | TEACHER | $38,749.27 | | |
| O'CONNELL | ANNA | MIDDLE SCHOOL AT PARKSIDE | TEACHER | $33,583.64 | | |
| O'CONNELL | LINDA | MCLAUGHLIN MIDDLE SCHOOL | TEACHER | $64,119.98 | | |
| O'CONNOR | DAWN | CENTRAL HIGH SCHOOL | TEACHER | $77,513.36 | | |
| O'CONNOR | EVELYN | SMYTH RD ELEMENTARY SCHOOL | TEACHER | $15,215.22 | | |
| O'CONNOR | KAREN | MIDDLE SCHOOL AT PARKSIDE | TEACHER | $72,088.21 | | |
| O'CONNOR | SUSAN | WEBSTER ELEMENTARY SCHOOL | TEACHER | $74,872.98 | | |
| OHANIAN | DONNA | HILLSIDE MIDDLE SCHOOL | TEACHER | $75,372.98 | | |
| OLDEN | KATHLEEN | DISTRICT WIDE | TEACHER | $78,971.02 | | |
| O'LEARY | KEVIN | CENTRAL HIGH SCHOOL | TEACHER | $60,777.22 | | |
| O'LEARY | MARGARET | GOSSLER PARK ELEMENTARY SCHOOL | TEACHER | $55,185.76 | | |
| OLEJARZ | JENNIFER | SMYTH RD ELEMENTARY SCHOOL | TEACHER | $61,835.02 | | |
| OLIVEIRA | MICHAEL | MCLAUGHLIN MIDDLE SCHOOL | TEACHER | $71,893.12 | | |
| OLIVIER | CHERYL | MIDDLE SCHOOL AT PARKSIDE | TEACHER | $72,821.89 | | |
| O'NEIL | PATRICK | HILLSIDE MIDDLE SCHOOL | TEACHER | $79,116.47 | | |
| O'NEIL-FISHER | MEGHAN | HILLSIDE MIDDLE SCHOOL | TEACHER | $71,893.12 | | |
| O'NEILL | SEANNA | HILLSIDE MIDDLE SCHOOL | TEACHER | $69,322.69 | | |
| OOLDERS | JOHN -JACOB | SMYTH RD ELEMENTARY SCHOOL | TEACHER | $57,836.93 | | |
| O'REILLY | TAMI | GREEN ACRES ELEMENTARY SCHOOL | TEACHER | $67,422.94 | | |
| OSGOOD | KIERNAN | HIGHLAND GOFFE'S FALLS ELEMENT | TEACHER | $44,356.14 | | |
| O'SHAUGHNESSY | AMY | MIDDLE SCHOOL AT PARKSIDE | TEACHER | $66,360.82 | | |
| O'SHAUGHNESSY | KAREN | JEWETT ELEMENTARY SCHOOL | TEACHER | $71,893.12 | | |
| O'SULLIVAN | DEBORAH | MCLAUGHLIN MIDDLE SCHOOL | TEACHER | $74,872.98 | | |
| OTTO | JENNIFER | MCDONOUGH ELEMENTARY SCHOOL | TEACHER | $64,259.68 | | |
| OUELLETTE | REBECCA | SOUTHSIDE MIDDLE SCHOOL | TEACHER | $62,729.05 | | |
| OUELLETTE | SHANNON | WEBSTER ELEMENTARY SCHOOL | TEACHER | $54,382.12 | | |
| PAGE | KATIE | PARKER VARNEY ELEMENTARY SCHOOL | TEACHER | $11,461.52 | | |
| PAIGE | GAYLE | SMYTH RD ELEMENTARY SCHOOL | TEACHER | $68,211.48 | | |
| PAIGE | JASON | MEMORIAL HIGH SCHOOL | TEACHER | $73,075.00 | | |
| PAPAJOHN | EVAN | DISTRICT ELEMENTARY LEVEL | TEACHER | $66,304.94 | | |
| PAPANIKOLAU | DONNA | WEBSTER ELEMENTARY SCHOOL | TEACHER | $72,875.64 | | |
| PAPANTONES | JOHANNA | BEECH ST. ELEMENTARY SCHOOL | TEACHER | $26,447.46 | | |
| PAQUIN | JENNIFER | GOSSLER PARK ELEMENTARY SCHOOL | TEACHER | $43,983.02 | | |
| PARECE-GROGAN | BRIDGET | MEMORIAL HIGH SCHOOL | TEACHER | $70,775.12 | | |
| PARK | DONNA | NORTHWEST ELEMENTARY SCHOOL | TEACHER | $71,893.12 | | |
| PARKER | ROBERT | WILSON ST ELEMENTARY SCHOOL | TEACHER | $27,242.17 | | |
| PARKER-CASH | JENNIFER | NORTHWEST ELEMENTARY SCHOOL | TEACHER | $71,893.12 | | |
| PARSONS | BIANCA | WESTON ELEMENTARY SCHOOL | TEACHER | $38,900.60 | | |
| PASSANISI | MARIA | WEST HIGH SCHOOL | TEACHER | $58,317.89 | | |
| PATTEN | MICHAEL | CENTRAL HIGH SCHOOL | TEACHER | $71,893.12 | | |
| PAUL | BRIDGET | MCDONOUGH ELEMENTARY SCHOOL | TEACHER | $67,612.64 | | |
| PAYNTER | ZACHARY | SMYTH RD ELEMENTARY SCHOOL | TEACHER | $46,190.04 | | |
| PEABODY | ABIGAIL | BAKERSVILLE ELEMENTARY SCHOOL | TEACHER | $45,898.06 | | |
| PECH | JULIETTE | CENTRAL HIGH SCHOOL | TEACHER | $66,604.17 | | |
| PELLEGRINI | AMY | DISTRICT WIDE | TEACHER | $48,612.50 | | |
| PELLETIER | JEFFREY | NORTHWEST ELEMENTARY SCHOOL | TEACHER | $19,422.06 | | |
| PENNINGTON | AMY | CENTRAL HIGH SCHOOL | TEACHER | $70,831.00 | | |
| PERDIKES | THERESA | HILLSIDE MIDDLE SCHOOL | TEACHER | $54,216.09 | | |
| PEREZCASTANEDA | CLYDE | SOUTHSIDE MIDDLE SCHOOL | TEACHER | $52,867.46 | | |
| PERKINS | MELINDA | CENTRAL HIGH SCHOOL | TEACHER | $62,575.49 | | |
| PERRET | CAROLYN | WEST HIGH SCHOOL | TEACHER | $72,591.56 | | |
| PERRON | AMANDA | NORTHWEST ELEMENTARY SCHOOL | TEACHER | $42,790.70 | | |
| PERRON | JANET | MCLAUGHLIN MIDDLE SCHOOL | TEACHER | $61,918.84 | | |
| PERRONI | VINCENT | CENTRAL HIGH SCHOOL | TEACHER | $73,581.00 | | |
| PERRY | HEIDI | MIDDLE SCHOOL AT PARKSIDE | TEACHER | $68,680.15 | | |
| PERRY | HILARY | WILSON ST ELEMENTARY SCHOOL | TEACHER | $40,477.90 | | |
| PERRY | JESSICA | GOSSLER PARK ELEMENTARY SCHOOL | TEACHER | $40,428.56 | | |
| PERRY | JOSEPH | MST HIGH SCHOOL | TEACHER | $60,577.48 | | |
| PERRY | KATHERINE | BEECH ST. ELEMENTARY SCHOOL | TEACHER | $40,974.60 | | |
| PERRY | KEVIN | SOUTHSIDE MIDDLE SCHOOL | TEACHER | $64,572.88 | | |
| PERRY | KIMBERLY | SMYTH RD ELEMENTARY SCHOOL | TEACHER | $44,895.55 | | |
| PERRY | SUSAN | GREEN ACRES ELEMENTARY SCHOOL | TEACHER | $70,403.06 | | |
| PERRY-ROBINSON | SARAH | WEBSTER ELEMENTARY SCHOOL | TEACHER | $66,304.94 | | |
| PERSON | BRIAN | MIDDLE SCHOOL AT PARKSIDE | TEACHER | $43,955.08 | | |
| PETERSEN | SUSAN | SMYTH RD ELEMENTARY SCHOOL | TEACHER | $41,776.00 | | |
| PETERSON | KRISTEN | SOUTHSIDE MIDDLE SCHOOL | TEACHER | $57,463.08 | | |
| PETHIC | MARCELLE | HILLSIDE MIDDLE SCHOOL | TEACHER | $67,506.76 | | |
| PETZ | KATHERINE | MCDONOUGH ELEMENTARY SCHOOL | TEACHER | $46,906.88 | | |
| PHELAN | JEANNE | WESTON ELEMENTARY SCHOOL | TEACHER | $68,223.82 | | |
| PIANTIGINI | MARK | BAKERSVILLE ELEMENTARY SCHOOL | TEACHER | $48,248.20 | | |
| PINARD | PAUL | WEST HIGH SCHOOL | TEACHER | $50,278.27 | | |
| PINEAULT | VICTORIA | MCLAUGHLIN MIDDLE SCHOOL | TEACHER | $67,450.88 | | |
| PIOTROWSKI | ANGELA | SOUTHSIDE MIDDLE SCHOOL | TEACHER | $73,653.22 | | |
| PIRES | MIGUEL | HILLSIDE MIDDLE SCHOOL | TEACHER | $19,713.84 | | |
| PLACE | LISA | NORTHWEST ELEMENTARY SCHOOL | TEACHER | $59,600.06 | | |
| POISSON | MELISSA | GREEN ACRES ELEMENTARY SCHOOL | TEACHER | $64,069.98 | | |
| POITRAS | ANGELA | GREEN ACRES ELEMENTARY SCHOOL | TEACHER | $68,539.90 | | |
| POLLARD | JANE | MCLAUGHLIN MIDDLE SCHOOL | TEACHER | $75,799.72 | | |
| POLLOCK | ELENA | NORTHWEST ELEMENTARY SCHOOL | TEACHER | $67,422.94 | | |
| POOL | JESSICA | MIDDLE SCHOOL AT PARKSIDE | TEACHER | $64,489.06 | | |
| PORTER | TONGSUK SUE | CENTRAL HIGH SCHOOL | TEACHER | $72,116.62 | | |
| POTOMA | ALISON | HILLSIDE MIDDLE SCHOOL | TEACHER | $64,703.23 | | |
| POTTS | JADE | JEWETT ELEMENTARY SCHOOL | TEACHER | $64,481.74 | | |
| POWER | PAMELA | BEECH ST. ELEMENTARY SCHOOL | TEACHER | $61,975.46 | | |
| PRESTON | ASHLEY | BISHOP O'NEILL CENTER | TEACHER | $61,957.02 | | |
| PRICE | SHARON | HILLSIDE MIDDLE SCHOOL | TEACHER | $68,539.90 | | |
| PRIDDY | KELLY | WEST HIGH SCHOOL | TEACHER | $51,522.46 | | |
| PRINCE | MADELEINE | NORTHWEST ELEMENTARY SCHOOL | TEACHER | $72,200.46 | | |
| PRINDLE | ASHLEY | NORTHWEST ELEMENTARY SCHOOL | TEACHER | $43,415.70 | | |
| PROULX | ATHENA | MCLAUGHLIN MIDDLE SCHOOL | TEACHER | $77,370.30 | | |
| PROULX | JENNIFER | MIDDLE SCHOOL AT PARKSIDE | TEACHER | $44,928.59 | | |
| PROULX | SCOTT | MIDDLE SCHOOL AT PARKSIDE | TEACHER | $66,097.02 | | |
| PROVENCHER | CLAIRE | MCDONOUGH ELEMENTARY SCHOOL | TEACHER | $74,293.12 | | |
| PROVENCHER | MONIQUE | PARKER VARNEY ELEMENTARY SCHOOL | TEACHER | $68,329.70 | | |
| PROVOST | KATHLEEN | MCLAUGHLIN MIDDLE SCHOOL | TEACHER | $50,911.42 | | |
| PROVOST | LINDA | MCLAUGHLIN MIDDLE SCHOOL | TEACHER | $45,903.42 | | |
| PROVOST | SUZANNE | NORTHWEST ELEMENTARY SCHOOL | TEACHER | $65,621.44 | | |
| PROVOST | VIRGINIA | HILLSIDE MIDDLE SCHOOL | TEACHER | $74,872.98 | | |
| QUIGLEY | ALEXANDER | HILLSIDE MIDDLE SCHOOL | TEACHER | $4,198.41 | | |
| QUIGLEY | JAMIE | WESTON ELEMENTARY SCHOOL | TEACHER | $8,834.54 | | |
| QUIMBY | MARIA | MST HIGH SCHOOL | TEACHER | $46,642.39 | | |
| QUINTANA | NICOLE | WESTON ELEMENTARY SCHOOL | TEACHER | $48,676.46 | | |
| RADCLIFFE | BRENDA | NORTHWEST ELEMENTARY SCHOOL | TEACHER | $59,560.68 | | |
| RATLIFF | SANDRA | WEST HIGH SCHOOL | TEACHER | $73,092.76 | | |
| RATZLAFF | MBULA | HILLSIDE MIDDLE SCHOOL | TEACHER | $51,434.72 | | |
| RAY | RYAN | HIGHLAND GOFFE'S FALLS ELEMENT | TEACHER | $73,722.94 | | |
| RAYMOND | JANE | CENTRAL HIGH SCHOOL | TEACHER | $71,921.06 | | |
| RECORD | JEFFREY | HIGHLAND GOFFE'S FALLS ELEMENT | TEACHER | $65,094.28 | | |
| RECORD | JILLIAN | MCLAUGHLIN MIDDLE SCHOOL | TEACHER | $13,524.64 | | |
| REDD | KAREN | BAKERSVILLE ELEMENTARY SCHOOL | TEACHER | $56,483.10 | | |
| REDMOND | MATTHEW | HILLSIDE MIDDLE SCHOOL | TEACHER | $68,670.35 | | |
| REDMOND | TIFFANY | HILLSIDE MIDDLE SCHOOL | TEACHER | $60,530.73 | | |
| REEDER | DONNA | HIGHLAND GOFFE'S FALLS ELEMENT | TEACHER | $50,697.46 | | |
| REEKIE | MARGARET | MCLAUGHLIN MIDDLE SCHOOL | TEACHER | $67,622.94 | | |
| REGAN | CATHLEEN | DISTRICT WIDE | TEACHER | $92,710.16 | 90 | |
| REINHOLD | KAREN | BAKERSVILLE ELEMENTARY SCHOOL | TEACHER | $45,070.52 | | |
| REISMAN | CORNELIA | WEST HIGH SCHOOL | TEACHER | $72,340.14 | | |
| REISMAN | ROBERT | WEST HIGH SCHOOL | TEACHER | $72,004.88 | | |
| REMBIS | LEA | WESTON ELEMENTARY SCHOOL | TEACHER | $41,384.90 | | |
| REYES | WHITNEY | HIGHLAND GOFFE'S FALLS ELEMENT | TEACHER | $46,357.67 | | |
| RICCIARDI | KAREN | HILLSIDE MIDDLE SCHOOL | TEACHER | $74,474.51 | | |
| RICHARD | DEBORAH | DISTRICT ELEMENTARY LEVEL | TEACHER | $50,140.91 | | |
| RICHARD | JASON | MCLAUGHLIN MIDDLE SCHOOL | TEACHER | $71,585.10 | | |
| RICHARDSON | BARON | HILLSIDE MIDDLE SCHOOL | TEACHER | $67,422.94 | | |
| RITTER | KATHARINE | NORTHWEST ELEMENTARY SCHOOL | TEACHER | $46,190.04 | | |
| RIVARD | HEIDI | JEWETT ELEMENTARY SCHOOL | TEACHER | $103,065.74 | 90 | |
| RIVARD | LEE | GREEN ACRES ELEMENTARY SCHOOL | TEACHER | $60,568.48 | | |
| RIVET | MELISSA | GREEN ACRES ELEMENTARY SCHOOL | TEACHER | $74,872.98 | | |
| ROBERGE | KEITH | MST - CTE | TEACHER | $67,497.94 | | |
| ROBERT | KENDRA | CENTRAL HIGH SCHOOL | TEACHER | $54,115.64 | | |
| ROBERTS | TRACY | PARKER VARNEY ELEMENTARY SCHOOL | TEACHER | $29,366.54 | | |
| ROBIDOUX | MARY | MCDONOUGH ELEMENTARY SCHOOL | TEACHER | $45,903.42 | | |
| ROBINSON | ATHANASIA | MST HIGH SCHOOL | TEACHER | $55,191.01 | | |
| ROBINSON | SUSAN | WEST HIGH SCHOOL | TEACHER | $77,303.78 | | |
| ROBITAILLE | DORRA | NORTHWEST ELEMENTARY SCHOOL | TEACHER | $73,868.12 | | |
| ROBITAILLE | RICHARD | MEMORIAL HIGH SCHOOL | TEACHER | $74,395.29 | | |
| ROCCA | STACY | SOUTHSIDE MIDDLE SCHOOL | TEACHER | $72,515.14 | | |
| ROGERS | HEATHER | SOUTHSIDE MIDDLE SCHOOL | TEACHER | $65,103.69 | | |
| ROGERS | MICHELLE | SOUTHSIDE MIDDLE SCHOOL | TEACHER | $72,759.22 | | |
| ROMO | JOSEPH | MCLAUGHLIN MIDDLE SCHOOL | TEACHER | $57,998.00 | | |
| RONDEAU | JUDITH | HIGHLAND GOFFE'S FALLS ELEMENT | TEACHER | $92,488.59 | 90 | |
| ROSSBACH | KRYSTLE | HALLSVILLE ELEMENTARY SCHOOL | TEACHER | $55,409.27 | | |
| ROSSI | KATHERINE | JEWETT ELEMENTARY SCHOOL | TEACHER | $69,387.20 | | |
| ROUKEY | MEGAN | SMYTH RD ELEMENTARY SCHOOL | TEACHER | $67,422.94 | | |
| ROUSSEAU | HOLLY | HIGHLAND GOFFE'S FALLS ELEMENT | TEACHER | $52,894.92 | | |
| ROUSSEAU | SUSAN | WESTON ELEMENTARY SCHOOL | TEACHER | $67,422.94 | | |
| ROY | HEATHER | WESTON ELEMENTARY SCHOOL | TEACHER | $72,203.54 | | |
| ROZAMUS | SHANE | MEMORIAL HIGH SCHOOL | TEACHER | $48,667.09 | | |
| RUDIGER | CASSIE | MIDDLE SCHOOL AT PARKSIDE | TEACHER | $47,876.40 | | |
| RUDMAN | DENISE | DISTRICT WIDE | TEACHER | $87,692.42 | 90 | |
| RUSCITO | JENNIFER | PARKER VARNEY ELEMENTARY SCHOOL | TEACHER | $52,509.94 | | |
| RUSSELL | ALEXANDER | WEST HIGH SCHOOL | TEACHER | $46,572.59 | | |
| RUSSELL | KRISTEN | WEST HIGH SCHOOL | TEACHER | $44,364.86 | | |
| RUSSELL | SEAN | CENTRAL HIGH SCHOOL | TEACHER | $66,856.92 | | |
| RUSSELL | TIMOTHY | MEMORIAL HIGH SCHOOL | TEACHER | $81,829.57 | | |
| RUST-BELFORTI | STACEY | MIDDLE SCHOOL AT PARKSIDE | TEACHER | $72,283.15 | | |
| RYAN | MAURA | WEST HIGH SCHOOL | TEACHER | $73,128.58 | | |
| RYAN | SHAUNA | BEECH ST. ELEMENTARY SCHOOL | TEACHER | $68,542.46 | | |
| RYDER | JAMES | HALLSVILLE ELEMENTARY SCHOOL | TEACHER | $60,069.04 | | |
| SACCO | JOANNE | SOUTHSIDE MIDDLE SCHOOL | TEACHER | $57,448.92 | | |
| SACCO | JULIANNE | MIDDLE SCHOOL AT PARKSIDE | TEACHER | $48,331.94 | | |
| SACHARKO | JENNIFER | NORTHWEST ELEMENTARY SCHOOL | TEACHER | $50,924.66 | | |
| SACHERSKI | BETH | GOSSLER PARK ELEMENTARY SCHOOL | TEACHER | $67,795.00 | | |
| SADOWSKI | JONATHAN | CENTRAL HIGH SCHOOL | TEACHER | $57,305.10 | | |
| SAITZ | DANIELLE | HALLSVILLE ELEMENTARY SCHOOL | TEACHER | $41,720.12 | | |
| SALVATORE | GINA | GOSSLER PARK ELEMENTARY SCHOOL | TEACHER | $46,217.98 | | |
| SALVATORE | KYLIE | WILSON ST ELEMENTARY SCHOOL | TEACHER | $43,471.66 | | |
| SAMMARTANO | SANDRA | SMYTH RD ELEMENTARY SCHOOL | TEACHER | $71,893.12 | | |
| SANCHEZ | ANNE-MAGALI | MEMORIAL HIGH SCHOOL | TEACHER | $16,457.36 | | |
| SANDFORD | CHAD | CENTRAL HIGH SCHOOL | TEACHER | $66,194.50 | | |
| SAPIENZA | ANDREA | BAKERSVILLE ELEMENTARY SCHOOL | TEACHER | $64,429.17 | | |
| SAPIENZA | PHILLIP | HILLSIDE MIDDLE SCHOOL | TEACHER | $67,478.82 | | |
| SARGENT | JENNA | PARKER VARNEY ELEMENTARY SCHOOL | TEACHER | $48,475.00 | | |
| SCANLON | PATRICIA | PARKER VARNEY ELEMENTARY SCHOOL | TEACHER | $66,304.94 | | |
| SCHEINMAN | CECILIA | HILLSIDE MIDDLE SCHOOL | TEACHER | $64,454.92 | | |
| SCHEINMAN | DANIEL | BEECH ST. ELEMENTARY SCHOOL | TEACHER | $75,410.48 | | |
| SCHEYD | AMANDA | HILLSIDE MIDDLE SCHOOL | TEACHER | $18,338.48 | | |
| SCHIEBOUT | EMILY | HALLSVILLE ELEMENTARY SCHOOL | TEACHER | $48,111.27 | | |
| SCHLICHTER | PHYLLIS | MCDONOUGH ELEMENTARY SCHOOL | TEACHER | $59,892.50 | | |
| SCHNEIDER | TARA | HILLSIDE MIDDLE SCHOOL | TEACHER | $41,776.00 | | |
| SCHNICK | MARIE | GOSSLER PARK ELEMENTARY SCHOOL | TEACHER | $92,939.12 | 90 | |
| SCHNICK | NATALIE | GOSSLER PARK ELEMENTARY SCHOOL | TEACHER | $42,670.12 | | |
| SCHRICKER | DAVID | WEST HIGH SCHOOL | TEACHER | $94,414.20 | 90 | |
| SCHUFF | TARSHA | PARKER VARNEY ELEMENTARY SCHOOL | TEACHER | $47,691.10 | | |
| SCHULTE | MOLLY | MEMORIAL HIGH SCHOOL | TEACHER | $45,582.24 | | |
| SCHULTZ | WENDA | BEECH ST. ELEMENTARY SCHOOL | TEACHER | $45,544.78 | | |
| SCHULZ | LAUREN | MEMORIAL HIGH SCHOOL | TEACHER | $57,528.88 | | |
| SCHWALBE | BARBARA | HIGHLAND GOFFE'S FALLS ELEMENT | TEACHER | $67,422.94 | | |
| SCOTT | KATHERINE | HALLSVILLE ELEMENTARY SCHOOL | TEACHER | $81,035.48 | | |
| SEABURY | LINDA | DISTRICT WIDE | TEACHER | $40,512.24 | | |
| SEARS | NATALIE | CENTRAL HIGH SCHOOL | TEACHER | $61,890.90 | | |
| SEELEY | KATHLEEN | SMYTH RD ELEMENTARY SCHOOL | TEACHER | $72,088.70 | | |
| SEITZ | MARIA | MIDDLE SCHOOL AT PARKSIDE | TEACHER | $67,674.39 | | |
| SENIOW | THOMAS | CENTRAL HIGH SCHOOL | TEACHER | $78,569.06 | | |
| SERRAO-GORE | SIMONE | HILLSIDE MIDDLE SCHOOL | TEACHER | $23,462.84 | | |
| SEVILLA | MARK | MCLAUGHLIN MIDDLE SCHOOL | TEACHER | $75,646.07 | | |
| SEWARD | PATRICIA | MST HIGH SCHOOL | TEACHER | $72,749.51 | | |
| SEWARD JR | DONALD | MST - CTE | TEACHER | $70,574.90 | | |
| SHAFFER | DIANE | HIGHLAND GOFFE'S FALLS ELEMENT | TEACHER | $46,357.68 | | |
| SHAFFER | KATELYN | BAKERSVILLE ELEMENTARY SCHOOL | TEACHER | $49,009.63 | | |
| SHANNON | TIMOTHY | SOUTHSIDE MIDDLE SCHOOL | TEACHER | $55,272.24 | | |
| SHEA | BETH | NORTHWEST ELEMENTARY SCHOOL | TEACHER | $72,092.38 | | |
| SHEA | MERYL | HALLSVILLE ELEMENTARY SCHOOL | TEACHER | $62,359.23 | | |
| SHEA-GROSS | ERIN | MCLAUGHLIN MIDDLE SCHOOL | TEACHER | $68,651.66 | | |
| SHEEDY-MORRIS | MAUREEN | GOSSLER PARK ELEMENTARY SCHOOL | TEACHER | $79,393.02 | | |
| SHEEHAN | SOPHIA | WEST HIGH SCHOOL | TEACHER | $77,098.74 | | |
| SHURTLEFF | SHANNON | MST HIGH SCHOOL | TEACHER | $43,362.96 | | |
| SIENA | SUSAN | SOUTHSIDE MIDDLE SCHOOL | TEACHER | $53,425.75 | | |
| SIGNOR | SHANNON | WILSON ST ELEMENTARY SCHOOL | TEACHER | $64,527.66 | | |
| SILVA | JENNIFER | BEECH ST. ELEMENTARY SCHOOL | TEACHER | $70,054.59 | | |
| SILVEIRA | JOSEPH | CENTRAL HIGH SCHOOL | TEACHER | $72,139.90 | | |
| SILVER | STEPHANIE | WEST HIGH SCHOOL | TEACHER | $69,266.36 | | |
| SIMARD | RICHELLA | WEST HIGH SCHOOL | TEACHER | $57,452.17 | | |
| SIMO | ALEXANDER | WILSON ST ELEMENTARY SCHOOL | TEACHER | $29,355.00 | | |
| SIMPSON | BRANDAN | DISTRICT WIDE | TEACHER | $58,110.00 | | |
| SIMPSON | JILLIAN | PARKER VARNEY ELEMENTARY SCHOOL | TEACHER | $3,215.40 | | |
| SIMPSON | LARRY | MIDDLE SCHOOL AT PARKSIDE | TEACHER | $67,422.94 | | |
| SIMPSON | STEPHANIE | GOSSLER PARK ELEMENTARY SCHOOL | TEACHER | $71,988.38 | | |
| SIMPSON | VALERIE | GOSSLER PARK ELEMENTARY SCHOOL | TEACHER | $28,719.92 | | |
| SIMS | ANDREW | BAKERSVILLE ELEMENTARY SCHOOL | TEACHER | $48,530.88 | | |
| SKORA | ANJEANETTE | JEWETT ELEMENTARY SCHOOL | TEACHER | $70,663.42 | | |
| SLAGLE | RONALD | WEST HIGH SCHOOL | TEACHER | $117,094.46 | | |
| SLATER | MARILYN | BEECH ST. ELEMENTARY SCHOOL | TEACHER | $75,616.64 | | |
| SLETTEN KU | JUNE | MIDDLE SCHOOL AT PARKSIDE | TEACHER | $57,504.80 | | |
| SLOAN | DONNA | CENTRAL HIGH SCHOOL | TEACHER | $71,921.06 | | |
| SLOAN | JUDITH | MCLAUGHLIN MIDDLE SCHOOL | TEACHER | $68,539.90 | | |
| SMART | LINDSAY | SMYTH RD ELEMENTARY SCHOOL | TEACHER | $61,918.84 | | |
| SMITH | ELIZABETH | CENTRAL HIGH SCHOOL | TEACHER | $73,876.20 | | |
| SMITH | KAREN | HIGHLAND GOFFE'S FALLS ELEMENT | TEACHER | $66,873.52 | | |
| SMITH | LISA | MEMORIAL HIGH SCHOOL | TEACHER | $71,183.81 | | |
| SMITH | MICHAEL | CENTRAL HIGH SCHOOL | TEACHER | $70,975.12 | | |
| SMUCZ | RONDA | MEMORIAL HIGH SCHOOL | TEACHER | $21,860.78 | | |
| SOHA | TANYA | DISTRICT WIDE | TEACHER | $109,500.15 | 90 | |
| SONGOLE | ANDREW | CENTRAL HIGH SCHOOL | TEACHER | $46,419.30 | | |
| SOUCY | JANET | CENTRAL HIGH SCHOOL | TEACHER | $87,512.84 | 90 | |
| SOUCY | PAULINE | MIDDLE SCHOOL AT PARKSIDE | TEACHER | $76,739.25 | | |
| SOULIOS | KATHY | MEMORIAL HIGH SCHOOL | TEACHER | $67,534.70 | | |
| SPAULDING | DIANE | DISTRICT ELEMENTARY LEVEL | TEACHER | $67,422.94 | | |
| SPIRES | DARA | HIGHLAND GOFFE'S FALLS ELEMENT | TEACHER | $53,283.08 | | |
| ST CLAIR | JANET | NORTHWEST ELEMENTARY SCHOOL | TEACHER | $64,209.68 | | |
| ST JEAN | ALEXANDREA | MEMORIAL HIGH SCHOOL | TEACHER | $46,637.07 | | |
| ST LAURENT | LIANE | DISTRICT WIDE | TEACHER | $96,951.04 | 90 | |
| ST ONGE | DARCI | CENTRAL HIGH SCHOOL | TEACHER | $67,562.64 | | |
| ST PIERRE | KATHERINE | JEWETT ELEMENTARY SCHOOL | TEACHER | $44,727.92 | | |
| STANLEY | HELENE | HILLSIDE MIDDLE SCHOOL | TEACHER | $75,645.82 | | |
| STAPLES | MONIQUE | NORTHWEST ELEMENTARY SCHOOL | TEACHER | $64,069.98 | | |
| STAUFF | ARTHUR | WEST HIGH SCHOOL | TEACHER | $87,570.98 | | |
| STAVENGER | CHRISTINA | MCLAUGHLIN MIDDLE SCHOOL | TEACHER | $53,100.07 | | |
| STEELE | KRYSTIE | SMYTH RD ELEMENTARY SCHOOL | TEACHER | $59,683.88 | | |
| STEINMETZ | MARIANNE | WEST HIGH SCHOOL | TEACHER | $57,104.32 | | |
| STELLA | KATIE | CENTRAL HIGH SCHOOL | TEACHER | $55,129.88 | | |
| STEPHEN | JOLEEN | SMYTH RD ELEMENTARY SCHOOL | TEACHER | $68,530.58 | | |
| STERGIOULIS | PAULA | PARKER VARNEY ELEMENTARY SCHOOL | TEACHER | $2,529.54 | | |
| STERLING | EDWARD | CENTRAL HIGH SCHOOL | TEACHER | $95,273.24 | 90 | |
| STEVENS | LYNAE | HALLSVILLE ELEMENTARY SCHOOL | TEACHER | $66,440.85 | | |
| STEVENSON | NICOLE | MIDDLE SCHOOL AT PARKSIDE | TEACHER | $65,628.16 | | |
| STOFFEL | TRYSTAN | HIGHLAND GOFFE'S FALLS ELEMENT | TEACHER | $16,058.84 | | |
| STOLTZ | TAYLOR | BEECH ST. ELEMENTARY SCHOOL | TEACHER | $13,781.78 | | |
| STONE | SARAH | GREEN ACRES ELEMENTARY SCHOOL | TEACHER | $56,101.94 | | |
| STORY | CHRISTINA | WEBSTER ELEMENTARY SCHOOL | TEACHER | $57,420.98 | | |
| STRATTON | DEBBIE | WEST HIGH SCHOOL | TEACHER | $79,532.32 | | |
| STROUT | MICHELLE | MST - CTE | TEACHER | $51,988.86 | | |
| STUTSRIM | DIANE | WESTON ELEMENTARY SCHOOL | TEACHER | $69,285.06 | | |
| SULLIVAN | KAREN | MCDONOUGH ELEMENTARY SCHOOL | TEACHER | $55,006.68 | | |
| SULLIVAN | MARC | CENTRAL HIGH SCHOOL | TEACHER | $40,257.94 | | |
| SULLIVAN | MARTIN | SOUTHSIDE MIDDLE SCHOOL | TEACHER | $66,360.82 | | |
| SUMMERS | KAYLA | MEMORIAL HIGH SCHOOL | TEACHER | $46,357.67 | | |
| SURPRENANT | AMANDA | MEMORIAL HIGH SCHOOL | TEACHER | $66,807.84 | | |
| SUTER | KRISTI | WEBSTER ELEMENTARY SCHOOL | TEACHER | $40,341.76 | | |
| SUTHERLAND | MELISSA | WESTON ELEMENTARY SCHOOL | TEACHER | $70,431.00 | | |
| SWEED | SUSAN | CENTRAL HIGH SCHOOL | TEACHER | $74,872.98 | | |
| SWEENEY | LORI | MEMORIAL HIGH SCHOOL | TEACHER | $74,196.22 | | |
| SWENSON | CONSTANCE | CENTRAL HIGH SCHOOL | TEACHER | $76,331.80 | | |
| SWENSON | JILL | GREEN ACRES ELEMENTARY SCHOOL | TEACHER | $67,422.94 | | |
| SYRENE | PATRICIA | SMYTH RD ELEMENTARY SCHOOL | TEACHER | $46,388.90 | | |
| TABOR | JAMES | MEMORIAL HIGH SCHOOL | TEACHER | $92,520.16 | 90 | |
| TAFE | MATTHEW | HILLSIDE MIDDLE SCHOOL | TEACHER | $72,141.22 | | |
| TAFE | ROBIN | MEMORIAL HIGH SCHOOL | TEACHER | $75,344.58 | | |
| TAGALAKIS | MARC | CENTRAL HIGH SCHOOL | TEACHER | $69,309.54 | | |
| TANCREDE | LAURA | MEMORIAL HIGH SCHOOL | TEACHER | $71,893.12 | | |
| TARBELL | VALERIE | JEWETT ELEMENTARY SCHOOL | TEACHER | $71,931.00 | | |
| TARTSA | ANDREA | HILLSIDE MIDDLE SCHOOL | TEACHER | $59,628.00 | | |
| TATEOSIAN | CHRISTOPHER | MCDONOUGH ELEMENTARY SCHOOL | TEACHER | $62,663.74 | | |
| TELLIER | SHERRY | HIGHLAND GOFFE'S FALLS ELEMENT | TEACHER | $64,492.16 | | |
| TENTAS | ELIZABETH | CENTRAL HIGH SCHOOL | TEACHER | $50,687.90 | | |
| TENTAS | JANE | MEMORIAL HIGH SCHOOL | TEACHER | $73,075.84 | | |
| TERREL | RICHARD | CENTRAL HIGH SCHOOL | TEACHER | $77,069.84 | | |
| TESSIER | CAITLYN | MST HIGH SCHOOL | TEACHER | $49,848.51 | | |
| TESSIER | MARY | WEBSTER ELEMENTARY SCHOOL | TEACHER | $72,513.84 | | |
| TETRAULT | SUZANNE | HILLSIDE MIDDLE SCHOOL | TEACHER | $66,332.88 | | |
| TEVEPAUGH | KRISTIN | BEECH ST. ELEMENTARY SCHOOL | TEACHER | $47,790.04 | | |
| THAYER | DEBORAH | WILSON ST ELEMENTARY SCHOOL | TEACHER | $77,986.77 | | |
| THAYER | JUDITH | MEMORIAL HIGH SCHOOL | TEACHER | $66,332.88 | | |
| THEMEA | LEA | BEECH ST. ELEMENTARY SCHOOL | TEACHER | $22,120.96 | | |
| THIBEAULT | CHELSEA | BAKERSVILLE ELEMENTARY SCHOOL | TEACHER | $45,344.75 | | |
| THIBEAULT | PAULINE | MEMORIAL HIGH SCHOOL | TEACHER | $77,443.47 | | |
| THOMAS | CASSANDRA | MEMORIAL HIGH SCHOOL | TEACHER | $64,209.68 | | |
| THOMAS | SABRINA | WEST HIGH SCHOOL | TEACHER | $66,575.52 | | |
| THOMPSON | JENNIFER | JEWETT ELEMENTARY SCHOOL | TEACHER | $43,089.62 | | |
| THOMPSON | LINDA | WEST HIGH SCHOOL | TEACHER | $67,478.82 | | |
| THOMPSON | SHERRI | WILSON ST ELEMENTARY SCHOOL | TEACHER | $71,831.37 | | |
| THORNER | ANN | DISTRICT WIDE | TEACHER | $70,472.52 | | |
| TIERNEY | JOHN | MEMORIAL HIGH SCHOOL | TEACHER | $72,801.00 | | |
| TIGHE | STEVEN | HILLSIDE MIDDLE SCHOOL | TEACHER | $72,193.12 | | |
| TIMPE | TAYLA | HIGHLAND GOFFE'S FALLS ELEMENT | TEACHER | $15,699.44 | | |
| TINKHAM | KIMBERLY | GOSSLER PARK ELEMENTARY SCHOOL | TEACHER | $66,388.76 | | |
| TITUS | CHRISTINE | MCLAUGHLIN MIDDLE SCHOOL | TEACHER | $66,304.94 | | |
| TODD | DEBRA | NORTHWEST ELEMENTARY SCHOOL | TEACHER | $67,422.94 | | |
| TOURIGNY | ELLEN | CENTRAL HIGH SCHOOL | TEACHER | $62,843.70 | | |
| TOWLE | HEATHER | MCLAUGHLIN MIDDLE SCHOOL | TEACHER | $67,925.86 | | |
| TOWNE | TRICIA | HIGHLAND GOFFE'S FALLS ELEMENT | TEACHER | $59,270.78 | | |
| TRAVERS | KRISTIN | MEMORIAL HIGH SCHOOL | TEACHER | $67,236.20 | | |
| TREMBLAY | DONNA | MST - CTE | TEACHER | $68,286.42 | | |
| TRIPP | KERRY | MIDDLE SCHOOL AT PARKSIDE | TEACHER | $72,574.39 | | |
| TRIPPIEDI | KELLY | JEWETT ELEMENTARY SCHOOL | TEACHER | $42,558.25 | | |
| TROGISCH | ARMELLE | MST HIGH SCHOOL | TEACHER | $75,798.05 | | |
| TROWBRIDGE | REBECCA | CENTRAL HIGH SCHOOL | TEACHER | $71,402.17 | | |
| TROY | JUDITH | BAKERSVILLE ELEMENTARY SCHOOL | TEACHER | $67,660.44 | | |
| TRUE | EDWARD | CENTRAL HIGH SCHOOL | TEACHER | $70,606.82 | | |
| TSELIOS | TIFFANY | JEWETT ELEMENTARY SCHOOL | TEACHER | $8,235.80 | | |
| TURGEON JR | GLENN | SOUTHSIDE MIDDLE SCHOOL | TEACHER | $71,949.00 | | |
| TURNER | BIRKE | HILLSIDE MIDDLE SCHOOL | TEACHER | $49,037.80 | | |
| TWOMEY | JANE | MIDDLE SCHOOL AT PARKSIDE | TEACHER | $69,424.76 | | |
| TWOMEY | KERRY | WILSON ST ELEMENTARY SCHOOL | TEACHER | $11,461.52 | | |
| TZIMAS KINSON | IRENE | MCLAUGHLIN MIDDLE SCHOOL | TEACHER | $51,531.03 | | |
| VACCARI | MAURA | MCDONOUGH ELEMENTARY SCHOOL | TEACHER | $70,342.92 | | |
| VACHON | CATHRYN | NORTHWEST ELEMENTARY SCHOOL | TEACHER | $64,544.95 | | |
| VACHON | THOMAS | WEST HIGH SCHOOL | TEACHER | $67,842.02 | | |
| VADALA | LEEANN | WILSON ST ELEMENTARY SCHOOL | TEACHER | $47,201.68 | | |
| VAILAS | NANCY | MEMORIAL HIGH SCHOOL | TEACHER | $67,450.88 | | |
| VAILLANCOURT | NATASHA | GOSSLER PARK ELEMENTARY SCHOOL | TEACHER | $62,990.01 | | |
| VALLIERES | JOAN | DISTRICT ELEMENTARY LEVEL | TEACHER | $67,422.94 | | |
| VAN UDEN | ELIZABETH | HILLSIDE MIDDLE SCHOOL | TEACHER | $50,659.96 | | |
| VANAGEL | ALLISON | WEBSTER ELEMENTARY SCHOOL | TEACHER | $64,719.98 | | |
| VANASSE | CHRISTINE | MCDONOUGH ELEMENTARY SCHOOL | TEACHER | $60,175.06 | | |
| VIANDS | KATHRYN | WILSON ST ELEMENTARY SCHOOL | TEACHER | $41,870.12 | | |
| VIGNALE | COLLEEN | CENTRAL HIGH SCHOOL | TEACHER | $11,489.46 | | |
| VIGNEAU | TIMOTHY | CENTRAL HIGH SCHOOL | TEACHER | $44,914.12 | | |
| VILLENEUVE | AMY | GOSSLER PARK ELEMENTARY SCHOOL | TEACHER | $69,891.32 | | |
| VILLIARD | DEBRA | NORTHWEST ELEMENTARY SCHOOL | TEACHER | $72,186.13 | | |
| VILLIARD | KURT | CENTRAL HIGH SCHOOL | TEACHER | $45,528.94 | | |
| VIOLET | LYNN | WILSON ST ELEMENTARY SCHOOL | TEACHER | $67,422.94 | | |
| VOLKMAN | SANDRA | JEWETT ELEMENTARY SCHOOL | TEACHER | $22,120.96 | | |
| VON AHN | LYDIA | MST HIGH SCHOOL | TEACHER | $46,426.80 | | |
| VOSE | KRISTY | MCDONOUGH ELEMENTARY SCHOOL | TEACHER | $65,448.01 | | |
| WADE | MARY | MCLAUGHLIN MIDDLE SCHOOL | TEACHER | $68,191.33 | | |
| WADE | MATTHEW | MCLAUGHLIN MIDDLE SCHOOL | TEACHER | $72,169.45 | | |
| WADLEIGH | SARAH | CENTRAL HIGH SCHOOL | TEACHER | $71,402.17 | | |
| WALIGURA | MEGAN | PARKER VARNEY ELEMENTARY SCHOOL | TEACHER | $68,125.88 | | |
| WALMSLEY | ROBERT | CENTRAL HIGH SCHOOL | TEACHER | $72,116.64 | | |
| WALSH | JOSEPH | CENTRAL HIGH SCHOOL | TEACHER | $67,478.82 | | |
| WALSH | MELISSA | PARKER VARNEY ELEMENTARY SCHOOL | TEACHER | $21,632.16 | | |
| WALTER | PAMELA | SMYTH RD ELEMENTARY SCHOOL | TEACHER | $68,910.14 | | |
| WALTON | KATHLEEN | NORTHWEST ELEMENTARY SCHOOL | TEACHER | $67,485.44 | | |
| WARE | NATHANIEL | MEMORIAL HIGH SCHOOL | TEACHER | $62,164.64 | | |
| WARFORD | AVIVA | WESTON ELEMENTARY SCHOOL | TEACHER | $71,893.12 | | |
| WARNER | KATIE | SMYTH RD ELEMENTARY SCHOOL | TEACHER | $52,978.74 | | |
| WARREN | JENNIFER | MCDONOUGH ELEMENTARY SCHOOL | TEACHER | $70,775.12 | | |
| WASON | JESSICA | PARKER VARNEY ELEMENTARY SCHOOL | TEACHER | $61,835.02 | | |
| WATSON | HEATHER | GREEN ACRES ELEMENTARY SCHOOL | TEACHER | $66,304.94 | | |
| WATSON | NATHALIE | NORTHWEST ELEMENTARY SCHOOL | TEACHER | $57,365.10 | | |
| WEBBER | SHAUNA | SMYTH RD ELEMENTARY SCHOOL | TEACHER | $70,858.94 | | |
| WEBSTER | LAURIE | BAKERSVILLE ELEMENTARY SCHOOL | TEACHER | $71,893.12 | | |
| WEEKS-CHASE | KAREN | WEBSTER ELEMENTARY SCHOOL | TEACHER | $72,088.70 | | |
| WEISS | JESSICA | MST HIGH SCHOOL | TEACHER | $84,885.51 | | |
| WEISS | LAUREN | WESTON ELEMENTARY SCHOOL | TEACHER | $43,241.81 | | |
| WELCH | ERICA | GREEN ACRES ELEMENTARY SCHOOL | TEACHER | $67,422.94 | | |
| WELD | JOHN | SOUTHSIDE MIDDLE SCHOOL | TEACHER | $33,627.73 | | |
| WENNERS | LAUREN | CENTRAL HIGH SCHOOL | TEACHER | $59,736.17 | | |
| WENNERS | MICHAEL | CENTRAL HIGH SCHOOL | TEACHER | $87,677.98 | | |
| WENTZ | MARK | MEMORIAL HIGH SCHOOL | TEACHER | $71,893.12 | | |
| WERST | SUSAN | HILLSIDE MIDDLE SCHOOL | TEACHER | $66,617.44 | | |
| WERTHMAN | DEBORAH | CENTRAL HIGH SCHOOL | TEACHER | $41,831.87 | | |
| WHEELER | KATHLEEN | BEECH ST. ELEMENTARY SCHOOL | TEACHER | $72,268.12 | | |
| WHITE | JUDITH DENISE | MEMORIAL HIGH SCHOOL | TEACHER | $72,143.12 | | |
| WHITMORE | LINDA | GOSSLER PARK ELEMENTARY SCHOOL | TEACHER | $5,182.12 | | |
| WHITNEY | MEGAN | GREEN ACRES ELEMENTARY SCHOOL | TEACHER | $55,129.88 | | |
| WIDELL | MAURA | JEWETT ELEMENTARY SCHOOL | TEACHER | $72,032.82 | | |
| WIKE | LORI | CENTRAL HIGH SCHOOL | TEACHER | $61,962.96 | | |
| WILK | JACQUELINE | MCLAUGHLIN MIDDLE SCHOOL | TEACHER | $66,304.94 | | |
| WILKES | SUSAN | DISTRICT WIDE | TEACHER | $54,876.01 | | |
| WILKINS | MEGAN | WESTON ELEMENTARY SCHOOL | TEACHER | $59,767.70 | | |
| WILLETTE | MALLORY | GOSSLER PARK ELEMENTARY SCHOOL | TEACHER | $52,936.67 | | |
| WILLIAMS | TIERNEY | MCLAUGHLIN MIDDLE SCHOOL | TEACHER | $71,949.00 | | |
| WILLIAMSON | ANITA | SMYTH RD ELEMENTARY SCHOOL | TEACHER | $67,534.70 | | |
| WILLIAMSON | MEGHAN | JEWETT ELEMENTARY SCHOOL | TEACHER | $46,301.80 | | |
| WILUSZ | JEAN | MCLAUGHLIN MIDDLE SCHOOL | TEACHER | $92,520.16 | 90 | |
| WINANS | ANN | SOUTHSIDE MIDDLE SCHOOL | TEACHER | $10,880.55 | | |
| WINCHELL | TAMMY | MEMORIAL HIGH SCHOOL | TEACHER | $71,949.00 | | |
| WINDOW | ANNE | HALLSVILLE ELEMENTARY SCHOOL | TEACHER | $67,534.70 | | |
| WIREN | KIRSTEN | WEST HIGH SCHOOL | TEACHER | $44,895.56 | | |
| WITKOWSKI | SONJA | MEMORIAL HIGH SCHOOL | TEACHER | $63,389.80 | | |
| WOHLEBEN | KENDZIE | WILSON ST ELEMENTARY SCHOOL | TEACHER | $43,520.12 | | |
| WOLCZKO | LEAH | MEMORIAL HIGH SCHOOL | TEACHER | $14,927.94 | | |
| WOLOSKI | AMY JEAN | GOSSLER PARK ELEMENTARY SCHOOL | TEACHER | $67,251.63 | | |
| WOOD | MARTI | HALLSVILLE ELEMENTARY SCHOOL | TEACHER | $61,974.72 | | |
| WOODBURY | ALYSSA | BAKERSVILLE ELEMENTARY SCHOOL | TEACHER | $42,597.98 | | |
| WOODRING | JULIANNE | GOSSLER PARK ELEMENTARY SCHOOL | TEACHER | $46,190.04 | | |
| WOODWARD | LAUREN | SOUTHSIDE MIDDLE SCHOOL | TEACHER | $50,528.10 | | |
| WOODWORTH | ROBERT | MCLAUGHLIN MIDDLE SCHOOL | TEACHER | $55,875.04 | | |
| WUEBBOLT | ELIZABETH | DISTRICT WIDE | TEACHER | $73,879.02 | | |
| WUJCIK | ANDREA | MEMORIAL HIGH SCHOOL | TEACHER | $65,131.64 | | |
| WYMAN | CATHLEEN | HILLSIDE MIDDLE SCHOOL | TEACHER | $71,893.12 | | |
| WYNKOOP | SHEILA | WEST HIGH SCHOOL | TEACHER | $48,882.62 | | |
| YOUNG | JENNIFER | GOSSLER PARK ELEMENTARY SCHOOL | TEACHER | $87,355.59 | | |
| YURI LUNA | ROSA | DISTRICT WIDE | TEACHER | $87,221.58 | | |
| ZACCARDO | SUSAN | BAKERSVILLE ELEMENTARY SCHOOL | TEACHER | $72,192.13 | | |
| ZINK | PATRICIA | SMYTH RD ELEMENTARY SCHOOL | TEACHER | $16,990.98 | | |
| ZIOZE | HAIDY | SOUTHSIDE MIDDLE SCHOOL | TEACHER | $73,541.45 | | |
| ZUCCALA | TARYN | CENTRAL HIGH SCHOOL | TEACHER | $77,164.08 | | |
| ZULAUF | ARIANNA | HILLSIDE MIDDLE SCHOOL | TEACHER | $12,301.52 | | |
| ZYCH | JESSICA | CENTRAL HIGH SCHOOL | TEACHER | $61,493.38 | | |
MANCHESTER — Only 34 employees of the Manchester School District — former Superintendent Bolgen Vargas, his assistant superintendents, school principals, assistant principals and five teachers — earned more than $100,000 last year, a group much smaller than the 213 city-side workers whose gross earnings in 2018 topped six figures.
More than 350 teachers in the Queen City earned greater than $70,000 last year, according to salary data provided by the school district's human resources department showing 2018 wages paid to all school employees. Compensation includes all pay, including stipends, overtime and any retirement bonuses. Compensation does not include benefits, such as health, dental and retirement.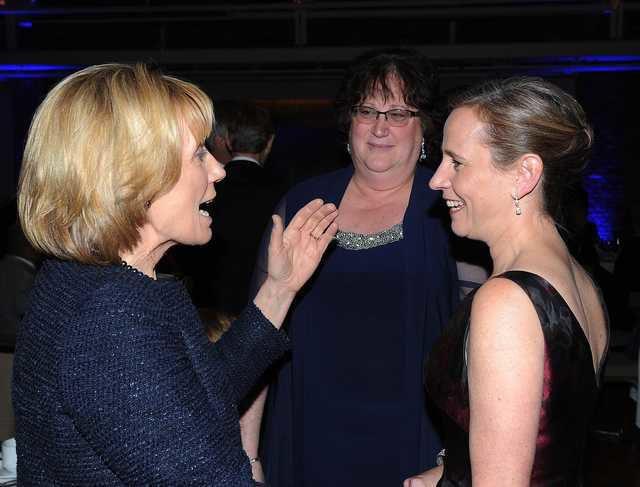 More than 200 current and former Manchester city workers brought home six-figure incomes in 2018, with a former assistant airport engineer top…
CONCORD - A chronic shortage of state prison guards factored heavily into seven employees in the Department of Corrections making more money i…
Sue Hannan, president of the Manchester Education Association (MEA), said city teachers "are well-educated professionals who are very deserving of their salaries."
"Manchester educators are also deserving of the development of a collective bargaining agreement that includes fair and appropriate pay for their level of education, and the professional contract by which they abide," said Hannan. "MEA has worked very hard for 45 years to get a contract that is supportive of educators."
Teacher salaries in the city have remained stagnant since June 2018, when the district's latest three-year deal with the MEA expired.
"If you were to compare the salaries of educators in Manchester two years ago to the salaries they are getting now, you would see that they are exactly the same," said Hannan. "With the exception of the few who have earned a new degree, there have been no increases or COLAs (cost-of-living adjustments) in the last two years, and only minimal increases in the last five years."
Hannan said health insurance costs have risen over the last year.
"This has actually lowered the amount of money being brought home by educators, making their actual net considerably less than what it was two years ago," said Hannan. "For these reasons, many Manchester educators left the district they loved and to which they committed their careers this past summer. Manchester was no longer committed to them as professionals."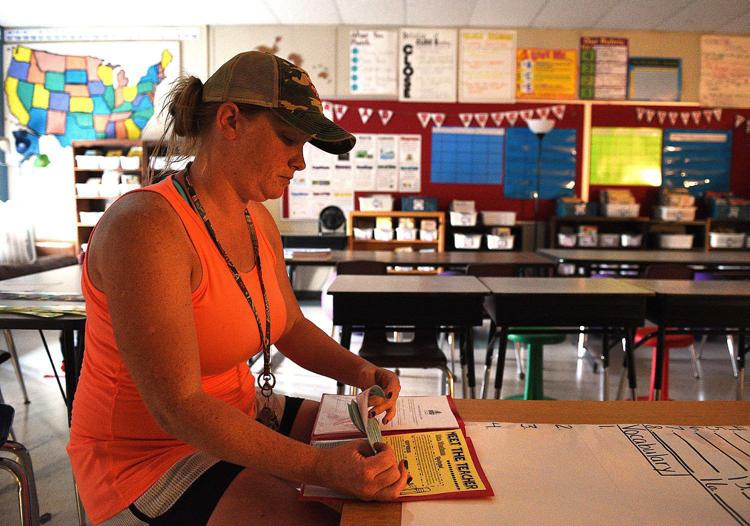 According to salary data supplied by Pam Hogan, former human resources director for the Manchester schools, about $74.8 million in wages were paid to 1,264 teachers in the school district in 2018. That puts the average teacher compensation at $60,000 in 2018.
How the district compares
That figure is lower than the average reported teacher salaries in comparable urban school districts such as Nashua and Concord. According to data provided by the New Hampshire Department of Education, the average teacher salary in Nashua for the 2017-2018 school year was $60,155. In Concord. the average salary was $73,531.
Manchester's starting educator salary is ranked around the middle of the pack statewide, according to data from the Department of Education for the 2018-2019 school year.
The starting pay for a teacher with a bachelor's degree in Manchester is $37,250, ranked 88th out of 159 school districts in New Hampshire. Nashua's starting salary of $$40,284 places it 44th in the state.
Manchester salaries are $1,012 lower than the state average, but $17,432 less than the highest reported starting salary.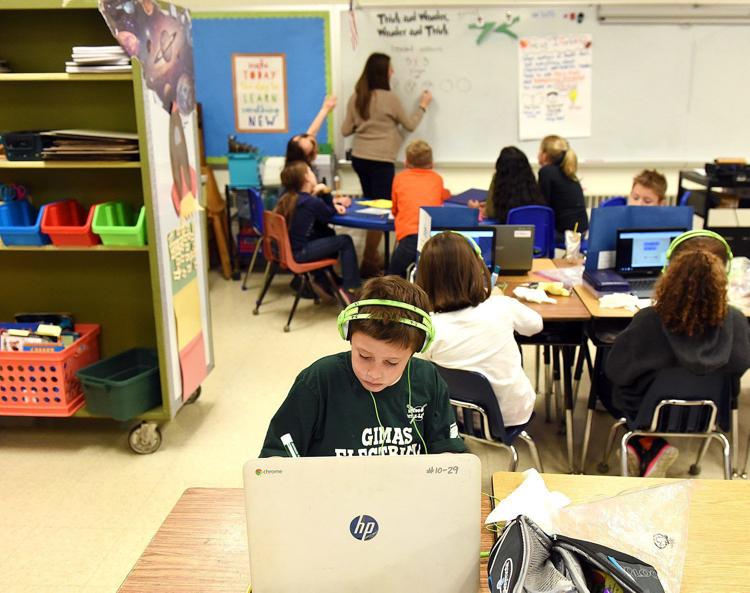 According to the DOE, in the 2018-2019 school year, Manchester ranks in the highest 8% of the 160 districts listed in terms of student-teacher ratio.
"Looking at this year's numbers, and understanding that not all teaching positions were filled this year, Manchester's student/teacher ratio is even higher," said Hannan.
Many of the lowest wage earners are either on-call substitutes, part time, partial year or may have been out on unpaid time.
Salaries on the lower end
On the bottom of the salary scale, an estimated 1,547 school workers earn less than $56,368. That amount reflects the average yearly private-sector earnings for a Manchester resident, according to an August 2019 report from the Economic and Labor Market Information Bureau of New Hampshire Employment Security.
Some Manchester school jobs come with salary schedules that will never reach the median household income. For example, the top paid paraprofessional for the school district — Wanda Lee Fratus — earned $36,801 a year.
Other job titles on the low end of salaries include instructors who work on the federally funded Title 1 program, adult education teachers, food service workers and school support staff such as secretaries. High-earning job titles include principals, assistant principals, district officials, professionals — such as psychologists — and teachers with advanced degrees.
With some exceptions, Manchester teachers work a 175-day academic calendar with another 30 hours slated for snow days and additional instruction, according to the MEA's contract. Administrators and some other job titles work the entire year without summers off.
The last contract with the teachers union provided for regular pay raises, and teachers could improve their pay with advanced degrees.
The starting pay for a teacher in Manchester with a master's degree is $41,720, while a doctorate earns them $46,563. After 14 years in the district, a teacher with a bachelor's degree can take home $66,305 annually. That amount is bumped up to $70,775 with a master's.
"Manchester educators at the top of the scale have dedicated 15 to more than 40 years to educating students," said Hannan. "They have seen every iteration of education and are professionals in their assignments. Some teach six or more different classes daily, having to prepare for six or more different groups or levels of students, set up classrooms, and develop curricula for each class. They are also maintaining their certifications with 75 continuing education hours, plus another 35 hours for each certification beyond their first. Many educators in Manchester hold multiple certifications."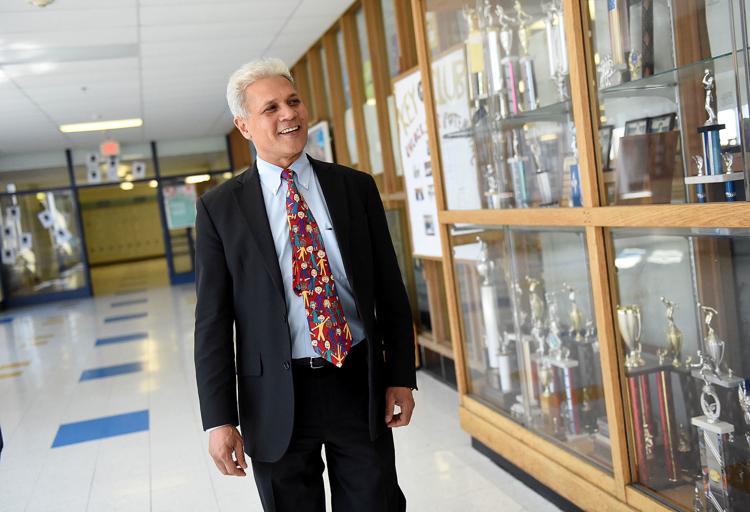 Vargas, who left his post April 30 after announcing last January he was resigning as superintendent, earned the top salary in the school district at $164,999. Current superintendent John Goldhardt, who started his position July 1 with a salary of $170,000 per year, does not appear on the list.
The lone teacher to earn six figures is Roger Slagle, who teaches the Navy Junior ROTC program at West High School. He placed second in the district in terms of wages earned in 2018, taking home $117,094. About 40 percent of his salary is funded by the Navy.