CANAAN — A food service vendor that reportedly fired Mascoma Valley Regional High School lunch lady Bonnie Kimball for feeding a student denies it would sack anyone over an $8 lunch debt.
"Fresh Picks Café, a division of Café Services, Inc., would not authorize an employee to not feed a student or a staff member a meal," Jaime Matheson, Cafe Services' human resources director said in a statement. "When a student does not have the funds available to pay for a lunch there are set procedures to ensure the student is provided a meal."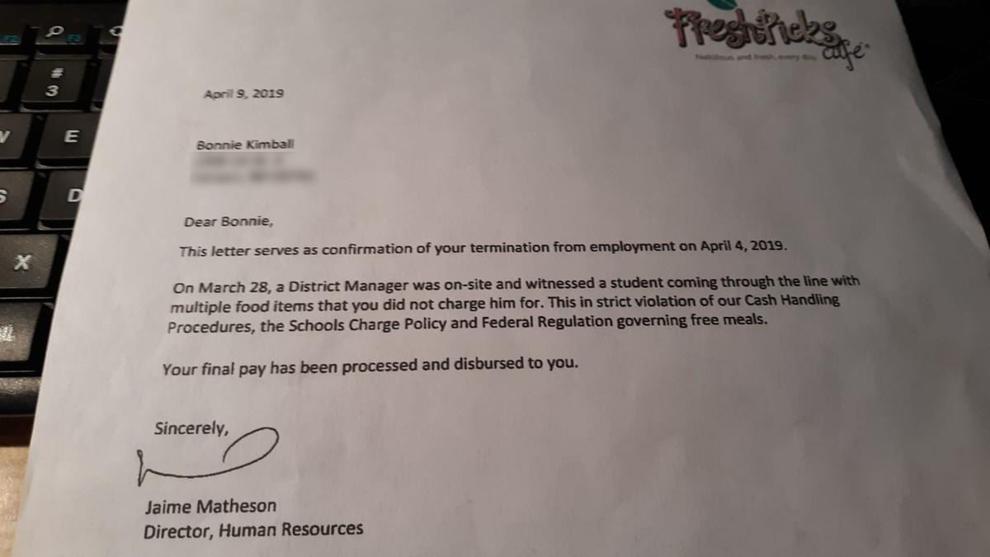 But according to the letter Matheson wrote to Kimball, she was fired for feeding the student.
"On March 28, a District Manager was on-site and witnessed a student coming through the line with multiple food items that you did not charge him for," Matheson wrote in the April 4 termination letter to Kimball. "This is in strict violation of our Cash Handling Procedures, the School Charge Policy and Federal Regulation governing free meals."
Kimball said she was fired after a district manager saw her let a student take $8 worth of a la carte food he could not pay for. Kimball said she had been instructed by her direct manager to allow students to take food if they could not pay, and discreetly remind them to have their parents add money to their school lunch accounts.
"I was doing what I was told," Kimball said this week. "We weren't supposed to pull trays."
Kimball said her managers were concerned about the upcoming contract renewal for the Mascoma district's food service, worth more than $560,000 in revenue. She said she had been instructed to avoid any "scenes" if students were unable to pay for their lunches. The boy who got the $8 worth of free food on March 28 came back the next day and paid his tab, Kimball said.
School board chair Cookie Hebert said the district's policy is to not allow students to go hungry. Typically that means the students with no money are allowed to take the meal of the day, but not any a la carte items. Two other Cafe Service employees quit after Kimball was fired. Kimball said it is because they know she was following the instructions given by her manager.
Matheson declined to comment directly on Kimball's situation, but implied that the matter breaks down to giving the student the a la carte items rather than the meal of the day.
"When set policies and procedures are not followed corrective action is put in place up to and including termination," Matheson said in her remarks.