A passion for history brought them together. Now they may be on the verge of making history themselves.
Five former students of a now-shuttered Catholic school in Derry have been delving into a dark chapter of American military history that was written more than a century ago and a world away.
Armed with youthful enthusiasm and a devotion to the truth, the students also have the kind of primary-source documents historians dream of — recently unearthed letters and artifacts from a U.S. Marine who served on the island of Samar during the Philippine-American war.
They hope what they have learned will help heal the wounds of a war unknown to most Americans.
The mystery began more than a year ago, when Rick Holmes, Derry's town historian emeritus, handed his friend T.J. Cullinane a manila envelope he had been storing in his basement archives for decades. Inside were letters dating to the dawn of the 20th century and some mysterious strips of red cloth.
Cullinane, an Army veteran who serves on the Derry Heritage Commission, knew he was looking at something extraordinary.
The letter's author, Charles King of Amherst, Mass., wrote about what happened in a town in the Philippines called Balingiga.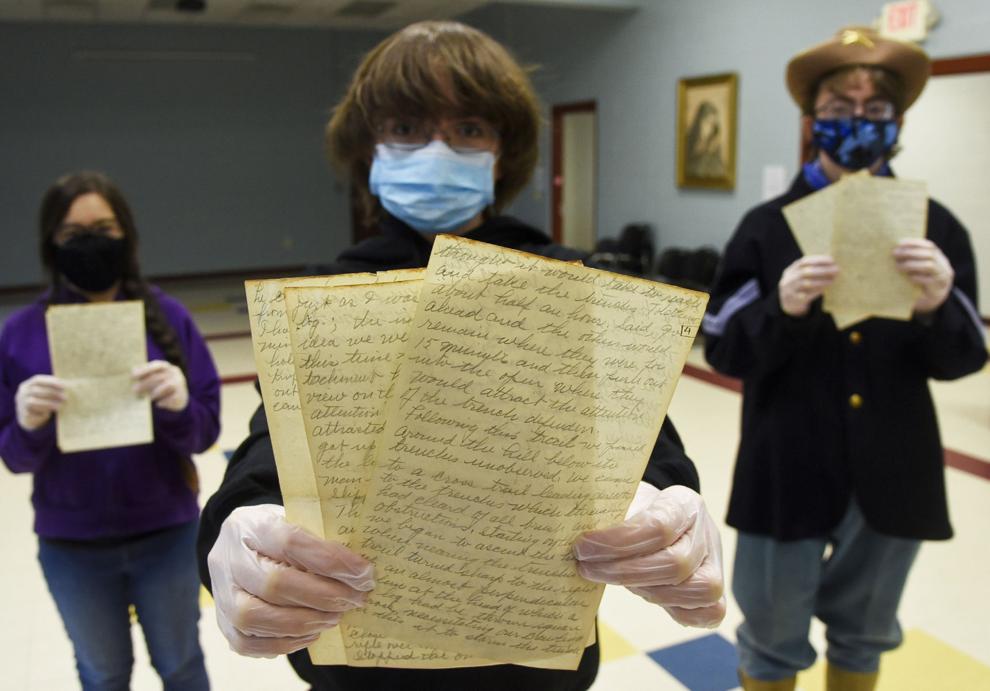 History is said to be written by the victors. But there were no real winners at Balingiga — only cruelty, death and loss on both sides.
On Sept. 28, 1901, U.S. Army soldiers from Company C, 9th Infantry, who had been occupying the town, were set upon at breakfast and slaughtered by local villagers armed with bolo knives. The ringing of church bells signaled the attack.
"Butchered with Bolos," the headline in one U.S. newspaper read.
Massacre and revenge
For the Americans, it was "the worst loss of military life since Little Big Horn," Cullinane said.
In response, U.S. Army Gen. Jacob Smith ordered his men to burn the town, kill everyone over age 10 and turn the area into a "howling wilderness." Smith was court-martialed later for his actions in the Philippines.
In the weeks after the massacre, soldiers and Marines arrived in Balingiga to wage a bloody campaign of revenge on those who had killed their comrades.
King, his letters reveal, was one of those Marines.
Based on accounts he must have heard from others, King described the attack itself.
"The morning of the massacre, when the force of natives was augmented by many from outside, as the Americans were in the mess hall at breakfast, unarmed, without warning the natives swarmed into the mess hall each armed with a big bolo and attacked the unarmed men…." he wrote in one letter.
"Out of the 72 men and 3 officers, 48 men were killed, the three officers also and out of the 75 all told, but one man was uninjured. The survivors securing native boats assisted each other aboard and started to paddle to the nearest garrison which was in the town of Basey, 25 miles away….."
The packet of King's letters also contained long strips of red cloth bordered with fringe, like the vestment stoles a Catholic priest would wear — and a typed notecard hinting at revenge:
"Ribon (sic) taken from the robe (of) a priest who betrayed a whole company of American soldiers, in the Philippines. He was stripped of medals and ornaments, put in a small boat a(nd) told he might go ashore. Target practice from the ship commenced, soon afterwards."
Memories and truth
Cullinane turned to Erin Gagliardi, a history teacher at St. Thomas Aquinas School, a Catholic school in Derry. They had worked together before on a local research project.
Did Gagliardi think her middle-school students might be interested in researching the letters and artifacts?
Gagliardi and her friend Sue Gauthier, who worked together for many years at St. Thomas Aquinas, had begun teaching a history enrichment class in February of 2020. The packet from Cullinane seemed the perfect research project for the group.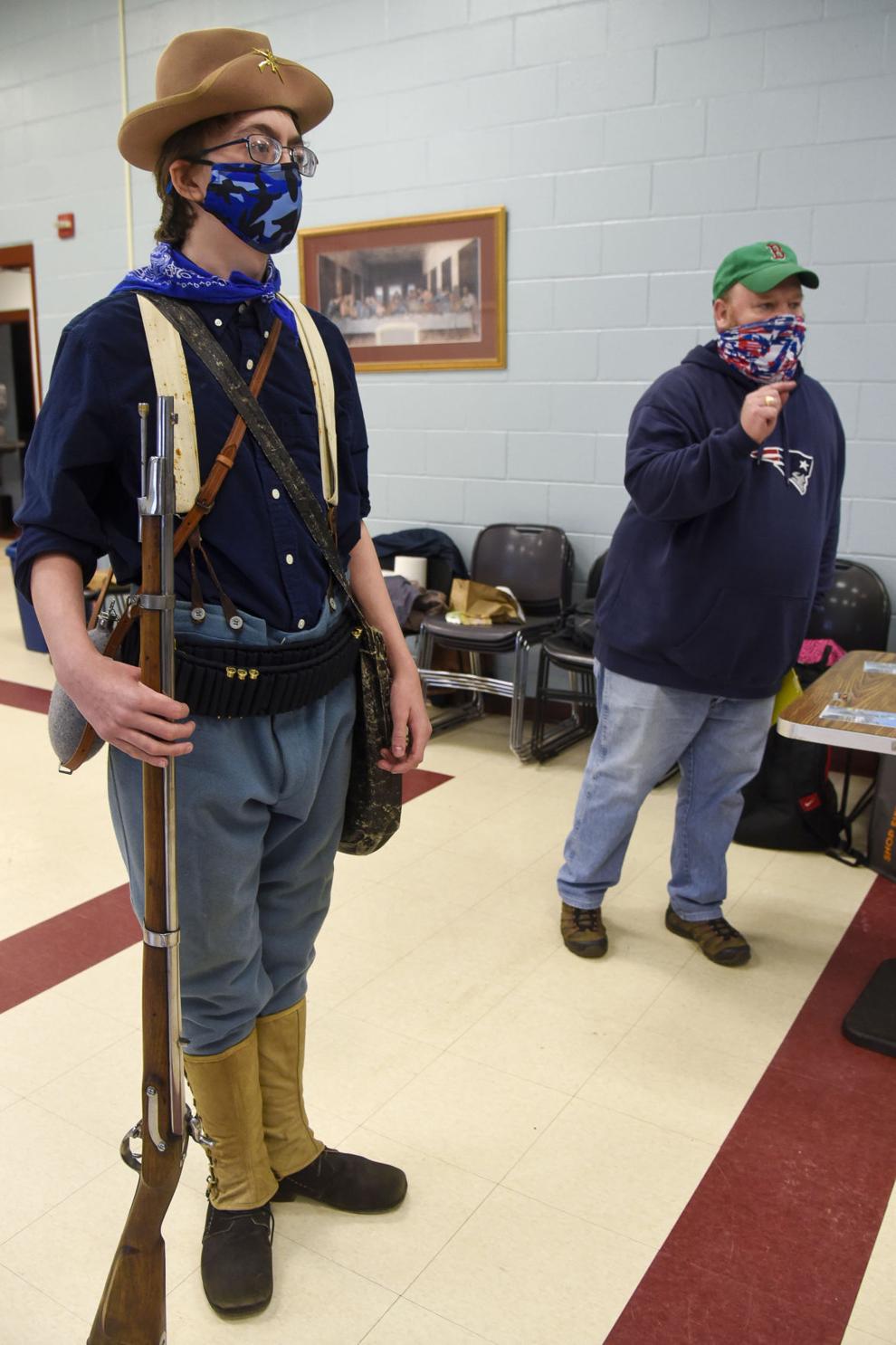 Then the pandemic closed their school, first temporarily and then for good.
Gagliardi's students have since scattered to different schools, and she now teaches in Henniker. But five students — Saskya Clark of Windham, Tyler Welch of Haverhill, Mass., Carmen Negron of Derry, Angela Garcia of Derry and Luke Hanson of Auburn — continue to meet one evening a week with Gagliardi, Gauthier and Cullinane, a group they still call the STA Research Club.
These young historians, all 14 or 15, were determined to learn the truth about what happened to the priest in Balingiga.
Luke Hanson said the lack of published records was striking.
"It's interesting because you don't see a lot of events in history not recorded," he said. "And when they're not recorded, it makes you wonder what actually happened to the priest."
"I think that it may be a history that some people aren't proud of, so they're not sharing it," said Angela Garcia. "I think it should be shared so people actually know what happened. It's an important piece of history."
The students already have learned some profound lessons — how one side's freedom fighters are viewed by the other side as insurrectionists, for instance.
"We make us out to be the good guys in those situations, but in reality we don't really know, because it's one side of the story," said Carmen Negron.
The soldiers' anger at the priest was understandable, said Saskya Clark. In their minds, she said, "he betrayed them, so they kind of took that personally, so they did what they thought was right to do."
Having Charles King's letters makes the history come alive, Tyler Welch said.
From what they've learned already, he said, "I don't think either side is completely innocent."
Research and revelation
After months of slow progress, they recently had a breakthrough.
The students connected on a Facebook call with Bob Couttie, a British author who lives in Balingiga and who spent 10 years researching and writing a book about the events of 1901. Letters from Balingiga are extremely rare, Couttie said in an earlier interview.
"I'm very excited by what you've got — and quite jealous," Couttie told the students.
There's no doubt to whom the notecard refers, Couttie said, confirming the students' research: Father Donato Guimbaolibot was a 35-year-old parish priest in Balingiga in 1901. The red stoles must have been part of his vestments.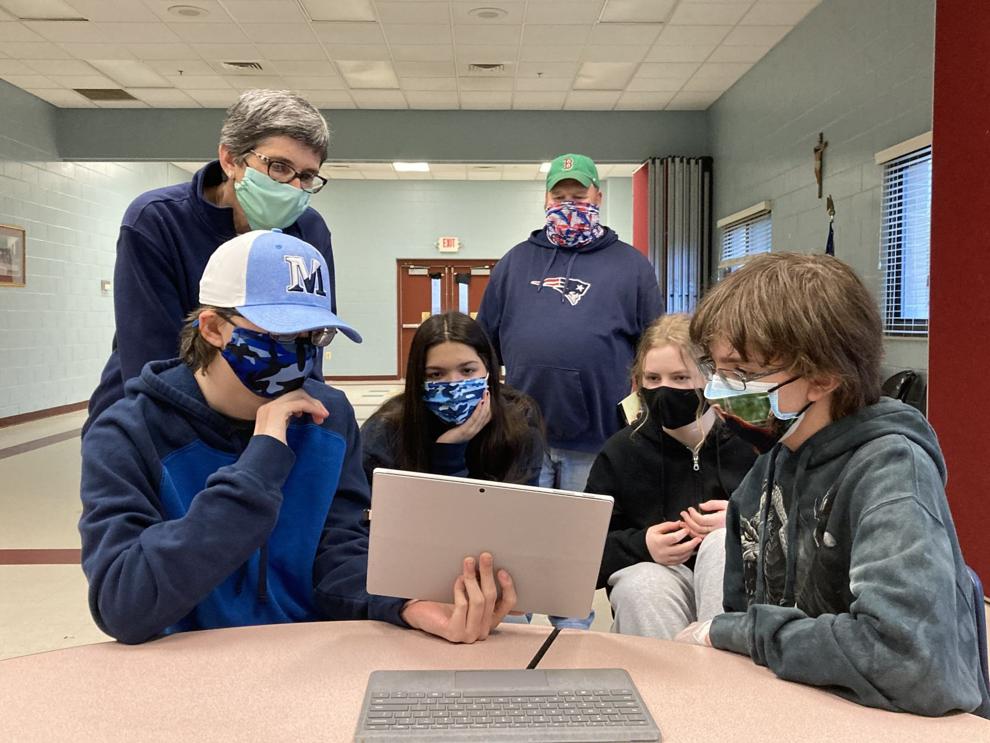 "There's only one priest known to be associated with Balingiga and accused of being involved in Balingiga," he told them.
But contrary to the stories circulating after the massacre, he said, no evidence exists that the priest betrayed the Americans.
Guimbaolibot had been forced to leave Balingiga by local villagers before the attack happened, Couttie said, and he was arrested by the Americans afterward.
"We do know that he was tortured and later released, but we don't know exactly when," he said.
What does Couttie make of the typed card, which is undated and unsigned, that implies the priest was used for "target practice," Luke Hanson asked.
It's ambiguous, the author said.
"They could have been shooting at him, but then one would have expected some comment about him not making it," he said.
The Americans did bombard the town from a ship on Oct. 24, which could explain the reference, Couttie said.
"He may have been sent ashore by boat and they shelled the town, or he was sent off in a boat and they started shooting at him. Probably out of a sense of fun in those days," he said.
Here Couttie offered the youngsters an important lesson: "We always have to be cautious about making firm conclusions."
Recompense and reconciliation
Then Couttie and the students got to the heart of the matter: "What do you think should be done with the ribbons?" he asked them.
"We think they should be returned to the church," Tyler Welch answered for the group.
After the massacre, the Americans took treasures from the church, including its three bells. Two of the bells went to a Wyoming military base that was home to Company C, and the third was sent to an American base in South Korea.
For decades, the U.S. resisted calls to return the bells to Balingiga.
A 2011 congressional resolution calling for the bells' return seemed to take pains to exonerate Guimbaolibot: "Whereas a church bell in Balangiga was reportedly rung, without permission from the parish priest, to signal an attack on the American garrison in the town…."
After years of debate and diplomacy, the three bells were returned to Balingiga in 2018 with great ceremony — a symbol of reconciliation and friendship between the former enemies. Local townspeople lined the streets in a downpour to watch the bells come home.
That's what the New Hampshire teens hope can happen with the priest's vestments, they told Couttie.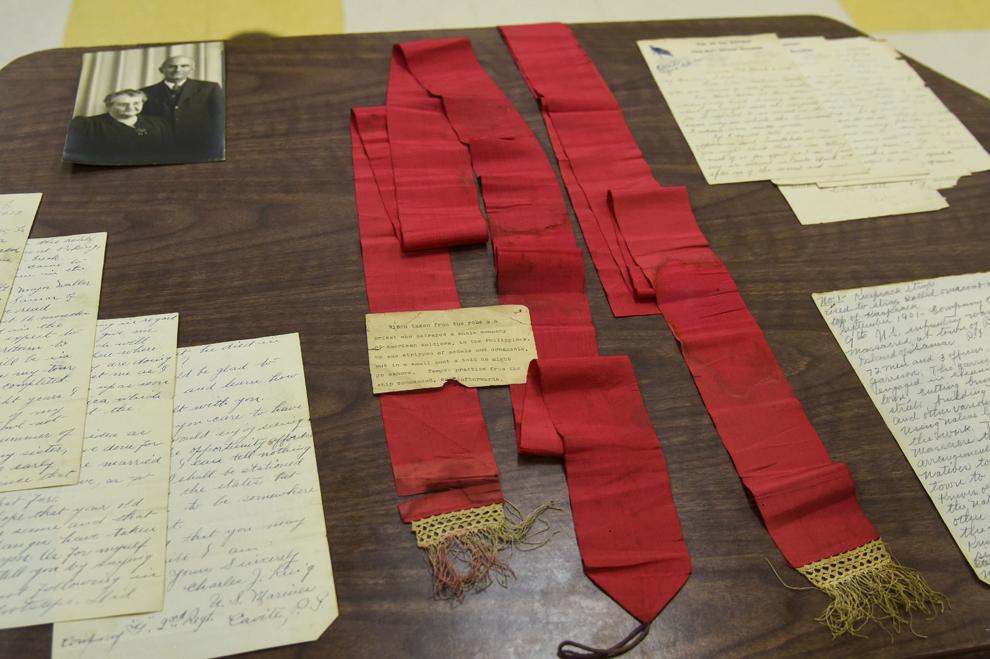 Couttie, who was involved in the effort to return the bells to Balingiga, told the students he is friends with the current priest in the town. He offered to make some discreet inquiries about just who might own the vestments and how they might be returned to the local church.
Wide-eyed with delight, the students agreed.
Youth and hope
Here is how the Office of the Historian at the U.S. Department of State now describes the Philippine-American War (1899-1902), which began after Spain ceded the Philippines to the United States in a treaty ending the Spanish-American War:
"The war was brutal on both sides. U.S. forces at times burned villages, implemented civilian reconcentration policies, and employed torture on suspected guerrillas, while Filipino fighters also tortured captured soldiers and terrorized civilians who cooperated with American forces."
In Balingiga's town square, a memorial bears the names of both Filipinos and Americans who died in the Sept. 28, 1901 attack and the fighting that followed.
Perhaps, Couttie suggested, the return of the vestments might coincide with a commemorative Mass held in Balingiga every Sept. 28, when the dead from both sides are remembered and honored.
"It might be good to tie it in with that," he said, "because it's a Mass for peace."
What impact would the vestments' return have on the residents of Balingiga, Tyler Welch wanted to know.
"I think it will help them in their healing process," Couttie said. "Although they don't bear grudges, there is that sense of getting part of their own history back."
"I think we all really want to make it right," historian Cullinane told Couttie. "Something terrible happened and we have the ability to maybe bring some good and return the ribbons where they belong. So we're very happy to do that."
Teacher Erin Gagliardi watched the exchange between the kids and Couttie with tears in her eyes. She's proud of her former students, she said later.
What happened in Balingiga is tough subject matter for students so young. But their innocence is an asset, Gagliardi said.
"They're truly desiring truth, and they don't have politics or biases pushing them in either direction," she said. "They're really young, and I really believe that the purity of what they're trying to achieve makes them the perfect vessel for this project."
Cullinane, too, was overjoyed to see the fruits of his decision to bring the artifacts and letters to the students.
"I just think they're going to make an original contribution to the body of knowledge on this conflict," he said. "How amazing is that?"
Ending and beginning
There's another twist to the story.
In the Philippines, some want to see Father Guimbaolibot canonized as a martyr for the faith. That could make the red vestments even more significant.
"If that happens, just think about what you have here," Gagliardi told her students.
Author Couttie said he's proud to have played a small role in returning the bells to Balingiga. And now because of the students' work, he said, "I'm finding myself in a somewhat privileged position for perhaps a second time in helping to put things right, to help heal the wounds.
"I love Balingiga, and the people here," he told them. "It'll be a modest thing, but at least let's see what we can do together.
"And perhaps build a bridge between there and here."