HAMPTON — The NH School of Mechanical Trades held a ribbon-cutting ceremony Wednesday to officially open a new Hampton facility that will focus on addressing the shortage of skilled workers while training the workforce of the future.
Gov. Chris Sununu and other state and local officials joined school leaders to celebrate the opening of the school's second location at 109 Towle Farm Road.
The school, which first opened in Manchester in 2012, offers courses in a variety of trades, including oil and gas heating, air conditioning, plumbing and electrical work.
Sununu said the trade school is something that is desperately needed in New Hampshire.
"What we're dealing with today is, we've set ourselves up to not be successful over the past 20 years when it comes to the trades. To be very blunt about it, we put a stigma on the trades. We didn't highlight them. We didn't talk about the opportunity they create for students, the opportunity they create for workers who want to get re-skilled in something else," he said.
John Duff, the school's co-owner and vice president, said the school was founded after he, his partner and the school's director Dean Millard, and Millard's father Robert Millard saw the dire need for quality education in the trades industry.
"We wanted to open a first of its kind educational facility dedicated solely to the trades right here in New Hampshire," Duff said.
They found property at 7 Perimeter Road in Manchester to open their first school, but on the day they signed the lease, Robert Millard died and was never able to see his dream realized.
Duff said the loss was difficult, but it inspired him and Dean Millard to continue with plans for the school, which opened in September 2012.
"I am sure that Robert would be absolutely proud of what we were able to accomplish here," Duff said.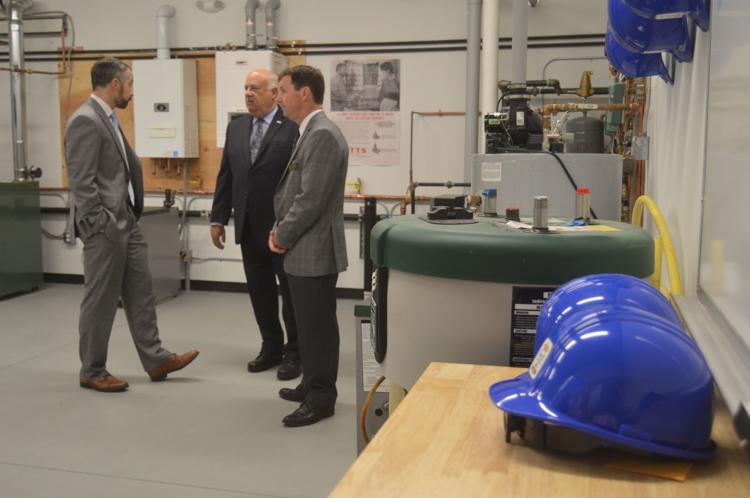 The Winnacunnet High School Marine Junior ROTC presented the colors at a flag raising ceremony in front of the school in Robert Millard's memory.
Duff said the courses are affordable, with most lasting 15 weeks and averaging $2,500. The school, which has hands-on classrooms, also offers apprenticeships.
Hampton Selectman Jim Waddell said the town embraced the plan for a local trade school.
"It's tremendous for Hampton, and it's tremendous for New Hampshire. It's tremendous for everybody," he said.
Air Force veteran Charles Fedelski has already completed an oil heat technician program at the new school. The 53-year-old from North Hampton has a background in restaurant management, but was looking for a new career option as he's getting older and finds it harder to keep up with the pace of the restaurant business.
"As you get older it's nice to have a technical skill to fall back on, and I've had a lot of friends ask me, 'Do you know an oil heat guy?'" he said.
State Sen. Tom Sherman, D-Rye, said he's spoken about the importance of trade schools with the principals from the Seacoast School of Technology and Concord Regional Technical Center, which serve high school students.
"Both of them said the No. 1 problem isn't the kids wanting to go into the trades; it's the parents. It's the parental expectation. Everybody's college bound," he said, noting the college debt that is shouldered by many students.
Sherman said legislators are working with the community college system to develop pathways that will allow students to obtain a trade certificate by the time they graduate from high school.