LONDONDERRY — Organizers say fundraising for a new plane-building course at Manchester School of Technology has gone well so far, but a different kind of support is needed now — people power.
Specifically, volunteer mentors are being sought to help students build a two-seat RV-12iS light sport aircraft.
"Our student plane-build project has received solid financial support, but now we're seeking human capital," said Jeff Rapsis, executive director of the Aviation Museum of New Hampshire, which is coordinating the effort in partnership with MST and Tango Flight, a Texas-based educational non-profit.
Volunteer mentors must be available during school hours Monday through Friday and pass a background check to work at the school, located at 100 Gerald Connors Circle near Manchester Memorial High School in the city's South End.
Mentors with mechanical or aviation experience are especially needed, but Rapsis said all are welcome.
Prospective mentors are invited to attend an open house about the project at the Aviation Museum either on Thursday, Sept. 12, at 7 p.m or Saturday, Sept. 14, at 9 a.m.
Each session is expected to last an hour and will include an overview of the plane-build program. The museum is located at 27 Navigator Road in Londonderry.
The project, the first of its kind in the Northeast, aims to create a program in which MST students have the unrivaled hands-on experience of building an all-metal two-seat airplane.
Students, guided by school faculty, will work in teams with mentors to assemble the plane, using an aircraft kit popular among recreational pilots.
Once certified by the FAA as flight-worthy, the aircraft will then be sold on the open market, with the proceeds used to fund the next year's plane build.
The Aviation Museum of NH, a non-profit based at Manchester-Boston Regional Airport, is raising money to jump-start the program, which will operate at no cost to taxpayers.
Overall, the project will cost $350,000 over the first two years to get established. So far, the museum has raised or received pledges for about $270,000 from a mix of sources, including corporate contributions, foundations and individual donors.
As part of its funding plan, earlier this year the Aviation Museum received $187,500 in tax credits from the NH Community Development Finance Authority, which allow a business to earmark a portion of its state tax payments for a qualified nonprofit.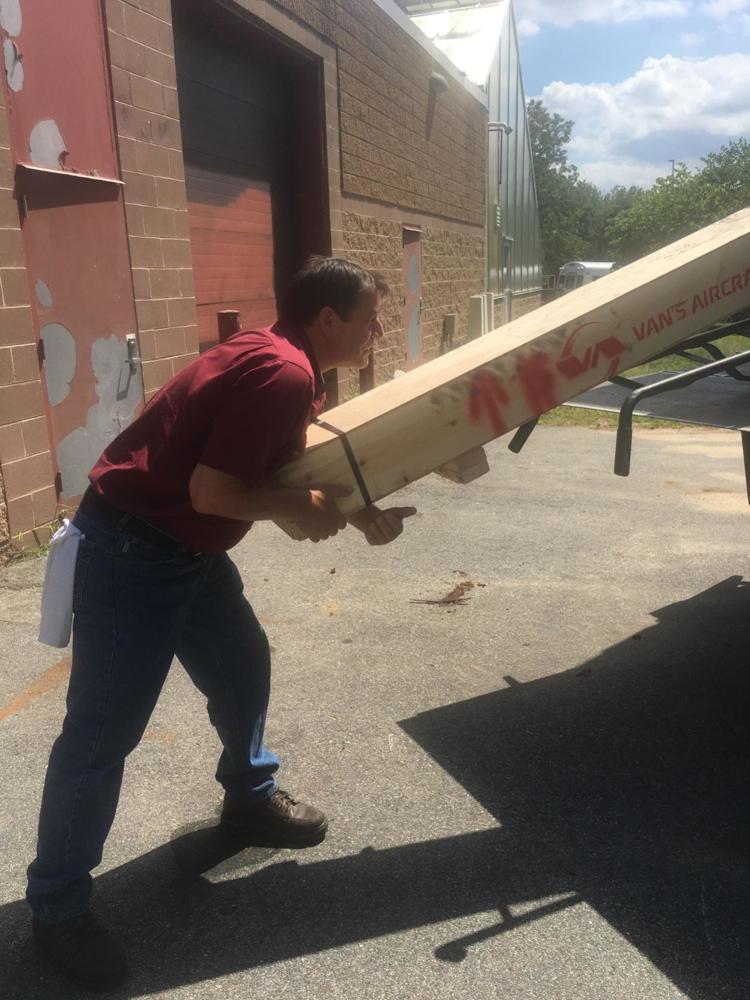 In less than six weeks, the Aviation's Museum's entire allocation of tax credits was claimed by five Greater Manchester businesses: WireBelt Co. Inc. of Londonderry; AutoFair of Manchester; Macy Industries of Hooksett; Anagnost Investments of Manchester; and Brady-Sullivan Properties of Manchester.
"Our partners at the Community Development Finance Authority tell us that we set a record in how fast our tax credits sold out," Rapsis said. "We're grateful that so many business leaders have recognized the value of a program that will provide a great STEM-related learning experience, but will also help energize local schools with a renewed sense of what's possible."
The fundraising has allowed the plane-build project to move forward in the 2019-20 school year, with the first shipment of kits arriving at the school in mid-August and other preparation work underway.
Students in the program will begin plane assembly work shortly after classes begin in Manchester Wednesday.
Last month, several students attended the Aviation Museum's annual PlaneFest celebration at Manchester-Boston Regional Airport, where both Mayor Joyce Craig and Airport Director Ted Kitchens offered encouraging remarks.
As part of the project, a team of mentors has been assembled to work with students, led by retired mechanic and educator Jack Barry of Bedford, a long-time Aviation Museum volunteer.
Although community response has been strong, the project could still use a few extra hands.
For more information, call the Aviation Museum at 669-4820.
The Aviation Museum will also hold its annual fund-raising gala on Tuesday, Sept. 24, from 5:30 to 9 p.m. at Southern New Hampshire University, with proceeds used to support the plane build. For more information on the gala, visit the museum's Web site at www.nhahs.org.